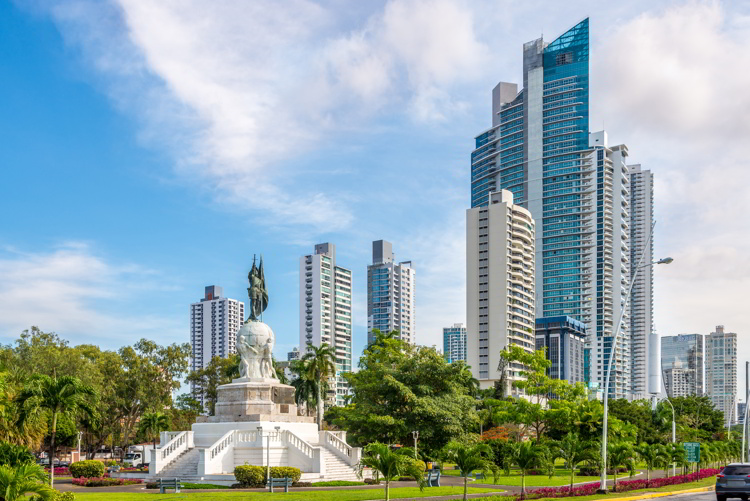 Panama And The Rise Of The "Whole House" Experience
As the long season of COVID-19 wanes, everyone worldwide seems ready to get back traveling. Booking sites can't take reservations fast enough… wedding venues and caterers are booked months out… family celebrations are hastily being planned… sporting, arts, and music events are back on…
And Panama is at the top of many travelers' wish lists.
What's drawing more international visitors here?
For R&R seekers, there's white-sand beaches, word-class resorts, and year-round warm weather…
For outdoor and nature enthusiasts, there's surfing curls fit for international competition… scuba diving and snorkeling in blue Caribbean waters… volcano hikes up 1,550-foot Baru… native flora and fauna in protected reserves… and deep-sea fishing (for which Panama has more records than anywhere else on the planet)…
Not forgetting the city's high-end shopping malls… the Frank Gehry-designed Biomuseo… and that little engineering feat called the Panama Canal (and its museum)…
All this and more makes Panama a unique and exciting vacation destination. But it's only recently that the government started to focus and capitalize on its tourist treasures. There's a good reason for this delay…
Unlike neighboring Costa Rica, Panama worked hard at keeping the nation's GDP less dependent on a single industry. The services sector—including banking, insurance, flagship registry, container ports, and product distribution—contributes almost 70% to GDP, while agricultural products such as bananas, coffee, shrimp, and sugar have slowed to under 10%. The carrying capacity of the Panama Canal was doubled in 2016 and consistently contributes directly over 12% to GDP, and indirectly, through the other sectors, up to 40%. One of the world's largest copper mines—located about two hours outside Panama City—is expected to eventually contribute as much as 21%, further diluting the dependency on any one sector.
So far, tourism has remained steady at just under 8% of GDP. But the time has come for that to change…
Cortizo Recognizes The Importance Of Tourism
Tourism was one of the major political planks of Laurentino "Nito" Cortizo's promised administration. He ran for president and won, empowered from 2020 to 2025. Coritzo recognizes the emerging audiences of the "extreme traveler" and the environmentally focused. His government recently awarded $6 million to a local agency to develop marketing to these audiences.
During the first wave of the pandemic, Panamanians were offered training in various tourism roles. This included everything from food preparation to leading "green" tours.
Cortizo's administration is also teaching North Americans that, in a country about the physical size of South Carolina, you can engage in a wide variety of activities— sometimes all in one week. This covers sport fishermen with trailing children, honeymooners, glampers, cruisers, and those seeking a spa getaway.
Free Stop-Over In Panama, Anyone?
Major projects such as the new Panama Convention Center, the new dual cruise ports on the Amador Causeway, and Central America's only subway are just three of the many attractive services Panama offers tourists and business travelers.
The convention center will introduce many first-time visitors to Panama. The largest exposition hall in Latin America, officially opened in September 2021, it has 14 large upcoming conventions scheduled, with 50 more being vetted.
Meanwhile, Copa Airlines recently introduced a program called "Stopover in Panama." This allows travelers on Copa's network to book a stop-over in Panama—for a minimum 24 hours to a maximum of seven days—with no additional cost to their airfare.
Delta Airlines recently announced its plan to increase passenger capacity to Panama City by 80%—with additional direct flights from New York (JFK), Los Angeles, Orlando, and Atlanta.
Travelers Want Different
Now that so many are working remotely, the definition of home has blurred. Where can home be? A beautiful beach… A long-term rental where children pick up an additional language… Or maybe a new destination full of possibilities…
According to Airbnb, travel is undergoing major changes. Seniors no longer look at "renting off the grid" as something questionable… instead, it's something to be sought. Whole-house rentals are rapidly replacing the cookie-cutter, "what city am I in?" hotel room with little more than a bed and a bath. Today's traveler expects more…
Panama Offers Up More
Many condo units in Panama have been developed to accommodate the tsunami of travelers. From ocean-facing beach units to those near schools and multinational businesses to luxury hybrids that embrace both, the options are amazing.
Ever since owners took possession of the first units at Royal Palm, with direct Pacific Ocean access, renters have found a welcoming whole-unit experience at amazing prices. Investors can capitalize on smaller units (for under US$200,000) to larger models offering family experiences. With tax abatements and low financing, return on investment is attractive. Royal Palm used to experience high season from November to April. Since the country opened up again, these units have been rented consistently over the past 12 months.
With more and more multinational companies setting up in Panama, you'll find a steady flow of employees looking for an attractive long-term rental option here. The master-planned community of Costa del Este, where many international companies are based, is one area to watch. Existing buildings, such as Parkside, provide investors with immediate access to the influx of new visitors and workers.
Luxury condominiums in the Casa Bonita residences share amenities with the five-star Westin Hotel, located steps away and provide a whole-unit experience with full kitchens and views of the ships queuing up for transit through the Panama Canal.
For those looking for higher-end options, there are million-dollar residences available such as Matisse with maids' quarters, private elevators, and sweeping views of Panama Bay.
Bottom line, convention-goers, as well as cruisers, want to find the best local accommodation options at the most attractive price. In sizing up your investment options, consider projects with Airbnb whole-units marketed directly to these audiences.