Earn A 30% Fixed Return Backed By US$1-Billion Government Fund: An Infinity-Sum Opportunity
In game theory, "zero-sum" is a concept where for someone to win, someone else must lose.
I've known sociopaths in business who are only satisfied with a deal if they can screw everyone else out of their share.
These greedy characters are zero-sum operators.
Sometimes I come across an opportunity that's the opposite of a zero-sum deal.
The opposite of a zero-sum deal is an infinity-sum deal.
These are opportunities where everyone wins. The community wins. The ordinary person wins. The government wins. And you win.
And it's truly a pleasure to do business this way.
Today, I want to alert you to a developer in Panama who is guaranteeing a 30% ROI in just two years, completely turn-key. You don't have the hassle of having to renovate, rent, or sell anything. You collect your 30% in two years (or sooner), and you can reinvest your profits again if you like.
The project takes advantage of a US$1-billion government fund set up specifically to support this opportunity.
This deal is designed to provide desperately needed resources to ordinary folks. It builds communities and supports families.
This is an infinity-sum deal.
What Is The Deal?
Panama's Chiriquí Province has a 43% shortfall in housing supply for local families.
This is a crisis.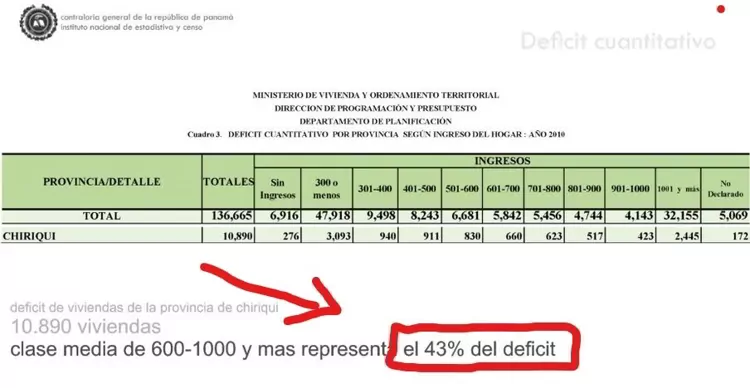 There is lots of construction going on in Panama, but it's mostly for the investor and foreign buyer market.
Average Panamanians are being left behind.
To fix this problem, the government has allocated US$1 billion to incentivize developers to build affordable housing for local middle-class families. These supports include cash subsidies to local individuals and families and low-interest mortgages.
The Opportunity
Just five minutes outside the thriving city of David, a well-known developer is building high-quality housing for the local market.
He owns 43 hectares of prime land next to a mall, a hospital, and international schools. Plus, the government has just allocated funds for a new road to the airport directly from the development.
The project has eight phases, and phases I to III are well underway.
The developers are building so many of these homes they need bridging finance to keep the construction going.
They put up the land, you pay for the construction of the house, and they split the profits with you when they are built in one to two years.
The developer already has a list of 400 pre-qualified local buyers waiting for their units to be built so they can buy them.
By investing US$59,000 today, you'll receive US$76,700 in return in one to two years, earning interest of US$17,700.
You are investing in a home finance deal, not buying property for rental returns.
Early investors have already seen their profits and are so pleased with the developer that 70% have reinvested their money in a newer phase of the development.
Early investors have already seen their profits and are so pleased with the developer that 70% have reinvested their money in a newer phase of the development.
These houses will be sold to middle-income locals for just US$89,000.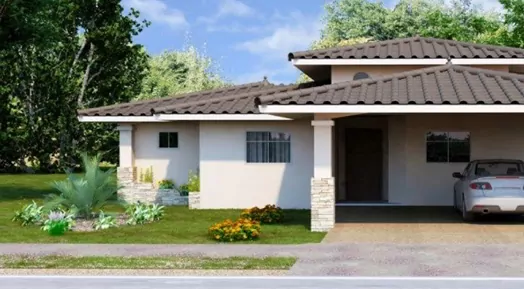 When you make your investment, you sign a purchase agreement for your house. However, the contract explicitly states you have the guaranteed right to sell the property back to the developer for a 30% profit when the house is built.
To avoid paying stamp duty twice, the lot isn't transferred into you name. Your security comes from the underlying value of the development land and the house you are building on it.
The developer wants to buy the house back from you so he can sell it for a profit. That's his incentive to ensure you get paid out as quick as possible.
If you decide you like this high-quality home, you can buy it yourself for US$67,000. If you do this, you don't get the profit split because you are keeping the house… at a huge discount.
In the development right next door, houses are selling for US$150,000 to US$250,000.
How "Guaranteed" Is This Return?
There are no such things as guaranteed returns.
We can't be 100% sure of anything except our own mortality.
No one can predict the future, and if the guarantor had the money set aside to actually be able to guarantee your return, they would not need your money in the first place.
We can, however, analyze all risk factors and conclude that unless the Earth stops turning or World War III breaks out, this investment has every factor necessary to project a guaranteed return.
A guarantee is only as good as the person giving it. If you were to invest with a developer with no track record, the guarantee would be foolish to rely on. A new developer hasn't proven they can pull off the difficult task of correctly delivering homes on budget.
When evaluating guaranteed returns, we have to do our due diligence on:
The developer's track record,
Who is supporting the deal,
What the market looks like.
The developer in this deal has a 20-year track record delivering quality housing in Panama. They are well known, well respected, and well capitalized.
You'll want to know if the developer has government support when investing in a foreign housing development. You don't want issues with permits to crop up halfway through the construction process because the government changes.
The Panamanian government is begging the developer to build these houses as fast as quality control will allow. Even if the government changes, their successors will most likely keep their support. It would be political suicide to take affordable housing away from their voters.
The last factor when assessing the likely outcome of a deal like this is identifying the ultimate buyers of the project.
During the pandemic, foreign buyers of luxury property dried up around the world. Local demand for affordable housing continued to grow.
With a developer who has a proven track record, a government bending over backwards to help the development, and a huge local demand for affordable housing, this deal is as close to a sure thing as can happen in the real estate industry.
The Lowdown On This Development
The property is 43 hectares and construction is being done in eight phases.
Each phase includes 5 to 6 hectares where 50 homes will be built. They will use 30% to 40% of that area for green spaces, which will include parks and playgrounds.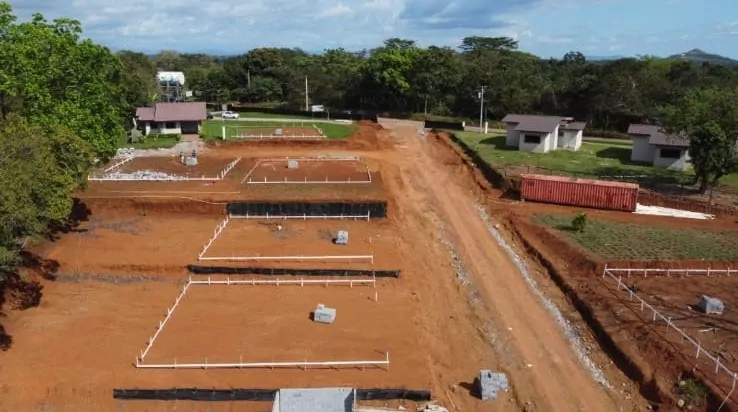 Phases I to III are currently in development. Infrastructure has been laid in phases I and II, and it's in process in phase III.
Construction is well underway in phases I and II.
All three phases are estimated to be complete by the end of 2023.
The construction crew will now bring in stones, plants, palm trees, and flowers to beautify the development.
Major Selling Points
The lots range from 450 square meters to 600 square meters. Lots in the city of David are typically only 200 square meters. This extra space allows you or the local buyer privacy and space. The ultimate sales price of these quality houses is over 50% cheaper than other houses in the area.
This is a sustainable luxury home. The ceilings are 4.5 meters (14.7 feet) high to aid air movement and natural cooling. Buyers can request solar panels for roughly US$5,000 extra.
Subsidized mortgages and cash incentives. The government offers mortgages to locals at a rate of 1% to 3 %. Interest rates are usually around 7% in Panama, so this is a huge assistance to local families. The government will even give local buyers who earn less than a certain amount US$10,000 towards the price of the new home.
No tenants, no hidden costs, no stamp duties or HOA fees, no finding buyers or renters… The developer does everything. This is as turn-key a property deal as can be found.
Low capital cost and fixed returns. With investments starting at just US$59,000, this deal is accessible to smaller investors, too.
Investor endorsement and proven track record. Not only have investors in earlier phases already collected their payouts as promised, but 70% of these folks have reinvested all over again.
Insatiable demand. There is a waiting list of over 400 pre-qualified local buyers waiting for their new homes and over 10,000 units needed in Chiriquí Province to meet current demand.
If you are looking for a high-ROI, short-term cash investment that is asset-backed, government-backed, and community-supported, this is the infinity-sum opportunity for you.
Or if you are just looking to buy a home in Panama at a premium price… this deal is as good as it gets.
Con Murphy
Editor, Overseas Property Alert