Panama has long been recognized as one of the best—and easiest—options in the world for a backup residency.
When former president Ricardo Martinelli created the Friendly Nations program in 2012, any citizen of one of the countries on that list could get residency in Panama by opening a local bank account with just a US$5,000 deposit. Today, the list includes 50 nations—the United States and Canada among them.
On Oct. 15 last year, an Executive Decree created Panama's new Golden Visa program—targeting nationals from countries not on the Friendly Nations list. With this new program, you can now invest US$300,000 in real estate in the country and qualify for immediate permanent residency.
That's the launch minimum. In October 2022, the minimum investment amount will jump to US$500,000. A real estate investment isn't the only option available under this new Golden Visa program. You can put a minimum of US$500,000 in Panama's stock market or make a time deposit of US$750,000 in a Panamanian bank. All investment options for this new residency program must be held for at least five years.
For the majority of North Americans, the Friendly Nations visa is probably the easier option for a backup residency. And, in many of the top places we recommend for living and investing in Panama, you'll find attractive options on the property market for less than US$300,000. (Remember this one in Panama City for less than US$75,000?)
That said, if your budget is US$300,000 mark or more, and you're seeking something special as a second home or investment property, the Golden Visa is an avenue to consider.
To give you an idea of what you could buy in Panama for US$300,000 right now, I've dug up offerings from some of our favorite locations. Remember, US$300,000 is the minimum you'll need for the visa. Some of the listings below are asking more—but this gives you room to bargain and still walk away with instant backup residency…
Panama City
An apartment on Avenida Balboa comes with one of the best views anywhere in Panama City. The walkway next to the sea is landscaped and lined with palm trees. Look out to sea and you can watch the ships and tankers line up to pass through the Panama Canal.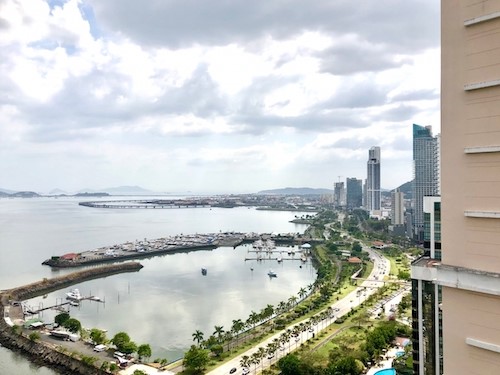 This 125-square-meter apartment  is in Villa del Mar. It has two bedrooms, two bathrooms, kitchen, dining room, living room, laundry room, walk-in closet, and views of the city, bay, and canal. Price: US$300,000.
Playa Bonita
If you want to be close to the heart of Panama City… but also on the beach… you have just one option: Playa Bonita. Once you cross over the Bridge of the Americas, you'll soon come to this private beach that's home to the Westin Playa Bonita resort and Casa Bonita—a development of residential apartments.
Casa Bonita is situated directly on the Pacific Ocean and has panoramic views of the Panama Canal. From here, it's just 15 minutes to the city center. Once the subway line is built in conjunction with the city's fourth bridge, residents out here can also connect to the city by Metro. Prices start from US$320,000, and financing is available. Find out more here.
Coronado
Ninety minutes out the Pan-American Highway from Panama City, Coronado was among Panama's first resort developments and remains a top draw for expats, tourists, and weekenders from the city. The areas in and around Coronado provide lots of retail, health care, veterinarian, restaurant, pharmacy, and professional service options. Almost everything you need for life by the beach is here.
This three-bed, two-bath home is within short walking distance of the beach, shops, restaurants, and a golf course. With 370 square meters of covered space, it has its own swimming pool and a separate casita that's currently rented to guests. Price: US$319,000.
Azuero Peninsula
Panama's Azuero Peninsula is an increasingly recognized destination among tourists, expats, retirees, and investors. This property is in the Cañas area, on the southeastern shores, within easy reach of Playa Venao (one of Panama's top surfing beaches). Part of a low-density, eco-friendly community, the ocean-view home is 180 square meters with two bedrooms and 2.5 bathrooms. It's on a large lot with swimming pool. All major furniture and appliances are included in the sale. Price: US$315,000.
Las Tablas
On the eastern side of the Azuero Peninsula, Las Tablas is the first town of note along this Pacific Gold Coast. Four hours from Panama City, it's a safe and well-maintained coastal town. Despite being the main stage for Carnaval every year, Las Tablas is otherwise a laid-back place.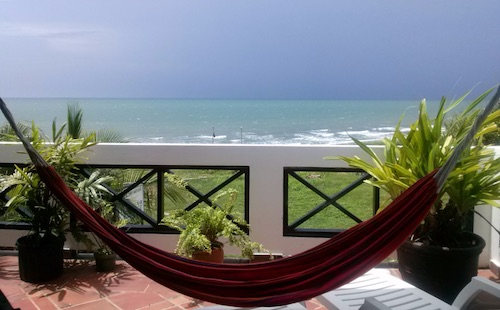 Ten minutes from Las Tablas, you'll find this beachfront bed-and-breakfast opportunity. Covering 330 square meters, it has nine bedrooms, 10 bathrooms, maid's quarters, common living area, bar area, and terrace. It's being sold fully furnished and comes with a 2011 Hyundai Santa Fe SUV. Price: US$325,000.
Boquete
Boquete is the mountain town that really put Panama on the map as a viable expat haven. If the heat and humidity of Panama is not to your liking, then the cooler weather of the Chiriquí highlands could be the answer. Prices in Boquete are higher than the surrounding areas thanks to the expat influence on the market. Nearby Volcán has more affordable options.
This mountain chalet is in a quiet cul-de-sac, among some of Boquete's most exclusive homes. It has two bedrooms, office (or third bedroom), living room with floor-to-ceiling windows, and large balcony with mountain views. The garage has been converted to a TV room, and the property also comes with two storage bodegas. Price: US$329,000.
Bocas del Toro
Like much of Panama, Bocas del Toro is a multicultural mix. The residents here are surfers, fishers, and entrepreneurs, including local indigenous people, Panamanians, and foreigners. Thanks to its Caribbean location, it's also a growing tourist haven—hence improvements in its infrastructure are ongoing.
This property is in Big Creek, just off the main road and a few minutes from a white-sand beach. With lake and jungle views, it's built of concrete and sits on half an acre. Just five minutes' drive to the amenities of Bocas, it has two bedrooms, 1.5 baths, large open kitchen, and a separate apartment that could be rented to guests. Price: US$330,000.
Lynn Mulvihill
Editor, Overseas Property Alert