Panama City Property: Buy Or Rent 30% Cheaper Today
When people talk about moving to Panama to enjoy a new life overseas, most think about exotic beachfront locations like Coronado, Bocas Del Toro, Boquete, or the San Blas Islands.
I traveled to Panama a couple weeks ago, and I had a fantastic time right in the city.
It was so much fun I nearly didn't leave.
I was in Panama to attend the Live And Invest Overseas Panama Conference, meet with some contacts, and to inspect some of the developments in the area for Overseas Property Alert.
The conference was great, attendees got up-to-the-minute information on what's happening in Panama, what to avoid, and where the most desirable locations and the best deals can be found.
We got the lowdown to a variety of unique and diverse investments on offer, solid legal advice, and in-depth information about the changes to the various visas you can get.
On top of this, we listened to a lot of first-hand accounts from expats on the ground on deciding where would suit you best, how to move there, and what living in Panama is really like.
Being in Panama City reminded me why it continues to rank at the top of our investment and retirement indices year after year.
I was so taken by the vibe in the city, I even checked out some private schools for my daughter with a mind to us moving there full time.
It has a low cost of living, genuinely welcoming people, first class medical facilities, and a fun-loving multicultural society.
I've lived and loved the expat lifestyle for most of my adult life, and Panama got me dreaming about the overseas lifestyle again.
Panama City is tidier, less congested, and boasts better infrastructure than when I lived there six years ago.
Two metro lines are now complete and you can get an Uber to take you across the city for US$5. It still has the chaotic traffic situation that it had before, but I encountered no panhandlers nor anyone who ever made me feel wary or put me on my guard.
The property market also got me thinking.
Property prices are way down, and deals to be locked in are available.
It's a buyer's market right now, but it won't be for much longer…
Panama City's Economy Is A Success Story
As you already know, Panama is a small country in southern Central America with a young population of 4.3 million people.
What fewer people know is that Panama's economy is rebounding faster from the pandemic than any other economy in the Americas. The economy grew a staggering 40% year on year in Q2 and over 25% in Q3 of 2021.
The reason for this mind-blowing recovery is that Panama's economy is unlike any other in Latin America.
Advantage # 1: The Panama Canal
The iconic Panama Canal is the major cash cow for the Panamanian government, generating US$2.7 billion in toll fees for the country every year.
This allows Panama to have a lower tax rate and a more business-friendly environment than her neighbors.
This lower tax rate and mature offshore jurisdiction attracts businesses and investors from across the globe to invest in and to operate from Panama.
Advantage # 2: Copper
Panama has one of the biggest copper mines in the world, which generates big revenues for the country.
Advantage #3: Inflation
Even with all this explosive growth, the Panamanian consumer price index only showed 2% inflation last year, which compared to the 7% inflation reported in the United States, is another positive sign for the economy.
Advantage #4: Mature finance and insurance industries, with a strong offshore services and business environment
Panama has been a safe and secure place to incorporate offshore companies for decades, and its tax system is sympathetic to foreign businesses.
Advantage #5: A new bridge across the Canal
One of the reasons Panama continues to show bumper growth in a time when other Central American countries are stagnating is that the government continues to pump money into major infrastructure projects.
In fact, it's predicted that by 2030 Panama will lose designation as a developing country and join the ranks of first-world nations.
To this end, the government has financed the construction of a fourth bridge across the Panama Canal at a cost of US$1.5 billion, which will make accessing the interior of the country easier.
This will further enhance the additional access offered by their new US$2.5 billion investment in a metro line running under the canal.
Best City-Center Areas For Living
The first few nights I stayed downtown in a medium-range hotel off Via Argentina in the El Cangrejo area of Bella Vista. The hotel cost US$50 a night and was steps away from the action.
It was close to the Live And Invest Overseas head offices too and right next to restaurants, bars, clubs, and shopping. This is also a popular residential area with bright parks that stay open and busy until later than you'd expect.
If I were to live in Panama City it would be in El Cangrejo.
Next to El Cangrejo is Obarrio, part of the shopping, eating, and living center, also with skyscrapers and apartment blocks, small stores, and bustling streets.
El Carmen is next to El Cangrejo and Obarrio in the city center, with plenty of small eateries, bars, and small shops. I enjoyed sampling the modestly priced international eateries, sports bars, and the more salubrious establishments.
Private Schooling
I met expats that recommended a private school in El Cangrejo that costs US$250 per month, and with the low rents available in the area, this is very affordable to anyone from a western economy.
The most expensive school is Balboa Academy, which costs US$1,500 per month.
If you have space, you could hire a live-in maid/nanny for less than US$500 per month.
The Property Market
Panamanian property prices were badly hit by the pandemic.
Property markets are still 15% to 30% below pre-pandemic levels, but they are recovering. If you're considering Panama, you should try to make a decision sooner rather than later.
Phil is a former Peace Corp volunteer who came to Panama 14 years ago and stayed after his tour was over. He is now a realtor that I know and trust in Panama City. He showed me examples of luxury condos in Costa Del Este that were all renovated with Italian doors and closets and marble floors. These were on the market, pre-pandemic, for US$1.1 million… they are now on sale for US$825,000.
He showed me a listing in Punta Barco that was US$850,000 pre-pandemic and is now selling for US$550,000.
For comparison, he showed me a condo in the San Francisco area of Panama City that's 98 square meters and comes with a great rooftop pool, plus access to a well-appointed gym, with two social areas, and with an HOA fee that is only US$138 a month.
It is walking distance from Parque Omar, grocery stores, restaurants, and more.
This had been on the market for US$185,000 but was reduced to US$150,000.
With the city real estate market heating up again, the inventory keeps changing all the time. For up-to-date listing and deals, contact Phil here TO Philip James Realty.
Best For Investment
The famous Avenida Balboa that faces the ocean offers the best views in the city and was the first area to build skyscrapers. A fabulous promenade to walk or run on is right across the street (Cinta Costera).
Prices are down here too, but it's still one of the most expensive places in the city to buy.
Traffic can be awful here at peak times, which isn't unusual for the city, even with the new Metro.
Medium To Low Range Areas, But Still Safe
The Via España area of the city, a little northeast of El Cangrejo, including the neighborhoods of Carrasquilla, La Loma, and Parque Lefevre offer lower prices. It's pleasant and safe to live here, but there's less density of nice bars and restaurants. What it does have is great medical facilities with a good hospital and clinics in the area.
Cheap As Chips
The far end of Via España from Via Argentina contains the cheaper areas of livable Panama City center.
Here you can find condos to buy or rent for a small fraction of the cost of Avenue Balboa, even though it's not really that far from it.
Casco Viejo
This is the historic quarter of Panama City—great fun to explore during the day or night. Packed with quaint and trendy bars, restaurants, and nightclubs, you should take an Uber here at night because you'll never find parking.
While parts of Casco have become gentrified, it still has a raw feel to it. Unfortunately, anything in the nicer areas lacks value and what's in the rougher areas can be really rough, so I can't recommend Casco as a buy at the moment.
McMansion And Skyscraper City—Costa Del Este
About 11 kilometers east of El Cangrejo you'll find the shiny new suburb of Costa Del Este. It's a relatively newly developed area, with wide and properly planned tree-lined streets and scrupulously clean boulevards, skyscrapers, and multinational headquarters. The walled mansions and private developments that surround it scream money.
Personally, I felt it lacked character somewhat. It looks like a sanitized version of South Beach Miami. The private Santa Maria Golf Club and estates are located here (one of three in the city area), but I would choose to live in the busier, crazier, and more fun El Cangrejo area.
Luxury two-bedroom condos on the most desirable Avenida Balboa that were renting pre-COVID for US$2,200 fully furnished with ocean views are now renting for US$1,700.
You can find nice 100-square-meter, two- and three-bedroom apartments in El Cangrejo for US$1,000 to US$1,200. If you're on a budget, you can find two-bedroom apartments on the Via España or San Francisco areas a few minutes away for US$600 that are perfectly fine.
Cheap Rentals At The Beach
Phil gave me some comps of smaller, 46-square-meter ocean view condos with large pool facilities and other amenities just a short walk from Playa Corona for US$600.
New Development: Private Beach Project
With just a 15-minute drive outside Panama City, you'll get to a beautiful residential spa resort development overlooking a private beach on the Pacific Ocean.
I went to inspect the property and it was built to a high standard, with a private club with a spa, sauna, theatre, ballroom, and restaurant for residents.
You have options of panoramic ocean or rain forest views, opulent décor, spacious social areas, vast swimming pools, and a state-of-the-art fitness and health center.
Standing on at the rooftop social area, it was hard to believe I was just 15 minutes from the excitement and bustle of downtown Panama City. The 15-minute drive to this private beach residence from Panama City assumes you are not driving at rush hour, which is mayhem. However, the new bridge and metro line will significantly improve access, making it a short hop to the city at any time of the day or night.
What's most enticing is that this exclusive development is move-in ready and selling out fast. There's no wait for the builders to finish, you can make your payment and get on a plane to your new beachfront home today.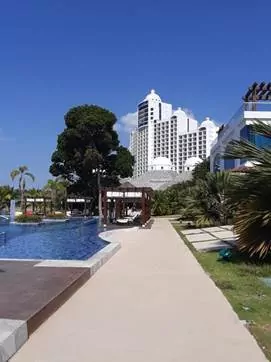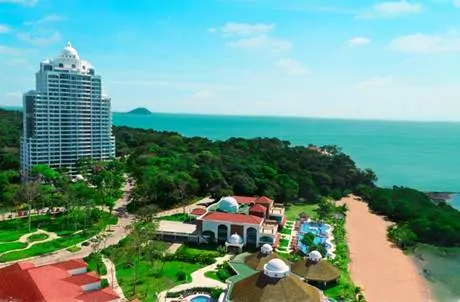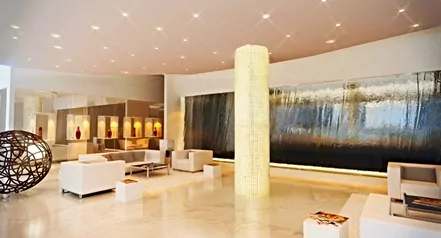 Panama is a country that continues to deliver for investors. It has lifestyles, properties, and budgets to suit everyone.
The Temporary Residency Investment Visa is available for an investment of US$200,000 in property until October 2022 or US$100,000 in a qualifying forestry investment with no immediate deadline.
Con Murphy
Editor, Overseas Property Alert