Plus: Beaches, Climate, Expat Community, Restaurants, And Sex
"Seas Are Rising At Fastest Rate In Last 28 Centuries"
In case you missed it, this was a page-one headline in the New York Times last week. The article reported on new statistics that quantify the current sea level rise and refine previous disaster predictions.
Current models from different studies now have sea levels rising between three and four feet during the next 80 years based on temperature changes and today's rate of rise.
That article came out last Monday. And, like clockwork, Tuesday morning I got the first emails looking for beach properties that are not on the waterline.
This is what I call the "tsunami effect" on international property markets. For the first few months after a major tsunami, we see a surge of interest in properties that are on the ocean but not down at sea level. Now we see the same reaction after new press reports on rising sea levels.
With sea levels in the news this is a good week to look at seaside properties that are at the ocean but not on the beach…
More Reasons To Like Those "Above The Beach" Properties
And aside from climate change, rising sea levels, and tsunamis, there are other reasons why buyers like those "above the beach" properties.
These include long, distant views… no sand in the house… fewer passers-by… and fewer annoyances caused by salt spray, which leaves a residue and causes corrosion in the home.
If you are at the ocean mostly for the view—rather than to spend significant time on the sand—then properties above the beach are ideal.
Here are a few that have caught my attention recently in Europe and the Americas.
Portugal: Carvoeiro (Algarve)
The town of Carvoeiro occupies the perfect, tranquil spot on Portugal's southern coast at the center of the world-famous Algarve region. The town beach is a cozy, sheltered, sandy bay spreading out in front of the town square.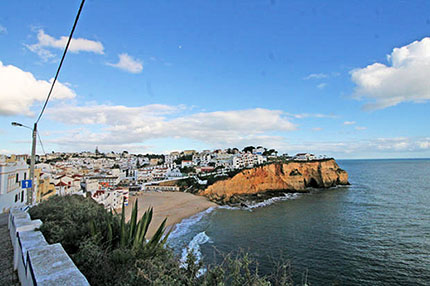 Cliff-top properties in Carvoeiro have the convenience of both town and the beaches
Carvoeiro is a small fishing village—with only two roads leading into it—but you'll find a wealth of restaurants, shops, bars, and diversions. Its picturesque setting and amenities explain why it's such a popular destination today, especially with visitors from the U.K.
On both sides of the town beach, scenic cliffs rise up and provide dramatic ocean and sunset views for the homes located there… not to mention safety from the rising seas.
Cliff-top properties are very reasonable here, and we found quite a few available nearby.
One such apartment was a frontline, sea view, cliff-top apartment within walking distance of the beach. It has two bedrooms, two baths, and a large roof terrace with amazing views of the sea and coastline. Cafés and restaurants are within easy walking distance.
The asking price for this unit is US$182,000 at today's exchange rates (165,000 euros).
Brazil: Praia Retirinho
A brand-new project at Praia Retirinho (Retirinho Beach) is located just 15 minutes from Canoa Quebrada, one of Brazil's major tourist destinations. Canoa Quebrada is known for its beaches, beach resorts, world-class restaurants, and vibrant nightlife. I've enjoyed the area myself as an easy weekend destination while staying in the city of Fortaleza.
There's a lot to say about all the amenities going into this preconstruction opportunity. But the reason I include it here is that the developer is offering 50 prime beachfront lots starting at US$49,000 at today's exchange rate (197,718 reals).
Large beachfront lots for less than US$50,000 are unheard-of today. And the lots are situated on a bluff, so you'll be many feet above the waterline for generations to come. Given today's low costs of construction, you could own a beachfront home here for less than US$100,000.
This offer has just been released. And in fact, Lief Simon wrote an essay about this property last Friday. You can read Lief's essay here.
Mexico: Puerto Vallarta
The Puerto Vallarta neighborhoods of Amapas and Conchas Chinas are known for their dramatic hillside settings and stunning Pacific views.
Amapas is on a hillside just south of PV's old town. It's a rapidly growing area where many Americans and Canadians are choosing to buy. Amapas is in a jungle setting, but its Pacific views are impressive. Walking to town from here is not difficult, but you may want to take a cab back as it's all uphill.
The Terazas Amapas project is a good example of reasonably priced, new hillside construction. The units have three bedrooms and two baths with 2,200 square feet of living space (204 meters). There is only one unit per floor, and the project consists of only seven units.
Asking prices at Terazas Amapas start at US$199,000.
Conchas Chinas lies south of Amapas, and is sometimes known as the Beverly Hills of Puerto Vallarta. It's an exclusive neighborhood populated by well-off Americans, Canadians, and a few Mexicans. Lower Conchas Chinas is at or near the beach, while upper Conchas Chinas is in a jungle setting, often with excellent views of the bay. Villas here can run as high as US$5 million.
The Costa de Oro condominium here has a two-bedroom, two-bath unit available with lots of windows and impressive Pacific and sunset views. The living space is about 1,700 square feet (157 meters). The oversized terrace is a good place to watch the sunset while enjoying an outdoor barbecue.
The asking price for this unit is US$259,000.
Costa Rica: Flamingo Towers
This is a luxury condo complex located on a hillside overlooking Brasilito Beach, in the Guanacaste province of Costa Rica. It offers upscale living with amazing ocean views and sunsets from the condos' large balconies.
Flamingo towers has 10 units remaining for sale with either 2 or 3 bedrooms and 2.5 baths. Both mid-building and corner units remain.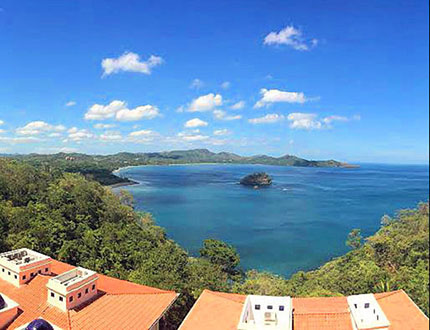 Flamingo Towers is high above the Costa Rican waters, but there's no shortage of view
The complex has two pools and is located less than one hour from the international airport at Liberia. The area is known for sportfishing, diving, surfing, and there are restaurants, bars, hardware, and health care facilities within five minutes of Flamingo Towers.
Prices on remaining units range from US$215,000 to US$240,000.
Best of all, financing is available. Contact Rachel Jenson for more information on Flamingo Towers, or to get financing details.
Panama: Los Islotes
Los Islotes is a 750-acre planned community located on Panama's Sunset Coast… a section of wild Panamanian seashore located on the west side of Panama's Azuero Peninsula. The project has a couple of beaches, but the homesites are nestled among its rolling hills, far above the high tide line.
And the view is great. You've got the Pacific sunsets, as you'd expect, but, also, the ocean is dotted with the three small islands from which the project gets its name—they're within swimming distance—plus, the larger, well-known island of Cebaco.
Aside from the natural features, the project also plans a clubhouse, three pools, an equestrian center, tennis courts, basketball, a fitness center, parks, plus hiking and riding trails. All utilities will be underground, and fiber-optic Internet will be available throughout the property.
To learn more about Los Islotes, go here now.
This town has been Nicaragua's top beach destination for years. It started as a fishing village and a gateway to Nicaragua's land crossing between the Pacific and the Atlantic oceans.
San Juan del Sur (SJDS) then became a surfing village, and after the year 2000 it drew the attention of higher-end vacationers, second-homeowners, and expats. When I first went there in 2004, a couple of pioneering developers were starting to ply their trade in the hills surrounding SJDS. Today there are lots of properties, not only overlooking the village, but sprouting up along the coast both south and north of town.
Overlooking SJDS from the north end, there's a high, hillside townhome for sale with views of both the ocean and the village. It's just two blocks from the beach, but considerably higher in elevation. The unit has balconies on each floor, and a roof deck for relaxation and viewing.
The asking price is US$335,000. See the photo below.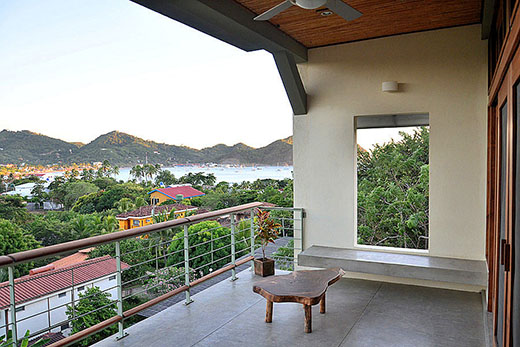 This San Juan del Sure condo has an excellent view and would make a great rental
There Are Two Ways To Deal With Sea Level Rise… Each With Its Own Followers
Among international property buyers, people fall into two camps when it comes to rising sea levels…
The first faction says, "Life's too short to worry about this." These are mostly people over 50 who want to be right on the beachfront anyway and aren't going to deny themselves because of a problem far in the future.
I'm in this camp… and, in fact, we just purchased a beachfront home in Mazatlán, Mexico. I'm happy to let my heirs sort the problem out when the time comes, if the property is still in the family.
The second faction says, "Get me to higher ground… I'd rather be high-and-dry, as you reckless beachside people sink into the ocean."
Luckily, there are plenty of beachfront properties that are just right for both of us.
Lee Harrison
Editor, Overseas Property Alert
***
Letters To The Editor
Hello, Lee Harrison,
I enjoy your overseas property reports. You seem honest and just give the facts, without sugar coating the place. I have been to three Central American countries and do not really care about coastal living, especially where it is hot and humid… although the coast is a nice place to visit when the climate is agreeable.
Years past I was in contact with people in Mazatlán, MX. Your article renewed my interest, as long as I could somehow arrange to live there during the comfortable months.
My other interest is in Medellín, Colombia.
I am retired, currently living in Las Vegas, NV. I have signed up for your Retire Overseas Conference in August. I hope you will be there.
Frank
Mazatlán vs Medellín? The answer to that one involves a discussion of beaches, climate, expat community, restaurants, night clubs, and sex.
And I will, in fact, be at the Retire Overseas Conference in Las Vegas this August. We can discuss it in detail there, along with a few other options.
***
Lee,
After three years of researching international retirement destinations, I've settled upon the country of Italy, most likely the region of Abruzzo. This region has so much to offer, including activities I enjoy.
There's an abundance of affordable properties and I can buy a small farm and grow my fruits vegetables, etc… I'm 62 years old, and anxious and eligible to retire with my Florida state pension.
I have spoken to countless people, friends and relatives alike, who have traveled to Italy and have hardly ever heard a negative comment. In fact many people return repeatedly. Your comment is greatly appreciated!
Rich
Rich is not overstating the benefits of living in Abruzzo. Italy is one of the world's most-fascinating and culturally-rich countries, and Abruzzo delivers a terrific value. You can read a previous OPA essay on Abruzzo here, but remember, the U.S. dollar now buys about 20% more than when that article was written.
That said, Rich has written with comments about Italy before, and last time, I received this comment in response:
***
Lee,
Please tell the guy who wrote not to get totally fixed on Abruzzo, but rather to go to Italy and travel around; there are lots and lots of places which could suit him, such as Friuli, Veneto, Emilio-Romagna, Piemonte, Toscano, and Lazio… each more charming than the last.
I lived in Florence for a year, and would seriously consider Italy if I weren't so gung-ho on France's Basque Country.
Zoe
***
Hi Lee,
I'm a long-time reader first-time writer, going to Placencia, Belize, next month and would like info on a house or condo for sale, and also a beach bar for sale in the area.
Any ideas?
Thanks,
Chris
I haven't been to Placencia myself, but some of my colleagues really like it there. One described it in an email by saying "it was small and friendly, had decent restaurants, a buzzing boating scene and good beaches."
For real estate in the area, I'd write to Jim Hardesty, an expat from San Miguel de Allende, Mexico, who works the Yucatán, Riviera Maya, and Belize. You can write to Jim here.
***
Dear Lee,

Your newsletters always contain more useful information per paragraph than the others. And that's appreciated!
How can I find out about the 17th floor 2BR El Poblado apartment
Cheers,
Tom
That particular apartment was offered by Rich Holman, of First American Realty Medellín. You can follow the link in the essay, or write to Rich directly here.
Have a question? You can write to Lee here.