Plus: "I Beg To Differ!"
Mazatlán draws people to its shores for a lot of reasons, and I've been focusing mostly on the properties and the beaches, since the beaches are the big attraction here.
But I realized while talking to a few expats yesterday that many people come here for reasons other than the sea and sand.
Golfing is one reason people are drawn to Mazatlán, and the area boasts a number of good courses… including a Robert Trent Jones course right on the Pacific, and a David Fleming course at the marina.
Follow this link to see a few of Mazatlán's popular golf courses (https://mazatlantoday.net/golf_courses_in_mazatlan.html).
Also, the sportfishing in Mazatlán is world class with loads of charters to fish offshore for tuna, marlin, swordfish, and shark. Other popular species found in Mazatlán waters are grouper, halibut, sea bass, and red snapper.
Last week we looked at the Mazatlán beaches closest to the historic center. Mazatlán's northern beach areas are quieter, more upscale, and offer amazing ocean and island views.
And notably, you can buy properties here that are directly on the sand rather than across the beachfront road.
You can follow this link to see an area map.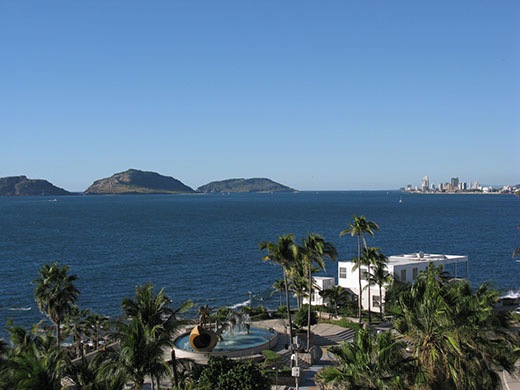 When choosing a property in Mazatlán, an island view adds a premium touch
Today we're looking at what some believe to be the best beach areas… and I'll also draw some conclusions about which areas are best for different types of buyers or investors.
Sábalo Country
This sector gets its name from a development in the area (Sábalo Country Club) but the term is now used to refer to the zone between the Zona Dorada and the marina entrance. You know you've left the Zona Dorada for Sábalo Country when you see the grassy, palm-studded median dividing the main road.
Along the water here, there's an exclusive residential area with just a few hotels. It's much quieter than the Zona Dorada with fewer tourists and tourist attractions. A few condo properties are right on the water in Sábalo Country, since there is no boardwalk here separating the ocean from the seafront private properties. From these condos, you have beach-walking access to a number of seaside restaurants, bars, and cafés.
Sábalo Country is home to the condo project that's often referred to as "Mazatlán's best address," a project called Las Gavias Golden Shores.
Just a few blocks inland you'll find a few quiet neighborhoods with single-family homes. Even in the nicest areas, the houses here are about half the price of a condo on or across from the beach.

Las Gavias Golden Shores is a luxury, high-end, on-the-sand building with top-quality amenities. The gym, infinity pool, spas, and social areas are all first-rate. The condos' large decks look out at the ocean and two offshore islands and, in closer view, down onto the beach.
This is a building that seems to have people stalking its units… at least the two-bedroom units. Many are sold without ever being publicly listed. At this time, I know of 2 two-bedroom units for sale (one is unlisted) and 1 three-bedroom unit.
An available two-bedroom unit, 703, has 1940 square feet (180 square meters). Each large bedroom has its own private balcony and its own full bath, plus, a guest bathroom in the entry. The condo comes fully furnished with tasteful (expensive) furniture. The asking price is US$375,000.
A couple of three-bedroom units are also available. The master bedroom in these apartments has its own private deck looking on to the ocean.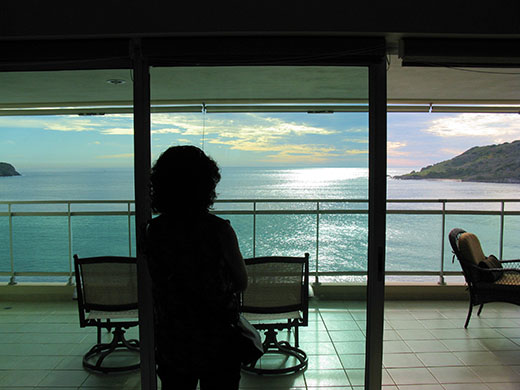 Admiring the view from a two-bedroom condo in Las Gavias Golden Shores
The Marina District
The marina district is an exclusive area, built around a well-designed network of waterways, golf courses, and marinas. It consists of some mature neighborhoods and also some fairly undeveloped areas, along with a handful of restaurants and cafés.
There are lots of waterfront properties here selling for much less than properties on the ocean. Even if you don't have a boat, you'll enjoy sitting on your balcony and watching the boats pass by.
The southern part of the marina district is adjacent to the north end of Sábalo Country and is fairly convenient to the Zona Dorada's restaurants, bars, clubs, and shopping. The north end is more isolated, thanks to a long loop that the highway takes to get to the north side.
The north side of the marina district is best for those who want more peace and less traffic… while the south side is better for those who want to be nearer to the action. All of it is great for boaters.

One of my favorite properties here in the marina district is a waterfront townhouse of 2140 square feet (199 square meters) that comes with a 41-foot boat slip. It's on the waterway and about 400 meters from the beach. The house has three bedrooms, four baths, and comes completely furnished with new furniture. The community also has a number of amenities, including a large pool and club house. The asking price for this townhouse is US$249,000.
Cerritos And Nuevo Mazatlán
Once you get beyond the marina district, you'll find a more tranquil setting with high-end resort condo developments offering plenty of on-site amenities. The amenities here are important because these are not city-walkable properties… it's about a 10-minute drive from Cerritos to the thick of the Zona Dorada and a 30-minute drive to the popular historic center.
I thought this would be an undesirable area for a vacation rental… but I was wrong.
Occupancy rates are good in the December-to-March high season, as you'd expect. But the area is also quite popular with well-off Mexicans who come here during the hot summer months of June through August looking for more tranquility than they'd find in more commercial areas.

This area has the absolute best deal I found for an on-the-sand beachfront project. The condo on offer has four bedrooms, four baths, and 1,750 square feet of living space (163 square meters). It's one of the older buildings in this area. It's solid and in great shape, but not in demand like the new buildings are. The asking price is only US$218,500. For a beachfront condo in a resort, this is an amazing deal. It's been for sale for a while so the owner has reduced the price and is still probably motivated.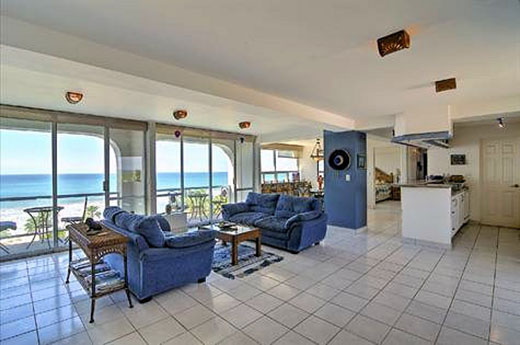 This oceanfront condo is going for only US$218,500
Getting To Mazatlán Is Easy From The States And Canada
I can see by the license plates around here that many people from the States and Canada chose to drive. It's not a short drive to Seattle, Green Bay, or Winnipeg… but when you're coming for the season, it sure is a luxury to just throw everything you need in the car and drive down without worrying about what the airlines will let you bring.
The drive time to Mazatlán is about 14 hours from the Arizona border.
If you'd rather fly, Mazatlán has good flight access to the States, with nonstops to Phoenix, Los Angeles, Dallas, and Minneapolis.
But Mazatlán has the best access to Canada I've seen with nonstops to Vancouver, Edmonton, and Calgary, as well as Toronto. These nonstops allow Canadians to avoid the usual torturous stopover in the States, where a simple flight connection requires customs and immigration as well as luggage retrieval and re-check.
Here's A Good Real Estate Resource
My real estate contact in Mazatlán is Shaun Klynstra, an expat in Mazatlán's Centro Histórico since 2002. He's got listings starting at under US$40k, but he and his agents will show any listing in the area, no matter who listed it. You can write to Shaun here.
Lee Harrison
Editor, Overseas Property Alert
***
Letters To The Editor
I beg to differ with your reply to a reader concerning
pensionado
visas in Colombia.
I have lived in Colombia for three years with a pensionado visa. I have had to reapply every year and submit a certified (apostilled) letter from social security stating my benefits with each application.
Arthur
I don't have a pensioner's visa, but rather a resident investor's visa. Mine is marked "permanent," but, today, they're issued for five years. The visa type is RE.
To maintain it, I have to be present in Colombia once every two years.
There are several ways to qualify for this one, such as making an investment (including personal property) of just over US$128,000 at today's exchange rate.
The pensioner's visa is a temporary visa and is generally only good for one year (a consulate can grant them for two years, but this is somewhat unusual). To maintain a pensioner's visa you must enter Colombia at least once every six months.
You can apply for a resident visa after you've held a pensioner's visa (or one of several other temporary visas) for five years.
Have a question? You can write to Lee here.