Plus: Getting The "Real" Story On Belize
"I can't believe this place has stayed off the radar," said my friend Lou… for the third time in as many days. We were having dinner in an open-air French restaurant in Medellín's Zona Rosa, the city's upscale dining and shopping area.
Lou lives on Manhattan's Upper West Side, and over the past 25 years he's had the highest standards for fine dining of anyone I know. He was surprised that Medellín's El Poblado made the grade given that the city is still relatively unknown by the mainstream.
But Medellín more than "makes the grade". In most ways, it sets the standard for world-class city living and does so at a surprisingly low cost of living.
What's more, real estate prices can start at less than US$54,000 in the Medellín valley and under US$100,000 in Medellín's most-exclusive and upscale neighborhood.
If you're a regular reader, you'll know that I've recently returned to Medellín, Colombia, from Mazatlán, Mexico. And returning from an extended absence—along with hosting first-time visitors to the city—always gives me a new appreciation for Medellín.
Here are a few of the items that really struck me again when I returned earlier this month.
The weather is amazing:
We were sitting at a sidewalk café this morning on the way home from our exclusive, open-air gym. While enjoying cappuccinos and pastries—in gym shorts and t-shirts—I realized that I could enjoy this outdoor café every single day of the year. It's never too hot or too cold.
I also enjoy passing mornings and evenings on our balcony overlooking the lush courtyard behind our apartment. With no heat or air conditioning, we can leave the windows open to the gentle breeze, day and night, all year long.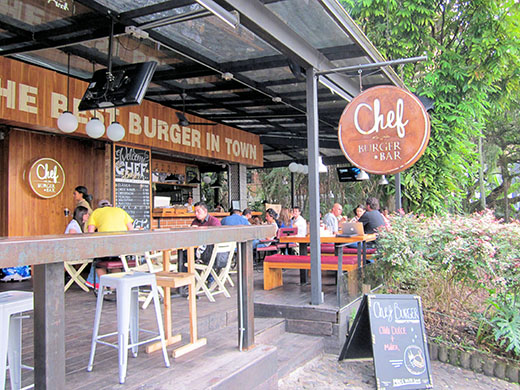 Outdoor dining is an all-year benefit of Medellín, where many restaurants have no walls
A clean, modern, and First-World setting:
Well-maintained roads, a new Metro system, pure drinking water, modern Cable TV, and high-speed Internet lay the groundwork for a convenient lifestyle.
A rich cultural scene:
With orchestra, theater, and countless events and shows. Last Saturday's 2016 opening performance by the symphony (featuring Mozart and Bach) was a good example of what we can enjoy here.
If you like eating out this is the place:
From fine dining to quaint sidewalk cafés, you'll find it here. The elegant restaurants compare with any you've seen around the world, with respect to their variety and creativity. And the sidewalk cafés are too numerous and diverse to mention.
No car!
I don't own a car in Medellín, and I've not been inconvenienced at all. Everything is close at hand within comfortable walking distance. I walk to the gym every day, and all the banks, shopping, and businesses I need are nearby… not to mention dozens of the restaurants and cafés I referred to above.
If I need to go downtown though, taxis are plentiful… and the flag drops at just 80 cents.
Plenty of expats… or not:
I've seen more Americans lately here than ever before, in all parts of town. In contrast to just five years ago, Medellín is now drawing a large number of retired couples, single women, and younger people with portable careers.
You can congregate with other expats if you want to.
Or if you'd prefer, you can remain among Colombians and avoid the expat scene altogether, the town is big enough to assure your privacy if you'd rather be on your own. Some people blend the two lifestyles, they live or work in a Colombian setting, but turn up at the pub to watch things like the Super Bowl or the Stanley Cup finals.
The cost of living can't be beat:
Over the past five years, I've seen the U.S. dollar at both record-weak and record-strong levels. The dollar is exceptionally strong right now, making life here in Medellín a bargain… about half the price that it was just a few years ago.
And of course not having cars (and their associated overhead), heat, or air conditioning lowers the cost of living even more.
Plentiful, well-stocked shopping:
You won't have to "do without" here. Medellín offers everything from mom-and-pop corner stores, to high-end shopping malls… old-fashioned markets to gleaming supermarkets… discount clothing bazaars downtown to exclusive boutiques in El Poblado.
Medellín offers a large inventory of high-quality properties at low current prices:
Properties are the hot ticket today with sales to North American retirees and investors breaking all previous records.
And I don't mean that sales are up slightly. Some brokerages are seeing a sales volume that's up more than 12 times from just a few years ago as buyers take advantage of today's strong dollar and low prices.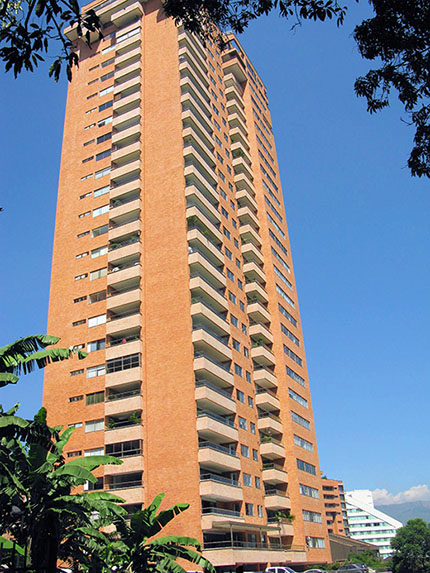 Modern, high-quality real estate is the norm in Medellín's El Poblado
Prices are actually going up smartly on the local market, in terms of the Colombian peso. At this time, that price increase is being masked by a favorable, record-high exchange rate. When the dollar enters its next (inevitable) cycle, today's buyers will profit twofold… from the local price increase and the exchange rate.
Here are a couple of examples of what's on the market today:

Two bedroom condos are hard to find in Medellín's El Poblado district, and any available property is hard to find that's convenient to the Golden Mile, El Poblado's banking and business hub… a prime spot to own a rental.
This apartment is a two-bedroom, two-bath unit on the 17th floor of a modern seven-year-old building. The apartment has an excellent rental history thanks to its sought-after location and long views. The building has a rooftop pool and sun deck, and the unit comes with two parking spaces. The asking price is US$114,800 at today's exchange rates (COP 385 million).

In the exclusive San Lucas neighborhood of El Poblado, residents enjoy a higher elevation, slightly cooler temperatures, excellent views, and a bit more peace and quiet than you'll find along the Golden Mile.
If you'd like a bit more living space, this apartment offers three bedrooms and three baths. The unit has two balconies and enjoys excellent green views nearby, with commanding views of the valley below.
Located on a quiet cul-de-sac, the 10-year-old building has a resort-style pool, gardens, and gym. The asking price is US$135,600 at today's exchange rates (COP 455 million).

If you'd like to save money, you can head a bit south from El Poblado to Sabaneta, a less-developed, more-homey area that's just now becoming popular with a few front-running expats. Here I saw a small three-bedroom unit with a balcony overlooking the complex's courtyard.
It's within walking distance to restaurants and cafés, but importantly, it's a short walk to the metro, which gives you quick access to El Poblado and all of Medellín. The asking price for this one is just US$53,700 (COP180 million).
My prime real estate contact is Rich Holman, expat founder of First American Realty Medellín. Rich has 100% bilingual agents and about 400 listings aside from those I mentioned above. Follow this link to get a quick reply from Rich.
If you speak Spanish, I've also worked extensively with Marjorie White, a Medellín native with over 20 years' experience in this market. You can write to Marjorie directly here.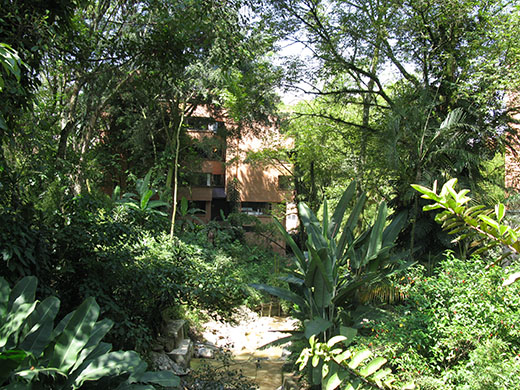 City planners and developers in El Poblado have done a great job preserving the lush surroundings
Practical matters put Medellín over the top:
Medellín is only a three-hour flight to Miami and just over five hours to New York.
Also, Colombia has the easiest and fastest residency I've seen anywhere. By applying at the ministry in Bogotá, I had my visa just 55 minutes after I walked into the building. I simply provided the information requested on their website.
I've had a home in Medellín since 2011. And frankly, if I didn't believe it was the world's best location for city living, I wouldn't still be here.
If you're interested in world-class city life at amazingly low prices, Medellín should be high on your list.
Lee Harrison
Editor, Overseas Property Alert
Editor's Note: Lee will be participating in the fifth annual Live and Invest in Colombia Conference taking place in Medellín April 20–22.
Colombia's City of Springtime and Flowers has to be seen to be believed. This until-now overlooked city checks every single box on the would-be retiree's list… and holds out enormous investment upside to boot.
Medellín has it all: near-perfect weather (it's springtime all year long)… world-class health care… a very affordable cost of living… and the real estate? It's a global bargain and one of the world's best investment opportunities for 2016.
The Early Bird Discount for this event is currently in effect. Register now to save up to US$500.
***
Letters To The Editor
Lee,
My husband plans on retiring around August, and for some reason, he has become completely taken with the idea of moving to Belize.
This idea mainly comes from pictures of the area on the internet, houses he's seen for sale, and the wonderful way in which articles describe it.
I would like to find someone to give us the real story about Belize… things like drugs and crime rate, and what difficulties there would be in living there. To be honest, I don't particularly want to go there; Panama would be my preference.
What can you tell us about what to look for before he decides to take that plunge?
Donna
I think Donna misstated her real question. She's not looking for the "real" story on Belize but rather for help in building a case against moving there.
But it's a good question nonetheless. And my answer is that it's time to go to Belize and see it first-hand. And if they haven't already been to Panama, then it's essential to see Panama first-hand, too. If there's time, rent a furnished apartment (rather than a hotel) to get a more genuine feel for life as a resident.
I can tell you that both Belize and Panama were far different, once I actually saw them, than the images I had conjured in my mind.
It's critical to see a country on the ground before you get serious about moving there. And it's even more critical in countries that have a lot of exotic imagery out there in the media. In this case, a visit will likely answer the question about whether or not to move there in both peoples' minds.
Lee,
Another informative article (about real estate agents abroad). Your overseas real estate experience and knowledge is valuable. Keep up the good work.
Paul
Dear Lee:
I live in San Diego County, CA, and am considering moving to Mexico. Your comments about living in Mazatlán are enticing, but what is your opinion about Baja California?
I'm particularly interested in those areas close to the border, like Rosarito Beach.
Donald
The area south of Tijuana from Rosarito to Ensenada can be a great option depending on what you're looking for.
You can drive there easily from the U.S. border, and there is a high concentration of fellow Americans and Canadians, higher than you'll find in places like Mazatlán. Having that many Americans can be a plus or a minus, depending on your outlook, although you'll find it less "Mexican" than places farther from the border.
But northern Baja California is certainly more convenient to the U.S. than Mazatlán. In Rosarito for example, you can easily make use of the international airport and other amenities in San Diego. You can also return to the U.S. for medical care if you like… something that's especially useful once you're on Medicare, which is not available outside the U.S.
Have a question? You can write to Lee here.