Plus: Assisted Living In Cuenca, Ecuador Buying Overseas Properties With Your Work-Sponsored 401K
Many who want to buy a home abroad focus in on the world's beaches… not only for retiring overseas but also for maintaining a part-year or vacation home.
Time and again, there are a number of well-known beaches that seem to grab everyone's attention. Three that come to mind are Punta del Este, Uruguay; Viña del Mar, Chile; and Santa Marta, Colombia; although there are numerous others.
Today, however, I'd like to go one step beyond these well-known areas, and take a look at some real treasures that are somewhat off—but not too far off—the beaten path.
This is always a good idea when looking for coastal property. In some cases, it'll save you money… my examples start at US$50k. In others, it will get you away from the traffic and crowds, without sacrificing any of the natural beauty of the area.
Let's start with Santa Marta, Colombia, and see what lies beyond.
Santa Marta is Colombia's oldest city, and one of the oldest in the Americas. Located on Colombia's Caribbean coast, it offers warm temperatures and warm water all year.
The historic center underwent a dramatic restoration over the past 10 years, with the city refurbishing many of its parks, historic buildings, and waterfront areas… which now enjoy a nice park, waterfront cafés, and pleasant walkways.
There are a handful of small beaches in Santa Marta, as well as a cruise ship port.
I've been to Santa Marta a number of times and have enjoyed watching its renaissance.
But one step beyond Santa Marta is the village of Taganga… just over the ridge and around the point as you're heading north. Taganga is a small village—surrounded by tall mountains—that sits on an expansive, sparkling, deep-blue bay. The beach is long and sandy and is bordered by a new boardwalk with shops, stands, and restaurants.
Taganga's bay is terrific for diving and snorkeling, and you'll find a number of dive shops and excursions available.
I like Taganga's slower pace, small-village feel, pleasant boardwalk, youthful ambiance, and it's beautiful, pristine bay.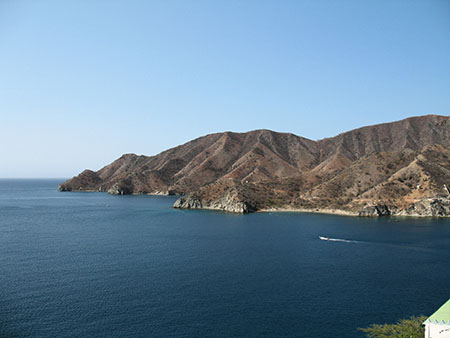 Taganga's pristine bay is good for swimming, boating, diving, and snorkeling
There aren't that many listings in Taganga, but there are a handful of gems… all within a short distance to the beach and bay.

Built in the Mediterranean style, there's an ocean-view house on the market in Taganga with two floors, each with an independent 100-square-meter (1,076-square-foot) apartment with a kitchen, bedroom, bath, and terrace. The house is surrounded by trees, with a stream and private outdoor barbecue area, nicely landscaped. The property is perfect for living in one half and renting out the other… or renting out both. The asking price is US$81,400 at today's exchange rate of 3,070 Colombian pesos per U.S. dollar (250 million pesos).

Located in a gated community of just seven houses, this home has two bedrooms, two baths, and a larger open kitchen. The terrace on the third floor has a panoramic view of the town, mountains, and the bay. Built in 2010, the asking price is just US$50,500 (155 million pesos).
Viña del Mar is Chile's premier resort destination. It came to prominence as a city in the 1870s and came into its own as a resort in the 1920s. Today, it's Chile's most popular seaside resort, drawing people from around the country as well as a large number of international visitors.
The weather in Viña del Mar is fairly comfortable all year, thanks to the Pacific Ocean's modifying influence on temperatures. The Humboldt Current keeps summertime temperatures cool, with the average January high coming in at just 76˚F (24˚C). This is fairly cool, given that Viña del Mar at Christmastime is the southern hemisphere's equivalent of Charleston, South Carolina, in late June.
Winter is not bad either, with July (the coldest month) posting an average high of 60˚F (16˚C).
The water, however, is cold all year, thanks to the Humboldt Current. The water temperature is only 60˚F in early summer—which seems to be fine for little kids and those in wetsuits. Personally, I appreciate the current… it's why Viña del Mar maintains its cool, moderate temperatures all year.
Air quality in Viña del Mar is super, with fresh sea breezes providing a crisp, clean feel to the air.
But one step beyond Viña del Mar is Reñaca, just a short drive north.
Reñaca (ren-YAH-ka) offers a beautiful, long beach as its main attraction, with 1.25 miles (2 km) of sand bordering clear-blue waters. The beachfront road is lined with an attractive boardwalk on the ocean side and a collection of shops and restaurants on the inland side. Behind these shops and restaurants are a number of condo projects built into the hillside looking out over the ocean.
What's more, inland from the waterfront developments is a small, clean, and busy town, with lots of restaurants, markets, and shops. In fact, it's large enough that you'd have everything you need close at hand without driving to Viña del Mar or Valparaíso.
Even on a beautiful, sunny midsummer day, I found the beach here practically deserted.
Reñaca is also a locally noted surfing beach, with a break that draws a fair group of surfers.
I like the beach and the seafront area here in Reñaca. But I also like the town, which conveys a genuine, non-touristy feel.
Here are a few property examples in Reñaca…

I found a huge 140-square-meter (1,506-square-foot) apartment with a view overlooking the Pacific. It has three bedrooms, three baths, a maid's quarters and an enclosed terrace, along with garage space and storage. The building amenities include gym, laundry room, outdoor and indoor pools with sauna and hot tub. The asking price for this high-end offering is US$299,000 at today's exchange rate of 654 Chilean pesos per U.S. dollar (196 million pesos).

If you're looking for value, here's an inland condo. It's a 95-square-meter (1,022-square-foot), seventh floor property with three bedrooms, two baths, an enclosed terrace, two garage spaces and upgraded finishings. Located in a quiet residential neighborhood, the building includes a good set of amenities and the asking price is US$130,700 at today's exchange rates (83.5 million pesos).

In a modern hillside high rise overlooking the ocean and seacoast at Reñaca, there's a 45-square-meter (484-square-foot) one-bedroom, one-bath apartment on the market. The building is well equipped with gym, indoor/outdoor pool, gardens, barbecue area, and two elevators. The asking price is US$92,000 at today's exchange rates (60.2 million pesos).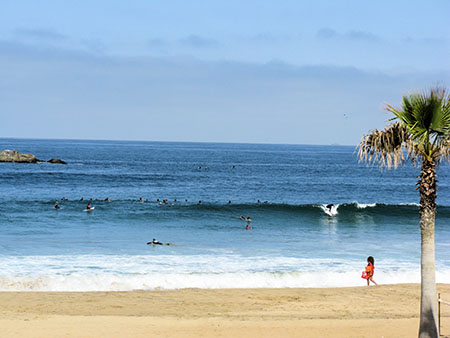 Reñaca beach
Punta del Este, Uruguay, is South America's premier seaside resort destination, and its beautiful beaches, dazzling casinos, world-class restaurants, and upscale shops have kept people coming from around the world for more than a century.
I lived in Punta del Este for almost six years and found the standard of living and amenities to be about the highest you'll find in all of Latin America.
People come to Punta del Este from the world over to enjoy its miles of beaches, fine dining, shows, and party atmosphere.
But one step beyond Punta del Este is Piriápolis, an old-fashioned town that claims to be Uruguay's first seashore resort. It was founded in 1893, almost 15 years before Punta del Este. Piriápolis lies about a half hour from Punta del Este (about an hour from Montevideo), and has long been popular with Uruguayans for its sandy beaches, calm waters, and attractive seafront.
Piriápolis never achieved the international glitter of Punta del Este, which is part of the charm that draws people here. It reminds me of an old-fashioned New Jersey seashore town from the 1960s, with its old buildings, nicely kept waterfront boardwalk, and busy seafood restaurants. In the summertime Piriápolis is crowded, but in the wintertime it's deserted, which many full-time residents appreciate.
Piriápolis is also popular with boaters as it is home to two marinas on a coastline that has relatively few places to keep a boat.
There's a fair concentration of North American expats in Piriápolis, people who don't need the glitter of Punta del Este but still seek a high quality of life.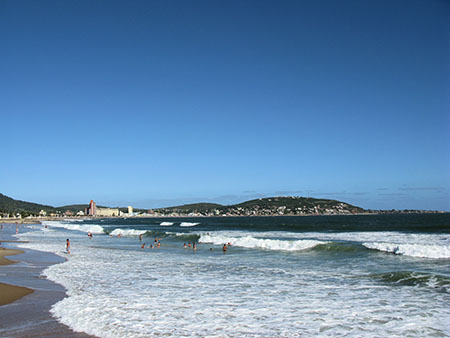 Breakers on the beach at Piriápolis
Coastal property prices are generally expensive in Uruguay, but Piriápolis is a good value.

A seafront apartment in the Hotel Argentina neighborhood has 50 square meters (538 square feet) of living area, including one-and-a-half bedrooms, one bath, and a terrace with barbecue. Located next to the famous aforementioned hotel, this property enjoys super views of both the town and the water. Completely furnished and equipped, the asking price is US$155,000 (properties in Uruguay are priced in U.S. dollars).

With 10 meters of frontage directly on Playa Grande, this nearly new (2015) two-story house was designed with year-round living in mind. Exterior walls are insulated with double brick, ceilings are plaster, and windows are insulated. With 150 square meters (1,614 square feet) of living area, there are three bedrooms, two-and-a-half baths, and a large beach-view balcony off the master suite. The spacious kitchen includes granite counters and a high-efficiency wood stove. The asking price is US$240,000.
As you can see, it pays to go "one step beyond." You'll find fewer crowds and better prices, while enjoying the natural beauty that the area is known for.
Lee Harrison
Editor, Overseas Property Alert
***
Letters To The Editor
Lee,
In an article a while back you mentioned Cuenca as a place with assisted living facilities for seniors. My wife and I are considering moving to Cuenca but we have her grandmother living with us. She will soon need at least assisted living.
How do I find the facilities you mentioned?
Best Regards,
Ed
Costa Rica
The facility I toured was called the Centro Geriátrico Nueva Esperanza, and it's located at Calle de la Verbena 4-20 and E. Moscoso, in the area behind the SuperMaxi (the one on Avenida Las Americas). I heard of it because a friend's father was a patient there, and I decided to drop in unexpectedly.
The cost was very reasonable, at US$450 per month… although it may be a bit more today. Dr. María Eulalia Robles told me the fee includes:
24-hour doctor and nurse
food
laundry
personal care
occupational and rehabilitative therapy
The family has to provide personal items, such as toothbrushes, clothing, etc.
Nueva Esperanza is only one of several such facilities in Cuenca, with various levels of amenities.
***
Lee,
Can you please let me know my options for using money from my 401k for investing in a property?
I am employed, and my 401k is with my current employer. All I know is that I can take out a loan up to US$50,000… any other withdrawals would be subject to penalty.
Thank you and best regards,
Claudia
There are two options for using tax-deferred retirement-plan funds for buying a property abroad (or in the States, for that matter): the Solo 401k, or the Self-Directed IRA.
In both cases, you would need to perform a "direct rollover" from your current employer's plan to your new self-directed plan. (A direct rollover is when your funds go directly from one tax-deferred plan to another, without ever being available to you in the process.)
Executing a direct rollover is legal while you're an active employee, but only if your company's 401k plan allows it. Some plans allow it… some will allow it if you drop out as an active participant in their plan (even though you remain employed)… some don't allow rollovers at all while an active employee. Speak with your plan administrator to find out which case applies to you.
Follow these links to learn more about the Self-Directed IRA, and the Solo 401k. Also, here are some tips for buying abroad with retirement funds.
Have a question? You can write to Lee here.