2020 was never meant to be a strong year for the Irish property market. Good news for you, dear foreign property buyer…
Remember, long before coronavirus, there was the little matter of Brexit next door. And on Jan. 31, with terms still to be agreed, the U.K. officially walked out of the EU.
Economists had predicted a slow year on the Irish real estate front with a projected house price growth of 1%. Later, once coronavirus was added to the mix, the forecasters claimed that prices would drop anything from 3% to 12%.
Nationally speaking, latest reports for June show an average drop of 3.3% in selling prices compared with sales in the same period last year. The southern province of Munster (which includes the counties of Kerry and Cork—popular destinations for American tourists and expats), is showing a 4.9% drop in prices.
So far, these drops are not being reflected in the asking prices. A real estate contact in my hometown of Waterford City told me that local agents plan to hold their Q1 property valuations into Q3. It's the Property Price Register—a record of actual closing prices on Irish property—that's worth watching. If a listing grabs your attention, enter that street, neighborhood, or town into the register to see what price similar offerings in the market recently exchanged hands for.
Is now the time to pounce on Irish property? It's hard to call when it feels the sands are shifting every week. But it does seem that we are headed for more price drops—with greater decline outside Dublin and its commuter belt.
One thing blurring our view right now is the extension of Pandemic Unemployment Payment. The government plans to dole out these stimulus checks into August—and potentially until the end of the year. This could defer any significant market drop into 2021.
Of course, to get the full picture, we also need to look at the banks… who are once again tightening their lending rules. Two weeks ago, Allied Irish Bank (AIB) announced it would not offer mortgages to customers who are receiving COVID-19 payments. Three days later, it did a U-turn. The bank now says it will accept applications from those currently on the wage subsidy scheme, but a "final assessment" will be made before any loan is drawn down.
What can we make of all this?
It will likely be at least a few months before we get a clearer picture on where the market is headed. But if you've been dreaming about a vacation retreat or part-time home on the Emerald Isle, now is the time to pay attention. Get to know the areas that you would like to buy, so you're ready to act when prices drop.
The move by AIB sent a tremor through the market. Today's sellers may be willing to bend on their asking price… rather than risk a potential double-digit drop next year if those pessimistic projections play out.
Today, I'm including some attractive options currently on the market. A handful of these are in the south of the country—where the biggest drops are being reported right now.
But I'd also recommend checking out property along what's known as Ireland's "Wild Atlantic Way." This is a 2,600-kilometer tourist trail along the west coast—running from the northern shores of Donegal right down along the entire west coast before heading in to West Cork. In the last few years, the Irish tourism board has invested some 100 million euros along this trail. It aims to attract 10 million visitors annually by 2025.
Not only do these coasts offer an attractive lifestyle for the expat who is able to live here part-or full-time, you could also position yourself to take advantage of the passing tourist trade.
Our first five properties are on the Wild Atlantic Way…
Inver, Donegal
As I mentioned, the Wild Atlantic Way begins up in Donegal—the county that boasts the longest coastline in Ireland. The north of the county is stunning but remote, so I'd recommend basing any search on the west and south.
This cottage is conveniently located in the village of Inver, midway between the fishing town of Killybegs and Donegal Town. With views over Donegal Bay, it has four bedrooms and is close to Inver's pier and beach. Price: 149,000 euros (US$168,000).
Connemara, Galway
If you're after a traditional Irish lifestyle, it's hard to beat Connemara. Clifden is the main town in the area. Nestled between the shores of the Atlantic and the foothills of The Twelve Bens, it attracts thousands of visitors annually.
For a quieter rural setting, 30 minutes south of Clifden, this cottage near the village of Carna would make a cozy retreat. It's dropped its price by 60,000 euros since coming on the market two years ago. Asking price today is 180,000 euros (US$204,000).
Caherciveen, Kerry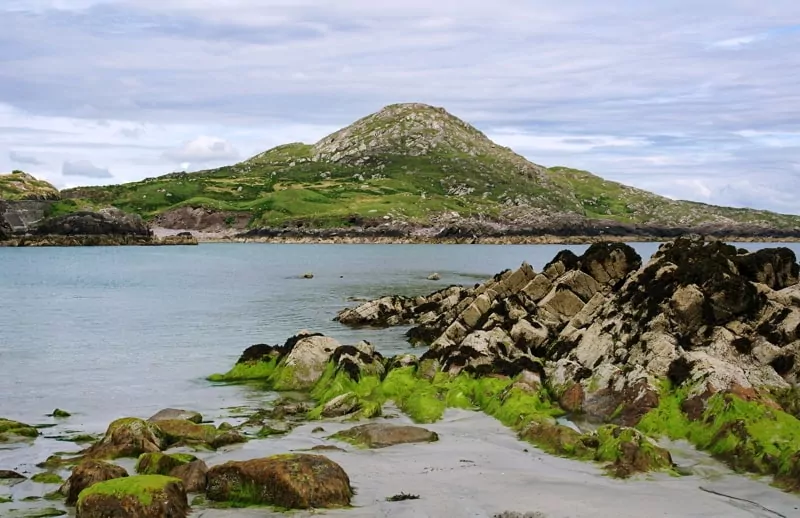 The main town on the Iveragh Peninsula is unsure of its own spelling—choose from Caherciveen, Cahirsiveen, and Cahirciveen. On the famous "Ring of Kerry," it's a visitor hot spot with plenty of choice in accommodation, dining, and entertainment.
This property on a 0.8-acre site is a perfect artist's escape. It's currently being used as a studio and gallery. Down 22,500 euros since its first listing four years ago, it's now on the market for 167,500 euros (US$188,615).
Bantry, Cork
Arguably the most beautiful part of County Cork, the little town of Bantry sits at the mouth of Bantry Bay. Bantry and its neighbor Glengarriff enjoy a microclimate that produces a lush vegetation and rare tropical plants. With two 18-hole courses in the area, it's popular with golfers.
This renovated three-bedroom farmhouse, five miles east of Bantry town, sits on 1.5 acres. Originally listed two years ago, it's asking 220,000 euros (US$247,825).
In nearby Glengarriff, surrounded by 5.5 acres of private woodland—and a few minutes' walk from the sea—there's this cottage-style home. Within walking distance of the village, it has four bedrooms, a separate guest chalet, and artist's studio.  Price: 279,000 euros (US$314,810).
We leave the Wild Atlantic Way behind and come around to the southeast coast—less explored by international visitors but popular with locals. Wexford has some of Ireland's finest beaches. They're an easy weekend and vacation escape for Dubliners who flock here in high season.
Curracloe, Wexford
Most of the year, Curracloe is a quiet seaside village. But it has had its moments of international fame. The D-Day landings of Spielberg's "Saving Private Ryan" were filmed on the beach here back in 1997… and its sands more recently appeared in the movie "Brooklyn."
Here we have a period-style property that's close to the village, beaches, and just 15 minutes to Wexford Town. With three bedrooms, it's asking 278,000 euros (US$313,750).
Finally, we move in from the coast and over the border to County Kilkenny. This is a property I spotted a few weeks ago as something special in the marketplace…
Inistioge, Kilkenny
Pronounced "Inish-TEEG," this postcard-perfect village sits on the River Nore that flows down from Kilkenny in Ireland's southeast. (Remember the 1995 movie "Circle Of Friends" with Chris O'Donnell and Minnie Driver? Much of it was filmed here.) This part of the country isn't well-known among international visitors, but it gets its fair share of local visitors during the summer months and is one of Ireland's best-kept secrets.
In the Nore Valley, this conversion from a 19th-century stone barn is five miles out from Inistioge and 10 minutes to the town of New Ross. Architecturally designed, with cut stone throughout, it's bright and modern with two bedrooms, galley kitchen, living room, outside terrace for dining, yard, and hayshed. Price: 225,000 euros (US$254,000).
Lynn Mulvihill