Puerto Vallarta Versus Mazatlán: Comparing Two Top
Beach Destinations
One of the questions I hear most frequently is why I chose to live in Mazatlán, rather than the better-known Puerto Vallarta. In fact, even here at Live and Invest Overseas, Puerto Vallarta gets more coverage and higher ratings.
So why choose Mazatlán? Let's compare the two.
In Some Ways, Both Destinations Are Quite Similar
Both Puerto Vallarta (PV) and Mazatlán enjoy choice spots on Mexico's Pacific coast, with good access to the United States and Canada.
Both cities are longtime tourism destinations, which has both positive and negative consequences. For example, the touristy "Romantic Zone" in Puerto Vallarta is about the least romantic environment I've ever seen… similar to Mazatlán's Golden Zone. Read more on the ups and downs of living in a tourist destination here.
PV and Mazatlán also both offer numerous, varied lifestyle options for the part-year resident, vacation homeowner, or full-time expat. They have good residential property inventories and can be great places to manage a rental.
English is widely spoken in both cities, and both are popular with American and Canadian expats.
The infrastructure is good in both PV and Mazatlán, not only for the practical stuff (water, electricity, cable, internet, etc.), but also with respect to their tourism infrastructure, with restaurants, nightlife, and activities.
The cost of living is close between PV and Mazatlán in the expat areas. The statistical data I found claims Mazatlán to be a bit cheaper, but only by 11% overall. In many categories, they're too close to call. Mazatlán has a "real" city behind the coastal areas in which you can live very inexpensively. But, since expats almost never live there, I don't think it's fair to include those areas in a cost analysis.
Both cities can be very walkable if you settle in the right place—many expats live without a car. And both cities offer tranquil beachfront neighborhoods, which are completely residential and free from the trappings of tourism.
Finally, the cost of living is very low right now in both places, thanks to a U.S. dollar that's very strong by historic standards. Based on exchange rates, prices are about half of what they were in 2008. And the Canadian dollar is also at record highs against the Mexican peso.
And, of course, both cities benefit from Mexico's super-easy residency. I got my resident's visa at a consulate in about 20 minutes without translations, background checks, or document certifications. And you may not even need residency with Mexico's long, six-month tourist stays.
But Mazatlán And Puerto Vallarta Differ In A Number Of Important Ways
Here are some areas where the cities are different, along with my opinion as to which is better.
Beaches and boardwalk: Mazatlán wins this category, with miles of contiguous beaches. Compared to those in PV, they're larger and relatively uncrowded. The longest beach, at three miles long (almost 5 km), is along Avenida del Mar. There's no construction on the beach, making it 100% accessible from the boardwalk. The Cerritos beach is also three miles long.
At five miles (8 km), Mazatlán's boardwalk (malecón) is claimed to be the longest uninterrupted boardwalk in the world.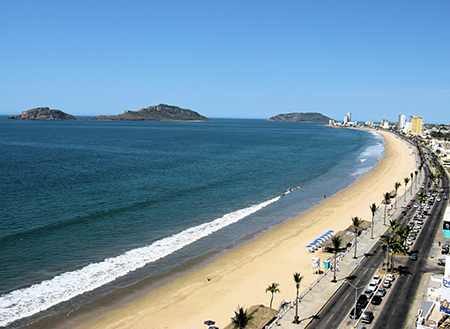 Mazatlán's beaches in high season are still perfect for long walks
Restaurants, cafés, and nightlife: Puerto Vallarta takes this one easily. Even though Mazatlán is almost twice the size of Puerto Vallarta, PV has far more restaurants and cafés of the type an expat or visitor would seek out.
Make no mistake: Both cities have plenty of fine dining, cafés, casual beachfront restaurants, and night spots. But PV probably doubles Mazatlán's offering.
Cultural scene: I give this one to Mazatlán. With the Angela Peralta Theater, a symphony orchestra, chamber music groups, the Sunday concert series, and Friday Art Walk, Mazatlán offers plenty of cultural activity. Mazatlán's carnaval celebration is the third largest in the hemisphere, after Rio de Janeiro and New Orleans's Mardi Gras.
Ocean views and scenery: This category goes handily to Puerto Vallarta. PV is bordered by mountains to the east, and its elevation rises rapidly as you go inland. This provides for a wealth of magnificent ocean and sunset views from a number of areas. In Mazatlán, the only way to get views like this is to have a place on the ocean or on one of two very small and crowded coastal hills.
Also, the hills around Puerto Vallarta (and heading south) are thick, green, and lush, while the area surrounding Mazatlán is dry and brown during much of the winter high season.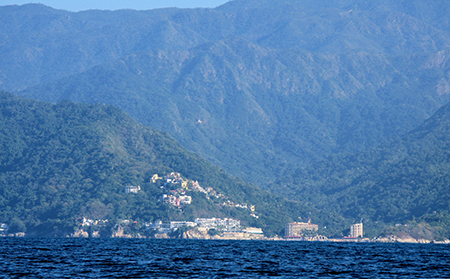 The ocean views are awesome in this lush setting just south of PV
Weather: High temperatures are somewhat higher in Puerto Vallarta than in Mazatlán. In August, for example, Mazatlán averages 88° F (31°C), while PV comes in at 93° F (34°C). Mazatlán, however, tends to be more humid than PV, so it won't feel much different.
Puerto Vallarta gets more rain than Mazatlán, with 55 inches of rain (1,392 mm) falling on 75 days of the year. Mazatlán gets only 32 inches (800 mm), with rainfall seen on just 46 days.
But PV's increased rainfall is what makes the area so green and lush, so I see this as a benefit.
To me, the weather between the two cities is a wash, in a practical way. If you're here (in either city) in the summer, you'll want air conditioning… if you're here in the winter, you'll throw the windows open and enjoy the sunshine.
Historic colonial center: Here I prefer Mazatlán. The historic center is large, active, and in pretty good shape. It's undergone a dramatic restoration in recent years and is still improving. Plazuela Machado, the colonial town square, is unlike anything I've seen, with its historic buildings, outdoor dining, and large, renowned theater.
In Mazatlán, the historic center is miles from the Golden Zone, Mazatlán's main tourist area.
The city's old-fashioned, "non-tourist" central market is still thriving, as is its newer Saturday farmers' market, an enormous flower market, and a bustling shrimp market (shrimp is a big industry in Mazatlán).
Most full-time expats live in Mazatlán's historic center.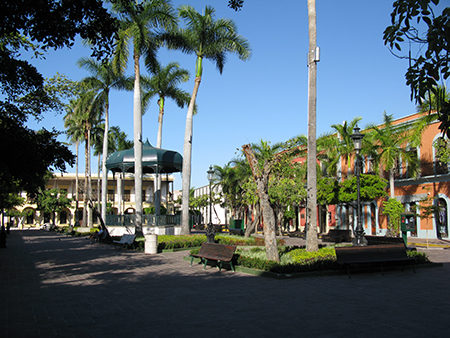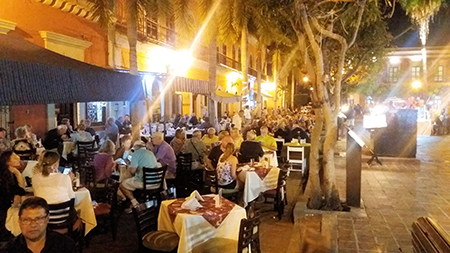 Mazatlán's Plazuela Machado, day and night
LGBT lifestyle: Puerto Vallarta wins this category, for sure. PV is known to be the most gay-friendly city in Mexico. But PV is more than just gay-friendly… and gay people are more than just "accepted" or "welcomed." Here it can feel like being gay is the norm.
You'll see same-sex couples, both male and female, of all ages and nationalities.
There are gay people and same-sex couples in Mazatlán, too. But they're not that open, and I haven't seen any public displays of affection. Mazatlán is more of a Mexican destination than an international resort, and their traditional conservatism shows in this area.
Outdoor activities: PV definitely wins this category. If you enjoy outdoor activities, PV (and the nearby jungle) offers plenty. You'll find quads, buggies, zip-lining, fly boarding, bungee jumping, etc.
And they make booking easy, with agents and kiosks all over town.
In Mazatlán, the biggest outdoor attraction is sportfishing, perhaps followed by golf… both of which you'll find in PV, too.
Access to the United States and Canada: Here it depends on whether you're driving or flying.
Mazatlán is a day's drive closer to the U.S. border, with a drive time of about 13.5 hours. Many seasonal residents from the north drive down in the autumn and drive back in the springtime.
But PV has far better nonstop flight service to both the States and Canada.
Puerto Vallarta nonstops: 17 to the United States, 15 to Canada
Mazatlán nonstops: 4 to the United States, 5 to Canada
Real estate: I give this one to Mazatlán.
Studies have shown that PV has the most expensive real estate market in Mexico. But this is a bit misleading. You have to realize that PV is weighted heavily with resort/expat properties, so it doesn't compare well on nationwide samples that include cities (like Mazatlán) with large, working-class neighborhoods.
Mazatlán is mostly a Mexican market. In the vacation-home market (excluding the other parts of town), about 65% of the buyers are Mexican. Of the remainder, 60% are Canadian.
If you want a condo directly on the sand, PV prices will appear very expensive. But that's mostly because the new luxury offerings (on the sand) tend to be larger in PV than in Mazatlán. On a cost-per-square-meter basis, PV is only about 6% higher. In both cities, I looked at new, high-end construction, both on the beach and outside of town.
But in the historic center, it was a far different story. I found three front-line condos for sale in Puerto Vallarta, ranging in price from US$600k to US$1.3 million. The cost per square meter averaged US$3,662.
Then I found a brand-new luxury building on the seafront in Mazatlán's historic center. The average price here is under US$340,000, which works out to US$1,491 per square meter.
Back To The Original Question
So why did we pick Mazatlán? It was mostly the attraction of the walkable historic center and all the amenities it offers… including the fact that the historic center is miles from the main tourist area in Mazatlán.
And, importantly, it's possible to buy a beachfront property in the historic center, which is rare… so you can enjoy the advantages of both.
Also, Mazatlán is primarily a Mexican resort. On any given night in the historic center, I'd say 95% of the people on the boardwalk are from Mexico. And while there's a strong expat presence, it's unquestionably a Mexican city.
To me, it just feels homier than Puerto Vallarta.
Which City Is Right For You?
If you want a quiet, lush, hillside setting that's away from the noise of the beach area—with long ocean and sunset views—then you definitely want to head to PV.
Also, if you want outdoor, active diversions, then PV will be better for you.
Overall, Puerto Vallarta is just plain "nicer" than Mazatlán, which can be rough around the edges in some areas.
Pick Mazatlán if you want a less-touristy environment in a more Mexican city, or if you like life in the historic center. It's the perfect spot if you want to walk for miles on an uncrowded beach, while in the city limits.
I'd say Mazatlán is better for full-time living, while PV would be better for a vacation home. Also, I think you'll prefer Mazatlán if you're over 55…
All analysis aside though, these cities are both good choices for a vacation- or second-home destination—depending on your preferences—and hold good opportunities for property investment.
Lee Harrison
Editor, Overseas Property Alert
***
Letters To The Editor
Lee,
If a U.S. citizen were to buy a property in Mexico and rent it out on a periodic basis to people traveling to San Miguel Allende, would the Mexican government tax the U.S. buyer's income from that property?
Would they attempt to tax their other worldwide income?
Thanks very much,
M.H.
As a non-tax-resident (basically, someone who does not live in Mexico) you'd pay either 0%, 15%, or 30% on your Mexican income. The first 125,000 pesos (US$6,250) will be exempt… and the 30% bracket starts at one million pesos… about US$50,000 today.
Mexico has a tax treaty with the United States, but under the treaty, rental income would be taxed by Mexico. You'd have to claim any tax you paid as a credit on U.S. taxes to get the money back.
You would need to be a tax-resident, with your primary home in Mexico, before they could try to lay claim to any non-Mexican income.
***
Lee,
I have been traveling to Bolivia for about three weeks each year for the past three years. This spring, my daughter will be marrying a Bolivian.
They will be living their lives there in Bolivia, so I view Bolivia as a likely second home location for my wife and myself in the years to come. We are close to retirement and would like any helpful advice you might give.
Thanks,
Jim
First of all, I think the presence of your daughter there makes Bolivia an excellent choice; forget all that other analysis. And, besides, Bolivia is a fascinating and diverse country, so I'm sure you'll have plenty of good lifestyle options to choose from.
Without knowing which city you're going to live in, I'll just offer the first (and most valuable) adage I learned when making a similar move in 2001: Pick a premium property in a premium neighborhood. All other factors aside, this will partially hedge any effect of future market downturns.
Also, remember that every minute you spend studying Spanish will be time well spent. Do what you can before you leave, and then go to language school after you get there. The vast majority of my most memorable experiences abroad would not have been available to me if I hadn't learned to speak Spanish.
And be sure to drop us a line to tell us what you're up to. Plenty of readers will be interested in what you have to say about Bolivia.
***
This next one came in addressed to our publisher, Kathleen Peddicord:
Hi Kathleen,
I came across your website last night as I was researching potential real estate investments. I want to take advantage of the stronger dollar, and I really enjoy traveling. I love your articles and website.
I'm very interested in researching investments in Colombia, and particularly Cali, since the prices are so low compared to value. It seems possible to get both rental yield and price appreciation over time.
Do you know of any useful resources such as lawyers, real estate agents and property managers in the area?
Is it possible to invest completely passively after purchasing and setting up a property manager in Colombia? What suburbs would you focus on purchasing? What is the best target market for investment?
My goal is invest in real estate where I can generate passive income right away but has great long-term price appreciation potential.
Thanks,
Scott
I agree that Cali is a good value right now, especially given the strength of the dollar. Based on my own investigation and preferences, I'd zero in on the sectors of Granada, El Peñón, Normandía, Santa Rita, or Santa Teresita… although you'll find great opportunities in other places, too, such as Centenario.
I'd suggest that you contact Rich Holman, of First American Realty. As of today, he's got one turnkey investment property being refurbished in Cali, but he will also have other properties from the open market there, as well as property management services.
Rich can also provide more details on the local property/rental market. You can contact Rich here.
Personally, I like to target business travelers and North American visitors, expats, or potential expats. They've been excellent tenants for me so far, and I understand what they're looking for.
Have a question? You can write to Lee here.