My Top Three Property Picks From The Global Property Summit
I just got home from spending last week at the annual Global Property Summit, where our contacts from around the world brought the best real estate offers from their respective countries. We saw a wide array of good investments.
I know everyone has their own favorites, based on their own needs and objectives. But I thought I'd pass along my own top picks from last week… the property deals that appealed to me the most.
Brazil Is Staging A Comeback, With Beach Lots Under US$50K
This year's Global Property Summit featured a number of Brazilian offers that were popular with attendees. Many people were drawn to the Pontal Beach Lots, located within a beachfront community, for a conference price of only US$9,900… and the beach condos located at the popular Porto das Dunas were also a hit, at just US$79,000.
But my favorite Brazilian buy right now is in the Reserva da Praia development. I like it best because the lots they're selling are actual, true beachfront… front line properties. Also, the lots are huge by local standards, running between a half-acre to one acre in size (2,000 to 4,000 square meters). A lot of just over one-tenth acre is more normal in Brazil (500 meters), with many even smaller.
Today, there's much less project risk than when the development was first introduced last year. Now, the property has been officially subdivided and all of the lots are individually titled… electricity is on-site and has been run to 30% of the lots… and the access roads have been completed.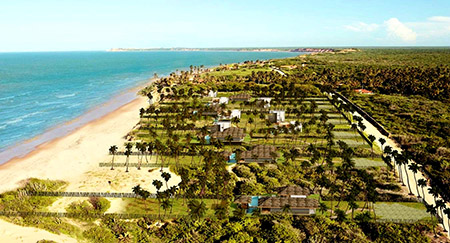 Reserva da Praia's access road is finished, and electricity is now at 30% of the lots
Yet after all this progress, the prices have remained much the same. They're currently listed at US$59,000… and you'll get a US$10,000 discount if you're paying in cash instead of payments (10% down, with 30 monthly payments at 0% interest).
At US$49,000, this deal is hard to beat.
I like the offer because it capitalizes on the current strength of the dollar against the Brazilian real… and an exchange rate that's rolled prices back to 2002 levels.
Also, I like the high intrinsic value of the lots relative to the purchase price. If the rest of the project would disappear today—the hotel, restaurants, etc.—then you'd still have a very valuable piece of land.
There are just a few lots remaining. To get more info on Reserva da Praia (or other Brazilian projects), you can contact the developer Jan Chilean here.
Agricultural Deals Continue To Be A Top Investment Choice With An ROI Over 16%
My next pick from the Global Property Summit was the current organic fruit opportunity offered by Simply Natural Investments at their avocado plantation in Panama.
To be honest, I find many of the agricultural offerings out there to be uninteresting, with so-so returns. But in this case, the investment is in high-demand, premium-priced organic fruit, which changes the picture entirely.
The traditional problem has been how to invest in this industry in order to get a good return, while offering an affordable entry point.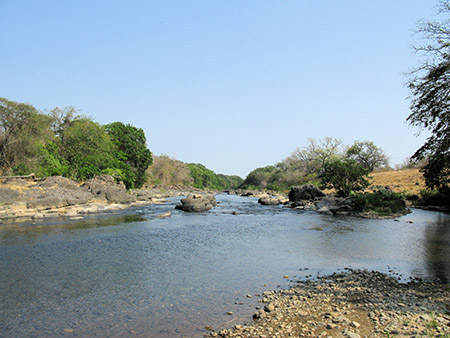 One of several backup water supplies at the Simply Natural Plantation
Simply Natural has an innovative investment package whereby the investor buys one hectare (2.47 acres) of organic farmland… Simply Natural plants the trees, raises them to maturity, and gets the fruit to market… and then you split the profits with 70% going to you, and 30% going to Simply Natural.
Over the past couple of years, Simply Natural has offered a number of these agro-deals, and they've all sold out quickly. You may recall seeing offers for organic mangoes, guavas, limes, and avocados in the past.
The latest offer on the table is for organic avocados, referred to as "America's new favorite fruit" by The Washington Post. The trees live for 60–80 years, so your investment will provide returns for a long time. Each hectare will produce between 20,000 and 30,000 pounds of avocados each year… but there's little chance of oversupply; the United States consumes over 1.4 billion pounds of guacamole annually, along with 900,000 pounds of fresh Hass avocados.
The cost of one hectare of avocado trees is US$45,000.
You'll make no return for the first two years. In year three, you'll make a modest return, but this is from sale of the intercrops, not from the sale of avocados. (Intercrops are rotated crops which are planted between the rows of avocado trees in order to replenish the nutrients in the soil and repel pests.)
In year four, you get a partial yield that will net you 12.7%, and in year five, your return is forecast to be 22.8%, and it goes up from there.
The returns can go as high as 44% in some years, but the overall average over 30 years, after all costs, is calculated to be 16.2%. Although, given that the trees live to be 60 to 80 years old, your return could be higher over the long haul.
I like this offer because of its reasonable point of entry, and the fact that it's an "uncorrelated investment"… meaning that its performance is not tied to stocks, bonds, or financial markets.
I also like the fact that your hectare of land is individually titled to you, so you have a hard, underlying asset rather than just a paper investment.
And I've been out to the plantation, and I can assure you that these guys mean business. They're serious, experienced farm operators who have seen success in several different countries.
To learn more about the Simply Natural avocado investment, contact Lilian O'Sullivan here.
Earn 10% ROI From A Short-Term Rental Unit In Santo Domingo, DR
I liked this offer because it was a straight-up, no-nonsense investment offered by Real Capital Ventures, who specializes in high-return real estate investments around the world. The name of the project is Central Suite Towers, in the Dominican capital of Santo Domingo.
In the Dominican Republic, most opportunities are focused on resorts, beaches, lifestyle, and golf. This project focuses on none of those things. Its purpose is to provide a fully managed, luxury apart-hotel to the business community in a high-demand area of downtown Santo Domingo.
I spoke with other folks who live in Santo Domingo, and they tell me that the location of Central Suite Towers is perfect for this purpose. And, while not a resort property, it's only 30 minutes to scenic golf courses and 40 minutes to the beach… something your renters will appreciate on the weekends.
The developers chose the DR because it's the Caribbean's strongest economy, with good yields and favorable landlord laws. They also provide generous tax incentives, and currently have a large shortage of quality accommodations.
As a side benefit, the DR offers the world's best and shortest path to a second passport.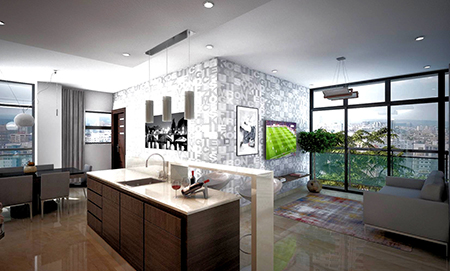 Central Suite Towers will offer luxury accommodations to the business traveler
This is not the first project in the neighborhood for Real Capital Ventures. Their first project—Central Park Tower—is located nearby, and they sold 95% of the units in just five weeks to their existing investor base. Construction is nearing completion at this time.
To invest in Central Suite Towers, you'll need to buy the apartment for US$96,000, and then spend an addition US$10,000 on taxes and furnishings. You'll have a full ownership title. The projected rate of return varies between 8.6% and 11.5%, with the average expected to be around 10%. These are net figures, after paying property management costs and HOA fees.
In addition, the expected appreciation on the apartments is 5% per year.
Again, I like this opportunity because it's a straight-up investment, undiluted by the idea of beach vacations or golf trips. And these are the kind of investments that will usually make you a better return.
I'm sure that I don't speak for everyone with my "top three picks" from last week's Global Property Summit. Everyone at the event probably has a different version of such a list, for their own reasons.
But that's good. Having a broad selection and the ability to exchange ideas is what the event is all about.
Lee Harrison
Editor, Overseas Property Alert
Editor's Note: If you weren't able to make the Global Property Summit last week, you can still "be in the room" for all of the deals and offers that were presented, by getting your own copy of every presentation along with a complete set of recordings.
The program is called Your Dream Home Overseas: The How To Buy, Own, And Profit From Foreign Property Program. And with it, you'll gain more knowledge about international real estate than you could learn on your own in years of research and months of international travel.
***
Letters To The Editor
Lee,
Regarding Chile's use of the UF as a valuation of real estate, does this diminish or negate the current strength of the dollar compared to properties priced in local currency?
Paul
Excellent point. The purpose of the UF is to stabilize the effects of exchange rate fluctuations and inflation. If the peso weakens against the dollar then a property priced in pesos is worth less in dollar terms. This is the outcome we hope for as dollar-holders.
But when the peso is getting weaker, then the Chilean government makes a single UF worth more pesos. So a property priced in UF tends to increase in peso terms, and remain relatively stable in dollar terms.
So yes: When a property is priced in UF in Chile it tends to negate your dollar advantage, while lowering your currency risk.
***
Lee,
Are you going to be at the Colombia conference next month?
Trevor
Yes, I'll be at the Colombia conference. This year's event (April 19, 20, and 21) will be at the San Fernando Plaza Hotel, which is located in the heart of El Poblado, the most sought-after area in Medellín. Attendees will be able to easily walk to all of the restaurants, cafés, and attractions that make Medellín one of the world's best places to live.
You can learn more about the Live and Invest in Colombia Conference here.
***
Lee,
My husband and I are interested in relocating to Abruzzo, Italy, from California. Is there someone we should contact as a guide, tax advisor, and/or real estate connection?
We'd like to purchase a historic property to renovate and live in for our new home.
Thank you!
Melanie
As a matter of fact, our managing editor Kat Kalashian and editor of Global Property Advisor Omar Best are in Abruzzo this week.
Omar suggests that you get in touch with Monia Di Guilmi, at info@abruzzoruralproperty.com.
And you can look forward to some good coverage on Abruzzo when they return.
Have a question? You can write to Lee here.