Plus: Is It Worth The Hassle To Buy Abroad With An IRA?
Nov. 24, 2015
Medellin, Colombia
1 U.S. dollar equals:
3.77 Brazilian reals
3,040 Colombian pesos
16.73 Mexican pesos
701 Chilean pesos
Dear Overseas Property Alert Reader,
Over the past few months, you've heard a lot about the amazing bargains that the strong dollar has created in some of the world's top markets.
And during this time, I've received a number of emails from people who are trying to sort through the facts related to some of these markets in an effort to focus on one or two of them.
Reviewing data is one thing. But there are other factors that go into making a country a good buy as a second home, an investment, or a place to retire.
So today, we're going to let the top most-heavily-discounted markets go head-to-head, pointing out some advantages and disadvantages of each one. Here are the markets in my sights right now:
Brazil
Real Estate Currency: Brazilian real
Currency Controls: Yes
Discount To Five-Year Low Point: 59%

Colombia
Real Estate Currency: Colombian peso
Currency Controls: Yes
Discount To Five-Year Low Point: 43%

Chile
Real Estate Currency: Chilean Peso
Currency Controls: No
Discount To Five-Year Low Point: 35%

Mexico
Real Estate Currency: Mexican Peso
Currency Controls: No
Discount To Five-Year Low Point: 31%
Now let's take a look at the strengths and weaknesses of buying in these bargain countries…
Brazil: The Biggest Currency Discount
Brazil is exciting, romantic, and diverse. I like to think of it as being one step beyond Latin America, as its culture and language are slightly more unfamiliar and appealing to North Americans.
Brazil's big advantage is its thousands of miles of beautiful beaches, which extend through a wide range of climates. This means you can choose between a year-round warm climate or a seasonal climate with seasons opposite those in the Northern Hemisphere.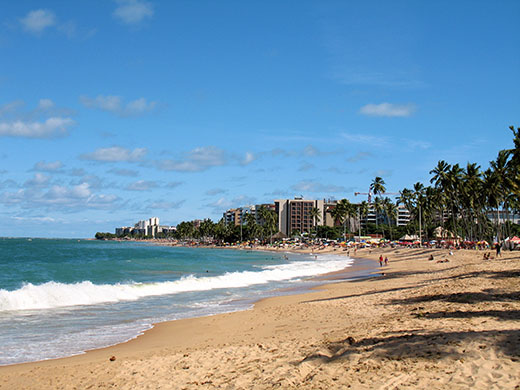 If you like beaches, Brazil has more options than anywhere else
Another advantage right now is the price. Brazil's currency has taken a beating, resulting in the lowest property prices in many years. It's now trading at the deepest currency discount among the countries we're tracking. This has lowered both the cost of properties as well as the overall cost of living.
Among Brazil's disadvantages are the currency controls. Wiring money into and out of Brazil requires some extra steps, and takes a bit more time, given that the money has to be declared when entering and exiting. Also, you can't spend dollars in Brazil, and cannot have dollar-denominated bank accounts.
Another disadvantage is that Brazil is not easy to get to. Flights often require a connection in São Paulo or Rio, which are inconvenient if you're headed for the popular Northeast. Also, Americans and Canadians need a visa to enter as a tourist, which requires a bit more time and money. The visa, however, is good for 10 years.
Brazil's economy has faltered in recent years; so you stand to gain twofold… from the recovery of the economy as well as the currency. When the recovery comes, the economy should help to raise the prices in Brazilian reals… while the recovering real should further raise the value of your investment in dollar terms.
Colombia: A Big Currency Discount With Good Upside Potential
Colombia is now offering the second-largest "currency discount" trading at 43% less than its five-year low.
In my experience, Colombia—specifically, Medellín—offers the best city living I've found in the Americas. Medellín's El Poblado neighborhood is safe, clean, and attractive, with shady streets, upscale shopping, and more restaurants and cafés than you could experience in a lifetime. The city also offers cultural activities from open-air festivals to orchestra and theater.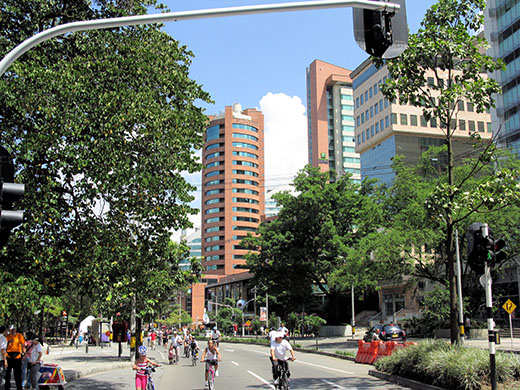 Colombia's El Poblado is the best choice for upscale city living at a low price
Colombia also has a Caribbean coast that's popular with expats and Colombians alike. Cartagena is easily the most-popular with North Americans, with Santa Marta favored by Colombians.
Colombia still suffers from the negative stereotypes left over from the Pablo Escobar days that ended 25 years ago. But this bit of ignorance has resulted in some of the most undervalued markets you'll find anywhere.
As with Brazil, you can gain in two ways in Colombia. You can continue to benefit from the disappearing stereotype, as Colombia continues to go mainstream. Prices have been rising nicely as people forget the old stories. Plus, you can profit from the currency's rebound.
One final benefit is that Colombia is the easiest place I've seen to obtain residency. They have 17 visa options available and requirements are minimal. I applied for my visa on my own only using information from the ministry's website; processing it at the ministry took less than one hour.
Like Brazil, Colombia has currency controls. It's an inconvenience… but it's one I've learned to live with.
Chile: A First-World Option That's Affordable Once Again
Chile competes favorably with Brazil when it comes to coastline. But when you jump into those cold Pacific waters, the main difference will jump right out at you. Chile covers a wide latitude, so there are plenty of options for beachside living in a wide range of climates.
One of Chile's big selling points is that it has four seasons that are opposite to those in the Northern Hemisphere. It's also diverse, with mountains, lakes, deserts, a long coast, a wine region, and great cities… with plenty of skiing, fishing, and wildlife.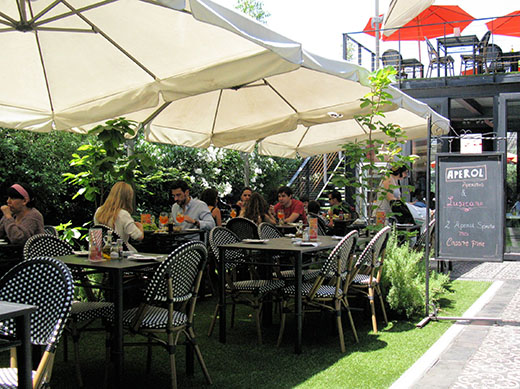 Enjoy the mid-summer January sunshine in one of Santiago's ever-present cafes
Chile is a first-world choice where you can enjoy drinkable water, excellent highways, and a strong economy.
Over the past 14 years since my first trip to Chile, the only complaint I've heard from potential expats was that it's expensive. But at today's exchange rates, the properties and cost of living are a bargain for the lifestyle you get.
Like Colombia, residency is simple in Chile. It's the only place I've seen where you can apply for residency by mail and there's no minimum income requirement to get started.
If there's a disadvantage to Chile, it's the distance from the Unites States. The flight can take over nine hours, although the connections to the States are good.
Mexico: Still The First Choice For Americans And Canadians
Mexico is still the #1 overseas destination for North Americans with more than a million expats calling it home. And these expats are enjoying a low cost of living at today's exchange rates, while new arrivals are getting some good property bargains.
Properties trade in U.S. dollars, Mexican pesos, and sometimes Canadian dollars… and the latter two will be where your increased buying power lies.
Mexico offers well-developed coastlines that include the Pacific, the Gulf Coast, and the Caribbean. The options for coastal living are limitless.
Mexico offers beaches, colonial cities, and convenient travel to the U.S.
And Mexico also offers a wealth of well-preserved Spanish colonial cities. Climates vary from cool highland and mountain environments to the warm beaches on both sides of the country.
But Mexico offers some practical advantages, too, aside from the fact that so many people speak English.
First of all, it's close, and you can drive there. So if you're planning on bringing a household or traveling back and forth, its proximity can save you a lot of money.
Also, for those who are eligible for Medicare, remember that you can't use it overseas. But in Mexico, you can drive over the border to get your healthcare in the U.S. This takes a big item off the table. Quite a few expats in Ensenada, for example, get their major health care in San Diego… at U.S. government expense.
Finally, they're a culturally-familiar neighbor. Having lived in South America since 2001, I'd forgotten Mexico's familiarity, which shows up in many small ways… like eating enchiladas instead of guinea pigs… or seeing full-size, V8 American pickups and SUVs on the road instead of those wimpy Chinese vehicles. You've also got familiar stores like Sam's Club, Auto Zone, and Burger King.
Choosing Between These Top Four Markets
In each of these countries, it's difficult to open a bank account as a non-resident but each offers banking workarounds that you can employ to manage your funds.
Each country also has a strong expat history, which eases the transition for future expats.
The country that comes in first will be different for everyone.
To me, however, I think Colombia has the best nearer-term upside potential, combined with a healthy currency discount.
I believe Brazil has slightly-more upside potential but over a longer term than Colombia.
Chile offers the chance to buy into a first-world country and strong economy at prices that we haven't seen in a long time.
And Mexico comes in as the most-convenient and culturally-familiar choice… not to mention its cross-border convenience for everything from Medicare to Best Buy.
Really, they're all good choices… it's just a matter of seeing which one best fits your needs and preferences. The important thing is to take advantage of today's strong dollar while it lasts.
Lee Harrison
Editor, Overseas Property Alert
Letters To The Editor
Hi Lee,
As a US citizen, I've heard it's very cumbersome and not worth the hassle to own foreign real estate in an IRA.
Is this false, and if so, can you please provide a facilitator or point of contact to assist in this process?
Jeff
Jeff has a good question, because in fact, owning real estate in an IRA is more complex than most people think. See my previous article on buying property with an IRA or 401k.
In a nutshell you've got to first find a custodian who will allow you to self-direct your IRA. (We recommend Midland IRA.)
Then, in order to avoid having to get that custodian's approval for every purchase, you'll normally set up a U.S. LLC that will be used to invest abroad. And in some countries, your American LLC will not be allowed to take title to a property, which often means setting up another entity on the foreign side.
A Solo-401k is much easier, since you don't need the custodian or the domestic LLC… although not everyone is eligible to create an individual 401k.
But I still like the idea of an offshore IRA/401k for a few reasons:
You can make your retirement funds grow faster if you invest wisely in real estate. For two years running, the best performing investment in all of my retirement funds has been my foreign real estate.
You can own other items, such as physical gold or foreign bank accounts.
The money you make on a good real estate investment is tax deferred.
Your IRA or 401k is invested offshore, safe from malicious lawsuits or seizure.
So yes, it can be worth it. But don't underestimate the time to set it up, or the overheads involved in keeping it going.
***
Lee,
We arrive in Medellín on Jan 8, 2016. We would like to meet with you or one of your agents to view real estate in Medellín. I am a subscriber of your real estate letter and your info has prompted this trip to see some of the properties you talk about.
Can we schedule a day to work with you after the 9th?
Craig
This is a good chance to remind everyone that I don't sell real estate and don't receive commissions from those who do.
If I were selling real estate, you'd have to take everything I said with a grain of salt.
But I'm happy to recommend agents that I've met along the way… agents who do a good job working with our readers. In this case, contact Rich Holman, of First American Realty Medellín. He'll assign an English-speaking agent to take care of you while you're there.
Have a question? You can write to Lee here.