Tiny Homes, Big Profits
If you're thinking about downsizing in your new property overseas… or cashing in on what's becoming a hot travel trend… it's worth paying attention to the tiny home.
Already a U.S. craze, the tiny home concept is now catching on in some of our favorite havens in Latin America.
Below, Overseas Property Alert Director Lief Simon walks you through what to look out for when shopping for a micro home anywhere in the world… along with details of a new tiny home project just steps from a stretch of stunning Pacific beach…
Lynn Mulvihill
Editor, Overseas Property Alert
The Tiny Home Phenomenon
By Lief Simon, Editorial Director, Global Property Advisor
Tiny homes have been a growing trend in the United States for the last 10 years or so.
You know something has hit the mainstream when they do a reality TV series on the topic.
Europeans may think Americans are really slow since many apartments in Europe are effectively tiny homes. My three-bedroom apartment in Paris is smaller than my one-bedroom loft in Panama City, Panama… 112 square meters versus 120 square meters.
How does that work, I still ask myself about the apartment in Paris when I arrive back at my Panama pad.
The answer is simple…
Efficient use of space.
The truth is that my Panama apartment is less comfortable in several ways compared to its Paris counterpart, even though it has more space. The kitchen in Panama is smaller and poorly laid out. The laundry room is cramped. The bedroom upstairs has lots of space, but much of it has no specific use. The stairs up to the loft area take up a bunch of space, but under the stairs is a half-bath and a small storage space.
The Paris apartment very efficiently uses the space… which makes sense, as we fully renovated it when we bought it. Not all Paris apartments are as efficient, and you learn quickly to recognize wasted space when shopping for an apartment in the City of Light because total square meters affect the price even if you can't use all of them. And in these small apartments in Europe, the Europeans have learned that they don't need tons of stuff like Americans end up having… and throwing in their basement or garage.
Besides the efficient use of space, the efficient purchasing of things is a big factor in comfortably living in fewer square meters. The minimalist mentality goes hand in hand with the tiny home trend. Less is more.
The Tiny Home Concept Goes Global
And now to cater to digital nomads traveling the world working from their laptops, the retiree crowd, and tourists, developers in other countries are offering varying versions of tiny home options. Whether it's a one-bedroom casita on the beach of Brazil or a cabin in Cayo, Belize, you can find many different styles and layouts for tiny homes even if the developer isn't specifically labeling their product a tiny house.
Tiny home as a term does have a specific meaning to designers and architects; it revolves around the efficiency of the space… like putting in drawers into stairs. Not all developers are as detailed with their tiny home options. Sometimes it's just a small individual space they have designed as a detached home.
You as the consumer need to pay attention to how the space works. Is the space efficient or just small? Are you buying a three-bedroom apartment in Paris or a one-bedroom apartment in Panama?
Don't get me wrong. My apartment in Panama is very comfortable… it's just not efficient from a space perspective. However, my apartment in Paris is very comfortable as well… and there's space for the kids or guests to stay there when we're there.
Storage is one critical factor when looking at housing anywhere you plan to live. That's where the drawers in the stairs come in… or a TV that pulls out from behind a cabinet… or any number of innovative ideas being used to fit more into less space under the tiny home movement. That said, if you're just looking for a vacation home that you rent out when you're not there, you may be happy enough with fewer of the innovations and pay less for your vacation home.
In The Right Climate, You Can Expand Outdoors
Outdoor living space is another factor to consider with a tiny home. It's not an apartment so you should have a fair amount of outdoor space to work with. Sometimes that may just be some land around the house. However, it could be incorporated into the house design itself. Specifically, many developers are doing rooftop terraces or decks, which effectively give you an extra room to use… assuming the house is in a location where the weather allows for that.
One developer friend doing tiny houses in Belize actually designed the space to give the owner the option for more or less patio space in exchange for less or more inside space. The footprint of the units remained the same. Many tiny homes are being developed as part of the Airbnb trend because many of them are effectively the size of a hotel room. That makes for an affordable investment property…
This is where things can get interesting for those of us who don't want to live in a tiny home full-time but would like a vacation home that can help pay for itself. Of course, you can always invest in a small apartment as well, but those make sense and are mostly available in city centers. Tiny homes are being built in many settings, from beachfront to mountain top to literally over the sea.
New Tiny Homes On Nicaragua's Pacific Coast
One recently launched tiny home project in Nicaragua has almost sold out to the developer's internal mailing list. Nicaragua has caught many people's attention during the pandemic because the country effectively ignored it. The government didn't lock down the country or close businesses. Essentially, life was normal in the country. Of course, people got sick and died, although you wouldn't know that from the statistics provided by the Nicaraguan government. However, many people liked that approach… maintaining freedom. This is ironic because the government of Nicaragua, the President, in particular, has worked hard to squelch any dissent from the local people.
Nicaragua is also one of the most affordable countries in Central America for living and traveling. It's a hot spot for surfers, yoga retreats, and outdoor adventurers because it's much less expensive than neighboring Costa Rica. It's this combination of attracting post-pandemic freedom seekers, as well as the growing and returning volume of vacationers looking for a low-cost adventure, that helps make the projected net yield for these tiny homes at the beach in Nicaragua interesting.
The developer already has experience with rental in the project. They were getting more than a 50% occupancy before the pandemic (and a solid occupancy during the pandemic) due to a combination of the foreign traveler and the local market. The capital city, Managua, is less than an hour away which makes this project a weekend and holiday destination for people wanting to get out of the city.
While the tiny home units will be new and different from the available rental inventory, their position just a two-minute walk from the beach means the expectation is that surfers will prefer these units for the ease of catching a wave and the locals will too as they can have a little more privacy compared to renting a condo.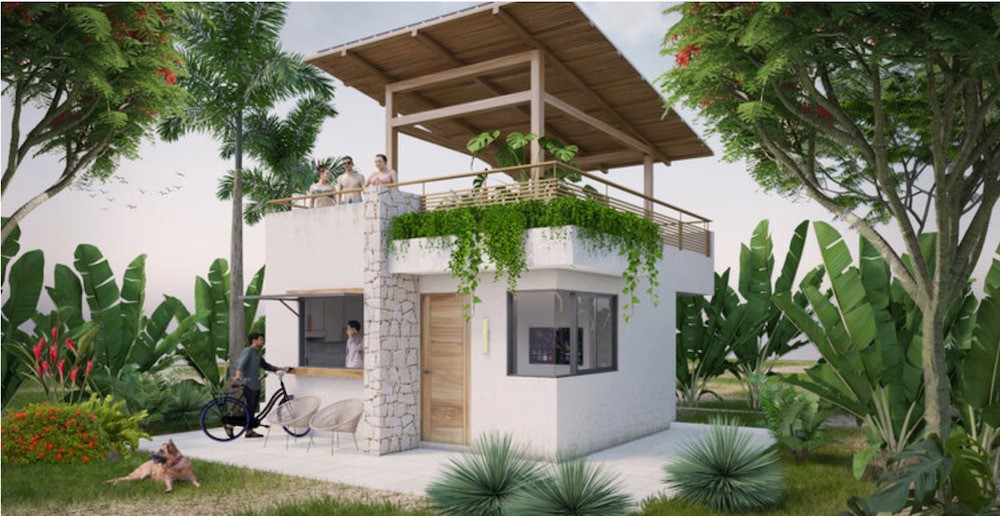 The developer projects a double-digit net yield for these units which is certainly achievable when you take into consideration the starting price of US$94,900.
Financing is available through the developer as well at 4.9% interest if you put 50% down and 6.9% interest if you put 20% down. Closing costs and furniture will cost you around US$10,000 on these units.
Of course, you can also live in these units or any tiny home if you're up for the space adjustment. One long-time reader has been retired in Belize for several years living in a tiny home and he's extremely happy. Life is simpler, easier, he likes to say, when you don't have all that stuff to deal with. It's true, most of us probably couldn't fit what we're storing in our garage into the square meters he's living in. I see this trend to smaller and more efficient continuing, as digital nomads take to the road again as the pandemic settles down and international travel opens up. Some people will be buying, but many will be renting for a month, six months, a year before moving on to the next adventure.
Again, many of these tiny homes in Nicaragua have already been snapped up. But there are still some available…