What a dicey year. Just when we thought our respective countries had a grip on the pandemic, a second or third wave came at us…
Still, we can look forward to 2021 with more hope. We've learned some serious life lessons. And gradually we'll find our way back to stability.
One place that we expect to bounce back strongly is Panama.
This resilient nation pulled through the 2008 crisis more or less unscathed. And, with both the canal and the copper mine to add to its coffers in the coming years, we expect the country to continue her upward climb…
To boost foreign investment further, the government recently announced a new visa path for investors. Spend US$300,000 on a Panama-based property, and you qualify for immediate permanent residency. The minimum spend will increase to US$500,000 in October 2022, so we expect to see a good take-up on this visa option over the next two years…
We'll return to this "invest for residency" option in the future. Today, though, we're going to look at how you can make a move in safe, forward-thinking Panama for under US$75,000…
That is, you have an opportunity to buy a pre-construction condo in the heart of Panama City at a price unheard of in this sought-after neighborhood…
A Sleek, Modern Foothold In Downtown Panama City
This new development is particularly notable for its excellent location. Stepping out your door, you find yourself at a major hub… just minutes from shops, cafés, restaurants, and the metro connecting you to the rest of the city…
Pricesmart—Panama's version of Costco—is just across the street. And, when you want to escape into nature, you're not far from Parque Omar. With paved running paths, playgrounds, a sculpture garden, and plenty of green space, Travel+Leisure called this 50-hectare recreation area "Panama's answer to Central Park."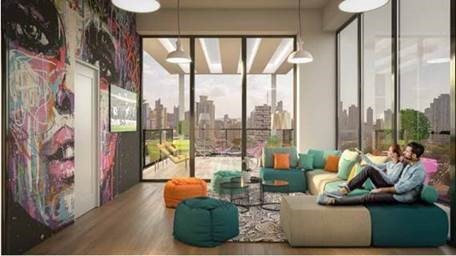 Take in the views from the 14th-floor sky lounge…
What makes this project even more attractive is its low price-tag. Until now, this area that's close to Via Argentina—and the popular expat neighborhood of El Cangrejo—has only been within reach of the high-end buyer. Now, thanks to government incentives aimed at the growing middle class, one developer has decided to open up this market to young professionals looking to get on the property ladder—and stay within downtown Panama.
The actual price for the end buyer (the local Panamanian) is US$90,700. But, by getting in pre-construction… along with a further discount from the developer… you stand to save US$16,155 off your condo…
Enjoy A Prime Location In Panama City… Or Profit With This Developer's Buy-Back Guarantee
While many of the affordable housing developments in the city are packed with 300 to 500 units, this is a low-density development of just 70 units—all with a sleek, modern design. This, along with its in-demand location, set it apart.
You have a number of options here…
You can buy in at the pre-construction price and keep the finished condo for your own use—whether it's a full-time home or a vacation escape…
Or, on completion, you could hold and turn it over to the local, long-term rental market. With this area popular among young professionals, you could charge a competitive rent and, thanks to the low purchase price, make a healthy annual return. Based on a conservative rent of US$575 a month, you'd be looking at a net return of 6.35%.
Or, if you want a completely hassle-free investment, start to finish, you can go with the developer's generous buy-back guarantee…
If the project is finished within 12 months, the developer will resell the unit on your behalf and pay you back your purchase price plus 10% interest.
If the project is finished within 18 months or 24 months, the buy-back option is your purchase price plus 15% or 18% interest, respectively.
Best of all, whichever path you choose, you'll qualify for a 15% discount… plus, an extra US$3,000 "scooter discount." (For local buyers, there's a free scooter included in the package. For investors, the developer has agreed to cut an extra US$3,000 off your condo price.)
So, taking US$3,000 off that US$90,700… and applying your 15% discount… your pre-construction condo price is just US$74,545. That's a total savings of US$16,155. And, you've got access to all of Panama City amenities—without any commute.
Does One Of These Panama City Condos Make Sense For You?
If you've been dreaming of a foothold in Panama City, this is a chance to get in at a price that's rarely seen by foreigners in this market… and secure yourself a modern condo in a well-connected part of the city…
If you see this as an investment play, your risk is minimized with the developer's buy-back guarantee. Twelve months from when building starts (it's scheduled to begin during the first quarter of 2021), you could have all your money back plus 10% interest… or earn 15% to 18% interest should the build-time stretch out farther.
Of course, you don't need to decide your exit strategy just yet… you can make that call on completion.
But with more than half the condos already gone in this 70-unit building, you will need to act soon…
If you're interested in finding out more about one of these US$74,545 condos, I recommend you get in touch right away for more information.
Lynn Mulvihill
Editor, Overseas Property Alert