5 Top Spots To Live A Green And Healthy Life Overseas
One of the big lessons we learned over the last year is our ability to be more self-sufficient.
Between restaurant closures and delays in the supply chain for products we took for granted, many of us learned new recipes, got to grips with making bread, and set to planting window boxes with our favorite herbs… or planning whole kitchen gardens.
Every cloud… right?
After five years of political theater, we're living with the real consequences of Brexit here in Ireland now, too. Amazon (U.K.) used to be my first port of call for books and holiday gifts. This only worsened in lockdown as our local brick-and-mortar shops closed their doors. Since Jan. 1, customers ordering from the U.K. are hit with VAT, plus customs duty for goods valued over 150 euros.
Again, there's a positive side. Less reliance on our next-door neighbor means looking at the opportunities to be more self-sufficient as a nation. On a personal level, my Amazon-trawling days are over. When Irish shops open their doors again, I'll be out to support my local traders—with my trusty reusable coffee cup along for the ride…
If self-sufficiency and greener living are your goals, too, then that's something you can use to narrow your search for a property overseas. Today, we're going to look at five top options out there today that support a lower carbon footprint and offer you a healthier lifestyle…
Lisbon, Portugal
The Lowdown
The Portuguese capital came third in our 2021 Annual Overseas Retirement Index. A coastal city, it's situated where the River Tagus empties into the Atlantic Ocean, with a swimmable beach just a 10-minute drive away. But coastal access is only one of the many draws of Lisbon. A global city with an important role in finance, commerce, media, entertainment, arts, international trade, tourism, and education, it boasts incomparable museums, galleries, concerts, theater, and serves up world-class cuisine.
On top of its cosmopolitan attributes, Lisbon also shines for its great weather, which is perhaps the best of all Western European capitals with 220 sunny days per year. And Lisbon is safe… Portugal is the second-safest country in continental Europe and the fourth-safest in the world (after Iceland, New Zealand, and Austria).
The Green Scene
Lisbon held the title of "European Green Capital" in 2020—the first time a city in Southern Europe earned this award from the European Commission (Nordic cities tend to dominate when it comes to clean and green). Since 2005, initiatives are ongoing to protect and enhance green spaces, revitalize abandoned buildings, address water pollution, reduce overall pollution, and manage natural resources more responsibly.
Lisbon is one of the few European cities that is surrounded by white sandy beaches and crystal-clear waters. You'll find 54 Blue Flag beaches (a designation that denotes excellence in cleanliness, safety, amenities, and environmental standards) in the regions of Lisbon and Tagus, some even on the riverbanks.
What You Can Buy
Prices in the Portuguese capital have pushed beyond 7,000 euros a square meter in some neighborhoods. Those prices are for the highest-end renovated product available at Lisbon's best addresses. The key is to look at up-and-coming neighborhoods rather than the higher-profile spots. In the lower-priced neighborhoods of this city you can find apartments for as little as 2,000 euros a square meter.
Restelo, next to the city's embassy row, is a traditionally upper-middle-class neighborhood that is seeing an influx of Lisboans moving out of the now overpriced more central neighborhoods of their city. Here, a two-bed apartment, 86 square meters, is asking 329,000 euros (US$398,900).
A more affordable option is Martim Moniz, a neighborhood that's been gentrified over the past few years. It's a cosmopolitan area filled with kiosks, grocery shops, and beautiful pavements dotted with well-rounded trade where you'll meet dozens of different nationalities. A recently renovated, two-bed apartment of 63 square meters is on the market here for 237,500 euros (US$287,300).
The Lowdown
A city that's dramatically transformed itself over the past two decades and continues to push forward, Medellín was named "Most Innovative City" in the world in 2013. Popular among expats for its spring-like weather year-round, it offers a healthy lifestyle with plenty of green space and the opportunity to spend more time outdoors. With dozens of museums and art galleries, botanical gardens, and a literary scene, Medellín is one of the most culturally-appealing cities you'll find south of the border.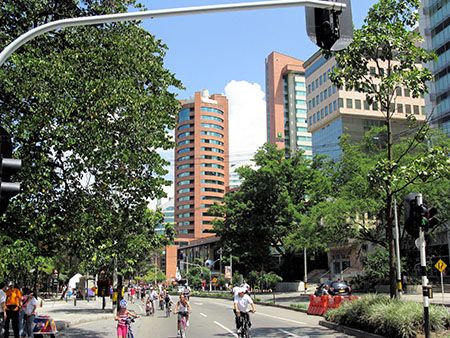 The Green Scene
The city is making great strides toward becoming South America's first eco-city. It's planning to cut carbon emissions by 20% by 2030, expand public transport and bike lanes, and provide 50,000 electric bikes for rent to the public. Ciclovía is a weekly event organized by the city's park district. During it, major roads are closed to cars so people can run, walk, skate, and cycle directly on the street. It varies neighborhood to neighborhood, but the Poblado Ciclovía, for example, closes the south-bound lanes of Avenida Poblado from 7 a.m. until 1 p.m. on Sundays and holidays. Among Medellín's many surprises is Barefoot Park where you are encouraged to remove your shoes and dip your feet in hot and cold pools, walk among bamboo trees, through sand, and climb various structures.
What You Can Buy
The majority of expats favor the upscale El Poblado neighborhood. Though it's pricier than other parts of the city, you can still get a good deal here thanks to the current exchange rate. I found this two-bed apartment, within walking distance of shopping, gyms, and restaurants, for 465 million COP (US$129,990).
Ljubljana, Slovenia
The Lowdown
The capital of Slovenia is a vibrant little university town. Lined with Baroque-, Art Nouveau-, and Art Deco-styled buildings, Ljubljana offers culture, cuisine, history, and festivals. Some 50,000 students keep it feeling young and energetic.
Living just a little out of town can get you away from the bustle of tourists in the summer… while still being in reach of the café culture. Come winter, you can get to the nearest ski slopes in half an hour.
The Green Scene
At the national level, Slovenia wins huge points for cleanliness. From pure air and some of Europe's cleanest water to generally low pollution levels, being the third most forested area in Europe, this country is pristine. You won't see a scrap of litter on the streets, in the lakes, or on the slopes. Ljubljana's city center was closed to motorized traffic back in 2012. The Copenhagenize Index of the world's most bike-friendly cities counts Ljubljana among its top 20. The city's bike-sharing program—BicikeLJ—allows you to cycle the city for free (as long as you return your bike to a docking station within an hour and wait five minutes before taking off on another trip). Electric-powered vehicles, known as Kavalirs ("Gentle Helpers"), weave through the streets, providing a free shuttle service for elderly and mobility-impaired locals and visitors.
What You Can Buy
Average price per square meter in the center of Ljubljana is currently around 3,600 euros (US$4,360)—at that price, the unit should be in move-in condition and recently renovated. I found this charming, 45-square-meter apartment, renovated in 2020, for 159,000 euros (US$192,870). For something bigger, this three-bed, 165-square-meter apartment is asking 280,000 euros (US$339,675).
Saint-Chinian, France
The Lowdown
Our favorite place in Occitanie (formerly Languedoc) is the quintessential French country village of Saint-Chinian. This town is notable for two things in particular. First, its property prices, which are half those of Provence and the Côte d'Azur. The second reason is its wine. Over the last dozen years, growers have specialized and built on the AOC (appellation d'origine contrôlée) status created in 1982 and are now producing world-ranking red wines. Wine is the village economy. Saint-Chinian is home to 1,900 inhabitants and 200 winemakers.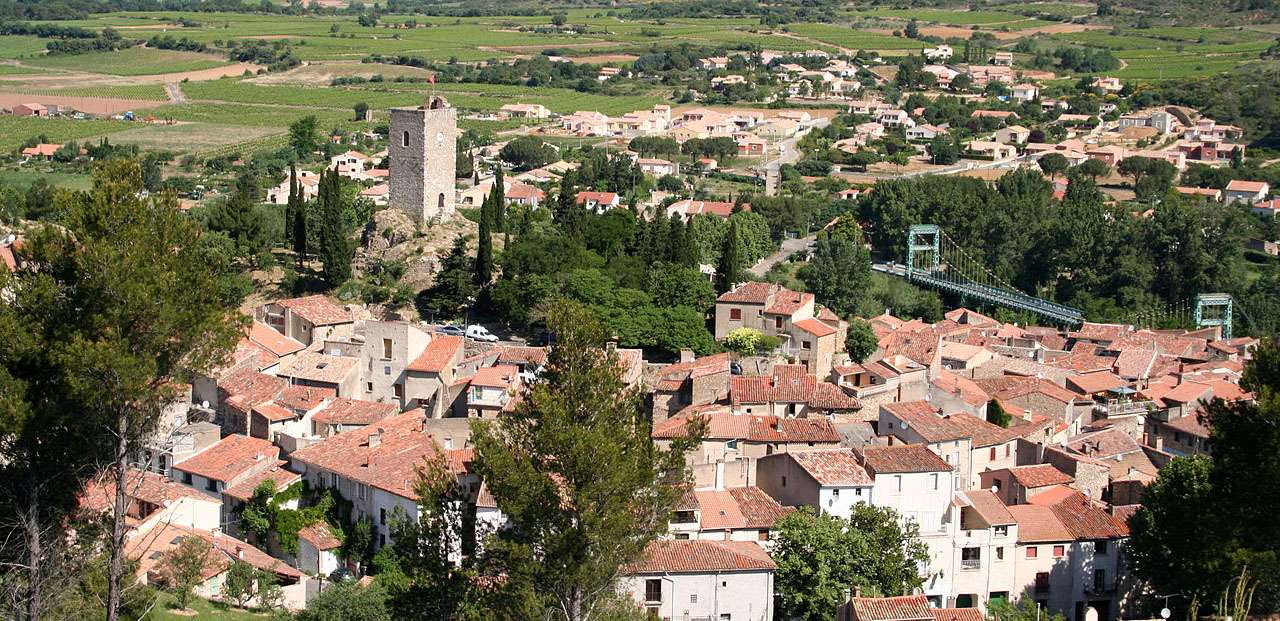 The Green Scene
Lack of industry in Saint-Chinian and the surrounding Occitanie region is one of its best selling points. The air is pure and clean, there's little development of any kind, and farming remains the robust backbone of the local economy. The water quality is so superb that Perrier originates from a spring in the region. At Saint-Chinian's Sunday farmer's market, you can browse, sample, and buy locally-produced fruit and vegetables, cheeses, wines, olive oil, breads and honey, sausages and ham, as well as mussels from the nearby Mediterranean mussel beds. During the vacation seasons, the market grows even bigger to include artisanal products and fresh-cooked local dishes, as well as some with a more Spanish twist.
What You Can Buy
Most village homes come with enough land for highly productive kitchen gardens—and many have already been cultivated as mini-farms by their owners. It's unusual if a house doesn't come with a decent-sized yard, and everyone enjoys the rush of produce that comes in May and June. The climate is mild enough that winter vegetables grow here, too. Small townhouses (like this one) start from around 145,000 euros (US$175,000). I also found this three-bed villa with a large garden for 289,000 euros (US350,000).
Cayo, Belize
The Lowdown
The fastest-growing district in Belize for ecotourism, Cayo is rich with rivers, caves, mountains, Maya ruins, and endless opportunities for healthy living in a laid-back, artsy community. The people that visit Cayo are adventure seekers, artists, nature lovers, and well-traveled, creative entrepreneurs. More and more, expats are recognizing the down-to-earth vibe here and are making the migration to simpler living.
The Green Scene:
When it comes to living a sustainable, self-sufficient life, it's hard to beat the Cayo District. This fertile region is the bread basket of Belize and the perfect place to get back to the land and grow your own food for the table. The twin towns of San Ignacio and Santa Elena represent the beating heart of Cayo. Unlike most towns in Belize, the San Ignacio market is open seven days a week and is the place to go for fruits, vegetables, spices, fish, and plants. Finding your favorite vendor, learning where to buy the best free-range eggs, and making new friends are part of the experience.
What Can You Buy:
The most sustainable place we know in the region is the off-grid community that is Carmelita Gardens. Twenty minutes from San Ignacio, spread over almost 100 acres, gardens and orchards are interwoven with the housing lots so that owners can grow their own food. Houses at Carmelita Gardens have solar panels for electricity, rainwater harvesting and filtration for potable water, and eco-friendly wastewater systems. Self-sufficiency technology has come so far that out here, surrounded by tropical rainforests, you can still enjoy all the amenities of back home—big screen TV, washer and dryer, internet, etc.
Lots start from US$35,000. Cottages start from US$76,250. The developer's team of experienced architects and builders will be happy to work with you to create the home that suits your lifestyle and budget best. If you prefer not to wait out construction, there's one ready-made cottage available right now—fully furnished—for US$115,000. For more details on your options at Carmelita Gardens, get in touch here.
Lynn Mulvihill
Editor, Overseas Property Alert