Plus: Beachfront Under US$100k… And Stashing Money In Chile
In Medellín, Colombia, Manila has long been the undiscovered treasure of the city's upscale El Poblado sector. On its shady, tree lined streets, you'll find a mixture of houses, mom-and-pop businesses, and more than its share of nice restaurants and cafés.
One of El Poblado's smallest neighborhoods, the walkable Manila is one of the last barrios in El Poblado that is still dominated by single-family homes and still maintains an old-fashioned neighborhood feel.
Today however, Manila is changing rapidly. Like a number of other Medellín neighborhoods, Manila has become trendy… chic. Locals, investors, and expats are paying attention.
Manila Is One Of The Original Gastronomic Zones
Manila is home to the original Calle de la Buena Mesa (that's "street of good food" in Spanish). It's a street lined with around 13 small cafés and restaurants, offering Spanish, Mexican, Italian, seafood, Peruvian, German, Argentine, and Colombian food. And while this Buena Mesa idea seems to have started here in Manila, it's certainly no longer unique… similar gastronomic streets have popped up in several other barrios, and they're all very popular.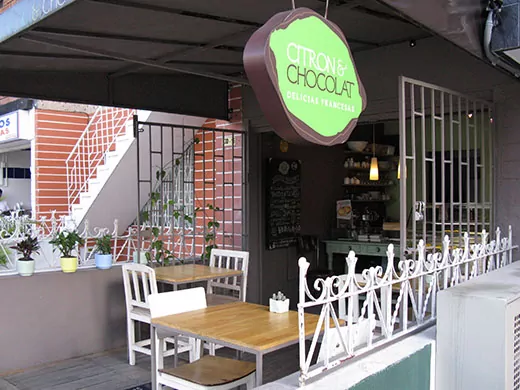 This chocolate shop is one of many tiny cafés and fine restaurants springing up in Manila
In the heart of Manila, you'll find an old-fashioned greengrocer where you can get your fresh fruits and vegetables. You'll also see the small neighborhood barber shop, the furniture makers busily filling orders for custom furniture in their open-to-the-street workshop, or the carpenters framing original artwork in the marquetería.
But in contrast, at the edge of Manila, you'll find El Poblado's largest supermarket, Éxito: A superstore with not only groceries but also a Walmart-style collection of other merchandise.
Manila Is Both 100% Walkable And Well-Connected To The Rest Of The City
The location of Manila is excellent. Near its east and west boundaries are two major thoroughfares providing easy access to the rest of the city. It's also an easy walk to the metro providing commuter train access to the entire valley.
And maybe best of all, you're only a 10-minute walk to Parque Lleras in the Zona Rosa, Medellín's premier restaurant, shopping, and nightlife district.
You can easily live here without a car with every dining and shopping option within a couple of blocks, and public transit close at hand.
It's easy to see why the area is blossoming.
There Are Two Ways To Cash In On Manila's Current Upswing
The traditional way to profit from this type of market is to simply buy a property either for capital gain or to play into the short-term rental market. Prices are great at today's exchange rates, and if you don't mind owning a property and/or managing a rental, this is a good option.
To buy a good rental property in Manila plan to invest around US$150,000 at today's exchange rates. If you rent out the property monthly (probably your best option under current law) your gross return should be about 9%. After paying HOA fees, property taxes, property management fees, maintenance, and utilities, you might net around 7%. In addition, capital appreciation has been running about 8% per year in this part of Medellín.
Alternatively, you can invest a smaller sum in a project designed to deliver both capital gains and rental income.
The offer I describe below will provide you with a way to capitalize on Manila's property market and short-term rental market without the hassle (or cash outlay) required to buy and maintain your own property. The entry point for this option is US$25,000.
Earn 8% Income Plus Capital Gain On Investments As Low As US$25,000
This project involves the construction and operation of a small building offering luxury rental units targeting Manila's short-term rental market. The developer, First American Realty, is experienced in building and managing these types of projects.
This property investment is offering an 8% preferred dividend plus an estimated 21% total return on building equity and capital gain once the building has been renovated and a rental history has been established.
The minimum investment is US$25,000 with 5% required to make a reservation.
The name of the project is Jardines del Poblado.
This Is Why Earnings Are Higher Than With A Privately-Owned Condo
Since 2010 in Medellín, you cannot rent out an apartment short-term (less than 30 days) unless you have approval from 75% of the building's residents. This is virtually-impossible to obtain as most residents will vote against short-term rentals in their building.
But in the case of Jardines del Poblado, the developer has purchased the entire building. The building can then rent its units short-term making returns that are between two to three times higher than a unit that's rented monthly.
The reason that this type of rental is so popular is because it will still rent for far less than a hotel in this area. Also, it's far more private than a hotel… it's like having your own private apartment while you're in residence.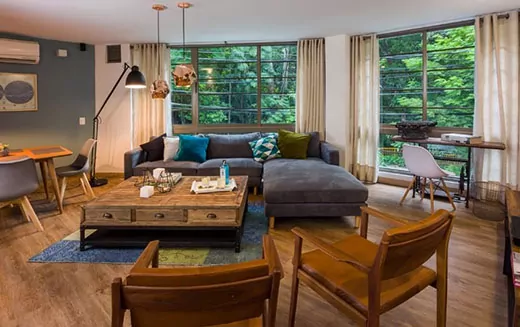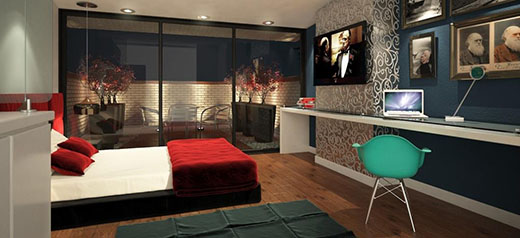 Jardines del Poblado is being remodeled to the highest executive standards (architect's rendering)
Why You Should Pay Attention To This Developer
I like having this developer—First American Realty—for a partner because I think they can keep the occupancies high.
First American Realty—and their affiliate The Apartment Medellín—are also the rental agents for this property. And at this time, they handle more than 50% of Medellin's furnished rental market for foreign visitors. So I'm sure Jardines del Poblado will get plenty of referrals and good promotional efforts like their other projects do.
Also, First American Realty gets to keep any extra income after paying the investors their 8% dividend. So they're highly incentivized to keep the building full.
Finally, they've done projects like this before, more than five times, and it's worked out well for the investors in their earlier projects.
Here's What I See As Your Exit Strategy
If you'd like to exit your investment in Jardines del Poblado, these are the rules:
Any investor can sell their shares at any time. Your co-investors have the first right of refusal if you decide to sell. Then First American Realty Medellín has second right of refusal.
Thereafter, you can sell it to anyone you like. If you want, First American Realty will promote your share to its subscriber base (in excess of 17,000). In this case, you would pay a sales commission at the time of closing.
Obviously, it will be easiest to sell your shares when the project is finished and operating in 2016.
The Terms: Earn Income, Generate Capital Gain, And Get A Colombian Visa
Jardines del Poblado is a building that is being refurbished to provide five luxury executive suites.
Investors will be paid a preferred dividend of 8% annually generated from rental apartment leasing. The payments will begin when the building goes operational and will be paid quarterly.
The building is scheduled to become operational on Oct. 17, 2016.
The developer estimates a 21% total return on building equity and capital gain once the building has been renovated and a rental history has been established. This capital increase is due to building renovations and the value added from its performance as a rental unit.
Thereafter, the building will continue to appreciate in value. The developer makes no estimate as to what this may be. In my own experience however, appreciations in this area have averaged around 8% annually since 2011. This is based on annual appraisals of my own properties nearby.
The developer has a property management division and will maintain, promote, and manage the rentals.
As an investor, you will receive preferred rates when you stay at Jardines del Poblado. The discount can be as high as 50% depending on how far in advance you make your booking.
At today's exchange rates, investors will be eligible for a Colombian visa, category TP7.
Minimum investment amount is US$25,000. There is no upper limit on an individual's investment until the building becomes fully-funded.
You can reserve your investment with a 5% refundable deposit pending your detailed review of the investors' package.
"Why Are You Writing About Another Project Like This?"
The answer to this is easy. This is probably the fourth project like this that I've written about from the same developer. And every previous project has been completely sold out.
Last time, all the available shares were sold in just two weeks.
Sometimes it's hard to tell what readers want to hear about. But in this case, checkbooks don't lie. If it weren't a popular idea with readers, these projects wouldn't be selling out as fast as he can bring them to market.
That's why we at Live and Invest Overseas are first in line when a project like this becomes available.
In accordance with our internal protocol, this project was offered last week to subscribers of Global Property Advisor, and we here at Overseas Property Alert get to see it second. At this time, 75% of the project has been sold.
Here's Who To Call To Take Action Or Get More Information
If you're interested in a complete, no-obligation investor package or have further questions, please contact the developer directly. You can contact Rich Holman here.
Lee Harrison
Editor, Overseas Property Alert
***
Letters To The Editor
Hi Lee,
I realize times have changed in the past 20 years! Does anything still exist in the range of US$50,000 to US$100,000 for a beachfront investment in a safe and decent area? I'm looking for a small house, condo, or land, south of the border.
Thank you,
Sam
This is a great question at this time. Most of the world's beachfront bargains disappeared years ago, with virtually nothing left under US$100,000. But today, the unexpected strengthening of the U.S. dollar has created some genuine beachfront bargains, if you know where to look.
Brazil and Colombia have the best currency bargains right now with Brazil properties trading at 60% off of their 2010 highs. Colombia is around 41% off.
My favorite second home location in Brazil is on the island of Itamaracá, just north of Recife, connected to the mainland by a causeway. And you can indeed find beachfront properties between US$50k and US$100k.
You can read my latest article on Itamaracá here… and remember, prices are 25% less today than when I wrote that article, based on exchange rates.
In Colombia, beachfront units under US$100k were harder to find. But I did find one in Santa Marta, and you can see that beachfront unit here (https://www.miapartamentoensantamarta.com/Santa_Marta/Magdalena/Homes/Rodadero_Sur/Agent/Listing_161984040.html). Ocean view properties however, are not too hard to find. To learn more, see my previous article on Santa Marta, Colombia. But again, remember that exchange rates are around 30% more-favorable than when I wrote that piece.
Lee,
I am interested in purchasing property in Chile while the dollar is still strong, however I won't have time to travel back to Chile until next June. In a previous post, you told a reader that they could lock in the current exchange rate in Colombia through Alianza Valores.
Do you know of a similar company where I could do that in Chile?
Regards,
Brett T
Banking in Chile is difficult, and it's almost impossible to get a normal bank account there unless you have permanent residency (residencia difinitiva). It's one of the few places that makes Colombia look easy when opening an account.
But there is a workaround as Brett suggests. You can buy into one of their Fondos Mutuos, a time deposit offered by many banks and brokers.
In this case, your money would be tied up for the specified period of time, so it couldn't be used as conveniently as a checking account or passbook account. But it works particularly well in Brett's case, since all he's doing is parking money… money he purchased at a favorable exchange rate.
To open an account, you'll need to have a tax ID number called a RUT. Unfortunately, you'll probably need to be there to open the account. But the cost of a trip to Chile could be far less expensive than buying at an unfavorable exchange rate…
Have a question? You can write to Lee here.