If you'd been thinking about taking your job on the road and embracing the digital-nomad lifestyle sometime in the future, you may have had a taster this year—though from your own home, of course…
Maybe this unexpected twist in your work situation has helped you realize that you could go overseas sooner than you thought. And, if you haven't been able to work from home, perhaps you're considering a career change that would give you the flexibility to live on your own terms and experience adventures across the globe.
Before we go any further, I'd like to clear up something about this whole "work from anywhere" idea…
Can you work from anywhere in the world?
I'd say yes… as long as you have a reliable internet connection.
Can you work from anywhere in your home?
That has to be a no from me.
As a freelance writer and editor, I've been working from home these past 13 years—everywhere from a spare bedroom to the back garden to the kitchen table. And, let me tell you that there is nothing like having a designated office…
By all means, nip to the café to catch up on email… or step out onto the sand on your lunchbreak. These are nice perks of a flexible work situation. But, if you expect to work at least 15 to 20 hours a week, you need a quiet, separate base.
"If available, choose a separate room as dedicated workspace," advises Entrepreneur Europe magazine. "Then you can close the door to keep business in and family, friends, and pets out. Pick a room or other space where you can minimize distractions, far away from kitchen, laundry room, and PlayStation noises."
Keeping distractions out is a big deal, of course. But there's another important side to this, too…
Having a separate office isn't only about having somewhere quiet where you can stay focused. It's equally important in allowing you to enjoy the rest of your home. When you work and play in the same space, it's harder to relax when you down tools for the day.
Bearing all of this in mind, today we're going to take a look at some properties for sale around the world that come with room for a home office. All of the properties I've chosen are from some of our favorite corners of the world—places where you would enjoy a great lifestyle. And, each property comes with a ready-made office or studio—or enough room that you could use that extra bedroom as your workspace.
Let's dive in…
Lousa, Portugal
This is a chance to escape into the mountains of Portugal and enjoy stunning views of the surrounding countryside—while still being within reach of the big city. From Lousa, you are 45 minutes to Coimbra—a university city that was the medieval capital of Portugal. You can travel north to Porto in 90 minutes… or south to Lisbon in two hours.
The property itself is part of a cluster of six homes in a quiet hamlet. Built from local stone, it has three double bedrooms, two bathrooms, lounge, kitchen, storage room, and sun terrace with commanding views. Price: 75,000 euros (US$88,750).
Panama's second-largest city—a favorite among North American expats—David is the beating heart of the country's Chiriquí Province. This lakefront property has two bedrooms, two bathrooms, living room, dining room, kitchen, and casita that can serve as an office or studio. The master bedroom has a terrace with views of the surrounding mountains. Price: US$159,500.
Occitanie, France
Life in the Occitanie region of France moves at an easy pace—it's a chance to experience a countryside lifestyle full of traditional French charm. With mountain views, this home in the village of Saint-Laurent-de-Cerdans was converted from an old factory. Its style should appeal to anyone interested in pursuing a creative activity—whether for work or in your spare time. Covering 264 square meters, it has four bedrooms, large living room, two kitchens, office, garage, workspace, and commercial space. Price: 179,900 euros (US$213,100).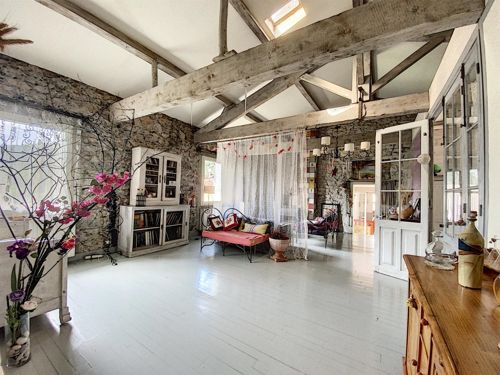 This former factory could be your bright new home in the south of France
Mazatlán, Mexico
The town of Mazatlán offers the opportunity to be part of a historic colonial city on Mexico's dramatic Pacific coast. Our chosen property is located on Avenida del Mar, overlooking the town's longest beach. With ocean views from the main bedroom and living areas, it has three bedrooms, two bathrooms, and comes fully furnished. Price: US$265,000.
Valencia, Spain
On a stretch of the Mediterranean known as the "Orange Blossom Coast," Valencia is Spain's third-largest city. It's more laid back than Madrid and Barcelona—and prices can be considerably cheaper. This townhouse is 30 minutes outside Valencia in the old town of Sagunto. Renovated throughout, it has two bedrooms, two bathrooms, living/dining space, private courtyard, and an outbuilding that could serve as workspace. Some of the region's best beaches are just 15 minutes away. Price: 185,000 euros (US$219,000).
Medellín, Colombia
A city that's won awards for its innovation, Medellín is an inspiring place for the digital nomad. With its many green spaces, it's somewhere you can easily achieve that work-life balance. The majority of expats favor the upscale El Poblado neighborhood. Though it's pricier than other parts of the city, you can still get a good deal here thanks to the current exchange rate. This ninth-floor apartment in Provenza (the heart of El Poblado) has kitchen, living room, dining room, three bedrooms, three bathrooms, balcony, and two parking spaces. It's within easy walking distance of shopping, restaurants, and entertainment. Price: 995 million COP (US$261,120).
Italy's Abruzzo region has everything Tuscany offers and more—at a fraction the cost. It's a traditionally rural area where you can take advantage of ski resorts in winter and its Adriatic beaches in summer. This restored home has wide views over the countryside. With vaulted ceilings throughout, it has a kitchen, dining room, living room, laundry room, bathroom, three bedrooms, and three terraces. It's 41 kilometers from Pescara airport, 38 kilometers to the closest ski resort, and just 17 kilometers from some of the region's best beaches. Price: 189,000 euros (US$223,600).
Lynn Mulvihill
Editor, Overseas Property Alert