Spain has long been a popular destination for casual visitors and retirees alike. A convivial culture, generally agreeable climate, reasonable cost of living, and superb food are just a few of the reasons for Spain's perpetual popularity.
But Spain is quite diverse—really more a loosely-knit group of largely autonomous and disparate comunidades more so than a single country. Faced with such diversity, where should you begin your explorations?
One of my favorite cities is Valencia. Although it is Spain's third largest city, with a population of around 800,000 (double that in the metro area), Valencia feels smaller. It has a more relaxed ambience than either Madrid or Barcelona, and it's considerably cheaper than those larger cities, as well. But don't imagine that you have to give up a lot just because Valencia comes with a lower price tag. Not at all.
Valencia lies on the Mediterranean on a stretch known as the Costa del Azahar, or Orange Blossom Coast. It is easily reached either by direct flight, or by flying into Madrid or Barcelona and then taking a high-speed train to one of Valencia's two rail stations.
I arrived in Valencia from Barcelona by train as the sun was setting. During the short cab ride to my hotel, I noticed large numbers of people heading out to exercise in the relative cool of the evening.
My hotel, the MD Modern, was basic but clean, and the internet fast. After dumping my bag at the hotel, I set out for a bit of exploration and dinner.
Just a couple of blocks away in the Cánovas neighborhood there were several inviting restaurants to choose from on every block. I finally selected one when the proprietor popped out, took my arm, and steered me to a table. After a bit of consultation, I ordered salmon.
I was not disappointed. Carlos served me two nice-sized wedges of salmon, perfectly prepared and accompanied by potatoes and a beer (OK, two—traveling makes me thirsty), which set me back just about 25 euros. Not dirt cheap, perhaps, but for a quality dinner at a sidewalk table in this lovely setting? Quite a good value.
I was to find, though, that you can do far better at lunch. Many of the restaurants offer a choice of two or three fixed-menu lunches for 10 euros, sometimes as low as nine. Lunch includes not only the main course and side, but either a beer or glass of wine, and either coffee or small dessert after. I never had a meal in Valencia that I didn't enjoy, or one which I considered overpriced. For some reason, I never got around to eating paella, although locals maintain this quintessential Spanish dish originated right here in Valencia. Ah well, next visit!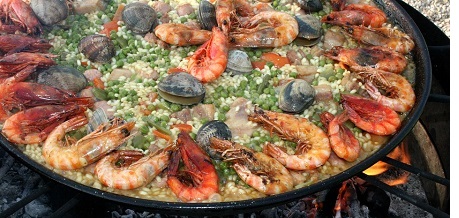 Paella, one of Spain's best-known dishes, originated in Valencia
It's no surprise, perhaps, that the food in Valencia is so flavorful and reasonably priced. Valencia is a coastal city, so fresh seafood figures prominently on every menu. And the surrounding region produces fruits and vegetables in abundance—a visit to the city's Central Market should be on everyone's itinerary.
While food certainly is high on the list of things to love about Valencia, there are many others.
Valencians as a group, for example, embrace a healthy lifestyle. Everyone seems to exercise, and the city is laid out for it. Walking the next morning to explore the City of Arts and Sciences, I passed through just a bit of the Jardines del Turia. I later learned that a long swath of parks, gardens, and greenways cuts west to east through Valencia before hooking south, following the old Turia riverbed. Joggers, cyclists, and rollerbladers sped by me as I held to a slow and steady pace under the summer sun.
A 20-minute walk brought me to the City of Arts and Sciences, a futuristic complex consisting of an IMAX cinema, interactive science museum, the largest aquarium in Europe, and a performing arts center. I really enjoyed my day there (although, if I'm honest, I think Barcelona's aquarium is perhaps better).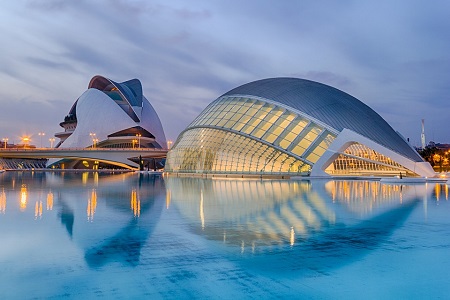 The futuristic City of Arts and Science complex
You'll also find history in Valencia. The city is old, even by European standards, having been founded by the Romans in 138 B.C. The historic center is one of the largest in Europe, with plazas and medieval buildings linked by narrow streets. Must-see sights include the recently restored Church of San Nicolás, with its vibrant ceiling frescos, and the Serranos Towers, which formed part of the ancient city wall.
I love beaches. In fact, having lived in South Florida and Brazil for years, I consider myself a well-qualified judge of beaches, and Valencia has a very nice strand, La Malvarrosa, right in the city. It's easily reached by bus. Broad and long, it has restaurants and kiosks, but they don't overwhelm. And if you want something less trafficked, El Saler lies only eight miles south of the city.
Summers in Valencia can get hot, but the average daily high is usually in the mid-80s (Fahrenheit), which I find manageable. Just sip a beer on the beach, or turn on the fan and take a siesta. And winters here are short and quite mild, with highs generally in the low 60s.
Yes, there's a lot to like about Valencia: food, a healthy lifestyle, art, history, beaches, good climate. And something else struck me, too.
The streets appear quite safe. I saw many people—including unescorted women—walking the streets well after dark without apparent concern. That fact spoke volumes to me. Isn't this how a civilized country should be?
Valencia got under my skin. I'm sure that I'll be heading back.
A Look At The Property Market
You'll find many properties for sale, and also many for rent, both short- and long-term. Some popular areas which you might want to explore are the El Carmen neighborhood in the historic center. L'Eixample and the adjoining areas are also nice. I stayed in Cánovas and found the location to be excellent. La Seu and La Xerea are also popular.
Here are a few examples of what's on the market in the area.

In L'Eixample, I found a 74-square-meter (800-square-foot), two-bedroom, one-bath penthouse with a balcony terrace. This unit comes with heating and air conditioning as well as an elevator (which many buildings do not have). Located in an excellent location, this property (https://www.valenciahomes.es/properties/VLC1015?type=sales) is selling for 115,000 euros.

Located near the botanic gardens is a good investment opportunity. This one-bedroom, one-bath loft apartment is 60 square meters (650 square feet), comes with air conditioning, and would be easy to rent. It's listed at 105,000 euros. (https://www.valenciahomes.es/properties/VLC869?type=sales)

In the historic center of Valencia, near the Towers of Quart, lies this large, four-bedroom, two-bath apartment. Comprising 95 square meters (1,020 square feet) of space, the unit features three double bedrooms, one full bathroom, one courtesy bathroom, and an open-style kitchen fully equipped with all appliances and a lounge. Its wooden floors and air conditioning help make it an attractive buy; the price was recently reduced to 150,000 euros.
(https://www.foundvalencia.com/property/turn-key-ready-property-in-the-historic-centre-of-valencia-city/)
Rather Rent Than Buy? Try It Out For Just 400 Euros A Month

Also in L'Eixample, in the heart of Valencia, I found a 40-square-meter (430-square-foot), one-bedroom, one-bath apartment for rent. It comes with all the necessary facilities, including air conditioning for only 400 euros per month. (https://www.spotahome.com/valencia/for-rent:apartments/113532)

Those in the renters market should visit LiveValencia.org, which lists many well-situated, furnished units in the 400–500 euros per month range—but you may need to book in advance.

Also for renters, Valencia Rental offers a comprehensive short-term rentals listing where you can make reservations as you would with a hotel. In order to get the best real estate deals, sometimes your safest bet is to take a short-term rental and then begin scouting on the ground.
Next week I'll talk about one of Valencia's neighbors, Alicante.
John Clites
For Overseas Property Alert
Editor's Note: My name is John Clites, and I'll be filling in for Lee for a few weeks as he finishes getting settled in his new home in Mazatlán, Mexico, and enjoys a well-earned rest.
I'm a U.S. expat currently living in Brazil. I'll tell you about this beautiful country soon, but in this newsletter and the next I'll be talking about another country I love: Spain.
***
Letters To The Editor
Hi Lee,
What are the conditions on the west coast of Ecuador after the recent earthquake, I'm unable to find information travelling from Salinas north to Esmeraldas by car, we are considering to travel Jan. 2017.
Thanks
Alec

While I believe that travel alerts are often overcautious, there are a couple of things in this situation which you should be aware of.
First, three more quakes ranging in magnitude from 3.8 to 5.2 hit off the coast just this past Monday (Dec. 12), causing property damage, closing schools, etc. Obviously, it's difficult to predict when the next might come, but the region seems to be geologically active currently.
Also, contacts presently in the Esmeraldas area also shared some concerns about crime along the Ecuador/Colombia border. If you do drive this stretch, you are advised to stick to the major roads and to avoid driving after dark if possible, and certainly not late at night. You can check the U.S. State Department website for advisories here.
Additional information from a recent posting on Expat.com: "Roads from Playas through Salinas through Montañita and up to Puerto López and Manta/Crucita are fine… The Ruta del Spondylus (formerly the Ruta de Sol) is a good thruway with small villages along the way, plenty of sights to see and places to stop for meals and overnights… During the big holidays Christmas and New Years and Carnaval it is crowded and difficult to find lodging so pre-plan."
***
Hello,
Thank you for all the interesting and well-researched work you do at LIOS
every month.
I'd like to know the best and the cheapest way to make a will for the investments
I've made in Panama and in Brazil.
Is a lawyer necessary, on-line possible etc.?
Could the real estate groups who sold the investments do it or assist?
Yours,
Neil
Yours isn't a simple situation. Tax questions can rapidly become complex when multiple jurisdictions are involved.
I consulted Amit Ramnani, CFP, a financial advisor with a focus in international asset allocation.
He is based in Brazil, one of the countries you mentioned in your query. His reply:
"I am assuming there are at least 3 or 4 countries 'in play' with your estate planning (U.S., Japan, Panama, Brazil) and therefore there is no quick and simple answer. It would be more appropriate and cost-effective to speak to a financial advisor with a global view who can provide an overview based on a more detailed understanding of your assets and tax reporting obligations in your countries of investment, residence, and citizenship. We would be happy to refer an advisor who in turn would direct you to relevant legal professionals after understanding your position in more detail."
Ramnani also mentioned that FATCA requirements must be considered, but also the new Common Reporting Standards which begin to take effect in January, with 50 countries subscribing initially. Another 50 (including Brazil), should begin participation in January 2018. All this considered, you would do well to consult with someone who has international expertise to avert potential issues down the road. Ramnani can be reached at amit@ipanemawealth.com.
Have a question? You can write to Lee (or John) here.