Granada, Nicaragua, is my favorite city in all of Central America. This is saying a lot, given the number of popular retirement spots I've visited over the past 15 years… especially in Panama and Costa Rica.
Granada offers a number of strong selling points:
Granada is aesthetically beautiful… a picture postcard of what colonial Spanish America should look like.
It's completely walkable. Everything you need is close at hand, via its attractive, level streets.
The fairly large expat community—along with an active tourist trade—brings Granada lots of amenities that a city of 120,000 would not ordinarily have. There are great restaurants, bakeries, hotels and B&Bs that set Granada apart from most cities its size.
Lake Nicaragua—on the edge of town—with its beaches, fresh waters, and islands, provides a great recreational opportunity and a pleasant way to escape the heat. It's also great for boating and fishing, with a huge 3,100 square miles to explore.
Granada enjoys good connections to the U.S. from the nearby airport in Managua. Flying time to Miami is about 2.5 hours.
Importantly, Granada brings with it all the benefits of Nicaragua… things like easy immigration with low financial thresholds for qualification… one of the lowest costs of living in the Americas… and duty-free importation of your household effects, including your car.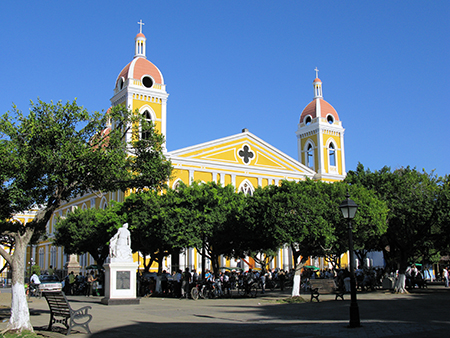 The bustling town square is large, shady, and energetic
Granada sits at the north end of Lake Nicaragua, with beaches within walking distance of downtown. Just offshore, you'll find a group of small private islands called Las Isletas… several of which are for sale.
The city also lies just south of the well-known Lake Apoyo, Nicaragua's largest volcanic crater lake. Here too, you'll find properties for sale overlooking the lake from the rim of the extinct volcano.
Best of all, Granada still feels very authentic… Nicaraguan. You'll see the old ox carts lumbering through the streets, and the towering cathedral… as well as the local delicacies, crafts, and pottery offered by Granada's street vendors around the square.
Granada offers a unique blend of native Nicaraguan city life and expat amenities. From the first time I set foot in Granada in 2004, I found it easy to understand why it's so popular with North American expats.
But what sets Granada apart from all the competition is the impressive inventory of Spanish Colonial-style homes.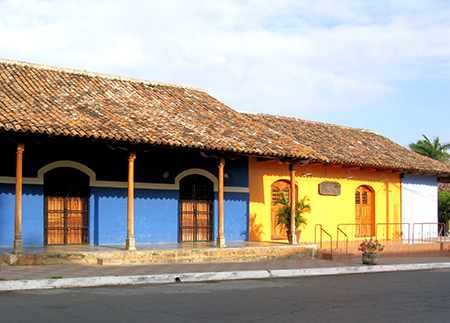 Granada has a wealth of well-preserved Spanish Colonials
Granada Is The Best Place To Shop For A Spanish Colonial Courtyard Home
If you're not familiar with the Spanish Colonial style, it's the type of city dwelling that's fairly plain on the outside, with its rooms built around a center courtyard on the inside. It's a style designed for an environment where the houses are built against one another with no room for an outside yard… hence the "yard" is inside the house, where it's private, often lush, and open to some of the home's living areas.
If you haven't seen a Spanish Colonial, here's a beautiful example from downtown Granada.
After more than 15 years of actively looking, I haven't found a better market for this type of home.
What's more, you can get in the door for less than US$60,000.
Granada usually has a good inventory of colonials in a good state of restoration. Granted, colonials can be found in plenty of places around the Americas… but there are a few things that set Granada's real estate apart:
Prices are low compared with colonials elsewhere in Latin America. Completed homes are a great value, and fixer-uppers are downright cheap… with inexpensive remodeling costs.
The homes in Granada tend to be smaller than in many cities, with one-story houses commonly available. This makes the houses brighter, with the single story allowing for more direct sunlight through the center courtyard. The relatively small size of many Granada colonials is due to the fact that most of them—over 90% of those on the market—were originally vacation homes for wealthy Nicaraguans from Managua, which were ultimately sold to expats and investors.
Many houses here also have swimming pools in their interior courtyards… something I haven't seen in other colonial markets.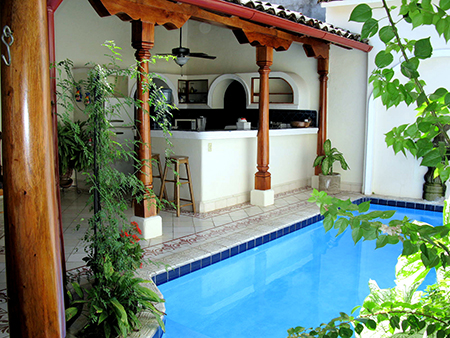 Swimming pools are a fairly common courtyard feature in Granada's homes
Founded in 1524, Granada claims to be the first European city founded in mainland America registered in official records of the Spanish Crown.
But while the city is colonial, most of the homes standing today are not actually from the colonial period (pre-1821). American invaders burned the city to the ground in 1856, and only a few homes remained. Most of the "colonials" I refer to in Granada are actually from the late-19th or 20th centuries, built in the Spanish Colonial style.
Granada's Historic Center Is Emblematic Of Spanish America's Glory Days
Granada is built around a large, shady and bustling town square, anchored by the stately, neoclassical cathedral at one end. The streets are narrow—built prior to the automobile—and lined with rows of cheerful, well-kept Spanish homes.
One downside to Granada is that it can be hot. I don't really find it unpleasant, but I do sleep with the air conditioner on, as will most people. The seasonal average high temperatures run between 86°F and 93°F (30°C to 34C°). Average annual rainfall is moderate at 47 inches, although most of that rain comes between May and October in the form of afternoon showers.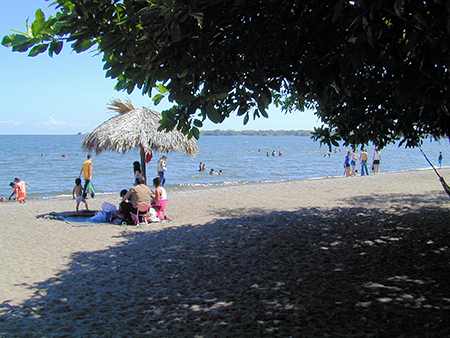 Granada's lakefront is a great place to cool off on a hot day
Also, if you want to be a pioneer—one of the first few expats to discover a city—then this isn't the place to do it. The expat community is not that big (and has brought some nice amenities) but there are definitely a fair number of English speakers already in residence.
The location of Granada within the country is convenient. The international airport at Managua is just under an hour to the north, and the Pacific Ocean lies just over an hour to the west.
Property Prices Are Still Reasonable When Compared To Most Colonial Centers
I'm always surprised that prices here have not inflated like they have in most markets where colonial homes are available. As you'll see, properties are still quite reasonable.
The rental market is good in Granada, especially if you have a pool. Occupancies in prime locations can run between 65% and 75%. If you have a small home near the central plaza, a 70% occupancy will result in a gross return of about 14%, based on prices I'm getting today for weekly rates. The farther you get from the town plaza and the larger the home, the smaller the return will be.
I find that this market is not very liquid, though, so don't buy a home thinking you're going to quickly flip it to make a fast buck, unless you're buying something special or undervalued.
Keep in mind that courtyard homes are often not 100% air-conditioned. Those areas open to the courtyard won't be, while bedrooms normally are.

In the fixer-upper department, there's a three-bedroom home available in the historic center, about five blocks from the main square. It's an easy walk to the city's restaurants and shopping. Given the low restoration costs, you could have a nice home (and well-performing rental) for less than US$100k. The asking price is US$59,000.

Casa Rañita is located just one block from Calle Calzada with its restaurants, shops, bars, and cafés. The real estate agent suggested installing a small pool in this one, and I agree… this could be a high-performing rental with a pool. It has two bedrooms, two baths, and a small interior patio. The asking price is US$85,000.

This is in a great location across from the San Francisco convent. Nicely restored using high-quality standards, it even includes a pool in the courtyard. The house comes with three bedrooms and three baths, with 250 square meters of living space (almost 2,700 square feet). From here it's an easy walk to restaurants, markets, and shopping. The rooftop sitting area gives you a view of much of downtown Granada. The asking price is US$225,000.

Also centrally located near the San Francisco convent, this home is of the colonial style, but was built in 2006 by an American couple. The finishings are very well-done, right down to the authentic bamboo ceilings and hanging fans. The home has two bedrooms and three baths, and comes with an inviting pool in the courtyard. There's a great view from the master bedroom balcony, and the asking price is US$169,000.
Is Granada For You?
Nicaragua offers easy residency and generous immigration policies. More importantly, though, I've always found Nicaragua and its people to be warm and welcoming.
Remember, Granada is always warm-to-hot, so you've got to like warm weather to be happy here. Most of us should plan on using the air conditioning.
If you'd like to buy a Spanish Colonial property, or would enjoy the Spanish-American lifestyle, then Granada should be high on your list. The cost of living is low, the properties are inexpensive, and the inventory of colonial-style homes is amazing… especially at these prices.
Lee Harrison
Editor, Overseas Property Alert
***
Letters To The Editor
Lee,
I lived in northern Spain over 10 years ago, and I'm now looking into buying a beachside café/bar in Marbella on the Costa del Sol. As you know, this is a seasonal location for many northern Europeans.
Today there are some nervous people worried about Brexit and the impact on expats living and who own businesses in Spain.
What are your thoughts for this decision and potential challenges if I do proceed?
Thanks.
Don
The truth is that no one knows what the impact of Brexit will be, but I'll pass on some food for thought.
I think expats and property owners will make out OK. The best-case scenario is that some accommodation will be made for those living in Spain which will allow them to stay. At worst, they'll need to apply for residency… but they'll likely have some special allowances.
If I had a business, however, I'd be concerned… for a few reasons. One is that the market is very mature and fairly saturated, so the upside potential for a tourism-related business was not great anyway, pre-Brexit… especially when compared to a newly developing market.
And given that it's very likely to be more difficult for the British to set up house in Spain, I can't see a scenario where the British population would increase.
To me, starting an expat/tourism business now on Costa del Sol would be entering a competitive market with a declining customer base. It's the sort of thing one would do to pursue a dream, but not to make money.
***
Lee,
I know much of your publication is dedicated to retirees. I'm only in my 30s, yet I love travel and culture and women.
Do you have any suggestions on what would be the best places for a great social life with the most beautiful women?
Ben
This is a subjective call, but I'll give you my two cents…
I'd put Madrid first, and Medellín, Colombia, as the runner-up. Madrid is my personal favorite, but both cities easily qualify with fantastic social scenes and beautiful ladies.
And it's not just the ladies… my wife claims the Spanish men are more remarkable than the women (although she ranks Uruguayan men second).
But when you throw in investment potential, a growing middle class, low cost of living, and good property values, Medellín is the easy winner.
***
Dear Lee,
I am interested in investing in organic Hass avocado trees in Panama. But I'm wondering how much money the investor actually makes from the US$45,000 purchase after four years.
I understand money goes to management care, crop fees, and a split with the management company. Are these expenses tax-deductible?
How much of the projected US$10,000 in earnings is left for the investor?
Thanks, and keep up the good work, Lee!
Nora
The projected US$10,000 to US$11,000 in earnings is net of the crop care fee and management company split. It's all forecast to go to the investor.
And accordingly, those fees would not be deductible by the investor.
You can learn more about the organic Hass avocado investment here.
Have a question? You can write to Lee here.