Plus: "Why Should I Get A Visa In Colombia?"
Beautiful, unspoiled beaches, warm weather, and friendly, English-speaking people. New Zealand fits the bill just about perfectly for anyone wanting to escape the harsh North American winter.
And thanks to a dramatic shift in currency exchange rates, U.S. dollar-holders now have 38% more buying power in New Zealand than they had just last year.
The countryside and beaches are amazing, but now and then properties can come with an added bonus: world-class fishing.
Since legendary American angler Zane Grey described the Bay of Islands as "the Angler's El Dorado" it's been widely recommended as New Zealand's top fishing destination. But there are other lesser-known places in Northland where there is good potential for short-term rental of your property when you are not using it.
Capital gain is an added bonus due to steady price rises in the Northland property market throughout 2015. The latest monthly Government House Price Index shows property prices rose 6.1% in the Far North.
Why New Zealand Strikes A Chord With U.S. Buyers
New Zealand has one of the lowest population densities in the world. With about 15 people per square kilometer, it's roughly half as dense on average as the United States. Its largest city, Auckland, is one of the world's most livable cities and was ranked third in the world in Mercer's Quality of Living Survey.
New Zealand's crime rates are far lower than the United States and Americans appreciate its hardworking and honest culture. In fact, Transparency International's Corruption Perception Index ranks New Zealand at second in the entire world (after Denmark). By comparison, the States is in a four-way tie for 17th place, Chile and Uruguay share 21st, and Ecuador holds down 110th.
It's a modern, forward-looking society. New Zealand was first in the world to give women the vote in 1893 and elected its first female Prime Minister, Helen Clark, in 1999.
Plus, New Zealand feels familiar to North Americans. It's an English-speaking country with a lot of shared cultural norms.
The climate ranges from warm sub-tropical in the north of North Island, to a cool, temperate climate in the far south, with extreme alpine conditions in mountainous regions.
And for the fisherman, New Zealand's 9,300 miles of shoreline (15,000 km), along with thousands of lakes and rivers, guarantee that there's a fishing experience that's perfect for everyone.
Five Top Locations Where The Fishing Is As Good As The Lifestyle
These are my top five destinations, where a great property buy can be found next to one of the country's best fishing hotspots.
#1 Bay of Islands
The Bay of Islands is studded with sheltered beaches, wineries, and colonial-era towns. It's also one of the three biggest game fishing areas in New Zealand, renowned for the quality of its marlin fishing as well as snapper, kingfish, and hapuku. Record-breakers are caught here frequently, which is why so many overseas and New Zealand visitors come here for fishing trips.
The area has many apartment buildings, often with onsite managers who make it easy for overseas owners to manage or rent their properties out. For example, an affordable, fully furnished, ground floor, two-bedroom, two-bathroom luxury apartment just across the road from the beachfront—tropically landscaped with a generous swimming pool—has an asking price of US$177,000.
Bay of Islands offers sheltered beaches, wineries, and colonial-era towns
#2 Whangaroa Harbour
Although best known as a base for sport and game fishing charters, there is also good small-boat and land-based fishing available here. Being off the tourist route, there are fewer properties for sale and short-term rental in this area.
Cottages known as "baches" are popular in New Zealand for short-term rentals away from the cities and main tourist areas. These are usually basic houses, but some are more luxurious. Just recently, we've located a small bach for sale with sea views and two bedrooms. Priced at US$185,000, it is a good buy—below the average price for the area.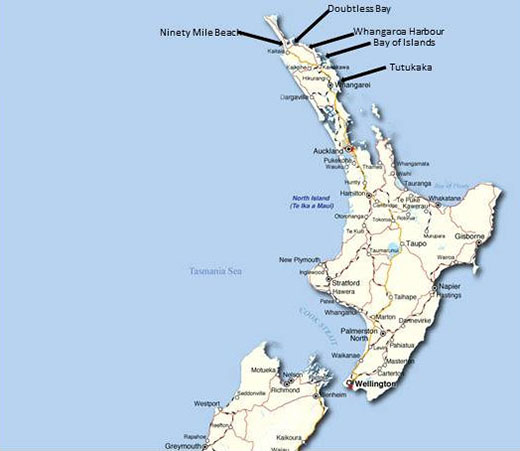 Top five property and fishing hotspots in Northland
#3 Doubtless Bay
Doubtless Bay is situated on the east coast of the Northland Region, north-east of Kaitaia. With a warm sub-tropical climate, 45 miles (72 km) of unspoiled coastline, and an abundance of safe beaches, Doubtless Bay is a vacation paradise and an ideal base for a holiday house in Northland.
There is good all-around fishing available most of the year (from small boats or on land). The area includes Mangonui Wharf—famous for the schools of kingfish that pass during the warmer months—as well as kahawai, snapper, and John Dory (also the odd bronze whaler shark). These are often caught off the wharf itself.
Another community is Coopers Beach, a very affordable and popular area with a relaxed lifestyle, and central to Doubtless Bay. The best buy here currently is an almost-new, immaculate, three-bedroom, two-bathroom home with large open-plan living areas priced at US$223,000.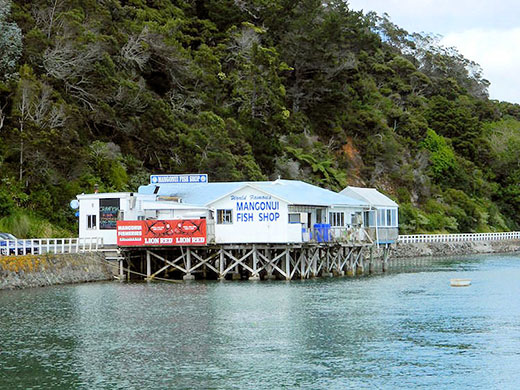 Some of the area's best catches are bagged right from Mangonui's wharf
#4 Ninety Mile Beach
Renowned for spectacular sunsets and boasting one of the best left-hand surf breaks in the world, Ninety Mile Beach on Northland's west coast is an almost never-ending paradise.
Actually, the beach is only 64 miles long and you can drive on it almost all the way. Made famous by the large numbers of snapper, trevally, and kahawai caught surf casting here, Ninety Mile Beach hosts a five-day fishing competition once a year in late February or early March. Hundreds of anglers surf cast from the beach hoping to catch the biggest snapper, a delicious white-flesh fish found in New Zealand waters.
Again, once away from the tourist centers properties are less available, but we found a brand-new three-bedroom home nearing completion that's only minutes to the beach, Ahipara golf course, and local school. The price is US$167,000.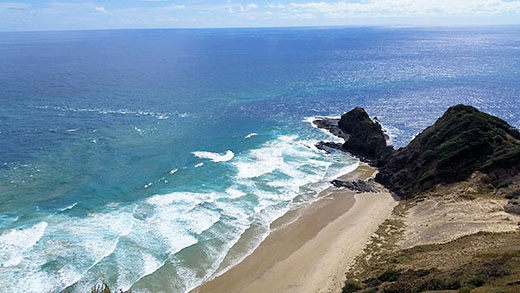 Surf, sand, and dunes at Ninety Mile Beach
#5 Tutukaka
This is another major center for sport and game fishing. Bordering the Poor Knights Islands Marine Reserve, there is good fishing to be had around the mainland, particularly kingfish, kahawai, and snapper.
Mako and blue sharks are abundant, and during the summer months the marlin population is usually very healthy.
Many houses in the area have spectacular sea views and start from around US$750,000. However, a popular less expensive choice in this area is to own a unit in a complex, usually with views and no maintenance worries.
For example, the Pacific Rendezvous complex located at the end of a peninsula overlooking the entrance to the Tutukaka Harbor has a fenced pool, gaming room, tennis court, private access to a safe sandy beach, and well-maintained grounds. This is an affordable option at US$183,000.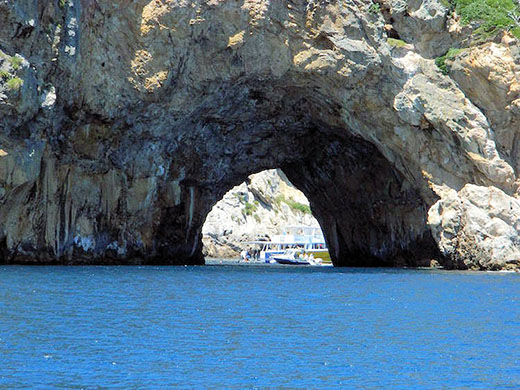 Tutukaka and Poor Knights Marine Reserve
The Northland region is not densely populated and good properties in prime locations can be hard to find. Affordable good properties are even harder. But we at The Property Finders will ensure that your search for a piece of New Zealand paradise is productive and hassle-free. If you'd like help finding your own piece of a world fishing paradise, write to me directly
Chris Collett
For Overseas Property Alert
Editor's note: Chris Collett has a background in human resources and general management, in both the private and public sectors in New Zealand, as well as Queensland and Victoria in Australia. Her passion for real estate developed when she became a relocation consultant, finding houses and the right schools for the staff of large companies relocating internationally. She has also worked for the Land Titles Office of New Zealand.
Chris now works as a property finder and relocation specialist with The Property Finders. You can write to Chris here.
Lee Harrison
Editor, Overseas Property Alert
***
Letters To The Editor
Lee,
You have written several times about Nicaragua, and most recently, Masachapa. My questions about Nicaragua are two:
How stable and U.S.-friendly do you consider the government?
What effect, if any, do you expect to see from China's recent involvement in attempting to build a canal?
I enjoy your letter and ended up in Bocas del Toro, in part due to your sister publication, Offshore Living Letter.
Thanks,
Mark
I consider the Nicaraguan government stable, especially with respect to their policies on land ownership. In fact, I own a property there myself.
With respect to how friendly our governments are, I'd say they're polite. Remember that the current president, Daniel Ortega, was also the country's leader from 1979 through 1985, and was their democratically elected president from 1985 to 1990. The United States spent most of that time trying to overthrow him… an effort that resulted in the killing of about 200,000 Nicaraguans. So the U.S. government is probably not his favorite.
Nonetheless, I've found Nicaraguans to be very welcoming to Americans. Like many Latin American peoples, they don't hold individual Americans accountable for the actions of our government.
As to the canal, I see one of two things happening.
One is that it won't get done in the foreseeable future. There's some vocal opposition to the canal, but I think the real issue is that it's a huge engineering feat that's much more difficult than the Panama Canal. With the declining Chinese economy, you have to wonder if the Chinese backers can hang in for the long haul.
The other possible outcome is that they finish it successfully by the year 2020. If that happens, I believe Nicaragua—one of the poorest countries in the hemisphere—will come to enjoy Panama-style prosperity and wealth.
If the Nicaragua canal completes, I expect today's property buyers to be handsomely rewarded.
***
Hi Lee,
I jumped in on the Cartagena Suites offer with a small investment of US$25,000. I asked them about the visa that is offered with buying property in Colombia. Since I plan to live in Panama at least part time, would I benefit getting this visa in Colombia?
The paperwork is large and scary for the visa and bank. Is it necessary to provide information on every penny you own? Need your input!
Halina
My philosophy is that it's always a good idea to get a visa where you can. In Colombia, you won't incur any travel restrictions or tax consequences for this kind of visa, so there's no downside. And having an extra residency is always a good backup maneuver, since it not only gives you a place to come and go freely, but also access to the country's financial system.
The paperwork should not be "large and scary," especially because there's no police check required or physical exam. Aside from an application and copies of passport pages, you just have to prove that you've made the investment. Here are the Colombian Visa Requirements in Spanish… the visa in question is TP7.
But Halina brings up an excellent point. It is not necessary to disclose all of your financial information for a visa or when opening a bank or brokerage account. Only disclose what's necessary. If you're being asked to disclose much more than that, I'd find out why.
***
Lee Harrison,
Do you have information about Iraqi dinars, and where to exchange dinars for dollars?
Thank you,
Raquel
For the best rates, I'd take them directly to the central bank. It's located on Saadoun Street (just after the traffic circle), a block in from the Tigris River in downtown Baghdad. If they're not open, the Al Shajara exchange down the block has more flexible hours.
Alternatively, the companies who sold dinars during the height of the craze will often buy them back at today's rates. If you can sell them to the company you bought them from, you'll likely get a better rate… and some companies only buy them back from previous clients. I'd expect to get between US$600 and US$900 per one million dinars, the latter if they're uncirculated.
***
Hi Lee,
I'm interested in that property in Regina (mentioned in Matt Chilliak's Canadian dollar article) that was close to downtown, if it's still available. How can I contact the owner or the agent as I have just returned to Saskatchewan.
Thank you.
Rufina
That sample property was located at 2033 Winnipeg St. in Regina. You can see the listing here (https://propertyinregina.com/regina-homes-for-sale-broders-annex.html/listing.545955-2033-winnipeg-street-regina-s4p-1g7.50816208).
Have a question? You can write to Lee (or Chris) here.