Plus: Buying In Lagos, Portugal
San Pedro Town, Belize
The properties in this report are priced in U.S. dollars
Belize is at the top of the list for anyone who dreams of clear, warm waters, swaying palms, sport-fishing, and white sandy beaches. It's a well-recognized destination among North American mainstream travelers.
Belize is a also big player in the ecotourism market, and ranked as world-class for diving and snorkeling. The barrier reef here is second in size only to the Great Barrier Reef in Queensland, Australia.
It's a Caribbean destination that's inexpensive when compared to most everything else in the Caribbean, so it draws more than just the high-end traveler.
We've been tracking an oceanfront project in Belize for more than a year, waiting for it to come to market. It's a one-of-a-kind beachfront project in the British colonial style… one that's reminiscent of Belize's colonial past.
It's a limited-inventory opportunity to invest in Belize for capital gain, earn an income from the property, or even live there if you prefer.
The project is now open for pre-sales, and at this time, the offer is exclusive to Live and Invest Overseas, publisher of Overseas Property Alert. As a reader of Overseas Property Alert, you're seeing this before it's released to the general readership.
Belize Tops The Charts For Seaside Destinations In The Americas
Belize is a successful and mature tourist market, so investors here are not gambling on an unproven idea.
And, "under the hood," the Belizean economy has been a strong performer. The GDP has averaged 5.5% annual growth since 2006, and even turned in a strong performance during the Great Recession. Have a look at the chart below.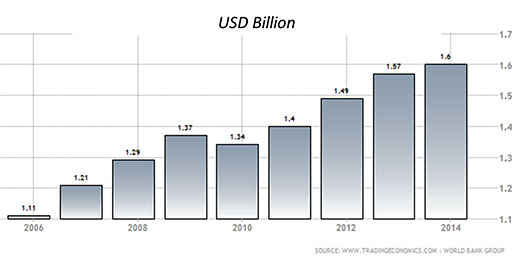 Belize has maintained a strong 5.5% growth, with strong performance during the recession
Beyond its obvious tourism potential, Belize also draws a large number of expats, who come for a number of its benefits:
English is the official language of Belize, so there's no need to learn a new language or to have legal documents translated.
It's close to the United States at less than two hours from Miami.
The currency is pegged to the U.S. dollar, so investors don't have the currency risk that's inherent to many overseas investments or relocations.
Property taxes are low, so the overhead of owning in Belize is attractive.
It's naturally beautiful, with year 'round warm weather, warm waters, white sand, and friendly people.
The Premier Destination Within Belize Is Ambergris Caye
Ambergris Caye (pronounced key) is a narrow, 26-mile-long island just off the coast of the Belize mainland. It accounts for the lion's share of Belize's significant tourism income.
Located squarely within the barrier reef system, Ambergris Caye is where most divers and beachgoers headquarter themselves while visiting the country. It has now won the #1 spot among the top ten islands in the world for two years running, per Trip Advisor's Travelers' Choice Award.
The main population center on Ambergris Caye is San Pedro (locally called San Pedro Town), a typical, quirky Caribbean town that's loaded with character… as well as a wide array of dining options, conveniences, and even an airport.
So for an investment in the tourism industry, Ambergris offers a lot. It boasts a mature tourism market in a place that's best-in-class, in a country that's world-renowned for its diverse tourism potential… from exploring Mayan ruins to watching a giant manta work the barrier reef.
This Project Is At The Heart Of The Luxury Tourism And Conference Market
The name of the project is Grand Baymen Oceanside… a luxury beachfront resort, condo-hotel, and conference center, with net revenue projections of US$3.86 million per year.
Grand Baymen Oceanside is situated on a section of prime beachfront, just a few minutes' walk south of San Pedro Town. The immediate area has a great assortment of seafront fine-dining options, as well as local restaurants, cafés, shops, and grocery stores.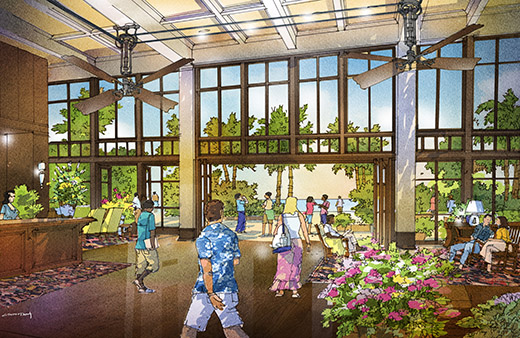 The Grand Baymen lobby brings back Belize's British colonial heritage
To operate the resort, the developer (ECI Development) has signed a Letter of Intent with a major worldwide hotel chain. A confidentiality agreement prohibits us from naming the hotel operator until the final contract is signed… but they're one of the world's biggest and best-known.
There are a few different ways to invest in Grand Baymen Oceanside, which we'll cover below.
Of the 144 units being built for the hotel, only 54 units are available for purchase. The units on offer are studio apartments, as well as two- and three-bedroom apartments.
The idea is that you'd buy an apartment, release it to the hotel's inventory to rent out to hotel guests, and then split the income. We'll talk about income and returns in a minute…
Of the 54 available properties, up to 15 condos will be set aside to be purchased as a private personal residence. Otherwise, your unit will be part of the hotel's inventory except during the four weeks that you can have it for personal use.
I recently went on a scouting trip to see the area and the resort site. Seeing the site took all of 20 minutes… but I managed to stretch the evaluation into four days, while enjoying the local waterfront restaurants, beaches, and amazing diving on the reef.
All the while, I stayed on the property where the new resort will be built. Exotic Caye Beach Resort is located there now—operated by Grand Baymen Oceanside's developer, ECI—and will be retired when construction begins.
The Conference Center Will Set Grand Baymen Oceanside Apart From Its Competitors
Grand Baymen Oceanside will be loaded with the amenities that you'd expect in a high-end resort.
But, in my view, the biggest unique asset of Grand Baymen Oceanside is the conference center. Aside from the British colonial design, this is one thing that really sets them apart from the competition.
As of now, the country of Belize is not a destination for events and conferences, despite its natural beauty and number of diversions. The only venue in the country with a sizeable conference center is in Belize City… which, to put it politely, is not a nice place. And the conference facilities there are too small to hold any kind of sizable event.
So the conference center at Grand Baymen Oceanside will have two advantages: it's in the country's best location and it's large-enough to hold a full-scale event. It's bound to steal the country's existing conference business… and to make Belize itself more of a conference destination.
This will help to keep the rooms full, and to boost everyone's ROI.
Terms And Financing At Grand Baymen Oceanside
As I mentioned, Grand Baymen Oceanside will have a total of 144 units when completed. Of those, only 54 units are available for purchase. Grand Baymen will retain the remaining properties in the hotel's inventory.
Of the 54 units, a maximum of 15 are available for full-time residence. These are offered at the same price as the units that are available to the hotel. If you buy one of these apartments you can rent it out if you like, but it will not be managed by the hotel. You'll not be required to purchase the hotel's furniture package.
Closing costs in Belize are high on new construction at almost 18%. This is because—like many countries today—Belize charges their normal sales tax the first time the unit is sold. (It's a value-added tax and, for a property, the value is added when you build.) When I quote prices, I'll include this tax (but not the furniture) to keep the numbers simple and straightforward.
Prices at Grand Baymen Oceanside start at US$199,900. When you include almost US$35,000 in sales taxes, the total starting price is almost US$234,900.
For this price, you get the unit with the highest projected returns; a studio apartment without an ocean view on the second floor. (More on projected returns below…)
From there, prices go up—according to size, floor, and view—to over US$800,000 for a two-bedroom, oceanfront, "end" unit with a premium two-way view.
For the ultra-premium experience, there are six oceanfront units available, with three bedrooms and over 2,400 square feet of living space. These will run over US$1.4 million, tax included.
Here are the payment terms:
1. You can reserve your unit with a fully refundable, US$10,000 deposit
This deposit will hold the property for 30 days, giving you a chance to come down and see it firsthand.
If you plan to attend the Live and Invest in Belize Conference (Jan. 20–22, 2016), then your reservation deposit will hold your unit until one week after the end of the event.
2. The second payment
The second payment is 50% of the purchase price (less your US$10,000 deposit if you made one), which is due at groundbreaking, scheduled around Feb. 1, 2016. The final 50% will be due at specific milestones throughout the construction period.
The final expense is your furniture package, due when the hotel starts furnishing the rooms, about eight months prior to full completion (around September 2017). The furniture package is a standard package, specified by the hotel chain. Here are the furniture prices:
US$15,000 for a studio
US$25,000 for a 2-bedroom
US$35,000 for a 3-bedroom
3. Financing
Financing is available from Caye Bank in Belize. You may finance 50% of the purchase at 9.9% interest, with amortizations ranging from 5 to 30 years. Contact the developer for the exact financing terms.
You may spend up to four weeks per year in your apartment. If you're staying any longer, you'll have to pay like everyone else. Of course if you bought one of the 15 residential units, you can be there whenever you like.
The estimated completion of the facility is May 2018.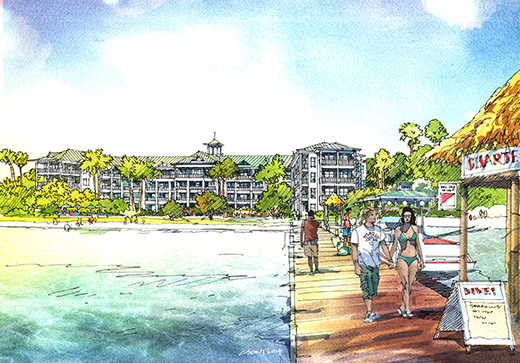 Architect's rendering of Grand Baymen Oceanside, as seen from the existing pier
Earn A Good Income While Your Property Grows In Value
I mentioned above that the cheapest property available at Grand Baymen Oceanside is the one that produces the highest return.
To be specific, the second-floor non-beach efficiency—selling for a tax-included price of US$235,000—is projected to earn 5.89% in its first year of operation, this number increases over the years, until it reaches 12.26% in year 10.
To use a two-bedroom example, the standard ocean-view unit on the second floor sells for US$624,600. The projected gross ROI is 4.46% for year one, and 7.64% in year 10.
Here's A Way To Raise Your Return On Investment:
Don't Pay The 17.5% Sales Tax
If you'd prefer, you can purchase your unit and defer all closing costs. This lowers the cost of your investment by 17.5% and raises the ROI accordingly.
Here's how it works. You will invest the base price of the unit (without tax or closing fees), but you'll actually be buying preferred shares in the company The Grand Baymen Oceanside Resort, Ltd. with your investment tied to a specific unit reserved in your name. The title to your unit will actually remain in the name of The Grand Baymen Oceanside Resort, Ltd., so no tax is due.
If you ever want to title the unit, you can "buy" it from the developer for one dollar. At that time, you'll need to pay the closing costs that you avoided at the beginning.
You'll receive the same returns that you would if you bought the unit outright, but your ROI will be higher because you've invested 17.5% less.
For example, the ROI for the US$235,000 unit in the example above would go from 5.89% in the first year to 6.85%. In year 10, the ROI jumps from 12.26% to 14.25%.
For the two-bedroom example above, the ROI would go from 4.46% in year one to 5.20%. In year 10, your gross ROA jumps from 7.64% to 8.92%.
Financing is available on this option too, just like with the outright-purchase option.
This option is for accredited investors. These are investors earning US$200,000 per year (US$300,000 per couple) or those who have a net worth of US$1 million, not counting their primary residence. Accredited investors may be asked to sign a release with the developer, attesting to their status.
To exit this investment, you could either sell the same deal on to another accredited investor or you could sell the unit itself to a non-accredited investor (who would pay the deferred closing costs).
Here's How I Got The Numbers
I mentioned that ECI (the developer) had signed a Letter of Intent with a worldwide hotel chain. This hotel supplied ECI with projections for room rates, costs, and occupancy. I take their projections seriously because the hotel operator—with more than 50 years' experience and over 4,000 hotels—can no doubt make these projections better than I can. It's in their best interest to be accurate and conservative.
Nevertheless, Lief Simon compared these projections to the published rates of a similar facilities in the area. As it turns out, the Grand Baymen Oceanside projections did end up on the conservative side. In fact, a neighboring resort's 2016 rates are very close to Grand Baymen Oceanside's assumptions for 2018… two seasons later, when actual rates are bound to be higher.
ECI is assuming an occupancy rate for the studio units of 45% during the resort's first year of operation and forecasts an increase in that rate to 63% by year four, after which the occupancy levels off (the two- and three-bedroom units top out at 55% in year four.)
ECI strongly believes that there's lots of room for improvement in these rates, but are keeping them as-is to remain conservative. For example, the conference center was not figured into the occupancy rates… something that is sure to improve them.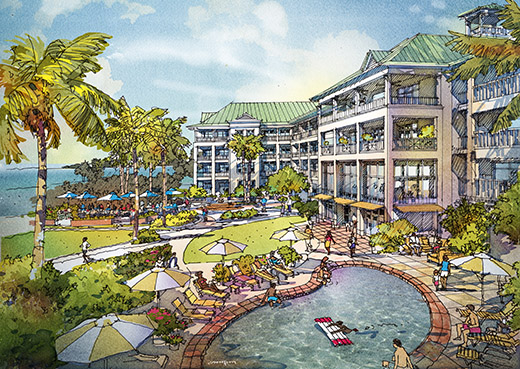 The British colonial theme is unique and appealing
This Is The Time To Get In On The Ground Floor With This Limited-Inventory Offer
I think Grand Baymen Oceanside is a luxury resort that's in the right place, at the right time. It will be a premium property at a premium location… a good formula for maintaining performance in all kinds of economic times.
They're offering a decent rental return while your capital investment grows, and you can even stay in your property for four weeks a year. (Of course if you buy one of the 15 units eligible to be a private residence you can stay as long as you like… and rent it out yourself when you're not in town.)
To ask a question, get an information package, or make a reservation, talk to ECI Vice President Rachel Jensen. You can contact Rachel directly here.
Remember, there are only 54 units available. (Actually 52, since Lief Simon already bought two for himself.)
As an Overseas Property Alert reader, you're seeing this ahead of the general readership of Live and Invest Overseas. But the remaining 300,000 readers will be seeing this opportunity next week… so please get in touch with Rachel Jensen now if you're interested in your own place at Grand Baymen Oceanside.
Lee Harrison
Editor, Overseas Property Alert
***
Letters To The Editor
Lee,
I was thinking about buying a property in Lagos, Portugal. Can you recommend an agent or an attorney and perhaps even an area? I truly enjoy reading your e-letters.
Thanks,
Tony
Tony has made a good choice, in Lagos. Kathleen Peddicord and Lief Simon just bought a property there, and are looking forward to restoring it.
The agent they recommend is Luis da Silva, and their recommended attorney is João Figuera.
***
Hi Lee,
That was an interesting article on Piriápolis, Uruguay.
As you know, since you lived in Brazil, Argentinians and Uruguayans come here to Florianópolis in the Brazilian state of Santa Catarina for their summer vacation. That's why I invested here.
If you're ever down this way plan to spend a week or so here to get to know our expat group. We meet for lunch at one of the local restaurants on Tuesdays and Happy Hour at feet-in-the-sand bars on Fridays. I will send you an email giving you some history of our group here and hope you might find time to join us some Friday night.
Um abraço,
Ken
The state of Santa Catarina is one of only two states in Brazil where things run in a first-world fashion (the other state is Rio Grande do Sul). And Florianópolis is not only a haven for Argentines and Uruguayans, but for a fair number of North Americans, as well.
Interestingly, Santa Catarina also has the highest concentration of government-sponsored nude beaches in Brazil.
***
Hey Lee,
My husband and I want to purchase vacation property. Our ultimate goal is split our time between our home in Canada and a second home in Ireland, but that is about 10 years away.
The dilemma is whether we should buy in Ireland now and rent the property (we're thinking the Killarney area) or if it makes more sense to buy in a hot market that will give us better rental income and higher return on investment, then sell it and buy in Ireland when we are ready to retire.
What would you do?
Debbie,
Canada
This is a tough question. Personally, if I were 100% sure I wanted to retire to Ireland, I'd buy the house there now. That would get them into the market and allow lots of time to set up life in Ireland. Ultimately, the transition at retirement would be easy.
But on the other hand, buying in one of Latin America's hot markets may indeed turn a profit, especially given the exchange rates at this time.
Also, they could enjoy another experience (besides Ireland) prior to retirement. If Debbie bought in Medellín, for example, they could go at any time of the year and enjoy the same 80-degree weather (29 Celsius). This gives them a lot of flexibility with respect to when to visit.
Of course the risk is that they may like it in South America and not want to leave…
Have a question? You can write to Lee here.