Plus: Best Rental Markets Among Discounted Cities
Aug. 18, 2015
Medellín, Colombia
The property in this report is priced in U.S. dollars.
Dear Overseas Property Alert Reader,
Cartagena is the most popular destination in Colombia. People who know nothing about Colombia will have heard of this famous walled city… one of the oldest in the Americas.
And if anyone hadn't heard of Cartagena before, they'll remember it from the 2012 secret service sex scandal. I wrote about Cartagena a few months ago… if you didn't see it, you can read the background on Cartagena here.
Tourism is king in Cartagena, where visitors each year are increasing at rates much higher than the already impressive 14% Colombia-wide increase. This, in turn, has sparked a construction boom as hotel operators scramble to increase capacity.
Meanwhile the property market continues to flourish.
I once closed a special report with a prediction that "2007 is the year to take action in Cartagena" and I implied that by 2008 you'd miss out.
I was partially right, 2007 was indeed a boom year… but I was also wrong, in that the boom hasn't stopped since.
Cashing In On Cartagena's Ongoing Tourism/Construction/Expat Expansion
There are a few ways that we can capitalize on Cartagena's impressive ongoing growth. One is to open a tourism-related business… an endeavor well outside my area of expertise.
Another way to invest is to simply buy a property, either for capital gain, or to play into the short-term rental market. Prices are great at today's exchange rates, and if you don't mind owning a property and/or managing a rental, this is a good option. Plan to invest at least US$150,000.
Finally, you can invest a smaller sum in a project designed to deliver both capital gains and rental income.
The offer I describe below will provide you with a way to capitalize on Cartagena's excellent property market and short-term rental market, without the hassle (or cash outlay) required to buy and maintain your own property.
Earn 8% Income Plus Capital Gain On Investments As Low As US$25,000
The project involves the construction and operation of a small building of short-term rental units, targeted to Cartagena's vacation-rental market. The developer is experienced in building and managing these types of projects.
This property investment is offering an 8% preferred dividend, plus an estimated 22% total return on building equity and capital gain, once the building has been renovated and a rental history has been established.
The minimum investment is US$25,000, with incentives for larger investors.
The name of the project is Cartagena Suites.
Cartagena Suites Is Located In Today's Leading-Edge Area
There are few things that I enjoy more than the charm and splendor of a well-kept, Spanish colonial city. The plazas, cobblestone streets, courtyard homes and flowered balconies will take you back to Spain's grand colonial era in a way that just doesn't happen with other countries' colonies and architecture.
Among Spain's grand cities in the Western Hemisphere, I think Cartagena is the most beautiful, with one of the highest performing real estate markets. One of the world's few remaining walled cities, it offers a lot to the investor, second-home buyer, or potential expat.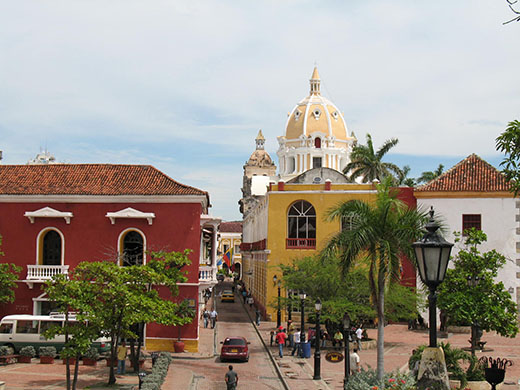 Cartagena's historic center is known the world over
Cartagena was originally known for its historic district. Its nearby beach areas are also popular, representing a tremendous property market. But the Cartagena Suites project is not targeting visitors to the beach areas, rather visitors to the city's historic district.
Cartagena's most famous historic neighborhoods are those inside its seven-mile-long wall; Centro and San Diego. These sectors are well restored, well developed, and fairly expensive.
Here's an image that I marked up to help orient you to the general area.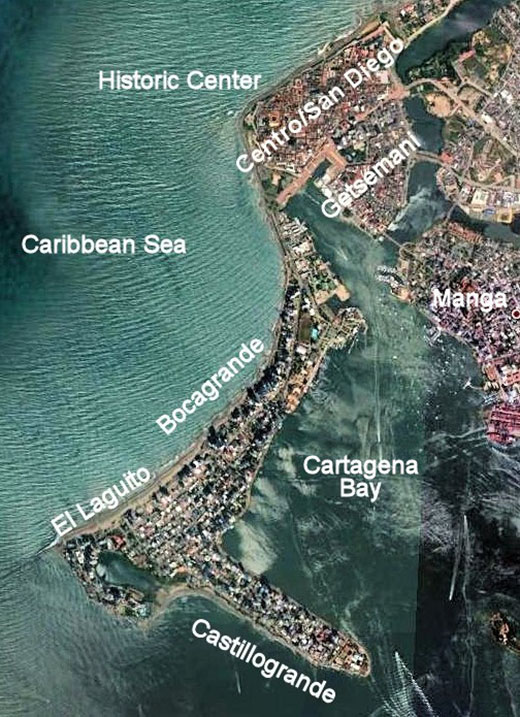 Cartagena's beach and historic areas, courtesy of Google Earth
In recent years, the most upcoming historic area has been one located outside the wall: Getsemaní (pronounced get seh mah NEE).
About 10 years ago, I felt I was taking my life in my hands by exploring Getsemaní. It was run down compared to the sectors inside the wall, and not known for safety. Only a very few, ultra-savvy property investors were willing to gamble on it. At the time, I recommended Getsemaní as the place to buy for the most upside potential in the area. Also because it was the only sub-market left with reasonable prices for the smaller property investor.
Those who gambled on Getsemaní were paid handsomely. Today, Getsemaní is Cartagena's trendy sector, and the boom is on. Travel writers are using terms like "Bohemian chic"; a phrase that adds an amazing amount to the local property price tags.
Consequently, Getsemaní is no longer the bargain that it was a few years ago, and the upside potential is not what it was.
The Manga Sector Is Today's Getsemaní
The Manga area of Cartagena is connected to Getsemaní by a short bridge. To me, it's the logical place to expand in this geographically constricted area. I think it's tomorrow's Getsemaní.
The Cartagena Suites project is located in Manga, just a six-minute walk from Getsemaní. Remember, it's designed to cater to visitors to the historic area, not Cartagena's beach areas, which have their own market and rental infrastructure.
The project is located in a quiet area of Manga that's walkable to the old city. As well as two marinas, parks, excellent restaurants and the Castilla; a historic fort and major tourist attraction. Cartagena's Restaurante Club de Pesca, the city's most famous seafood restaurant, is less than two blocks from Cartagena Suites.
So Manga is quiet, but close to the action of the more popular historic centers. Property costs here are more than 50% lower than those in Centro, San Diego, or Getsemaní. So rental rates will be reasonable, competing well with the higher priced accommodations in Getsemaní.
Take a look at this map showing Cartagena Suites' location, and its relationship to the surrounding area.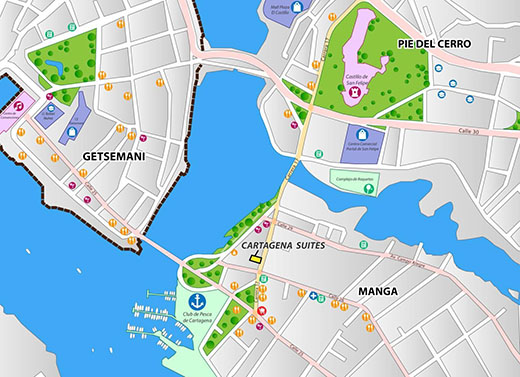 Cartagena Suites is in an attractive, walkable area.
This Is A Proven Business Model That's Already Paying Dividends
If you're a long-time reader, you've seen similar offers before from this developer; First American Realty Medellín.
Their first project, Poblado Suites, was a success. The investors are now earning high dividends, occupancies are higher than forecast, and the commercial value of the building has more than doubled.
Not surprisingly, First American hit rewind, and did several more of these projects. The latest of which is Cartagena Suites.
The reason this model works is actually simple.
First, these rental suites offer superior luxury when compared to a hotel, at far lower rates. They also offer complete privacy, so you can use it as you would your own private residence. Finally, there's little competition, due to the heavy restrictions that condo associations place on short-term rentals of residential apartments.
In short, they're filling a niche in the rental market that no one else is filling, at a reasonable price to the consumer.
Here Are A Few Risks To Keep In Mind
One risk is that Manga will not continue to become Cartagena's next big thing, but instead will turn into an undesirable area.
Personally, I don't see this happening because of the area's geography, lack of other development expansion options, and past history of development expansion. But it is a risk for you to consider.
The other risk is that the idea won't work. That is, the idea of a short-term luxury rental building. The concept works in Medellín and Bogotá, but Cartagena is a different market, and could produce different results.
I believe this risk is hedged by the value of the building itself. Even if no one were to rent the units after the building is refurbished. The building itself will have become a premium property in a good area. With Cartagena's upward-spiraling property prices, its capital appreciation should be a decent investment in itself.
Finally, there's the risk that the developer or project will go under. The developer has completed five of these projects, with four operational and one scheduled to open next month… so I think the risk of developer failure is minimal. But nonetheless, this is always a factor to evaluate.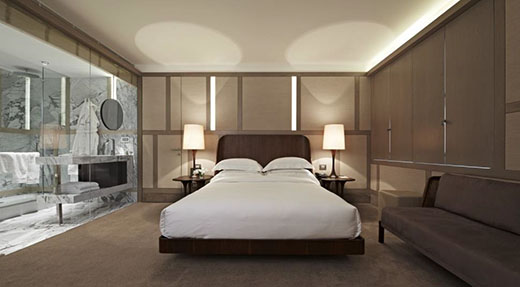 Designer's rendition of a luxury suite in Cartagena Suites
Here Are The Terms Of The Cartagena Suites Offer
This is my summary: for the complete and official numbers for this investment. Follow the link below to get the official investor's package directly from First American.
As an investor you will be a shareholder in the Colombian company formed to own and operate the building. Your pro-rata ownership will be a function of the total amount of pesos that you have invested.
Once the project is online, your investment will return a pre-tax annual preferred dividend of 8%, paid quarterly.
After all dividends have been paid to investors, First American will keep any additional earnings, which provides continued incentive to keep the units full.
The developer estimates a 22% total return on building equity and capital gain, once the building has been renovated and a rental history has been established.
Construction completion is scheduled for November, 2016, after which the units will be immediately put on the short-term rental market.
Investors in Cartagena Suites will be entitled to discounts when staying on the property, which vary between 10% and 50% depending on how far in advance the reservation is made.
The minimum investment is US$25,000.
Investments in Cartagena suites will qualify the investor for a Colombian visa; the type of which will depend on the amount invested.
First American also recognizes their VIP Investors, who invest more than US$200,000 in the project. For Cartagena Suites VIP Investors, they have raised the dividend to 8.5%, and will also pay all fees for you to get a Resident Investor's visa. This will allow you to stay permanently in Colombia, with full access to its banking and financial services infrastructure… not to mention its excellent health care system.
If you don't chose to live in Colombia, this visa requires that you come to Colombia at least once every two years in order to keep it active.
Keep These Other Factors In Mind About This Investment
The dollar is strong right now against the Colombian peso. So your US$25,000 investment is buying a lot more property than just a short time ago.
But remember, currencies are a double-edged sword, and impossible to predict. Currency trends can change, despite any logic you think you've applied.
This investment however, has a built-in hedge, because today's strong rental dollars are earning a larger local income in the local currency. For more on that issue, see my recent essay on currency considerations when buying abroad.
The rental income generated will increase over time, along with the value of the building itself.
This investment provides a currency diversification from your other dollar-based investments.
The investors and developer are getting the building at a good price, in an area that I believe to be on the upswing.
Finally, you will be eligible for a Colombian visa after making the investment. The type of visa will vary depending on your investment level. As I mentioned, VIP Investors get the long-term visa, courtesy of First American.
Here's What I See As Your Exit Strategy
No one should enter into an investment like this without having an exit strategy; preferably with more than one option.
The exit here could take one of two forms: either the entire project can be sold (with shareholder approval and in accordance with the corporation's bylaws) or an individual investor could sell their shares.
At the project level, the project could be sold to a Colombian brokerage firm's real estate investment trust or a real estate mutual fund after three to five years. The developers have had qualified interest from three securities firms in the past for these types of projects.
The entire project could also be offered to a large investor (or group) looking for established cash flow.
At the individual level, here's what you can expect:
Any investor can sell their shares at any time. Your co-investors have the first right of refusal if you decide to sell. Then First American Realty Medellín has second right of refusal.
Thereafter, you can sell it to anyone you like. If you want, First American will promote your share to its subscriber base (in excess of 17,000). In this case, you would pay a sales commission at the time of closing.
Obviously, it will be easiest to sell your shares when the project is finished and operating.
Here's Who To Call To Take Action Or Get More Information
If you're interested in a complete investor package or have further questions, please contact the developer directly. You can contact Rich Holman here.
Just over 50% of the inventory has been sold over the past two weeks, to Rich's preferred investor's list as well as to Live and Invest Overseas Marketwatch members.
So consider the offer carefully… but don't wait too long if you plan to act, as the inventory may legitimately be gone.
Lee Harrison
Editor, Overseas Property Alert
Editor's Note: I recently wrote an article about obtaining residency through property ownership. In it, I used new Malaysian residency requirements reported in the Daily Telegraph, which turned out to be incorrect.
In fact, according to our Malaysia experts, buying a property in Malaysia does nothing to help you qualify for a residency visa under the Malaysia My Second Home program. Property ownership will only (potentially) reduce the amount of the fixed deposit that you must purchase to obtain residency.
The archive version of the article on residency has been updated.
***
Letters To The Editor
Lee,
Great article on comparative
discounts in various markets
from the strengthening dollar. As a follow-on for those same locations, could you perhaps comment on:
a) Rental returns
b) Areas that might experience stronger appreciation (or risk depreciation) in the future due to non-exchange rate factors… such as infrastructure, population trends, economy, competition, etc.
Thanks!
David
Among the discount markets in the article—Portugal, Colombia, Chile, Mexico, Brazil, and Canada—I do have a couple of favorites.
For rental returns, I like Santiago, Chile. Last time I took the data (in February), returns were running as high as 9% in the right areas. Follow the link to see a complete report on rentals in Santiago. Medellín, Colombia also continues to be a strong rental market in the El Poblado sector. And beachfront landlords on the island of Itamaracá, Brazil are seeing good returns—as high as 10%—due to a rental market created by industry moving to the area. You can read more on Itamaracá, Brazil, here.
For capital appreciation, I like the Santiago neighborhoods of Yungay and Brasil… especially if you buy a building in need of modernization. And I think Brazil (in general) has potential, because it's been experiencing an economic slowdown in addition to having a weak currency against the U.S. dollar. When the economy comes back, you may get a double gain when you add in any currency gains. My favorite markets would be Fortaleza and João Pessoa for this type of investment.
Dear Lee,
Thanks for the interesting sharing. Could you please tell me which bank in Colombia gives 4% to 6 % for a saving account? I have also invested in Colombia (Cartagena) and I am now looking into which bank would be best to receive the income from this investment.
Many thanks in advance,
Kind regards,
Iris
I do my banking with Banco de Occidente. I've found them convenient for electronic bill paying, direct debits for utilities, and for routine receipts of deposits from my rentals.
But the interest-bearing account is not from them, but rather from Colombian brokerage Alianza Valores. As the funds build up in Banco de Occidente, I move them now and then to Alianza Valores to earn interest.
If you're interested in opening an account with Alianza, contact Angela Sanchez, and she'll be happy to send you information on what they offer.
Angela can also distribute funds per your email instructions if you need to pay other people in Colombia. This is a service you won't get from a bank.
Have a question? You can write to Lee here.