Plus: The Best Picks For Living In Costa Rica
Aug 11, 2015
Granada, Nicaragua
Properties in this report trade in U.S. dollars
Dear Overseas Property Alert Reader,
Nicaragua is one of my favorite countries in the Americas. I own a property in Granada, and have spent considerable time throughout the country. The time I spent was not just on writing assignments or to attend events. It's one of the few countries where I've actually spent my own money just to enjoy and explore what it has to offer.
A lot of that exploration time was spent looking at properties on Nicaragua's dramatic Pacific coastline. Stretching for more than 200 miles from its northernmost tip to its border with Costa Rica in the south.
This coast offers majestic cliffs… wide, white sandy beaches… beautiful black-sand beaches… and small hidden coves surrounded by lush jungle.
There are no cities to speak of on Nicaragua's coast. Instead you'll find small fishing villages, a few friendly towns, and lots of open space.
Some of the towns are old Nicaraguan resort destinations. These are alongside large, modern, planned communities, undertaken by (mostly) North American developers. The best of these planned communities are thriving… while others have failed. They tell a story of inept or corrupt developers, unfulfilled infrastructure promises, and buyers who never got what they paid for.
A Tip That Opened Up Another World On Nicaragua's Coast
After my first two scouting trips to Nicaragua's coast, I came away with a warped sense of what it had to offer. I'd visited seven large planned communities, but stopped in just one fishing village for lunch. I'd come to think of the Nica coast as an expensive American playground.
One day I was at the oceanfront restaurant of one such luxury community when I met a woman who was one of the development's first buyers. A native-born Nicaraguan who spent most of her life in the United States. She described her experiences as a child, vacationing on another part of the coast… in a completely different environment.
She said it was an aspect of coastal Nicaragua that most Americans will never see, and that it would be worth my while to go. So I left the following morning to have a look for myself… and I'm glad I did. I found a beach town that turned out to be a far more authentic and affordable version of Nicaragua's seacoast.
The town she told me about was Masachapa.
An Old 1940s Seaside Destination
Masachapa is located where Highway 8 meets the ocean. As you approach the beach from Managua or Granada, Masachapa lies straight ahead. Adjacent to Masachapa on the south side is an attractive beach area called Pochomil, which I consider part of the same community.
Two things put this area on the map, aside from its status as a seaside destination. One is the nearby Barceló resort at Montelimar Beach, about a mile north of Masachapa. The other is presidential seaside retreat on the beach in Pochomil.
Pochomil has a somewhat different character. Masachapa has more of a local, somewhat working-class feel. The Pochomil area has a more exclusive character and generally nicer homes.
Pochomil Viejo (old Pochomil) is the most exclusive area, as it contains only 40 homes, and is restricted from public access. It's almost like a private gated community with a semi-private beach.
Masachapa is the developed seashore town nearest to Managua, located about one hour twenty minutes away. It's 55 realtor-minutes however, if you speak to an agent there. Many Managuans come for the day. The town is also host to a good number of second-home owners, including a diverse mix of international residents.
The beach at Masachapa/Pochomil is wide—in some places close to 100 yards—and lined with open-air seafood restaurants.
But it's rustic: don't expect a glimpse of a movie star. You're more likely to see local families, fishermen, surfers, people riding horseback, or oxcarts working their way down the beach. We were doing our beach exploring on ATVs.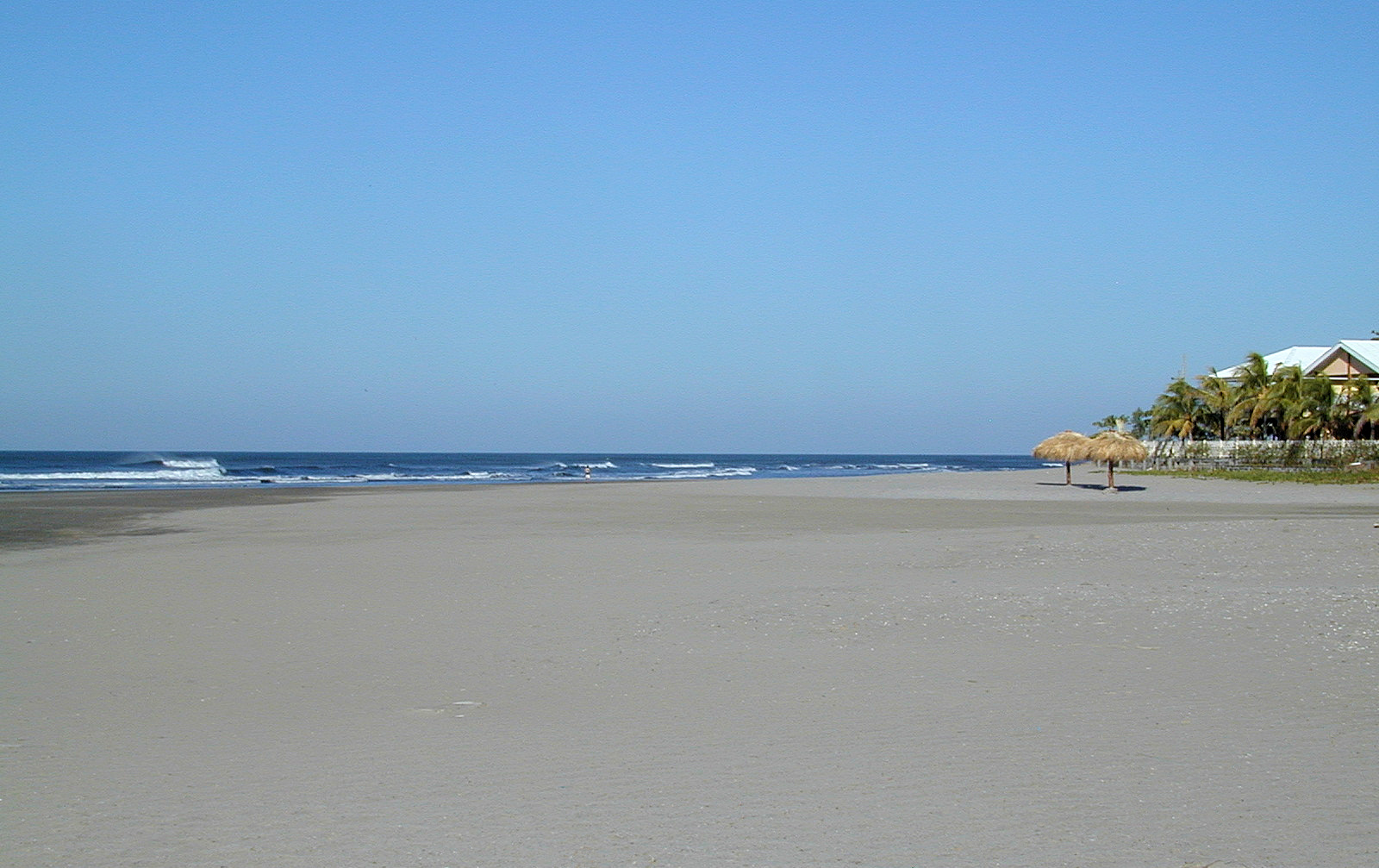 The beach at Masachapa and Pochomil is one of Nica's best swimming beaches
In the town of Masachapa itself, you'll find all the small grocery stores and shops required to supply your basic needs. There's a great beachfront restaurant in town, where you can enjoy a mouthwatering, grilled-shrimp dinner for just a few dollars. Dine while looking out over the Pacific.
We also enjoyed a good off-beach restaurant called Escuela de Hostelería. Which, like its namesake in Madrid, is actually a school for tourism and hotel management. They offer a delicious menu of local and international cuisine in a tasteful, open-air setting… as well as nicely finished hotel rooms around their large courtyard.
More than anything, I enjoy the sunsets here. The raucous tropical birds… fresh seafood and fruit, with plump mangoes falling from giant mango trees.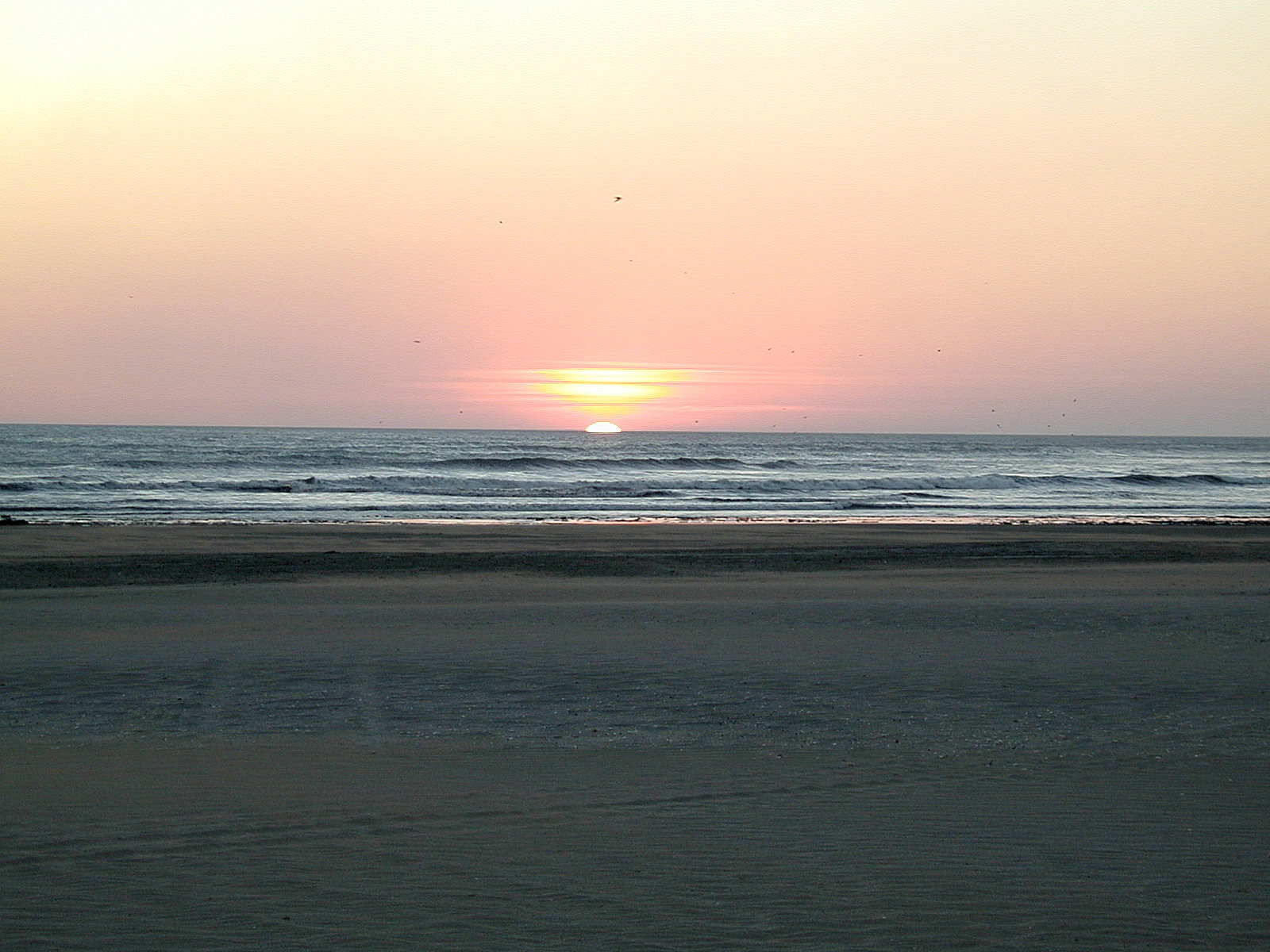 Black sands and Pacific sunsets are the best features of Masachapa and Pochomil.
For Your Warm-Weather Beach House, Masachapa Is Hard To Beat
You could easily spend a half-million dollars for a beachfront home in one of coastal Nicaragua's planned communities. But if you like the warm weather and blue Pacific waters at Nicaraguan prices, then your best option is to go to the local market. Here are a few examples.

In Pochomil Viejo, we found a two-story home with a total constructed area of 457 square meters (4900 square foot). With four bedrooms and three baths, the house also offers a storage room, laundry room, private water tank, terrace, bar and garage. The asking price is US$160,000.

Also in Pochomil Viejo, there's a newly renovated beach house of three bedrooms, three bathrooms, maid's quarters, roofed terrace, backup power plant, and two car garage. It also has a private well and two water tanks. This house comes mostly furnished, for US$110,000.

On Masachapa beach, you'll find a spacious 270 square meters (2,900 square foot) house for sale, with gardens and two ocean front porches. The house includes four ocean-view bedrooms, three bathrooms, a garage, and a caretaker's quarters in a separate bungalow. This property is listed at US$250,000

Another beautiful home, right on the beach in Masachapa, offers 300 square meters of construction (3200 Square foot) plus a 700 square meters terrace (7500 square foot). It has three bedrooms, two baths, a garage, and laundry room, all with ceramic tile floors. The asking price is $210,000. This is a well-appointed home that I would find suitable for full-time living.
Masachapa May Be Just Right For You
This is a rural area in one of the hemisphere's poorest countries. So if you're not accustomed to life in rural Latin America, you need to check it out firsthand. Also, Masachapa and Pochomil are not where you go to experience fine dining, or to find upscale shops and entertainment.
But you will find mile after mile of wide sandy beaches bordered by warm blue waters. The cost of living is low, as is the cost of properties. As with all of Nicaragua, you'll find one of the world's friendliest populations.
Regardless of where I've traveled in Nicaragua, I've always felt at home among the land and its people.
If you're looking for a warm-weather Pacific home at a reasonable price, then Masachapa may just fit the bill.
Lee Harrison
Editor, Overseas Property Alert
***
Letters To The Editor
Dear Lee,
I am going on a scouting trip to Costa Rica to see the possibilities for relocation as a pensioner. The plan is to rent first, then buy an inexpensive house.
What do you think about the country? Which parts do you recommend?
There are no trains… so what is the safe means of transportation from San Jose to Liberia or Arenal? Do I need local currency?
Regards,
Walt
I'm in the minority among the editors who write for Live and Invest Overseas (and our publisher), but I think Costa Rica is a great choice.
True, it's not the bargain that it was in the 90s… but that's true anywhere. And you can no longer stay forever on a tourist visa—a change that caused a great deal of complaining—but that only brings them in line with most of the world's other countries.
My advice would be to get off the beaten trail, and try to live in an area that takes advantage of CR's natural beauty. In other words, avoid the gringo-saturated markets with their attendant high prices.
Costa Rica remains one of the world's most-beautiful countries, and Costa Ricans are wonderful people. Get out there and enjoy both.
For transportation, I've driven all over the country without a problem. They've got some bad roads here and there. But I found my way around just fine, and I don't mind speeding over potholes in a rental car.
The currency is the colon… dollars are accepted here and there, but trying to use them throughout the country would be very inconvenient.
Here are some of my favorite areas:
Cartago: Just 16 miles east of the capital (25 kilometers) this former capital is a good choice for city living. I find it homier than San José, and I like its character.
San Isidro: This is a small city, several hours south of the capital, in the central valley. It was actually my favorite town when I first explored the area in 1998. It's a short drive to the nicest section of coastline in the southern zone.
Lake Arenal: For rural or small-town living, this is a great choice. Properties and land can be cheap here, and it's a pretty area. The Arenal Volcano makes a nice backdrop to the local scenery. Some areas around the lake can be quite windy, so keep that in mind.
Pacific Coast: I tend to shy away from the expensive Flamingo area, even though it has a great infrastructure (including a nice marina). I prefer the southern half of the coast, from Quepos down to the Oso Peninsula. This is lush, natural Costa Rica at its best.
Residency as a retiree requires an income of US$1,000 per month, and you can apply in-country if you want to. An investment visa (https://www.migracion.go.cr/extranjeros/residencias/residencia_temporal/residencia_temporal_inversionista/Requisitos%20Inversionista.pdf) requires that you invest US$200k, which can be for your home.
Have a question? You can write to Lee here.