"I'll Assume You Have No Clue…" Readers Speak Out
Aug. 25, 2015
Medellín, Colombia
Dear Overseas Property Alert Reader,
As of today, I have 99 pages of reader questions—of which, some 40 are unanswered.
So I'm going to hand this issue over to the readers of Overseas Property Alert. This is a good way to cover a number of topics of interest to readers… topics that may not warrant an entire article on their own.
Plus, it'll cut down on my backlog of questions…
Hey, what happened?
I am quite surprised that Mr. Harrison has not responded to my email, which I submitted well over a month ago. If I don't hear back from you, I'll assume you have no clue on how to respond to my question.
Thank you anyway.
Erick
I love guys like this. They sign up for a free e-letter, and then they're unhappy that they didn't get a free personal consulting service along with it. I wonder if he writes to the editor of The Economist for stock tips…
Seriously, I do, in fact, see every single letter that comes in. Letters to the editor are extremely valuable to a publisher like Live and Invest Overseas, because it's often our only means of two-way communication. Every writer on the staff takes your comments to heart.
As you can imagine, 300,000 readers generate a lot of mail. We read them all, and use some for publication. Unfortunately none of us can answer each one individually.
Erick however, did have a good question about building your own home in Uruguay. This is a rewarding and money-saving experience if you've got the skills (he does).
Next week, I'll dedicate an issue to building, rather than buying, abroad.
Hi Lee,
Do you have any advice about owning foreign real estate through an LLC or a self-directed IRA/401K?
Jeff
As luck would have it, I do. Follow the link to see my previous essay on buying real estate using an IRA or 401k.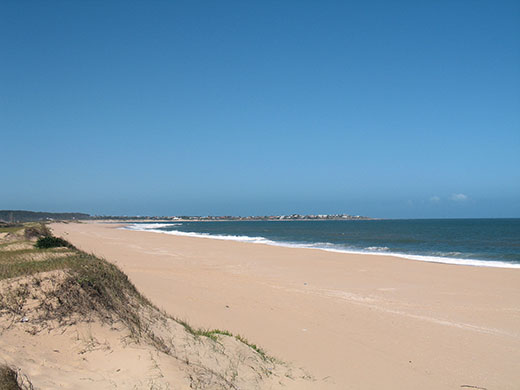 The beaches in Rocha are second to none
***
Lee,
I see a lot of discussion about property bargains in Spain and other European countries. It is my understanding that non–EU citizens are limited to how long they can live in any of the EU countries. I believe it is 6-months-to-a-year total time in the EU. Is this correct?
If so why would anyone want to buy property that they can only live in for less than a year?
Bob
No, that's not correct. If you have the proper visa, you can stay as long as you like. If not, you can't. I can't think of any country in the world that allows people to just show up and live there without a visa.
In the EU, immigration and visa requirements vary by country, so you'll have to check specifically for the ones you're interested in.
***
Hello Lee,
Thank you for your article on the Cartagena Property Investment. I am new to overseas investing. We are retired and have only traveled outside the United States to Canada and Mexico.
To learn more about and help get started with offshore investing I am attending Lief Simon's Global Asset Protection and Wealth Summit in Panama City during October. I have also requested the investment kit on the Cartagena project from Rich Holman, as I like the fact one can get in with a smaller investment of US$25,000.
Can you tell me which residency visa would be available at the US$25,000 investment level and the cost?
Thank you,
Steven
At the US$25,000 investment level, the Colombian visa that Steven is eligible for is the TP7. The cost of the visa is US$255 at this time if you get it yourself in Bogotá—lots more if you use a lawyer. The minimum investment for this visa is 100 times the Colombian minimum wage, which works out to US$20,700 at today's exchange rate, so the US$25,000 investment for the Cartagena offer will work for this visa. To maintain your status, you must visit Colombia once every six months.
If you invest more than US$135,000, you're eligible for a full residency visa, which only requires you to be in the country once every two years. Here are the requirements for all Colombian visas, in Spanish.
When using any kind of investment or purchase for Colombian residency, make sure you properly document the funds entering the country on Form 4. Otherwise, the money won't count towards a visa.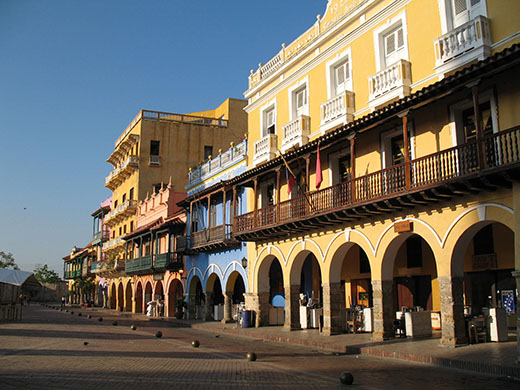 Cartagena's colonial center has long been a haven for investors
***
Lee
,
I have read your recent article about Nicaragua and am considering the Live and Invest in Nicaragua Conference in early November. Are you aware of any investments in Nicaragua that are similar to your recent article on Colombia?
Would Nicaragua be as good a place to invest as Colombia?
I'm a big fan of Nicaragua, and I own a property there—outside Granada. I do think Granada is a good place for a vacation rental, as is the coast. But if I were going to operate a rental property—to generalize at the country level—I'd choose Colombia over Nicaragua. I believe that well-off rental clients are far more plentiful in Colombia… specifically in Medellín, Cartagena, or Bogotá.
And no, I do not know of any low-entry project investments in Nicaragua that are similar to the Cartagena offer.
***
Hi Lee.
I'm interested in buying into a cattle ranch. I've looked at Nicaragua and Panama, and a friend in Panama suggested I look at Colombia, because it has the best upside capital gain potential, plus culture, music, arts, etc.
I am also trying to internationalize my children, including fluency in a second language. We also want to make sure we're in a safe area for the family.
Do you have any good feedback to guide us?
Regards,
LeRoy
I'm not a cattle rancher, so I can't comment on which country provides the best environment for raising them. Uruguay is known for cattle ranching, so that's a safe bet. But Colombian property trades in pesos, which are very weak against the U.S. dollar right now. Properties in Panama, Nicaragua and Uruguay trade in U.S. dollars.
Let's say you've been shopping for a US$100,000 cattle farm. Today, that US$100,000 farm is selling in Colombia for about US$60,000 when compared to last year… the farms in the dollar countries are still US$100,000. So all else being equal, Colombian properties are a bargain right now.
As for the cultural scene, it's no surprise that Colombia offers more. The city of Medellín alone has more people than the entire country of Panama, so you'll certainly find more theater, arts, and music. But remember, a cattle ranch will be in a rural area… and like rural areas around the world, you generally won't find big city amenities close at hand.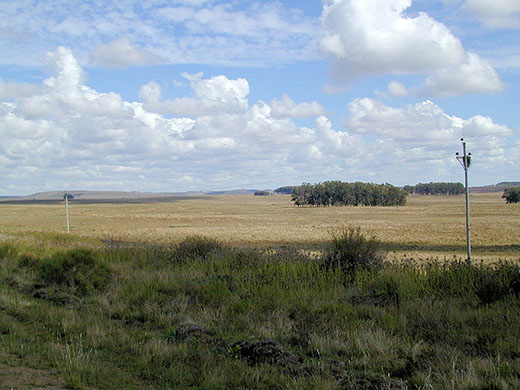 Uruguay's vast pampas are prime real estate for cattle ranching
***
Lee,
I want to move to a small town that is close to the beach. I would like it to have a type of downtown feel that has a farmers market, small shops, and restaurants such as a coffee shop where I can sit outside and people-watch.
I bring in under US$1,000 a month, so I would just be renting. I would love a small bungalow-type residence, where I can walk to town and the beach.
Is there such a town for my limited assets… and also not being able to speak a language other than English?
This is really important to me, as time is slipping away.
Thanks in advance,
James
First, and most importantly, pay attention to James's observation that time is slipping away. Since time began, every human being has woken up one day to realize that the time for adventure and action has passed, and that you can never get those years back. Only the most astute make the most of life abroad before it's too late.
Philosophy aside, the first town that comes to mind is San Clemente, Ecuador. It's an attractive small town on the beach, in an area where the cost of living is very low. It's not particularly touristy, so prices will not be as inflated as they are in the more popular coastal destinations.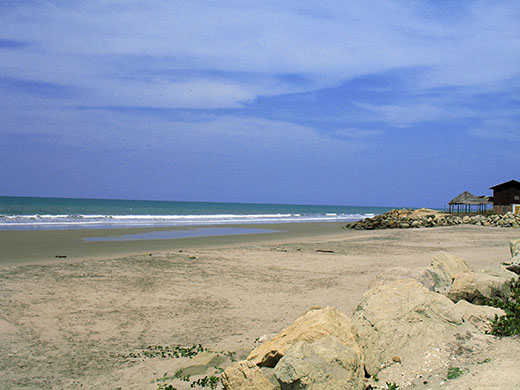 San Clemente is a low-cost, laid-back, Ecuadorian beach town
For more of an Afro-Caribbean feel, you might consider Limon, Costa Rica. One of my favorite inexpensive beach towns in South America is Huanchaco, Peru. I also once owned a home on the island of Itamaracá, Brazil, and I believe you could make your budget work there.
The problem however, is the requirement to speak English. English is spoken in Limon, but otherwise, you'll need the basics of the local language to get by on a daily basis. A crash course in Spanish would open up at least 23 countries, so it's probably worth the effort.
***
Dear Lee,
Thank you for your answers and comments to my questions on Costa Rica. I have just returned from a one-month scouting trip.
Driving there was not easy due to traffic and mountain curves everywhere. A distance of 100 kilometers (62 miles) can take 2.5 hours. This is why I erased Lake Arenal and the Southern Zone from my list, as I want to be less than one hour from International airport. I did not like Coco or Tamarindo on the coast… but I think the San Ramon or Santa Ana neighborhoods (in the highlands) would meet my needs.
You did not mention the toll to the Pacific Ocean is about US$8 one way. Generally Costa Rica is expensive in every way except for taxes and health care. Food is comparable to United States, but all industrial goods are about three times more. The most unpleasant aspect is the presence of bars in every window or door. Locals say it is not due to crime but I am reluctant to believe this.
Saying all above, I did not take Costa Rica off of my list—I think such problems exist in the whole of Latin America but Costa Rica seams the most civilized. Would you agree?
I think at the beginning I'll come on tourist entry and just leave the country for a couple of days for renewal.
Best regards,
Walt
I appreciate hearing from Walt again after his trip. And he was right to be skeptical when he asked about bars on the windows and doors. You'll hear time and again that it's due to architectural style rather than crime, but this is almost always complete BS. The bars are on there to keep people out, plain and simple.
He's right to assume that most of the down sides of Costa Rica are not unique to Costa Rica. For example, you'll find bars on the windows in most cities in Latin America (rural areas may be different).
I can't agree that Costa Rica is the most civilized, though, except maybe in Central America. Medellín's El Poblado, for example, has much more of a first-world environment with a lower cost of living and cheaper properties. Álamos, Mexico and Arequipa, Peru are other good choices.
Finally, I wouldn't recommend using a tourist visa to live in Costa Rica. Many people used to enter Costa Rica and be granted a 90-day stay as a tourist. Then they'd leave the country at the end of 90 days, visit a neighboring country, and return for another 90-day stay. This was common practice at one time for long-term residents.
Lately, immigration is cracking down on the "Perpetual Tourist". They may give you, say, 10 days instead of 90… or not allow you to enter Costa Rica… or bar you from returning for some period of time.
I might renew with a border-crossing trip once or twice… but I don't recommend it as a long-term plan—you may find yourself on the outside looking in. A real visa is a good investment of your time.
***
Lee,
I'm thinking of investing in a shrimp farm. What do you advise? I like the idea of having a farm and a retirement home all in the same place.
Sherali
The idea of earning an income while living abroad is tempting… and lots of people do it, including me. But in my experience, the only people who succeed with hands-on agriculture abroad are the people who were good at it back home. So I'd only recommend shrimp farming to an experienced person; or someone who's partnered with an experienced person.
Even then, remember the risks. Ecuador's shrimp industry (along with lots of expat investors) was hurt by White Spot Syndrome in the late 90s. Although they're doing well today, Thailand's shrimp industry is now being devastated by a disease known as EMS. So again—this is an endeavor for the experienced expat.
***
Hi Lee,
In one of your recent articles you mentioned that for an investor visa in Ecuador one can invest US$25,000 in a property, whereas the property value must be the
tax/municipal value. I am wondering if this has changed. On the immigration office website they state:
"Escritura de compra—venta, inscrita en el Registro de la Propiedad del respectivo cantón, en el que conste el avalúo comercial del inmueble por un monto mínimo de US$25,000."
Do they use the term "commercial value" when they mean tax/municipal value?
Thank you.
Kind regards,
Mary-Ann
Good catch. Yes, the use of the term commercial is confusing in this case, since for us, it implies market value, rather than municipal value.
But in Ecuador, the municipal value is the only value that goes on the deed… there's no other price on it, and there's no record in the registry of what you actually paid.
I checked with our attorney in Ecuador, and she confirms that there has been no change.
That's it for this week. I'll schedule another issue like this in the future, to give you guys a turn to speak.
Lee Harrison
Editor, Overseas Property Alert
Have a question? You can write to Lee here.