Plus: "…I Would Not Go There If They Gave Me A Villa."
May 26, 2015
Itamaracá, Pernambuco, Brazil
US$1=3 Brazilian reais
Dear Overseas Property Alert Reader,
Three things have changed since I last wrote to you about the Brazilian island of Itamaracá, and I'll put them on the table right here:
The dollar has gotten stronger against the Brazilian real
A new pool of renters has joined the local market, making a purchase here even more attractive
Most importantly, Itamaracá now finds itself squarely in the path of development progress as it moves northward from nearby Recife
So with a new project offering beachfront condos starting at just US$73,300, it's time to take another look at Itamaracá.
On the east side of the island, you'll find miles of sandy beaches
I first came to Itamaracá in 2008 and loved its ambiance immediately. The west side of the island—pronounced ee tah mah rah KAH—features a shoreline thick with tangled mangroves and tall palm trees reaching into the tropical sky. Lush, green hills lead to the island's peak, about 2 miles from the causeway that connects the island to the mainland.
From the peak of the island, you can see down to its eastern shore, which offers a few small towns and miles of sandy beaches bordering clear, turquoise waters. There's a barrier reef just offshore, which keeps the waters calm and gentle.
Every day of the year brings warm weather and fresh ocean breezes.
Itamaracá is a 4-by-9-mile island, home to around 20,000 permanent residents—a population that can balloon to more than 50,000 on popular weekends and go to 500,000 during their famous Carnaval celebration.
The island is located an hour from the international airport in Recife, with connections to the United States and Europe.
Finally, Itamaracá is home to an active English-speaking expat community—a rarity in Brazil.
People Come To Enjoy The Simple Lifestyle Of Coastal Brazil
"Simple and basic" describes life on the island, with no shopping malls, car dealers, or condo towers. You also won't find fine-dining venues, theater, or other upscale amenities. For these things—along with stores selling major appliances, autos, etc.—you'll need to take the causeway to the mainland, possibly as far away as Recife, some 45 minutes away.
The island's main roads are paved, but many of the side roads are sand, with a few that are dirt. While living here, I enjoyed a reliable water and electricity supply and Internet service. My neighbors had a cable package, although I didn't personally subscribe to cable TV during my time here.
The beachfront restaurants can be rustic, but they serve up some of the most mouthwatering fresh-caught seafood you'll find in Brazil, at amazingly low prices.
Residents also enjoy the boating and beaches, hiking, snorkeling on the reef, and swimming. I spent many sunny days enjoying a good meal and hanging out with friends at the yacht club, just down the beach from my house.
Right on the island, you'll find basic grocery stores, shops, medical facilities, and most anything you'd routinely need. During my time as a homeowner on Itamaracá, we obtained all of our everyday needs on the island.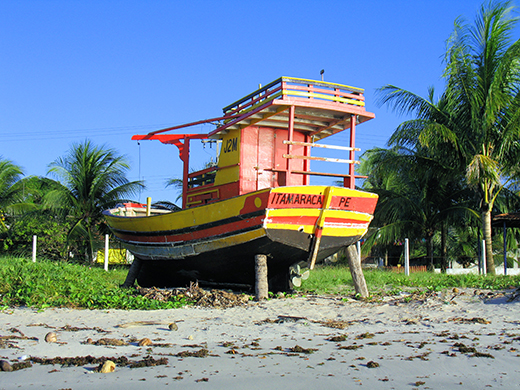 The island's fishing fleet provides fresh seafood for the residents all year
The tallest building on Itamaracá is four stories, and there's a two-story limit on the waterfront. Almost all of the properties here are single homes.
There have been two small beachfront condo projects added to the mix over the past few years, slightly increasing the inventory. But there's also been a flurry of industrial expansion nearby on the mainland, providing an influx of German and Brazilian engineers and consultants to rent these new units.
The Island Is Now In The Path Of Progress
Recife—a major city of over 3 million—is around 30 miles to the south of Itamaracá (50 kilometers). And, finally, the swath of development has expanded northward from Recife to within striking distance of Itamaracá.
The direct effects can be seen on the island itself: the permanent population has increased about 17% (to around 20,000) in just the past three years; several new restaurants, bars, and shops have opened over the past year; and the municipality has embarked on a program to pave an additional 30 roads.
But there's also a secondary effect, which is showing up in the rental market. This increased development on the mainland has resulted in more people with higher-paying jobs close to the island—people who are happy to drive only 30 minutes to work while living on the beach.
Of course the "mainstay" traditional crowd of Brazilian and European vacationers is still in the rental pool, as it has been for years.
Brazil has exchange controls, so moving money in and out of the country will be more cumbersome than in most countries. It's not difficult or risky, but you need to follow the process when bringing money into the country to purchase property. Consult your attorney or qualified real estate agent to make sure your money transfer is properly documented.
Two Beachfront Condo Projects Have Added A Modern Element To The Island
The first project was Itamaracá Beach Residence, a 16-unit project just 100 yards or so from my house.
Itamaracá Beach Residence was offered to readers of Global Property Investor's Marketwatch at launch but has long-since sold out. At the beginning of 2015, all available apartments were booked with rentals, with an active queue awaiting vacancies.
Credit for both the good sales and the good occupancies, at least in part, goes to the professional property management team assigned to look after the condo in the owner's absence. The units are truly "lock and leave."
So, given the success of the first project, the developer undertook a second, similar project—right next door to his own home. This one's called Manga Verde Beach.
Manga Verde Beach Is The Latest In New Island Construction
Construction is already 100% complete at Manga Verde Beach, and the developer received the final occupancy permit earlier this month. So there is no risk involved with this property; what you see is what you get.
The small development has a large swimming pool, plus direct access to the beach.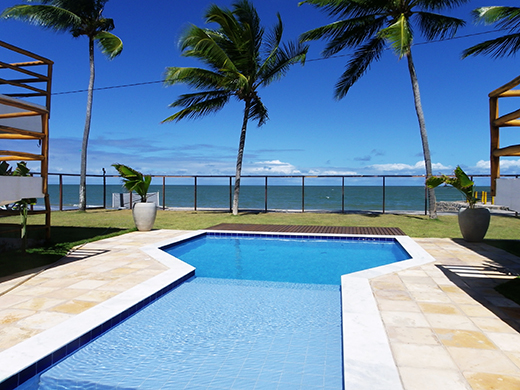 Photo from poolside of the recently completed Manga Verde Beach
Since I've come to know Itamaracá, rental returns have run between 5% and 6% for properties used as vacation or seasonal rentals. But the returns have averaged as high as 10% on these units.
I would attribute increase in income, at least in part, to three factors:
Itamaracá Beach Residence and Manga Verde Beach are brand new and modern
They're condos instead of the traditional house typically offered for rent here
These units are appealing to a higher-end clientele, drawing commuting professionals from the mainland for the first time
I expect these Manga Verde units to rent just as well as the units in Itamaracá Beach Residence, as they are of the same standard and just as conveniently located. (The two projects are only a few minutes away from each other.)
Targeted to the existing rental market, the units have two or three bedrooms and vary from 717 to 871 square feet (67 to 81 square meters).
Of the original 16 units offered for sale, only seven remain.
Prices start at US$73,000 at today's exchange rates (220,000 reais). The most expensive remaining model is US$121,700 (365,000 reais).
If you'd like to check out life on Itamaracá and the Manga Verde development, the developer will be glad to show you around the island, so you can see all it has to offer. Also, he will reimburse your airfare to Brazil if you buy one of the remaining units.
This part of the offer is only good until June 19, 2015.
You can take a look at the Manga Verde Beach project here (https://mangaverdebeach.com/). If you have any questions, the developer is my friend Peter Zorab, and you can write to Peter here.
Is Itamaracá Right For You?
These prices will be hard to beat for beachfront properties anywhere in the world, especially given the respectable rental returns. But remember that Itamaracá is simple and basic… nothing like the Bahamas, Cancún, or Fortaleza. If you want to be within walking distance of fine dining, theater, or a lot of nightlife options, then Itamaracá won't be for you.
But it does offer miles of sandy beaches and calm waters. The beer is icy cold, and the fresh seafood is fantastic. The expat community and your Brazilian neighbors will be warm and welcoming.
So if you'd enjoy a simple island lifestyle, with warm weather, good friends, and a slower-paced way of life, then Itamaracá could be just right for you.
Lee Harrison
Editor, Overseas Property Alert
***
Letters To The Editor
Lee,
Just some feedback from one investor, on your recent article about Casa Provenza in Medellín, Colombia.
1. The 5% is much too low a return of investment. I can do much better elsewhere. All this tells me is that prices have risen for the "gringo market."
2. This is my personal preference: I do NOT like water fluoridation, there are a lot of adverse health effects, and once a municipality like Medellin adds fluoride to its water, it's everywhere, food, vegetables, etc. I personally do not want to live in such an environment.
AM
It is indeed possible to net more than 5% from a property investment (including here in Medellín), usually by buying and operating a rental. But in most markets, you'll be doing well to get 5%.
In the case of Casa Provenza, the investment is only US$27,400—a far lower investment level than would be required to buy your own apartment. Also, this offer comes with Colombian residency, which is a benefit that you'll seldom see with a property purchase.
A 5% return sounds pretty good to me in this case. You can get more info on the Casa Provenza offer here.
As to fluoridation of the water, I do believe that's done in Medellín. If an investor objects to fluoridation of water in places where they make property investments, then it may be best to look elsewhere.
But don't look in the United States, where 75% of Americans get fluoridated water.
***
Hello Lee,
I am filling out the form to get the investor kit for the offer at Casa Provenza. The main question I have is this:
Is there on-site management that handles reservations and guests?
Do they have a vested interest in the happiness of the customers?
Thank you,
Dave
Casa Provenza is professionally managed, so the marketing, reservations, and guests are all taken care of. The property manager is local (a block away), and books the guests in and out (although the property managers are not always on site).
They do have a vested interest in customer satisfaction because a large part of their rental traffic is repeat business. Because the investors get paid before the developers, it's in their interest to keep a full house.
***
Lee,
I'm wondering if you have considering establishing a mechanism for investing in a rental pool of properties. For example, you could include properties in the Dominican Republic, Mazatlán, Medellín, Cuenca, etc.
With double-digit net income potential, I am interested personally and know many others with similar interest.
I've done this through LLCs on the Mainland, and I know that previous investors would be interested.
The concept's implementation needs to adapt to local conditions. You are familiar with those conditions.
In most cases, self-directed IRA custodians allow real-estate investments via ownership of (domestic) LLC shares.
An LLC can be organized and registered in the United States and be a holding company for entities established overseas for the purpose of holding title.
I speak Spanish fluently (born and raised in Colombia, but in the United States since age 18).
Saludos,
Nicolas Fedan, MBA
This is an excellent idea, and one that I've seen—in one form or another—several times over the years. But, unfortunately, I'm prohibited by law from facilitating such an endeavor, as is Live and Invest Overseas.
Nothing, however, prevents people from getting together on their own. I see this happening at conferences all the time. So, with Mr. Fedan's permission, I've included his full name and a link to his email address, so you can contact Nick directly.
Have a question? You can write to Lee here.