Best Cash Flow Investments For 2022: Lock In 7% To 13% Net ROI Today
Philosopher and economist John Stuart Mill said in 1848: "Landlords grow rich in their sleep without working, risking, or economizing."
Being a landlord isn't hard; it simply requires owning rental property. Becoming a successful landlord is the trick. You must know the right type of property to buy.
When it comes to selecting any investment, my mantra is: "Price is vanity, appreciation is sanity, but cash flow is king."
This echoes an old business rule, but the fundamentals still hold true.
Nearly every property developer has a theory on how you should pick the right investment. Most offer promises of long-term capital appreciation but can promise no real return until then.
There are much better opportunities out there… The first step is to decide what type of property you are going to buy.
Price Is Vanity
Buying a million-dollar property for bragging rights is ego-driven. It doesn't make good business sense.
There is no correlation between high prices and high returns in real estate. Cheaper properties can be great investments, too.
Don't get me wrong… you can make good investments in million-dollar properties but only if you stick to the fundamentals.
Appreciation Is Sanity
Capital appreciation is a solid investment goal, but it should rarely be your main long-term goal.
Investing purely for capital appreciation often means buying in an appreciating market where the rents barely cover the carrying costs and mortgage.
This breakeven or loss-making investment is made with the hope that prices will continue to appreciate and you can exit the market before it peaks.
This can be a risky investment strategy. It has bankrupted several wealthy people I know.
Inflation can also eat away your capital appreciation profits in real terms.
Capital appreciation of 6% per year isn't much good if you live in the United States where inflation is 6.9% this year.
If the property market softens or depreciates, you could see no profits or even realize losses after years of investing.
Cash Flow Is King
Right now what most investors need is cash flow.
Cash flow is better than pure capital appreciation because you get investment returns throughout your investment period. This means you can harvest profits every month and use those monies to make other investments when opportunity appears.
Best Of Both Worlds—High ROIs And Strong Appreciation Potential
The best possible combination is a good rental return with strong capital appreciation potential.
These opportunities are rare. It takes a lot of research to find them.
The good news is I have done the work for you. These markets have been researched in detail, the investments have been inspected and audited, and the management companies have been vetted.
I'm delighted to bring you the best cash flow real estate picks from around the globe for 2022…
#1. Montenegro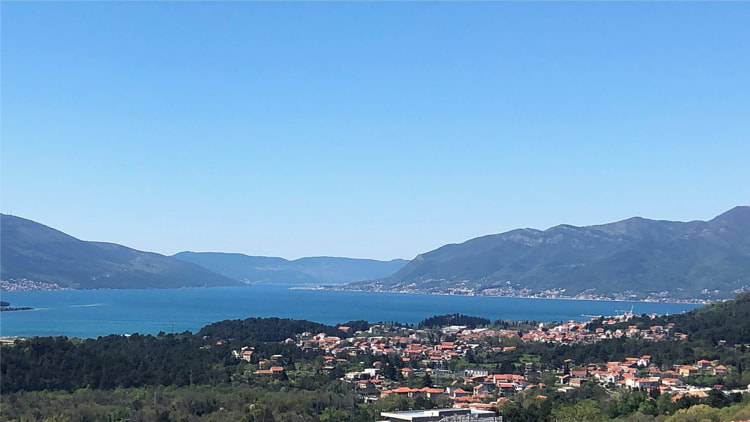 Montenegro, Jewel of the Adriatic, has attractive developments that offer great cash flow potential if you know where to look.
This small country with wonderful weather and low costs of living has got all the factors needed for strong capital appreciation as well.
Montenegro attracts 1.5 million tourists annually and has a 6% annual forecast tourism revenue growth rate for the next decade. You can become eligible for residency through property ownership, and Montenegro is slated to join the EU in 2025—making residency much more valuable.
The Investment
With Balkan Mountains to the back and stunning views of the Adriatic to the front, this exclusive deal is just nine minutes from the luxurious Porto Montenegro and eight minutes to Tivat International Airport.
This serviced apartment development is built to a 5-star hotel standard, which you could use anytime. Amenities include: an infinity pool, bars, restaurant, serviced apartments, shuttle, sauna, hot tub, and other on-site entertainment.
Prices start at 102,000 euros and include a 11,000-euro furniture pack but exclude closing costs. Developer financing is available with a 30% down payment, with the rest to be paid in installments during 18 months with 0% interest.
Even using conservative occupancy projection rates of 43% this development is projecting a 10.25% ROI.
This, coupled with strong capital appreciation potential, makes Montenegro a strong buy. If you are interested in this offer, go here.
#2. Brazil
My Brazilian cash flow pick is modern duplexes just steps from a glorious sandy beach. Located 30 minutes from the booming city of Fortaleza in Ceará State, this development is close to towns and villages.
It is located right on the Path of Progress and capitalizes on a weak local currency.
Nearby amenities include an 18-hole golf course, 5-star resorts with day passes, and the largest water park in Latin America. You can also enjoy local pastimes, such as sailing, fishing, surfing, kitesurfing, strolling on dune and beach trails, sampling beach bars and restaurants, craft shopping in Iguape and Prainha, and more.
The Investment
You can get your own duplex villa on Brazil's coast for a special cash price of US$99,000. Developer financing is available from a starting price of US$114,000.
Each unit measures 115 square meters (1,240 square feet) and has two bedrooms, two-and-a-half bathrooms, and a private pool.
Full property management services are available on-site. Construction of the development is estimated to be completed by February 2023.
These duplexes are a great long-term cash generation investment due to the low entry price into a single-family beach house.
Because it offers ROI potential of 12%-plus, as well as strong capital and exchange rate appreciation potential, this investment is one of the best cash flow investment picks for 2022.
Go here to put yourself in Brazil's Path of Progress.
#3. Northern Cyprus
Blessed with some of the most stunning beaches in Europe, on the Turkish-controlled side of this sun-drenched island on the eastern Mediterranean, this newly rediscovered spot offers much to investors.
Diplomatic tensions kept Northern Cyprus' property prices depressed for decades compared to prices in the Republic of Cyprus across the border.
Relations have normalized now, and with tourism and real estate booming, prices in Northern Cyprus have started to catch up with its more expensive neighbor.
But great value is still available.
Due to its beautiful beaches, low entry price points, Mediterranean lifestyle, and strong rental potential, Northern Cyprus is a buy recommendation for 2022.
The Investment
With one-bed condos starting at US$79,950, this investment brings attractive potential ROIs because it's right beside a golf course and a beach.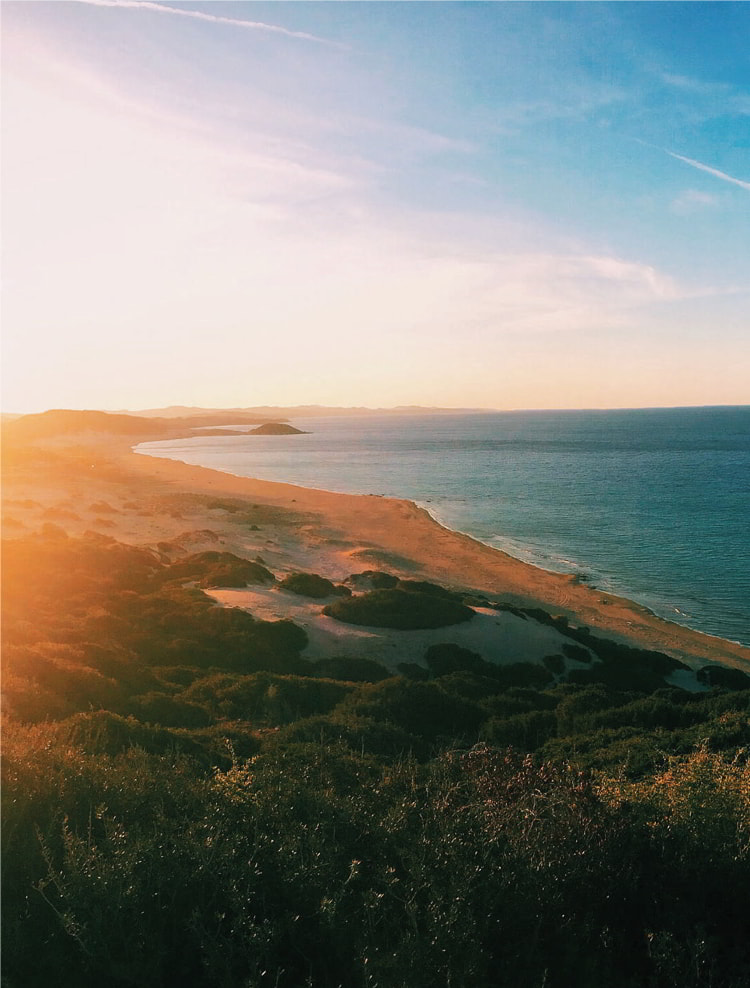 Nearby amenities include an 18-hole championship standard golf course, diving, boating, and kitesurfing, tennis courts, coastal and mountain walking, a gym, several spas (available at nearby 5-star resorts), a water slide park, banks, and supermarkets.
Best of all is the access to the stunning Turtle Bay and Cove beaches and its closeness to the world famous Alagadi Beach, among others.
With two international airports about an hour drive away, as well as bars, restaurants, live music, and two casinos, this area has all the infrastructure to continue to expand as a tourism and retiree market into the future. For more details on this project, go here.
#4. Belize
Ambergris Caye is the tourism center of Belize and has a relatively large expat population.
With Caribbean beaches, bustling little towns, and a barrier reef offshore, it's a beach-lover's, sailor's, and diver's paradise.
Its proximity to the United States, English-speaking population, and safety for tourists has made it a safe long-term rental investment location.
The Investment
These are studio apartments in an exclusive resort a few blocks from the beach on Ambergris Caye, Belize. The resort is branded by one of the few major U.S. hotel franchises on this tropical island.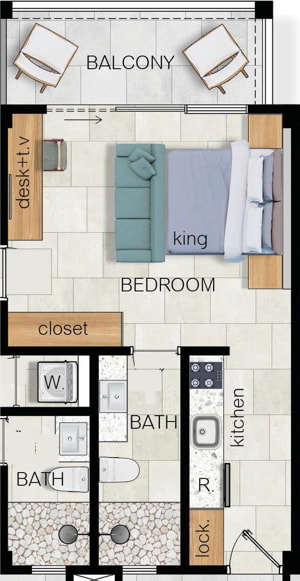 The studios come with great amenities, including a large pool, swim-up bar, on-site grill, gym, and tennis courts, plus turn-key in-house rental management.
The development is close to shops, bars, restaurants, and a short walk to the town center. It's in a prime rental market and offers affordability unique for its location.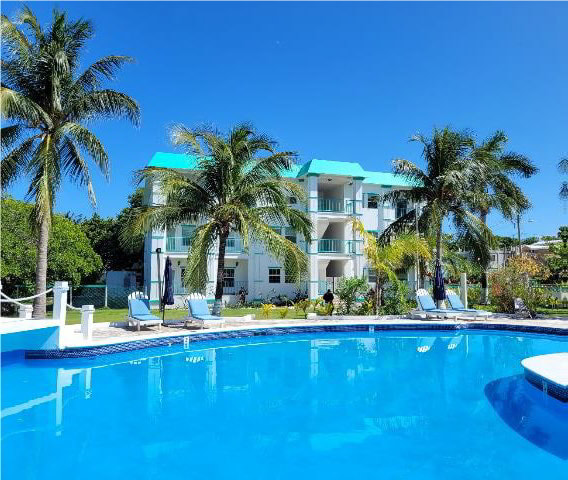 The apartments are 26 square meters (280 square feet) with a 7-square-meter (75-square-foot) balcony. The unit includes a kitchenette and a lock-out closet for the owner's use.
Prices start at US$108,600, plus a furniture package (if desired) and closing costs.
This investment will earn you a potential 7% net ROI (with conservative occupancy estimates).
Developer financing is available. The developer will accept many cryptocurrencies as payment and is experienced with clients using self-directed IRAs to purchase properties and will provide advising if needed.
As this is a mature market, you get less capital appreciation in Ambergris Caye compared to the rest of the picks in this list. However, the benefits of investing in these cash flow properties are compelling. You get stable rental yields in an established tourism market, international brand recognition, better amenities than most rentals on Ambergris, a great in-town location, and the ease of working with an established developer with a proven track record.
If you are interested in this opportunity, get full details here. Con Murphy Editor, Overseas Property Alert