The Best Foreign Exchange Opportunity In Decades
I predicted it 10 weeks ago, but it happened even quicker than I expected…
In the last month the euro fell to below par value with the U.S. dollar.
The euro was worth less than the dollar on the international market. This has only happened once before… and that was over 20 years ago.
Usually, the euro's value hovers between US$1.12 and US$1.30, but it can move outside this spread in exceptional circumstances.
Back in October 2008, during the U.S. financial collapse, the euro was worth US$1.58.
A year ago, the euro had an average value of US$1.19. On July 12, 2022, the euro dropped below a dollar.
Even if you're not an expert in exchange rates, you can see the trend on the chart.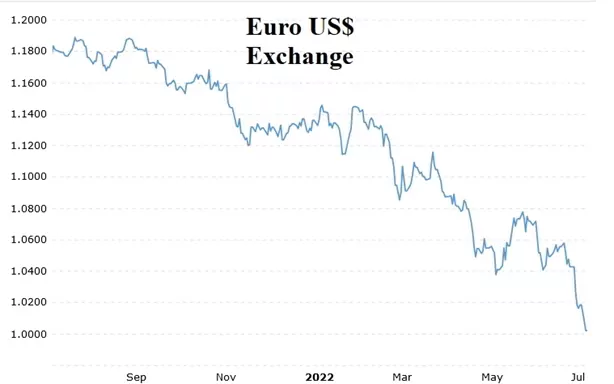 The greenback's star is rising.
This is a once-in-a-generation opportunity.
Anyone with U.S. dollars to spend on European assets will find everything 16% cheaper due to the dollar "discount."
Property is cheaper… Travel is cheaper… Services are cheaper…
If you're considering buying property in the eurozone this year, now is the time to pull the trigger on it.
Even if you haven't found the property you intend to buy yet, it's worth it to buy euros now while they're cheap and bank them until you need them.
If you never actually end up buying a property in Europe, you can exchange the euros back for dollars plus a profit when the euro rallies in value later this year.
What Caused The Euro's Drop In Value?
Exchange rates constantly fluctuate but generally operate in a set range. Global events like Russia's war with Ukraine and energy shortages have made the international markets wary of the eurozone in the short term.
This has encouraged people to move their cash back into the safe haven currency that is the reliable old U.S. dollar, and this weakened the demand and value of the euro.
As my high school economics teacher told me, reduced demand means reduced price.
The American Buying Blitz
Americans are already taking advantage of the reduced cost of the euro. Americans spent 56% more in Europe in June 2022 than they did in June 2019 because the deals are so strong.
For Americans, this 16% stronger U.S. dollar has many advantages. It instantly discounts the price of:
Property,
Travel,
Property inspection tours,
Cost of living,
Medical care,
Renovation costs.
A strong dollar encourages U.S. tourists to come to Europe and rent out your investment property. Plus, the more you diversify your assets across currencies, countries and asset classes, the less vulnerable you become to any one global event.
The weak euro encourages Americans to invest in Europe, which drives demand and prices up… increasing the value of your investment property.
This is a way to beat inflation. Back home, your dollars are worth 9% less than last year due to spiraling inflation in the United States.
However, while the eurozone did experience 8% inflation in the last year, the net effect of moving your dollars into euros would be that you are 8% better off even after inflation.
(16%-dollar premium – 8% inflation = 8% more euros)
A weak euro also beats cryptocurrency investments. Bitcoin lost 58% of its value in the second quarter of 2022. This was a huge blow to those who consider crypto to be a profitable investment or reliable long-term currency.
A few thousand people made millions on cryptocurrencies in the past decade, but millions of people have lost most, if not all, of their investments in crypto in the ensuing period of time.
The crypto-tracking website CoinGecko reports that 72 of the top 100 cryptocurrencies have lost 90% of their value since their peak.
The euro cannot ever lose this amount of value because it's backed by economic output, not speculation.
Now is the time to cash out some crypto if you have it and put it in a currency that is guaranteed to hold and even appreciate in value.
Crypto will always be a crapshoot.
How Low Will The Euro Go?
The euro already rallied a little to US$1 = 1.02 euros.
I expect the euro to loiter at this level until the end of September.
In usual circumstances, I would predict that the euro would then rally and rise back to the US$1.10 mark by December and fully recover by the second quarter of 2023.
However, there's a major wildcard at play: Putin is turning off the gas supplies to Europe.
How quickly the eurozone finds alternative sources of energy to Russia's natural gas will have an impact on how quickly the euro regains its strength.
If Putin were to cut all energy supplies right now, the euro could fall as far as US$0.90 in value (another 10% drop in value), but it won't lose all value like when a cryptocurrency goes bust.
Once Europe converts to more renewable power sources and fires back up some of the nuclear power plants they have been mothballing, Europe will be back in the game.
It will take 6 to 12 months before Russia's hold on the EU industry is broken. But by then, the EU's power supply will be cheaper, more reliable, and a lot more self-sufficient.
In other words, what won't kill Europe this winter will make it stronger next year economically, strategically, and morally.
Upsides For Europe
The weak euro makes all EU goods cheaper in the United States, and the eurozone produces a lot. It's the world's largest trading block.
The 70 largest companies in Europe sell 40% of everything they produce into the United States.
This makes the situation a win-win for Europe. U.S. investors can buy property cheaper in Europe, and European products and services are all 16% cheaper relative to last year's exchange rate.
Save Thousands On Your Foreign Real Estate Purchase
The unexperienced foreign exchange buyer generally gets an unfavorable exchange rate from their local bank.
Using a reliable foreign exchange intermediary like Moneycorp can save you thousands on fees and charges.
Here are three investments you can move on today to lock in this big dollar discount:
#1. Spain: Almond Farmland Investment
Invest 90,382 euros today for a long-term, high-yielding investment for a total projected 675,789-euro payout. (Each almond parcel is a slightly different size and price so will pay out a slightly different return each year. The figures for your parcel will be given to you when you inquire about the opportunity.)
The lifespan of your investment is 45 years.
You own the land and the trees, and you get an IRR of 12.41% per year. Almond trees reach full maturity around year 10, from which point on you can expect an annual payout of 16,709 euros.
Short-term finance options are available. Get more information on this investment here.
#2. Portugal: Beach Property On The Algarve's Coast
Own a luxury two-bedroom home in Portugal's Algarve region with sea views and your own garage space starting at 475,000 euros.
Your dollar discount on a 475,000-euro investment is US$76,000 less today than the dollar price of a similar-priced investment a year ago.
With savings like this on the table, it's time to move your dollars into euros before the exchange rate recovers.
Go here to find out what returns this dollar-discounted euro investment can earn you.
#3. Montenegro: Luxury Serviced Apartments
These serviced apartments with a myriad of amenities project a 10.25% return on average and will attract an exclusive tenant profile. A top-class rental management company is already in place.
Prices start at less than 118,000 euros (US$122,000) for studio units with a garden.
Con Murphy
Editor, Overseas Property Alert