Our Best Beach Destinations For 2023
In Ireland, the temperature dropped to -8°C this month, the coldest in over a decade. I thought I was going to freeze to death.
The roads iced over, and for a few days, only desperate people left their homes.
My Canadian buddies laugh at this, because -8°C is practically balmy compared to Canada in winter.
Nevertheless, climate change is making all our winters colder… and driving our heating bills higher.
It might be time for me to follow a great Canadian tradition. (Not stockpiling a strategic maple syrup reserve, though the idea does have its appeal.)
Like geese, Canadians tend to fly south for the winter.
They call them snowbirds.
It's a wonderful idea. They get out of the real bone-busting cold of northern Canada and escape to warmer climates for six months a year or more, and go home when it thaws out in the north.
I miss a lot about my old stomping ground of Belize, but top of the list is the subtropical warmth that made every day feel like a vacation.
It's not just because of the beach parties that I want to get back to sunny weather.
Sunlight is a proven cure for so many of our ailments.
Depression, sleep disorders, low energy, high blood pressure, cancer risks, osteoporosis, vitamin D deficiency, eczema, and metabolic syndrome can all be treated by daily exposure to sunshine.
Other benefits of moving to sunny places include: no heating bills, year-round growing seasons, year-round outdoor swimming, more time outdoors, and potentially lower living costs.
It makes me yearn for tropical beaches again…
Why shouldn't we escape our cold winters and go where dreams are made of?
With this in mind, let's take a look at the best beach destinations for 2023, not only for the local climate and quality of the beaches, but also from the perspective of cost of living, too.
Brazil: Ceará State
Average price per square meter: US$1,810
Hours of sunshine per year: 2,845
Average temperature: 32°C
Average water temperature: 27°C
Cost of living: Low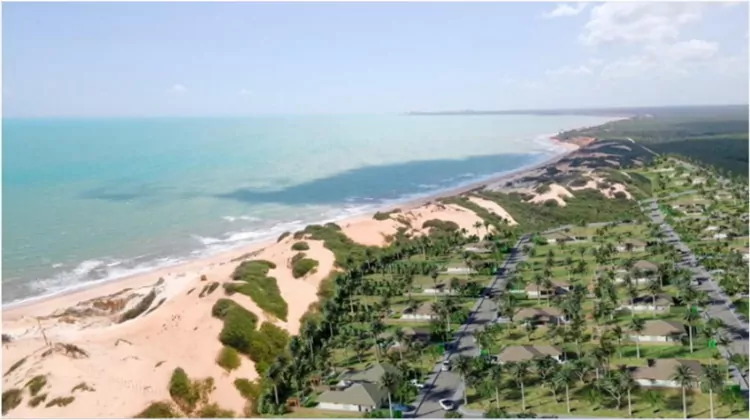 Located to the southeast of Fortaleza on Brazil's northeast coast, this area is one of the most sought-after beach destinations in the state of Ceará.
Brazil is renowned for its beaches, and the cost of living in the northeast has Brazilians moving there in droves.
Sunkissed and with a consistent breeze, it makes for perfect beach living.
The town was once an isolated fishing village and became a haven for hippies in the 1970s. While traces of the days of the fisherman and hippies remain, today this slice of paradise's narrow, paved streets are bustling with tourists.
While a small town, the locals will make you feel at home and there are plenty of things to do for those looking for an adventure, and for those looking to sip cocktails with their feet in the sand.
Have fun on dune buggy tours, sailing on jangadas (traditional sail-adorned fishing rafts), and zip lining over the sand dunes.
The soft, white-sand beaches and turquoise waters of Canoa Quebrada rival some of the world's top-ranked beaches.
The waters of the Atlantic are surprisingly calm and warm. Grab a caipirinha and some cocada from one of the barracas—small bars and restaurants full of amazing locally caught seafood—along the beach for the full experience.
You can go bar hopping down Broadway Street, which is lined with internet cafés, T-shirt shops, a tattoo parlor, and several bars and restaurants. Or spend the day at Chega Mais Beach, a beach club with a pool and exceptional amenities and service.
The town's unique hippy history has made it a beacon for artists. Many painters, sculptors, photographers, musicians, and filmmakers were drawn to Canoa Quebrada between the 1960s and 1980s. You can see their artistic and cultural influence in the street art that's collected and displayed in the city center.
Getting here from the States is easy with direct flights from Orlando and Miami.
This ongoing development is close to this gorgeous resort town marked by the signature red cliffs that line picturesque white-sand beaches.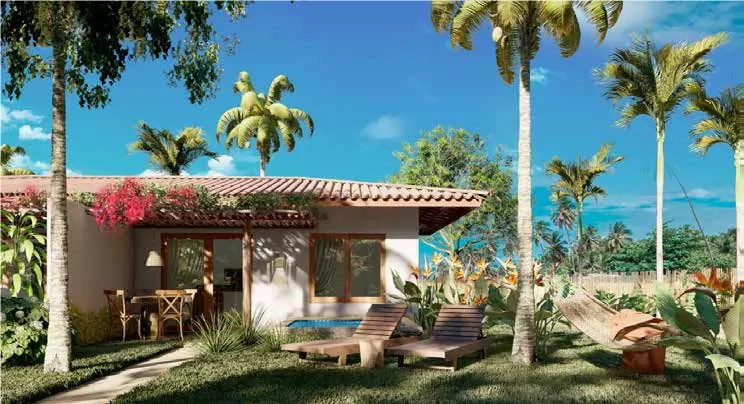 The developer is projecting a 11%+ ROI due to the low price point and high tourism potential in the area.
The starting price is US$67,000 for a 1-bedroom bungalow two rows back from the beach.
Click here to find out more about this amazing beach opportunity.
Northern Cyprus
Average price per square meter: US$1,810
Hours of sunshine per year: 3,300
Average temperature: 24°C
Average water temperature: 21°C
Cost of living: Low

When Cyprus was partitioned, Northern Cyprus got the lion's share of superb beaches. Decades of underdevelopment has left long stretches of heartachingly beautiful beaches devoid of crowds.
Northern Cyprus is the world's best kept secret for spectacular beach destinations.
It's also one of the world's leading entertainment and leisure centers, with clubs, casinos, luxury hotels, ancient history, and much more.
Where can you find the best beach buys in Northern Cyprus for 2023?
This seaside resort covering 33 acres in the town of Tatlisu is my current top choice.
It's located only 200 meters from a well-equipped beach, surrounded by breathtaking views of the Mediterranean Sea and mountains.
Amenities include a restaurant, barbecue area, beach bar, supermarket, pools, tennis and basketball courts, and a meditation and wellness center.
Units start at US$90,000, plus closing costs.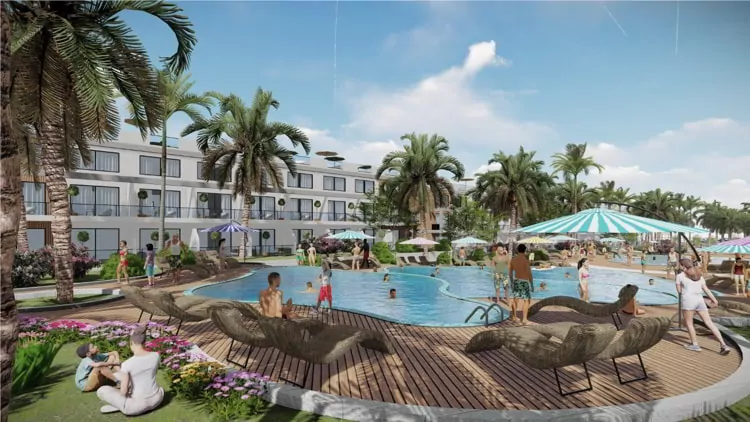 There is a 7% discount for cash buyers and interest-free, in-house financing is available.
The developer is projecting a 10%+ ROI.
The properties will come turn-key, with property and rental management offered on-site.
Inquire now about special discounts and exclusive inventory for OPA readers.
Spain: Costa De La Luz
Price per square meter: US$1,600
Days of sunshine per year: 3,400
Average temperature: 22°C
Average water temperature: 18°C
Cost of living: Low to medium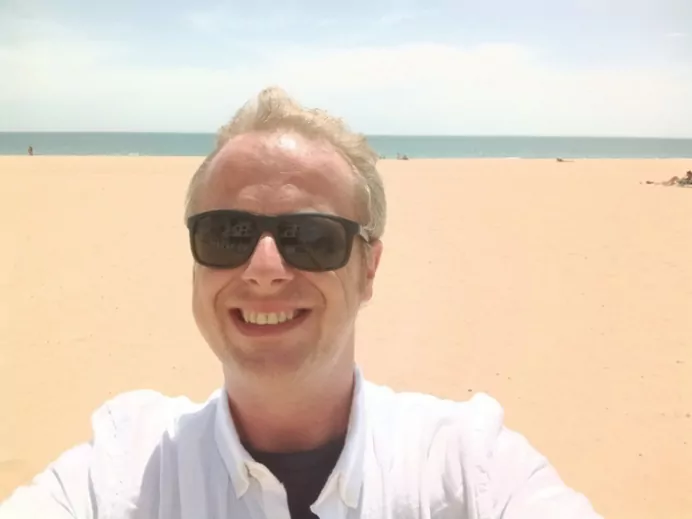 Spain continues to be the biggest beach destination in Europe. The reasons are obvious to anyone who has ever visited.
I did a property inspection tour in the Costa de la Luz in Spain's southern Andalucía region in May 2022 with Editorial Director Sophia Titley, and we were stunned by the endless, empty, white-sand beaches in the region.
The picture above is my rare attempt at a selfie on a beautiful beach in Conil, where the hot weather was mitigated by the year-round cooling breezes that make the west coast of Spain comfortably livable even for pasty skinned Irishman like me.
Every little village we pulled into had miles of beautiful empty beaches, with an abundance of interesting bars and restaurants.
I'll be detailing one of the most interesting (and award-winning) developments in Spain in an upcoming OPA at the end of January, so stay tuned if Spain is on your living or investing radar.
Portugal: Algarve
Hours of sunshine per year: 3,030
Average temperature: 18°C
Average water temperature: 17°C
Cost of living: Low to medium

Portugal has been the top retirement destination on our list for almost a decade due to its wonderful, safe, and fun culture, low cost of living, and easy residency options.
The beaches are spectacular, too.
While the waters of the Atlantic are chillier than the Med, the beaches and extra services available are well worth a few degrees' difference in water temperature.
My beach property pick for Portugal is more expensive than our other options, but it is in an excellent location with great amenities, glorious views, and manicured private gardens.
Boasting A+ energy certification, underfloor heating, and concierge services, this development is for people seeking luxury, comfort, and security.
This property has 2-bedroom condos starting at 475,000 euros. The units are approximately 70 square meters, with large terraces.
Mexico: Riviera Nayarit
Average price per square meter: US$2,535
Days of sunshine per year: 330 days of uninterrupted sunshine
Average temperature: 25°C
Average water temperature: 26°C
Cost of living: Medium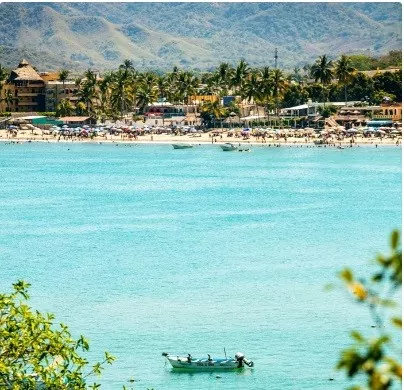 Mexico is the top vacation spot for North Americans.
Nestled between the Pacific Ocean and the western Sierra Madre mountains lies the Riviera Nayarit, Mexico's next big vacation and retirement destination.
There are many reasons this state won the TripAdvisor Travelers' Choice Award in 2021 and the Top 10 Most Popular Destinations In Mexico 2021 award.
Emerald mountains and beautiful beaches are blessed with a nearly perfect sub-humid climate with an annual average temperature of 25°C (77°F).
Located about 50 miles north of Puerto Vallarta, a small eco-club in a gated community has condos, lots, and homes for sale. When the new toll highway opens in the coming month, the resort will only be a 45-minute drive from the international airport.
It's perched on a hilltop in the verdant jungle beside a local village, and a beautiful almost-private beach is just 1 mile from the entrance to the development.
The eco-community has jungle walking paths, a seasonal waterfall, and natural birdsong-filled botanical gardens.
It's peaceful, secluded, and teaming with nature, but it's also on the path of progress.
Studios have a starting price of US$99,000.
Boasting spectacular views of the Pacific Ocean in the heart of the Riviera Nayarit, it's a place of uncommon natural beauty.
The development is also close to the new government-backed resort city of Costa Canuva, just a 15-minute drive away.
In the area, five luxury hotels are in the planning and construction phases, including the Fairmont Hotel and the Ritz-Carlton Reserve, in addition to residential and commercial lots.
This stretch of coastline is one of the most up-and-coming areas in all of Mexico.
Con Murphy
Editor, Overseas Property Alert