2023 Global Real Estate Predictions: Expect The Unexpected During The Coming Great Reset
A global recession is coming. 2023 will be a time of great turmoil in real estate, but out of turmoil comes opportunity. Many seasoned investors will lose a lot of equity, and some will lose their shirts.
When the dust settles after the "great reset," those who aren't paralyzed by fear will find themselves the frontrunners in a post-reset property boom. Today I'll be discussing the issues that will affect the global real estate market in 2023 and give my predictions about the best markets for investment.
The U.S. Property Market
Property prices are now falling after spiking 42% during the pandemic lockdowns. I predict that U.S. real estate values will drop a further 7% to 20% in 2023, depending on the location, and only a handful of U.S. markets will show any resilience.
I expect Miami to lose only 2% to 3% of its value, or it could even gain 2% to 3%, but this will be the rare exception in the United States. Markets that saw the biggest price hikes in 2021 and 2022, like Scottsdale, Arizona, will see the biggest price corrections in 2023.
I recommend anyone with investment properties in the States to liquidate them now and move the money abroad into non-U.S.-connected markets like Eastern Europe or Brazil.
International Markets
Europe
Vulture funds (hedge funds that bought up large tracts of housing during the last recession and then hiked the rental price up as high as they could) will start exiting the market due to rising interest rates. This will further ease the rental and housing price crises across the globe.
EU housing markets will be propped up by demand caused by Ukrainian refugees for the first half of 2023, but migrants returning home will ease this crisis towards the end of 2023.
Spain will see housing price appreciation slow to 3% in 2023, and some overheated market segments will show price drops of up to 8%. If you want to invest in Spain today, do so in lower-cost secondary markets or solid off-plan construction deals that will take at least three years to complete.
Portugal will experience similar changes to Spain, with Lisbon's market cooling the most and lower-cost properties holding their value better than those costing over 500,000 euros.
Germany and northwestern Europe will see prices decline by 5% to 9% in 2023.
Northern Cyprus is my European property pick for 2023. This undervalued market is unconnected to the EU or U.S. economies, and as a low-cost tourism destination, it will attract more visitors during a recession, which will improve occupancy rates.
My top choice for Northern Cyprus real estate in 2023 is a seaside resort covering 33 acres in the town of Tatlisu.
Located only 200 meters from a well-equipped beach, surrounded by the breathtaking views of the Mediterranean Sea and mountains, the development has amenities such as a restaurant, barbecue area, beach bar, supermarket, pools, tennis and basketball courts, and a meditation and wellness center.
Units start at 74,000 British pounds, plus closing costs.
There is a 7% discount for cash buyers, and interest-free developer financing is available. The properties will come turn-key with property and rental management offered on-site. Returns are projected at 10%-plus.
Inquire now about special discounts and exclusive inventory for OPA readers.
Brexit will continue to damage the British economy, though overseas purchases of U.K. property are encouraged by the weak pound.
Property prices will fall moderately in the U.K. next year (<10%), but this could improve rental ROIs for new investors.
Investments in tourism rentals and student or retirement communities will be the best U.K. investments in 2023.
Asia
The Asian property market will continue to suffer fallout from the Chinese construction industry's implosion and credit collapse. Many major developments across Asia, but especially in China, will stall or go bankrupt.
Don't invest in Asia in 2023 unless you've done a thorough analysis of the local markets and unless you find a titled condo at fire sale prices in an Asian city where you actually like to spend time. Deals in Asia will be widespread, but don't buy off-plan, as the chances of failure are too great in 2023.
South America
Brazil continues to be a strong market to watch in 2023, as its economy is well insulated from a global recession, it has a strong domestic property market, a diverse and resource-rich economy, and a newly elected business-friendly president with a strong mandate.
To find amazing value on one of the best stretches of coastline in the world, go to Northeast Brazil. Here you can find beachfront bungalows starting at US$77,000 for cash buyers, plus in-house financing is available.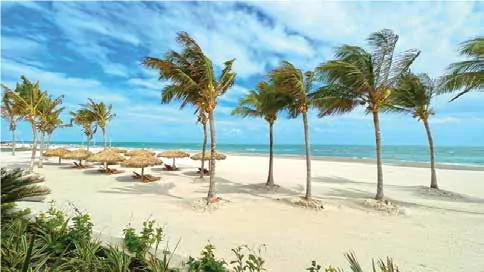 To find out more about these beach bungalows, go here.
Middle East
One of the potential outliers in the coming global property cooldown could be Dubai, which could show price increases of 10% or more in 2023 due to investment unconstrained by the otherwise sluggish global economy and new investment residency visas.
Dubai isn't a market to casually invest in, so make sure you do your homework before you consider putting any money into this uber-luxury market.
Factors Influencing Real Estate In 2023
Inflation
Inflation will continue to hamstring economies and investment returns worldwide, especially in the United States, Europe, and Asia.
Panama and a handful of other exceptionally robust and integrated economies will avoid this inflation surge.
While not a low-cost property destination, Panama offers attractive recession shielded property investment options.
Panama is my strongest pick for low-risk Central American property investing in 2023.
With Argentina's economy lying in ruins and property trading for cents on the dollar in some areas, Argentina is a market where great long-term value can be had if you are tough enough to ride out the grim few years ahead.
Interest Rates
Interest rates are rising worldwide, and the era of cheap credit will fully come to an end in 2023.
2022 showed an enormous 250% spike in interest rates in the United States, with average rates jumping from under 3% to over 7% in just a few months.
I predict interest rates will soften to roughly 4.5% to 5% in 2023, but this will still cause a wave of foreclosures across the States.
European central bank interest rates will continue their rise from March's -0.5% to today's 2.75%. Interest rates will rise further in the short term before stabilizing around 3.5% in 2023.
While not as bad as the U.S. interest rate hikes, this will deflate any attempts to prop up the real estate markets in northern and western Europe.
Now that U.S. interest rates nearly equal the rates available in Latin American and Eastern European markets, investing in these value markets is much more attractive than leaving your money at risk in the States.
Exchange Rates
The Greenback will continue its bull run into the second quarter of 2023, buoyed by the turmoil in Eastern Europe and the gigantic U.S. arms deals being signed to supply Ukraine.
U.S. dollar exchange rates will fall back to their usual level by the third quarter of 2023.
Buy property in lower-cost markets while the exchange rate is in your favor.
Ukraine War
The Ukraine war will continue to distort real estate markets in Europe.
Property values in Ukraine and Russia have been destroyed, so it's a good thing we've never recommended investing in either location.
Millions of refugees pouring into Europe continue to cause housing shortages, which will help prop up property values in the short term.
Countries surrounding the conflict zones will experience the most pronounced upward price and rental pressures from the war, as millions of wealthy Russians and Ukrainians flee their countries to neighboring Georgia, Estonia, Croatia, Montenegro, and other Eastern European states.
Investor Returns
ROIs will suffer setbacks in many markets in 2023, but the biggest drops in returns will be at the high end of each market.
The markets that show the biggest price drops by the third quarter of 2023 could be ripe for reinvestment by the second quarter of 2024, so pay attention.
Those seeking reasonable returns for 2023 will need to invest in less mature and less expensive markets like Northern Cyprus, Brazil, and specific parts of Portugal and Spain.
Mature and expensive markets like northern Europe will see ROIs and occupancy rates drop due to the pending recession.
If you're holding property that is priced in the top 20% of price per square meter in an area, sell it now because it will lose the most value in that market.
Value Investing
2023 will see investors returning to value investing in real estate, where modest and steady cash flow will be the main investment objective.
Environmental, social, and governance (ESG) investing will affect more of the larger scale developments across the western world, changing demand profiles and increasing the cost of construction.
Anti-Globalization And Logistics
After the pandemic, the precarious nature of the global logistics system was revealed. Developers will move towards using more regionally sourced construction materials to avoid the long lead times and delivery difficulties that are now delaying property developments. This will cause moderate construction material price increases.
Buying everything from China will no longer be an attractive option for many large developers.
Stranded Assets
These will become more common in 2023. Assets become stranded when markets change so much that a once valuable asset loses all its real value and cannot be sold.
Examples include land de-zoned for construction due to environmental concerns, buildings that used toxic materials (asbestos and lead) that now cost more to fix than the building is worth, and exchange rate fluctuations that leave more debt in property funds than equity.
Airbnb
In 2022, U.S. Airbnb reported plunging occupancy rates and ROIs in many markets. This was due to overinvestment in short-term tourist rental properties during the pandemic. This, in turn, helped fuel the skyrocketing U.S. rent increases.
Now, with occupancy dropping through the floor, we are seeing properties bought for the short-term investment market being foreclosed upon and more units converted back to long-term rental use.
Short-term tourist rentals in the EU that aren't in a resort or hotel development will see falling ROIs in 2023, especially in prime or higher-end markets.
Focus On The Fundamentals
Low-cost destinations will be the winners of the market turmoil in 2023. While small villas in Monaco for US$2 million will no longer appeal, luxury villas in Brazil for US$200,000 will continue to attract buyers.
Similarly, pocket money condos in Northern Cyprus for less than US$90,000 will continue to offer value to investors and attract tourists due to the low entry price.
The energy efficiency rating of homes in hot and cold countries will have a bigger impact on the price of housing globally, as energy prices become more volatile.
Will the coming contraction be as bad as in 2008? No, but it won't be pretty, so get your plan in place now…
Con Murphy
Editor, Overseas Property Alert