A Competitive New Property Offer In The World's Most Popular Vacation Destination
Spain is the world's second most visited country after France.
It has 15% of the United States' population… yet it receives almost 84 million tourists every year—4 million more than the States.

Spain gets over seven times more tourists per capita. This is impressive for a country with a population of 47 million, and it's what makes tourism a 92-billion-euro industry in Spain today.
All these tourists aren't arriving in Spain for no reason. The biennial World Economic Forum Travel and Tourism Competitiveness Index ranks Spain number one for international tourism in 2019. It also won the award in 2015 and 2017.
Spain scores highest in the World Economic Forum's ranking for its excellent cultural heritage. It's also recognized for its fabulous natural heritage, excellent tourism and travel infrastructure, general safety, and price competitiveness.
Spain's allure is enduring… but it isn't new. For over 70 years, it has been the playground of choice for European and American vacationers. You could argue that Spain has been welcoming visitors from across the globe for 2,500 years.
A Short Spanish History Lesson
Spain has always been a popular choice among foreigners.
The first bands of foreigners started coming around 500 B.C., when the Celts arrived and started hogging the best beach spots that the native Iberians had claimed since they arrived around 3,000 B.C.
Soon after, the Phoenicians and Greeks got word of the great real estate opportunities in the area and started colonizing other parts of modern-day Spain.
The region proved such a popular destination that the Carthaginians from modern day Tunisia rushed the beaches in 237 B.C., further enriching the culture and scientific knowledge of the region.
Not to be outdone, the Romans then decided it was their turn for a Spanish holiday and invaded and ruled the peninsula from 206 B.C., until their fall to the Visigoths in 409 A.D.
This tenure under the "barbarian" Visigoth culture lasted for almost three centuries until the Moors invaded from Africa in 711 A.D., bringing with them their high science and technology.
They ruled the kingdom of Al-Andalus, which encompassed areas of the peninsula until 1492. The southern region of Andalusia in modern Spain is still heavily influenced by its Moorish past.
In 1492, King Ferdinand and Queen Isabella united the fractured kingdom of Spain and sent Columbus on his voyage of discovery. The Spanish Empire, once the mightiest empire the world had ever known, held sway on most of the peninsula until 1976.
The riches extracted from the New World created an artistic and architectural boom—the remnants of which are still evident across Spain today.
In May, I visited Cádiz with Editorial Director Sophia Titley to analyze the region, and it truly is a treasure of the ages.
The Celtic, Roman, and Moorish visitors from ancient times are still alive in the local population, but the new expats on the block in Spain are the British, Colombians, and Germans, who continue to arrive in droves.
You can see why Spain's culture is so rich… it's built on 5,000 years of foreign immigration, information exchange, and architectural experimentation.
The Country
Spain is a large country in western Europe with an area of slightly over 500,000 square kms. It occupies most of the Iberian Peninsula and stretches from the Pyrenees Mountains south to the Straits of Gibraltar.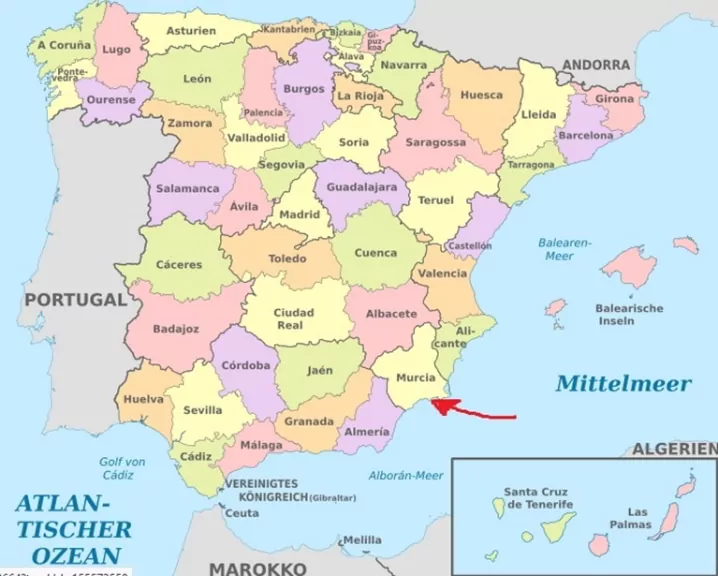 The interior of the country is a high, dry plateau that is peppered with mountain ranges.
Spain is blessed with 8,000 kms of coastline on the Atlantic and Mediterranean, and it has an unrivaled 681 Blue Flag beaches.
It has a dry, warm climate that supports a year-round vacation lifestyle.
Cultural Treasures
Spain is littered with lively cultural and historical treasures, exemplified by its 47 UNESCO World Heritage Sites.
Everyone has heard of the famous bullfights and the running of the bulls in Pamplona… but have you heard about La Tomatina?
It's the world's largest food fight, during which tons of tomatoes are hurled at anyone brave enough to venture outside.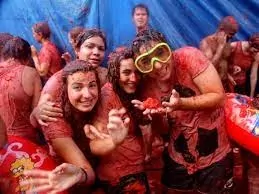 There are endless other fun and historically significant festivals in nearly every town and village across the country.
Spain is also famous for its wine, and it has more bars than any country in Europe. Tapas feature on almost every bar menu. Spanish cuisine is a reflection of the many distinct heritages that have influenced Spain over the ages with regional differences across the country.
The Property Market
For decades, expat buyers have fueled Spain's coastal property market. Starting in the 1960s, vacation condo blocks began springing up across Spain's coastline.
Back then, obtaining planning permission was more of an idea than a practice. Today, some stretches of the Spanish coast are left with old concrete hulks of buildings that are neither pleasing to the eye nor easy to live in.
But a lot has changed since the 1960s. Today, you can find high quality developments on or close to the beaches that offer truly inspiring living options.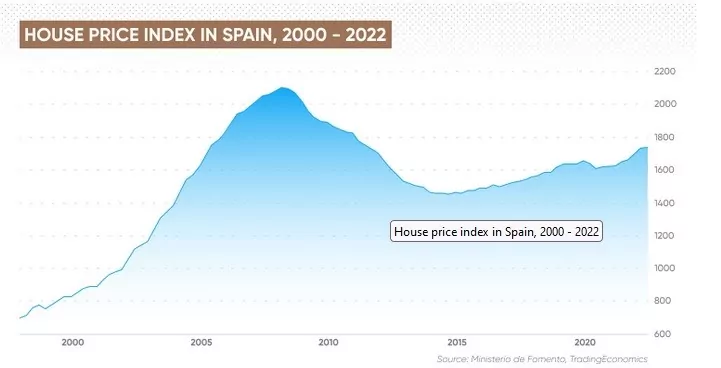 Foreign buyers make up to 19% of all property purchasers, which reduces the local property risk as foreigners are less dependent on the local economy for their income.
Because of Spain's enduring popularity, overreaching speculation, and overleveraging during the early 2000s property boom, Spain was badly hit by the post-2008 property crash.
Property prices dropped by almost 40% from 2008 to 2013. But because it's the world's tourism and retiree destination of choice, the property market began to recover in 2013 and has shown reliable gains since then.
My analysis of housing price bubbles in the Nov. 8 OPA issue indicated that Spain isn't experiencing a housing price bubble, and it isn't in danger of a major bust in the medium term.
Prices still haven't reached the overheated bubble heights of the 2008 crash. Prices stagnated and sales slumped during the pandemic, but when travel reopened, sales jumped 38% in 2021.
Today, the average price per square meter in Spain is 1,740 euros. This price is an average across a huge market. Property prices can range from as low as 600 euros per square meter in the interior for local-style accommodation to above 3,000 euros in some areas of the overbuilt tourist traps like the Costa Del Sol.
A 2022 Knight Frank study stated that 'Spain continues to be a country with an enormous attraction for investment.'
The Alicante region of southeastern Spain accounted for a whopping 40% of all property sales in 2021. Next door is Murcia, which is probably the second most sought-after tourism hot spot.
A New Development Offer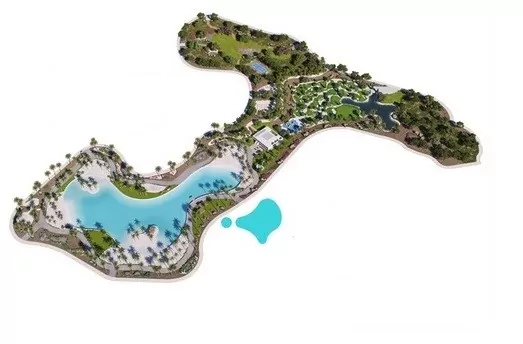 Murcia enjoys over 300 days of sunshine with balmy year-round average temperatures of 18°C.
In the ever-popular Costa Cálida, the 250 kms of coastline, luxury villas, bungalows, and condos surround a fabulous private man-made lake and adventure area.
Located just 10 minutes from Mediterranean beaches, this development offers a beach club, a restaurant, and a commercial area that includes supermarkets, shops, bars, and restaurants.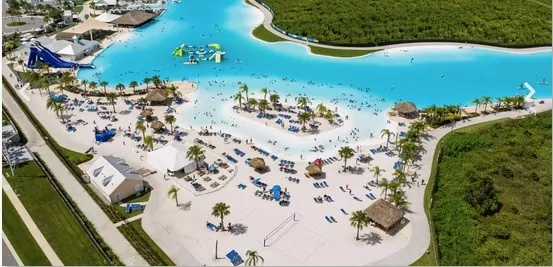 Among the 700,000-square-meter site, there are 5 kms of pathways, 35,000 square meters of shopping areas, a 16,000-square-meter artificial lake (the largest man-made lake in Europe), and a 124,000-square-meter outdoor recreation space.
Visitors can enjoy the site's volleyball courts, two islands crowned by palm trees, adventure golf, disc golf, yoga, picnic areas, a jetty, and a gym in the beach club. There are also multi-sport tracks, ping-pong, chess, and cross training fitness areas.
Nearby are 20 high-end golf courses, including award winning courses from the likes of Jack Nicklaus and Dave Thomas.
This development won the European Property Awards' "Best Mixed-Use Development Spain 2021–2022" category.

The development is designed with sustainable principles and has a custom-designed water management and recycling system. The huge water filtration system for the lake uses just 2% of the energy of conventional filtration systems.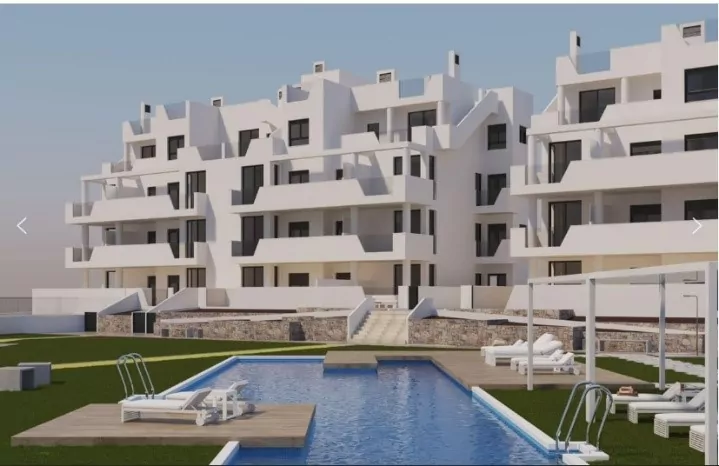 The 2-bedroom, 2-bathroom apartment price starts at 199,000 euros. Closing costs run roughly at 15%, and if you plan to rent them out, a 6.8% net ROI is projected by the developer. The project offers full on-site property management services.
Amenities include communal pools and gardens, and units come with air conditioning and a fully fitted kitchen.
The project is just a 15-minute drive to the nearest beach and a 30-minute drive to the airport. It's next to shops and varied facilities.
You can drive to Cartagena in 15 minutes, to Murcia in 32 minutes, and to the Alicante airport in 55 minutes.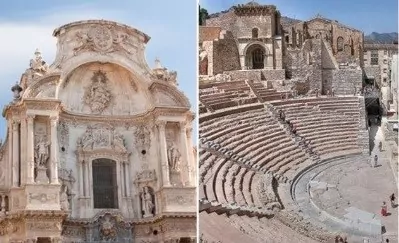 Visitors can enjoy nearby sites such as the Calblanque Regional Park and its paradise beaches, mountains, golden dunes, and salt marshes, or Cabo de Palos, a marine reserve with sunken shipwrecks (a favorite of divers).

These properties offer high-end resort living and an investment opportunity at competitive prices in the world's most enduringly popular vacation and retirement destinations.
To find out more about this exciting development, click here.
Con Murphy
Editor, Overseas Property Alert