The Hidden Value Of The Riviera Nayarit
About 1.6 million U.S. citizens live in Mexico. To put that number into perspective, 47 countries have smaller populations. Investors and retirees adore the place. During my 14 years living in Belize, I took regular trips to Cancún. The plastic tourist traps were fun to see once or twice, but they quickly lost their appeal. I was looking for something more authentic.
Mexico's magic is in its rich cultural heritage and dazzling scenery, not in Señor Frogs and Margaritaville bars.
The Overseas Property Alert team and I have been assessing new locations and investment opportunities all around Mexico. It's taken a little while, but we have found an opportunity worth your attention.
This development is perched on a hilltop in the verdant jungle beside a local village and a stone's throw from a fantastic beach. It's peaceful, secluded, and teeming with nature, but it's also on the path of progress. Just a few minutes' drive away is a brand-new, government-backed resort city that is just finishing construction.
Before we get into detail, let's consider why Americans choose to make this region of Mexico their home.
Low cost of living. This region, especially once you get out of the big cities, offers a much lower cost of living than the United States. Medical treatment, home help, and personal services stand out as absolute bargains.
Great weather. Compared to the northern United States, the sunny weather that Mexico enjoys is one of the main reasons to move here.
Cheaper real estate. Especially outside major cities, real estate and land can be far cheaper than anything you can find in the States.
Proximity to the States. Being able to drive to your retirement home in Mexico (or being able to drive home in an emergency if you need to) is a huge attraction for many Americans… all while offering a high standard of living, health care, and a less intrusive government.
It's safe. While parts of Mexico are plagued by drug gangs, there are vast areas of Mexico that are safe and friendly. The Nayarit State has the fourth lowest crime rate per capita of any state in Mexico. It'd be like a European worried about going to San Francisco because of the crime rate in Detroit.
Mexico's Next Big "It" Destination
Nestled between the Pacific Ocean and the Western Sierra Madre Mountains lies the Riviera Nayarit, Mexico's next big vacation and retirement destination. This state won the TripAdvisor Travelers' Choice award in 2021 and the Top 10 Most Popular Destinations In Mexico 2021 award. Emerald mountains and beautiful beaches are blessed with a nearly perfect sub-humid climate with annual average temperatures of 77°F (25°C). Small towns and historic pueblos dot the coastline, as do golf courses and quaint fishing villages…
Located about 50 miles north of the Puerto Vallarta, the development is currently about a 90-minute drive from the international airport. A new toll highway is due to be opened before Christmas—shortening the drive time to the airport and always-popular Puerto Vallarta to 45 minutes. The real opportunity here is that this area is just beginning to come onto the radar of expats, and the market is not yet overbuilt or overvalued. This is authentic Mexico.
The development I'm shining a spotlight on today is a small eco-club in a gated community with condos, lots, and homes for sale.   Boasting spectacular views of the Pacific Ocean, in the heart of Riviera Nayarit, it's a place of uncommon natural beauty. It's nestled in the jungle, away from city lights, allowing for peaceful, relaxing days and spectacular stargazing. The development is in a quiet area, 7 kms off the highway next to a small village. The eco-community has jungle walking paths, a seasonal waterfall, and botanical gardens filled with birdsong. An almost-private beach is just 1 mile down the road from the entrance of the development.
The Mexican government is ploughing billions of pesos into infrastructure in the area to encourage high-quality tourism. This development is close to the new government-backed resort city of Costa Canuva. Five luxury resort complexes are already in the planning and construction phases, including the Fairmont Hotel and the Ritz-Carlton Reserve, as well as residential and commercial lots.
While our eco-development is on a hillside and all lots have ocean views, the mega-resort development is on flat ground, and anyone not on the front lots will have obstructed views. The first hotels are close to completion, and they will change the local economy dramatically.  The eco-club development is a 15-minute drive from this new tourism center and all the amenities that come with it, but it occupies its own little bastion of peaceful seclusion and nature.
On-Site And Nearby Amenities

All condo residents and their guests have access to the large pool and patio area with lounges, tables, and umbrellas.
Other amenities include the restaurant, gym, day-spa (coming soon), and barbecue area. Four laundry rooms are available for communal use, too.
The developers offer day-use car and bike rental on-site for guests. A Polaris ATV is available for rides to the beach and surrounding jungle areas.
With a mini-golf course already in place and plans for a driving range, golfing enthusiasts have a chance to practice their game before going to the new signature golf course in the Costa Canuva tourism city. A local nine-hole golf course is 25 minutes from the development.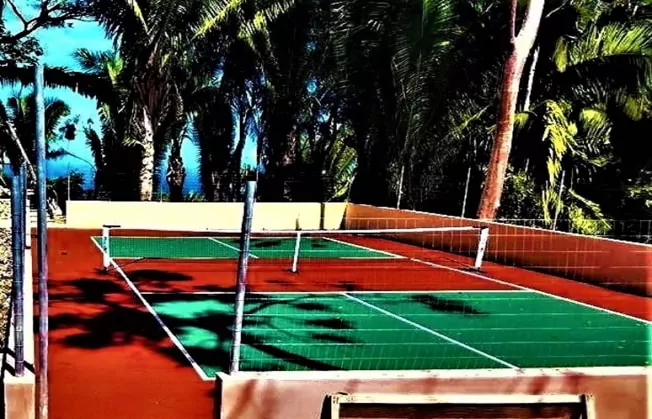 Pickleball is the fastest growing sport for the over-50 crowd, but anyone can join. The pickleball court is in use daily for friendly competition during the high season.
The closest good-sized town for shopping, restaurants, bars, doctors, dentists, and much more is about a 15-minute drive south to the popular expat and tourist destination of La Peñita de Jaltemba. You can also go to the busy town of Las Varas at about the same distance north on the highway.
The Condos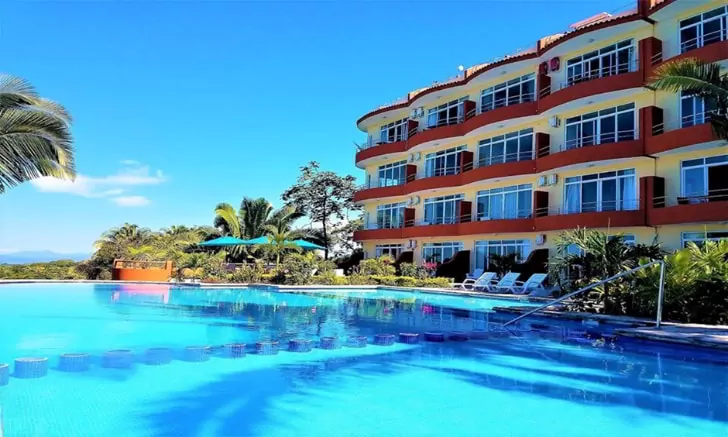 The five-story building consists of 32 condo units and 8 tiny condos. An elevator is available.
This isn't a preconstruction offer. The 32 condos are complete, and many are already occupied by owners or renters. The tiny condos are 90% to 95% complete, and you could move into yours in a matter of weeks.
Every full-sized condo has an ocean view.
The condos are equipped with mini-split air conditioners and ceiling fans in the living room and kitchen areas and in each bedroom. The bedrooms can accommodate a king size bed and a sofa bed.
The one-bedrooms are approximately 73 square meters (787 square feet), plus a patio or balcony, and prices start at US$189,000.
The larger two-bedroom, two-and-a-half-bathroom condos extend to 114 square meters (1,230 square feet). These start at US$269,000 on the first floor and at US$289,000 on the second floor. These units have a lockable second bedroom that can be used as a separate self-contained unit, with a full bath, kitchenette, and roomy living space.
This means every two-bedroom condo can be used as two separate units, a one-bedroom condo and a studio condo unit. You could rent out part of your home while you are in residence if you want, or have your in-laws stay for a while but not get too close for comfort.
The two-bedroom, two-and-a-half-bathroom penthouse condos have a main living area on the fourth floor, a master bedroom, bathroom, and terrace on the fifth floor, and a rooftop terrace with a hot tub on the sixth floor.
The penthouses can also be separated into two units, with a large terrace outside the fifth-floor bedroom that includes a kitchenette and cabinets, space for a refrigerator, dining furniture, and an outdoor shower.
The penthouse units are approximately 186 square meters (2,000 square feet), available at US$399,000.
Tiny Condos (Studio Units)
Tiny condos are available for the introductory sale price of US$99,000.
At 28 square meters (300 square feet) plus a nice patio and a 4-square-meter (50-square-foot) rooftop terrace, these offer a lot of space (including cabinet and closet space) for a low price point.
The kitchenette has a four-burner stove and oven, a full-size refrigerator and microwave, wooden cabinets, and tile floors and countertops. Each tiny condo is equipped with ceiling fans and air conditioning.
They also enjoy partial ocean and jungle views from the living area and the patio. From the rooftop terraces you can enjoy a view of the ocean, the local marina, and the local fishing village (where you can buy the freshest catch imaginable).
The Lots
If condo-living isn't for you, lots start at US$69,000 with partial ocean views. Premium lots with spectacular ocean views are priced from US$129,000 to US$159,000.
Lots range in size from 420 square meters (4,520 square feet) to 700 square meters (7,535 square feet). The price reflects the view, the location, and size.
The developer is available to build your home on your lot if you wish. Included in the price is the three-stage eco-septic system, and you have the option to upgrade to solar power.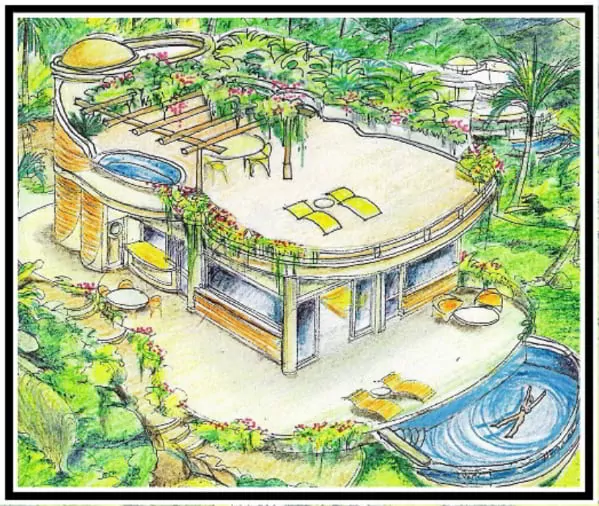 The model above—the Miramar—starts at US$149,900 (lot price not included).
The Miramar has two bedrooms, two bathrooms, a second floor rooftop terrace, a ground floor patio, and 116 square meters (1250 square feet) of interior construction.
You have the option of adding a pool and upgrading to a marble bathroom and shower and granite counter tops. The prices quoted are subject to change until the contracts are signed.
On-Site Rental Management
The rental management fee is 25%. The area has a growing rental market and offers a good potential for rental income for investors.
The developers aren't projecting a specific ROI right now, but similar properties in Mexico project returns anywhere from 6% to 12% per year, depending on the unit and if you use your property during the year.
Title And Closing Costs
As with all foreign-owned property close to the ocean in Mexico, foreigners can own full title here through a fideicomiso or bank trust. This is normal and safe in Mexico.
Closing costs average about 10% of the sale price.
Generous developer financing terms are available. Contact the developer for more details.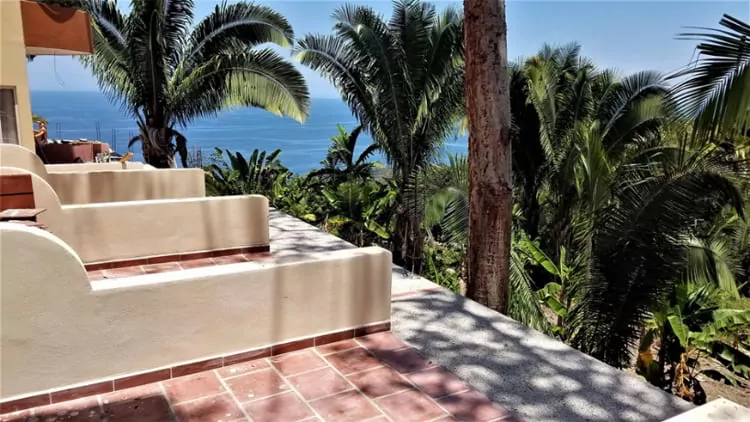 Other Fees And Expenses
The monthly HOA fees range from US$65 for the tiny condos, US$100 for the one-bedroom units, US$150 for the two-bedroom units, and US$200 for the penthouses.
OPA Exclusive Discount
The developer is offering a US$20,000 discount on the one-bedroom condos and a US$30,000 discount on the penthouses for Overseas Property Alert subscribers who reserve a unit by Dec. 8, 2022.
Contact them here to hear more about the lifestyle and rental investment opportunities this secret eco-club offers, and lock in your discount today.
Con Murphy
Editor, Overseas Property Alert