Plus: "How Can You Recommend This Guy?"
This week I'm going to focus in on the most popular of all overseas properties: beaches. Mountain lifestyles and city living are popular, to be sure… but beaches draw people to a full-time or part-time life abroad more reliably than anything else.
Thanks to today's volatile (and favorable) exchange rates with the U.S. dollar, the concept of "best value" can be a moving target. So it pays to stop and reevaluate the entire picture every few months.
After doing a quick study over the weekend, here are what I believe to be five of the best values on the beach-oriented market today.
Playas, Ecuador
Since I first visited Playas in 2002, it has been my favorite beach town in Ecuador.
The first thing I noticed is Playas' "fishing village" character. The way the small fishing fleet blends with the beach resort creates a great beach experience with a homey and culturally rich feel… and provides for lots of fresh and inexpensive seafood.
The waters are warm and calm, thanks to Playas' tucked-away position in the Gulf of Guayaquil—43 miles inland of Ecuador's western tip at Salinas—which protects it from the open Pacific and the cold waters of the Humboldt (Peru) Current.
Also, Playas boasts 320 days of sunshine per year (thanks again to its position in the gulf), unlike most of Ecuador's coast, which is overcast for a good portion of the year. It's the only place on the coast where I've seen sunshine every time I've visited.
Best of all, Playas is Ecuador's most accessible beach, at 60 miles from the airport in Guayaquil (97.4 km); a drive that will take you 1 hour, 17 minutes. Beaches in Ecuador can be as far as six hours from the international airports, so this proximity has always been a strong selling point for me.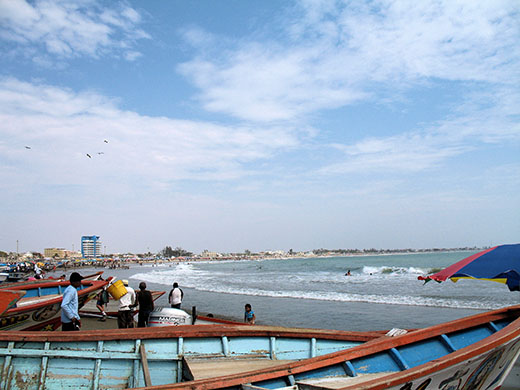 Playas, Ecuador, manages to retain its "fishing village" charm

In the oceanfront Casa Blanca Condominiums, we found a 1,722-square-foot (160-square-meter) unit with three ocean-view bedrooms, two baths, and a spacious balcony. The complex includes two pools, two hot tubs, and a path directly down to the private beach below. The asking price is US$189,000.

In a gated community in Playas, there's a 1,238-square-foot (115-square-meter) beachfront home for sale, including two bedrooms and two and a half bathrooms. The complex has 24/7 security and direct beach access. The asking price was recently reduced to US$139,000.
Viña del Mar, Chile
Viña del Mar came into its own as a resort in the 1920s, and today, it's Chile's most popular seaside destination, drawing people from around the country as well as a large number of international visitors.
Despite its latitude, the weather in Viña del Mar is fairly comfortable all year, thanks to the Pacific Ocean's modifying influence on temperatures. The Humboldt Current keeps summertime temperatures cool and winter temperatures moderate.
The beaches are beautiful here. But one thing I like about Viña del Mar is that the beach areas are actually adjacent to a "real" city. The seafront area has most of the resort-style amenities, such as the highest concentration of restaurants, clubs, cafés, and the stately municipal casino.
But just a few blocks inland, the rest of Viña del Mar—a city of almost 300,000—offers a full complement of city conveniences like shopping centers, theater, orchestra, and administrative services. What's more, Valparaíso is just a few minutes away, offering even more big-city entertainment and services.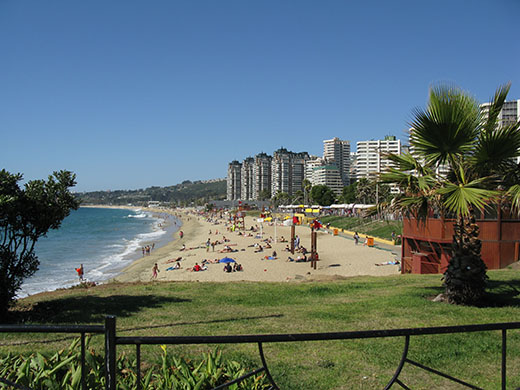 Viña del Mar's beaches draw visitors from around the world

An ocean-view apartment in the Bellavista neighborhood of Viña del Mar has 1,184 square feet (110 square meters) of living area with three bedrooms, two baths, a balcony, laundry area, garage space, and storage. The asking price is only 125,000,000 Chilean pesos (US$174,300).

Just outside of Viña del Mar in the seaside town of Reñaca, we found a two-bedroom, two-bath apartment with 60 square meters (645 square feet) of living area, ocean views, balcony, covered parking, gym, and 24-hour security listed for 135,000,000 Chilean pesos (US$188,300).
Santa Marta, Colombia
Everyone has heard of Cartagena, Colombia. It's the country's best known destination. But just 150 miles up the Caribbean coast is Santa Marta. It's a town that offers excellent diving, sandy beaches, calm waters, an upbeat and energetic culture, and a collection of diverse and attractive living options.
The way I think of it, Cartagena is where the world comes to visit… while Santa Marta is preferred by Colombians and a few savvy expats.
Santa Marta is the oldest city in Colombia. It's always warm, with highs hovering in the high-80s to low-90s all year (31.5° to 33.5°C). There's a rainy season that lasts from May to November turning the surrounding mountains a lush green… while it's very dry the rest of the year.
When I first visited Santa Marta in 2010 it was definitely a "work in progress." The formerly seedy downtown was undergoing restoration, bringing the fine colonial homes, parks, and churches back to their original splendor. The first leading-edge investors were prowling the city.
Today's Santa Marta is a different story. The downtown now has an attractive seafront park, plenty of small cafés and bars, as well as coffee shops, boutique hotels, excellent seafood restaurants, and even a cruise ship port. The once-rumored 256-slip marina is now completed and operational, and new, tasteful condo projects have sprouted up around the entire area.
South of the city, new, higher-end projects are being developed along tranquil sandy beaches.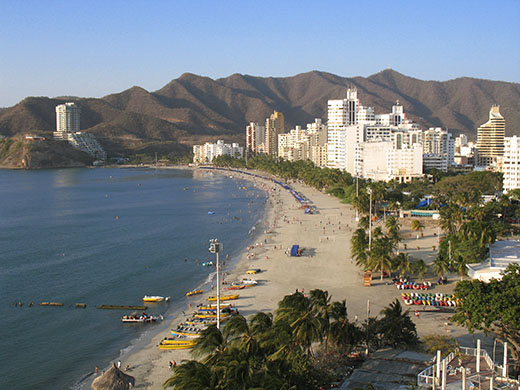 Santa Marta offers miles of beaches; here's a view of El Rodadero

In the El Rodadero neighborhood of Santa Marta, a 112-square-meter (1,205-square-foot) apartment is listed at 500,000,000 Colombian pesos (US$152,346). Located in an upscale neighborhood, this property includes three bedrooms, three bathrooms, and enjoys great 16th floor ocean views.

Another high-end listing in Rodadero is a two-bedroom, two-bath apartment on the 12th floor, with maid's quarters, direct ocean access and 106 square meters (1,140 square feet) of living area. Recently remodeled, the asking price for this one is 400,000,000 Colombian pesos (US$121,877).
Mazatlán, Mexico
I just bought a beachfront condo in Mazatlán, so it's obviously #1 on my own list. Here are a few things I really like about this town:
Its large restored colonial historic center with affordable colonial properties
Twenty miles of beautiful beaches…
A super offering of restaurants, cafés, and things to do…
An atmosphere that's a bit more "Mexican" than many of Mexico's coastal cities where foreigners dominate the culture…
The short trip to the States: 1.6 hours by air, or around 13 hours by car.
Mazatlán's winter weather is about perfect, with comfortable days and cool nights. No air conditioning required this time of year. In the summertime however, it's hot… with mid-summer temperatures hitting 90˚ almost every day (over 32˚C).
Mazatlán is a popular resort and cruise destination, which explains why it has more than its share of amenities for a city of this size. Tourism also explains why so much English is spoken here.
But it's also a "real" city once you get away from the beach, with a sizeable fishing fleet and an industrial base that provides a non-tourism level of diversity.
Not far to the south, the town of Puerto Vallarta is much better known, and has a better tourist infrastructure. But Puerto Vallarta has the most expensive house prices in all of Mexico according to Forbes. So if you like coastal Mexico, you'll find Mazatlán a welcome market.
Unsurprisingly, Mazatlán has a substantial expat community with both full-time and part-time residents. And most importantly, beachfront property prices are low by Mexican and international standards.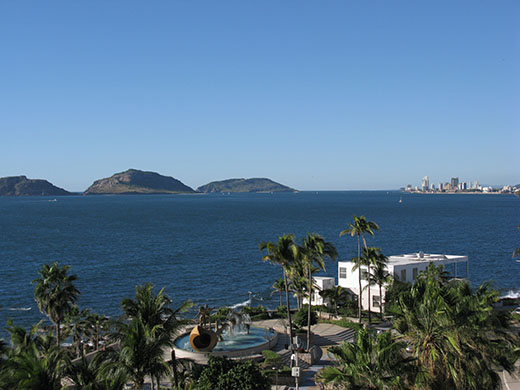 View from edge of Mazatlán's historic center…. prices haven't kept up with the times

Sitting in front of Mazatlán's best beach and boardwalk, a 15th floor, fully furnished apartment of 187 square meters (1,949 square feet) is on the market. Included are three bedrooms, two bathrooms, two garage spaces, and a convenient location central to Mazatlán's most popular entertainment areas. Asking price is 4,599,000 Mexican pesos (US$249,300).

On Mazatlán's quiet Cerritos beach north of town, there's an apartment for sale with two ocean-facing bedrooms, two bathrooms, laundry room, and beautiful grounds with mature tropical gardens. This 4th floor, 82-square-meter (877-square-foot) unit has ocean views from almost anywhere in the condo and the asking price is only US$160,000.
To learn more about Mazatlán, you can see recent articles on the historic center, and also articles on its beaches, here and here.
Natal, Brazil
Natal is noted for its miles-long crescent beach, protected by a giant dune that shelters it from the onshore winds. The adjacent waters are calm, clear, warm, and fairly shallow.
The cafés, restaurants, and nightlife of Natal are renowned throughout Europe and Brazil, and right now, thanks to the weak Brazilian real, property prices are great by any standard.
Natal is billed as one of the sunniest cities in Brazil, with more than 300 days of sunshine per year. There are only a few degrees of seasonal variation in temperature, with the warmest average high temperatures coming in at about 88° F (31° C). Bathers here enjoy calm, warm waters with water temperatures averaging a comfortable 79° F (26° C).
After traveling to a number of adjacent sectors, my favorite is still the Ponta Negra district for part-year living. It boasts that beautiful beach that goes on for miles, as well as one of the nicest waterfront areas I've seen.
Lined with restaurants, shops, and night clubs, the waterfront is busy far into the night. Yet by 7 a.m., the beach is already busy with strollers, sunbathers, and swimmers. Some of the waterfront nightspots transform themselves into open-air seaside coffee shops at sunrise and begin the fresh new day without ever closing the door.

Overlooking Natal's famous Ponta Negra beach, a 3-year-old, fully furnished apartment is for sale with three bedrooms, three bathrooms, and perfect 16th-floor ocean views. Facilities include swimming pools, gym, secure parking, and 24/7 doorman. The asking price is 340,000 Brazilian reals (US$83,130).

Also in the Ponta Negra neighborhood, in an 18-unit condominium overlooking the ocean, a two-story unit is listed with 133 square meters (1,431 square feet) of living space. Included are three bedrooms, three baths, and a separate one-bedroom apartmentwith private entrance and kitchen. The asking price is 600,000 Brazilian reals (US$146,699).
Which beach lifestyle is right for you?
These are just a few examples of the best values that are out there today, each with a different character and culture.
The only way to really know the best choice for you is to check out a few places for yourself. With today's prices and exchange rates, 2016 is the ideal year to hit the road on your own property search.
Lee Harrison
Editor, Overseas Property Alert
***
Letters To The Editor
Lee,
I've been looking for an attorney in Medellín, and may have found a lawyer I can work with… although I am not sure yet. I would like to hear directly from you to explain how Live and Invest Overseas reconciles their endorsement of Juan Darío Gutiérrez with this comment from a recent Overseas Property Alert:
"Completing the Form 4 is about three minutes' work, regardless of the size of the transfer. A lawyer who charges a percentage is bordering on criminal.

"I paid 200,000 pesos (US$65) for a lawyer to complete a Form 4 and deliver it to the broker, the first few times. Since then, I fill them out myself, for free."
If this attorney's fees are "bordering on criminal," why are you recommending him?
Brett
The quote from me (above) is accurate, in response to a reader who complained of high fees.
When the original reader wrote in to us, she claimed that she had paid a 6% attorney fee to complete a Form 4 (a simple form used to document money coming into Colombia). That percentage could add up to a US$12,000 fee just for filling out a form.
Also, she did not tell us who the attorney was (and still hasn't). So I don't know that Juan Darío Gutiérrez had anything to do with her complaint.
After further investigation, she backtracked and said it was actually 0.6%, rather than 6%.
I wouldn't have called 0.6% "criminal." It's a high price for this task, in my opinion, but not criminal.
I don't think a percentage-based fee is appropriate for this task…
But there's more to legal work than the fees. The attorney I worked with on my most recent property transaction proved unresponsive and unreliable.
In fact, to put it into perspective, this attorney cost the seller and me thousands of dollars… much worse than the fee we're discussing. I'd have gladly paid a higher fee for increased expertise and responsiveness.
Juan Darío Gutiérrez has proven reliable, responsive, and honest.
If we find someone else who meets the same criteria, we'll pass their name along so that people have a choice. In fact, I'd be glad to hear from any expats who have had a positive experience with an English-speaking attorney in Medellín.
Have a question? You can write to Lee here.