Plus: "I Can Buy Property For Half The Price In The USA!"
Feb. 3, 2015
Santiago, Chile
Us$1=626 Chilean pesos
Dear Overseas Property Alert Reader,
The quality of life you'll find in Chile is one of the best in the Americas. And while Chile is not the cheapest place to live, the value—what you spend compared to the lifestyle offered—is unsurpassed. It's also friendly to businesses, startups, and entrepreneurs, offering easy residency and citizenship.
Since my first scouting trip here in 2002, Chile's been at the top of my list for a lot of reasons. And while I'd like to pretend that I'm here on assignment, I actually came because there's no place I'd rather be during the South American summer… which says even more for this country.
But the big news right now is the exchange rate. At today's rate of 626 pesos per U.S. dollar, everything in Chile is an astonishing bargain, from an apartment, to a week at the beach, to a bottle of wine or nice dinner out.
As I write this today, we dollar-holders have 36% more buying power than we did in 2011 and 32% more than we had in 2013.
So if you've ever considered Chile for a second-home destination or a retirement venue, now is the time to get serious.
Here Are A Few Items That Drew Me To Chile… Again
Chile has a lot going for it as an overseas destination for expats and second-home buyers. In a nutshell, here's what got my attention:
It's a First World destination with a high standard of living
Chile has an honest culture with low corruption—on par with the United States
The cost of living here is reasonable, especially at today's exchange rates
Chile offers easy residency and an easy path to citizenship
The country offers an amazing geographic diversity, with mountains, beaches, deserts, and everything in between.
Chile Makes A Convincing Case For Itself… And The Lifestyle In Santiago Makes A Good Case For The Capital City
The Santiago metro area is the heart of Chile and home to more than 7 million people—more than 40% of Chile's population of 17.6 million. Since the 1990s, Santiago has evolved into a modern, leading-edge city with a growing theater and restaurant scene, extensive upscale residential development, and dozens of modern shopping centers bringing goods from around the world. It also hosts a large number of international corporations.
Santiago enjoys a fast, modern highway system and South America's most extensive subway system. The water is drinkable, the Internet is fast and reliable, and mobile phone service is dependable and reasonable.
The Santiago metro area consists of 37 administrative sectors, calledcomunas, which are further divided into both official and unofficial neighborhoods.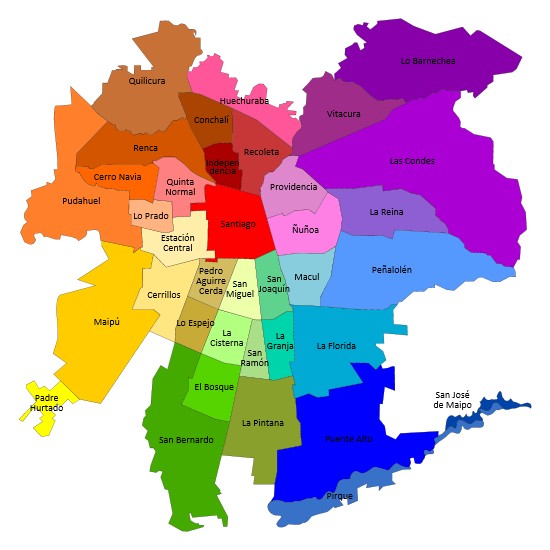 Santiago is divided into 37 sectors called comunas
Santiago has four moderate seasons, and the summertime weather is awesome, with warm sunny days and cool nights. I can't think of a better way to ride out the North American winter.
The Comuna Most Popular With Expats Is Providencia… For Good Reason
The fact that Providencia is most popular with expats doesn't tell you much, given the size and diversity of this sector. There's something here for almost anyone.
From my apartment in Providencia, I can walk to everything I need. The supermarket is just two blocks away. The metro station is four blocks away, giving me access to the entire Santiago metro area in minutes. Modern buses run past the end of my block, and taxis are inexpensive and plentiful… the flag drops at less than half a buck at today's exchange rates.
A dozen fine dining options lie within a 10-minute walk, interspersed with small cafes, galleries, and boutiques. We've got a brand-new, five-story mall nearby (in Latin America's tallest building) as well as hundreds of small, mom-and-pop groceries and shops.
The western part of Providencia has the "downtown" look and feel of adjacent Santiago Centro. As you go east, you'll find an increasingly more modern, treed, upscale environment until you reach the border with the comunas of Las Condes and Vitacura, the highest of Santiago's high-rent districts.
What impressed me from the outset were the shaded, tree-lined streets and the number of elegant mansions in Providencia. Most of them are used as offices or schools now, but the setting remains impressive.
My two personal-favorite areas were Barrio Italia, in the southwest part of Providencia, and the northeastern corner, occupied by Nueva Providencia and Pequeña Providencia.
Barrio Italia—which seem to have no history or relationship with Italy or Italians—was originally a center for furniture makers, and you'll find a lot of handcrafted furniture shops there today, with furniture makers and restorers often working on the sidewalks. It also holds a surprising number of antique shops, sidewalk cafes, restaurants, and coffee and pastry shops, along with a handful of clothing boutiques and galleries, many of which are hidden away in the interior courtyards common to the houses here.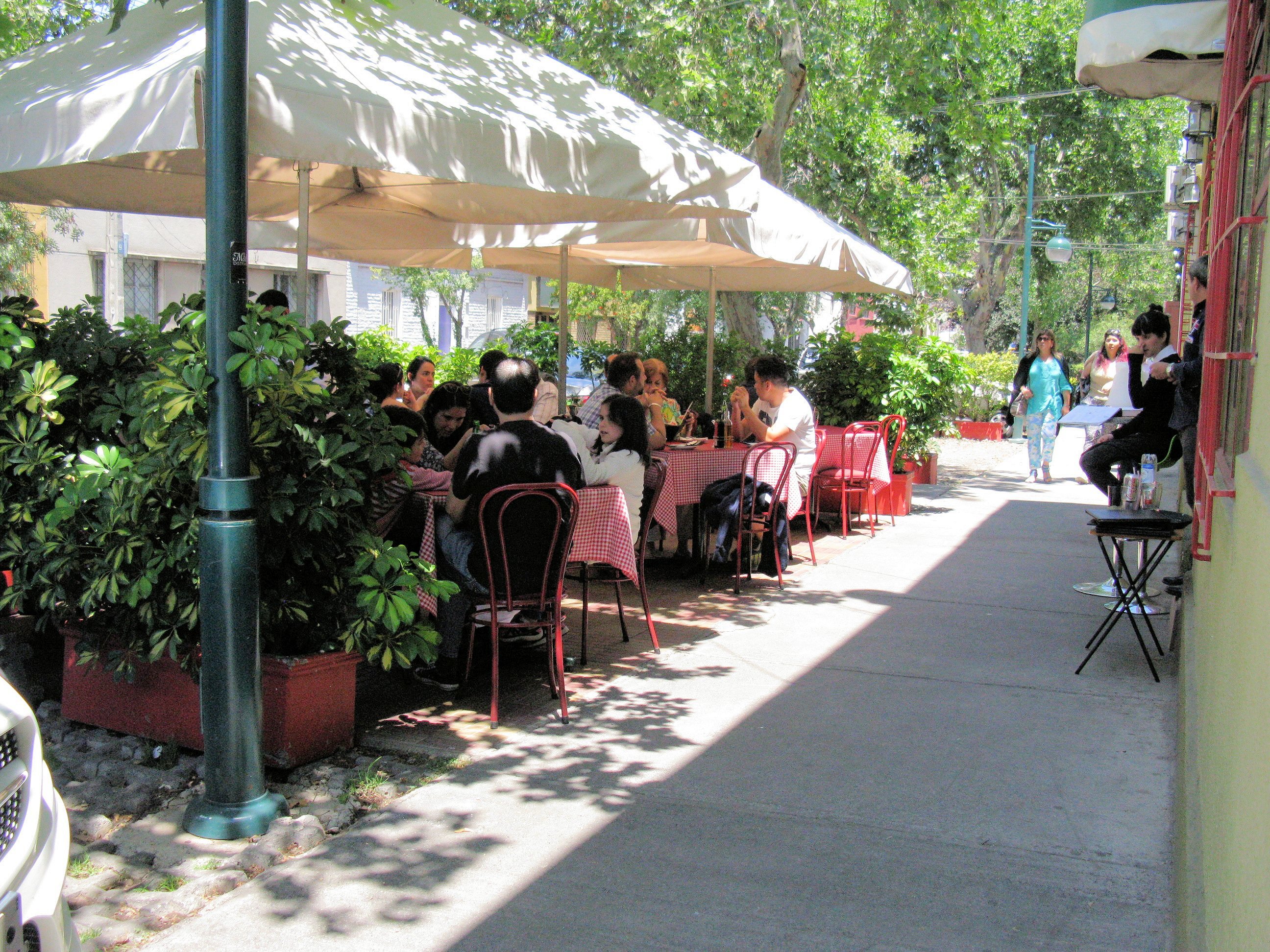 Barrio Italia is known for shaded streets, sidewalk cafes, fine dining, and courtyard homes
In many ways, Barrio Italia feels like a quiet residential neighborhood from 50 years ago.
Nueva Providencia, on the other hand, feels like what's happening today. As far as I can see, it hosts Providencia's highest number of clubs, cafes, and restaurants. But it's also home to one of Santiago's most important business and financial districts as well as one of its best commercial centers. Whatever you need—from supermarkets, to tools, to a new suit—is within easy walking distance, especially when you consider the adjacent Pequeña Providencia, just to the west, near the Manuel Montt metro stop.
Nueva Providencia has everything from tiny sidewalk cafes
to Latin America's tallest building
I personally prefer the character of Barrio Italia. But, to be honest, most expats prefer the convenience, energy, and action of Nueva Providencia and Pequeña Providencia. All are completely walkable (the only time I've used a car here was to travel to Viña del Mar and Valparaíso), but you've got a lot more at your fingertips in Nueva Providencia.
I shouldn't fail to mention the air pollution in Santiago. As you can see from the photos, it's not usually a problem now, in the summertime. But I've been here in the winter, and pollution can be a problem then, especially on a misty day with no breeze.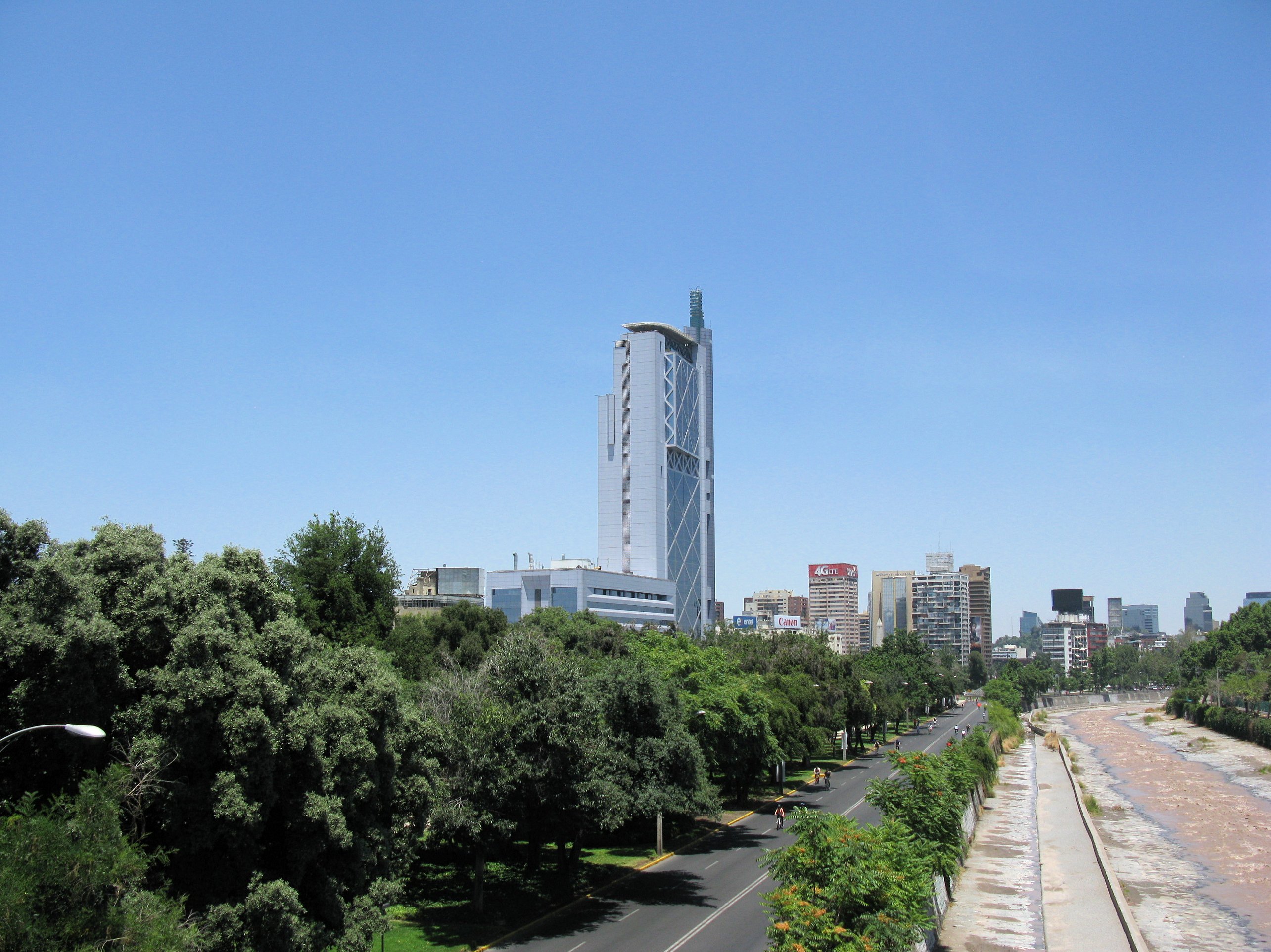 Looking west, Providencia's trees provide a lush foreground for Santiago's Torre Telefónica and its downtown
Properties In Providencia Are A Good Value
At today's exchange rates, properties are a good deal for the quality of life and opportunities that you'll find in these areas.
Here's how Providencia's Barrio Italia and Nueva Providencia stack up against other popular neighborhoods in Santiago, based on cost per square meter. The costs are based on a survey of 60 properties listed for sale on Feb. 1, 2015.
| | |
| --- | --- |
| | In Barrio Italia, there's a spacious casona (grand house) located in the center of the gallery district, with 216 square meters (2,325 square feet) of floor space, including five bedrooms and two bathrooms. Currently in use as a design studio, it could be used as a gallery, B&B, studio, an academy, or, of course, as a large, five-bedroom residence. The asking price is US$301,000 (185 million pesos). |
| | |
| --- | --- |
| | Also in Barrio Italia, we found a nearly new apartment in a location convenient to shopping and public transportation. The 90-square-meter (968-square-foot) apartment has two bedrooms, two bathrooms, and a spacious L-shaped balcony. The apartment is listed at US$183,706 (115 million pesos). |
| | |
| --- | --- |
| | Up in Nueva Providencia (just a two-minute walk from the Pedro de Valdivia metro station), there's a three-bedroom, two-bathroom apartment of 83 square meters (893 square feet), listed at US$127,600 (80 million pesos). This location is completely surrounded by shopping and dining venues. |
| | |
| --- | --- |
| | In the same neighborhood, there's a somewhat-larger 95-square-meter (1,020-square-foot) apartment, also with three bedrooms and two baths, for the asking price of US$150,000 (94 million pesos). |
| | |
| --- | --- |
| | In Pequeña Providencia, overlooking the shaded riverside park along the Costanera Norte, we found an apartment close to the Salvador metro station. With 83 square meters (895 square feet) of living area, it has three bedrooms and two bathrooms. The building was designed by a Chilean architect noted for innovation in 1967. The asking price is US$131,000 (82 million pesos). |
Buying To Rent In Providencia
The market for rentals in Providencia is pretty good. In fact, I believe Providencia produces the best returns in the city, with gross returns exceeding 10% for an apartment of the right size, in the right area.
I'll have a detailed report on renting here next week, along with projected returns in Santiago's most popular neighborhoods.
Obviously, in a city the size of Santiago, there are countless options for living, buying, and investing. I've touched on a couple of good picks here, and I'll be covering a number of others in future issues of Overseas Property Alert.
Lee Harrison
Editor, Overseas Property Alert
Editor's Note: Want to know more about Chile or other property markets around South America? Come speak with me face to face at the Global Property Summit this March in Panama City. You can learn more about the Global Property Summit here.
***
Letters To The Editor
Lee,
With respect to your recent report on Colombia, would you kindly furnish more details about the two-bed/two-bath condo in Parque Lleras, Medellin, and the contact info for the selling agent?
We are familiar with the area and planning another visit in the near future to further research property acquisition.
As always, thank you for your very comprehensive and detailed reports which we look forward to receiving weekly.
Janat
Sure no problem. The listing agent is First American. And as an aside, this listing is right around the corner from my own apartment, which rents almost 100% of the time.
***
Lee,
I read your article and I don't understand the price per square foot. It's twice the cost as in the USA. I purchased a new home in 2012, with all the amenities plus a two-car attached garage, on a lot of almost 2 acres, for half the price of what you say is a great price in Central America.
I'm very interested in buying a second home in Central America but I would not pay more than it costs where I live. Please explain the high costs.
Don
This question comes up often, but it's still worth addressing from time to time.
The Central American properties I mentioned recently were in Panama, on the water, with an average sale price of US$2,560 per square meter (that's US$238 per square foot). They were in relatively new luxury towers. Most had a frontline view of the Pacific Ocean, including the ships passing into the Panama Canal. One property in the study had an amazing ocean view from the 60th floor.
I don't know where Don's property is in the United States, but I'll guarantee you it's not looking at an unobstructed view of the Pacific Ocean. A lot of places in the expansive United States have cheap real estate—I recently saw an apartment in Detroit for US$5,000—but you've got to compare apples-to-apples. And, in fact, you can get far-cheaper properties in Panama, too… but not in a luxury area.
Also, remember that "cheap" is not always the only objective for buying abroad. Many people buy for the lifestyle, the adventure of living abroad, or the investment potential, and, for these people, the primary criteria often is value for their dollar and not initial cost.
Have a question? You can write to Lee here.