Plus: "Let's Hear More On Some US$50K Properties!"
Jan. 6, 2015
Valparaíso, Chile
US$1=614 Chilean pesos
Dear Overseas Property Alert Reader,
I'm writing again this week from the coast of Chile. The early summer, Pacific-moderated temperatures are just about perfect, as they were two weeks ago when I wrote from nearby Viña del Mar.
But Valparaíso, while just a few minutes away, is nothing like Viña del Mar. This is a full-scale, working city and one of Chile's largest seaports. A city where people actually live and work all year.
Two aspects of Valparaíso (pronounced val-para-EE-so) will remind you of San Francisco, California.
One is the hills, which can be dramatically steep depending on where you are. But remember (as you envision climbing them) that hills equate to views, which is good for the property-buyer, especially when you're overlooking the ocean (in this case, a seaport).
Also reminiscent of San Francisco are the cable cars (actually funicular railways), locally called ascensores, which translates to "elevators" in English. Of the 26 functioning ascensores, eight are currently in service. At first I thought that only the laziest of couch potatoes would use these things, but it only took me about a half-day of climbing the hills to appreciate the value of the ascensores. For those buying property in Valparaíso, the major draws are the ambiance, the walkability, the cultural and restaurant scene, and the views. I like the views here better than in Viña del Mar because they're more interesting. You can watch the workings of an active seaport instead of just watching the relatively featureless ocean.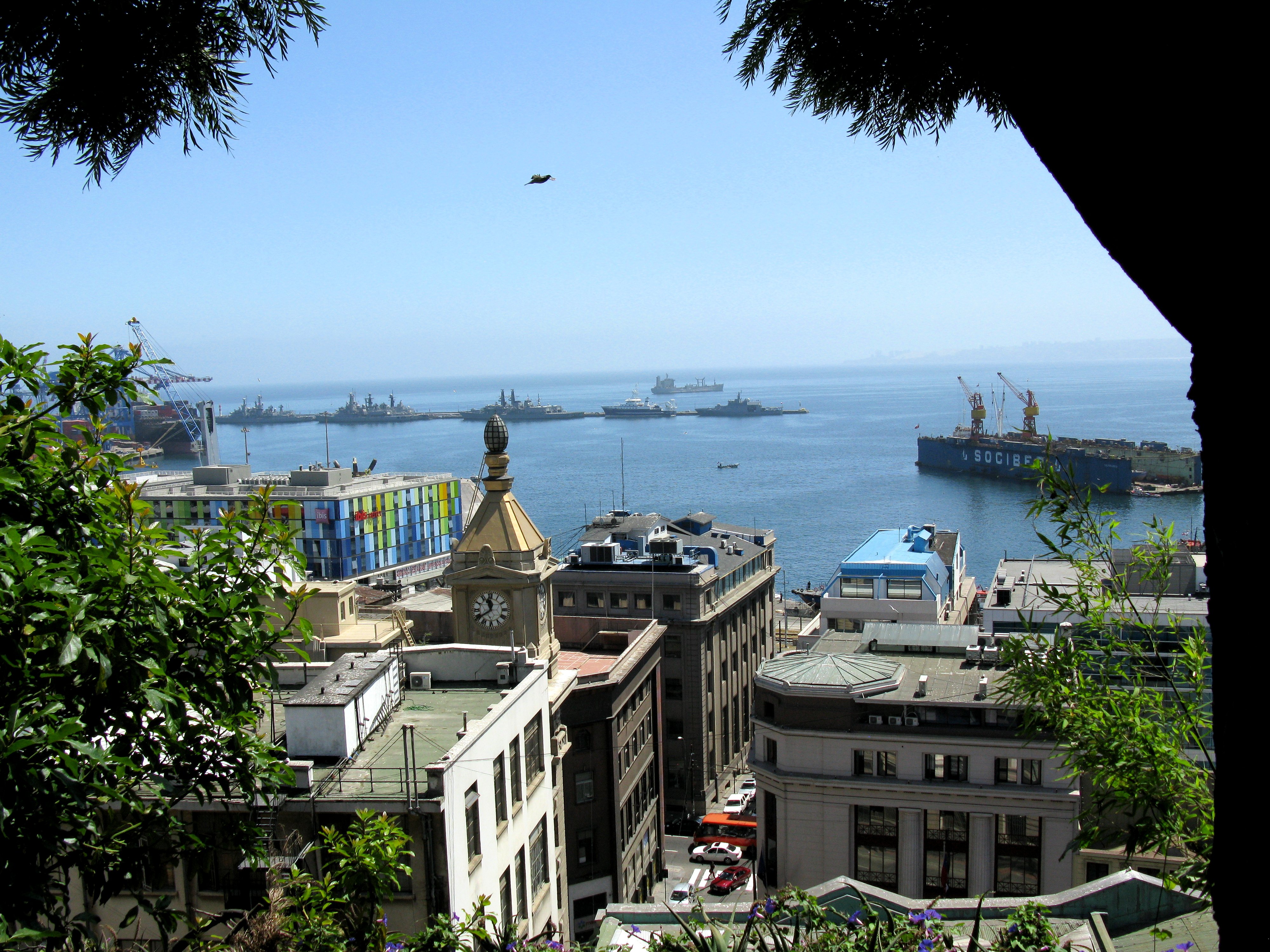 The views from the hills of Valparaíso are unbeatable
Valpo is also attractive to entrepreneurs who want to cater to the visitors here.
If you like being downtown and in the center of all the action, or listening to tango music coming through the open doors of a nearby bar, or stopping to enjoy a cappuccino at a local sidewalk cafe, then Valparaíso should get your attention as it did mine.
Valparaíso Has Had Its Ups And Downs, But It's Been On An Upward Swing For 15 Years
With a population of around 285,000, Valparaíso lies about 70 miles northwest of Santiago. It was one of the world's most important seaports in the latter 1800s, serving as the major stopover for ships passing around Cape Horn as they crossed between the Atlantic and Pacific. It had Latin America's first stock exchange, Chile's first public library, and still has the world's oldest Spanish-language newspaper.
But the opening of the Panama Canal in 1914 spelled the beginning of the end for Valpo's boom years. It entered a period of decline in the latter part of the 20th century.
Since the 1990s, however, the city has staged a major comeback as artists and entrepreneurs set up shop in the city's historic district. In 2003, Valparaíso's historic center was named a UNESCO World Heritage Site.
Today Valpo is a popular tourist draw in addition to being Chile's third-largest seaport. In fact, I noticed a cruise ship in the harbor when we got here the other day, and, predictably, saw guided groups of American tourists all over.
It's The Perfect City For Exploring On Foot
Many neighborhoods in Valparaíso are served by narrow cobblestone alleys rather than streets. And even when you have a street, it's often barely wide enough for one car in the historic district.
And forget using a map to find your way around. Last time I brought a car, I ended up hiring a "pilot" taxi, which I followed to the hotel through the maze of one-way, cobblestone streets.
This time we're exploring on foot…without worrying about one-way streets and too small alleys.
But Valpo's a city worth exploring. As you travel the historic quarter's streets, alleys, and pathways, you'll discover coffee shops, all types of restaurants and cafes, art galleries, antique dealers, and hidden-away wine bars.
Valparaíso is a city made for exploration
When you want to re-enter the big-city commercial world, just take the elevator or hike the stairs down to the flat part of the city, where you'll find a commercial district with all the banks, shops, and businesses you'll need. It's a walkable town, and you can get to most everything on foot.
Valparaíso has a good public transit system with a metro train that even includes nearby Viña del Mar (a good way to visit Viña's seafood restaurants and beaches).
One thing you won't have here, though, is a good swimming beach. For that, you'll need to either head a bit south or go north to Viña del Mar…the latter being much easier, thanks to the metro train.
Valparaíso May Feel Like San Francisco, But The Property Prices Are Far Lower
When you consider the views and the city character, you'll appreciate the value of the properties here.
| | |
| --- | --- |
| | The first apartment is bright and sunny and in the center of Valpo's commercial district. It's an eighth-floor unit, with a (distant) view of the harbor as well as a view of a sector of attractive historic buildings. With two bedrooms, one bath, and complete service quarters, the floor space is 76 m2 (818 square feet). The asking price is US$92,000 (56.5 million pesos). |
| | |
| --- | --- |
| | We saw one furnished apartment that had an impressive panoramic view of the harbor, a sought-after attribute in Valparaíso. It has two bedrooms, two baths, and 80 m2 (860 square feet) of living space. The project also had a shared pool and laundry facility. The asking price is US$101,000 at today's exchange rates (62 million pesos). |
| | |
| --- | --- |
| | One of my favorites was an older home that has been completely restored into four separate apartments. I like it because it has the appearance and character of older, traditional architecture—with arched portal doorways, naturally finished wood-trimmed windows, and scrolled ironwork—but is finished to a modern standard inside. The 109 m2 (1,175 square feet) apartment has three bedrooms, top-end finishings with traditional materials, and central hot-water heat, a rarity in this part of the world. The views of Valparaíso are excellent, and the asking price is US$160,000 at today's exchange rates (98.5 million pesos). |
| | |
| --- | --- |
| | Finally, we saw a custom apartment that was impressive. The views were spectacular, of both Valparaíso and Viña del Mar. The 90 m2 (970 square feet) apartment was bought by the current owner before it was finished, and he designed it to maximize the views from each room. It's even got an American-style kitchen (large and open) with granite counters. Everything was first-rate with this one, and the asking price is US$240,700 (147.8 million pesos). |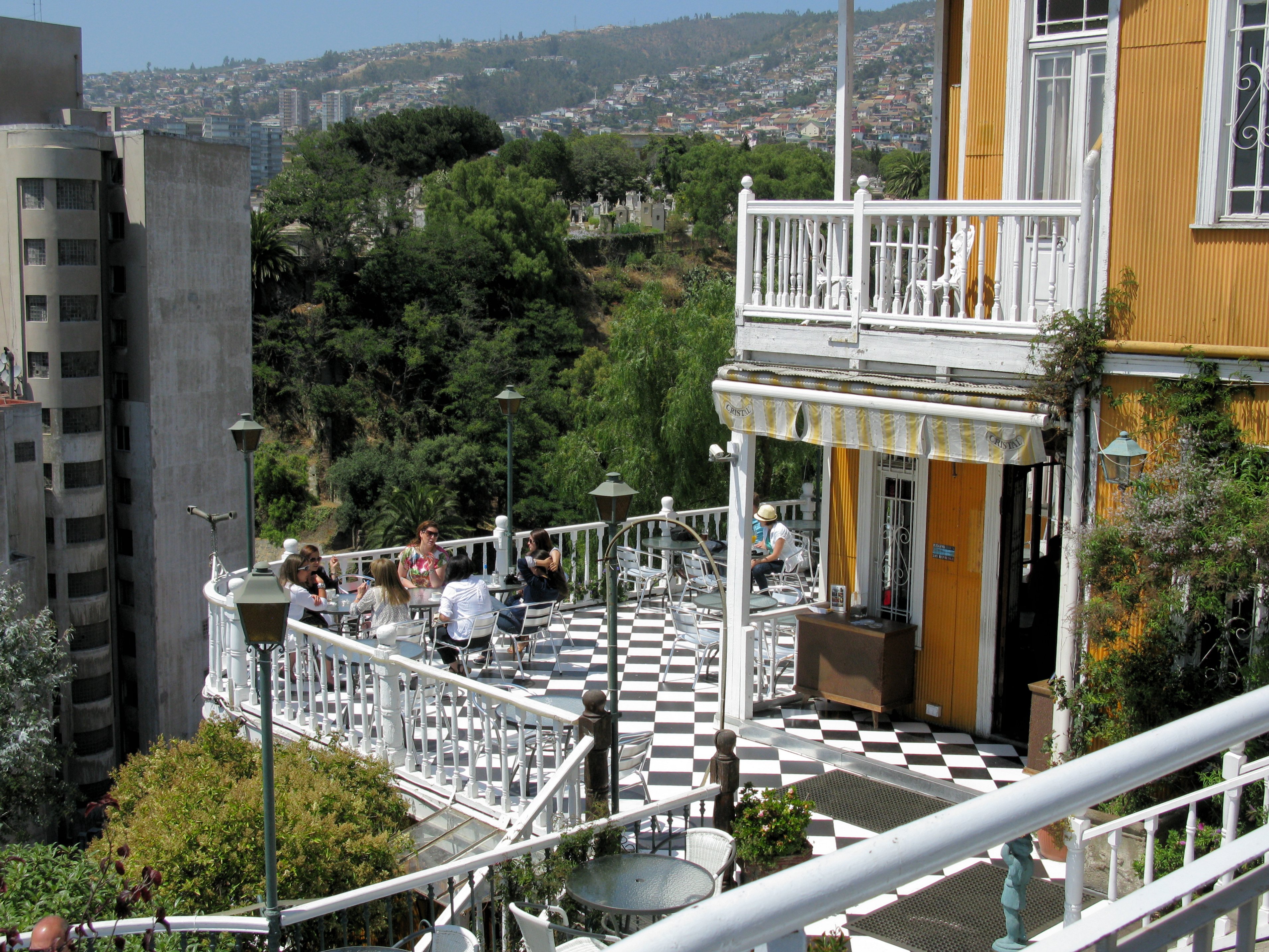 Another hidden-away cafe with a view
Is Valparaíso For You?
The weather in Valparaíso is pleasant and moderate. The summertime highs only average 72˚F (22˚C), thanks to the cool Pacific waters. And the ocean also moderates the wintertime temperatures, which average almost 60˚F (15˚C) in the coldest months of June and July.
If you like the coast but don't need the beach right outside, or if you prefer the view of a bustling seaport rather than the waves, then Valpo may be for you. It offers some of the best views I've seen for the money, in one of the cities with the most character.
Lee Harrison
Editor, Overseas Property Alert
***
Letters To The Editor
Hello Lee,
I love the newsletter, but I don't have US$199K sitting around to take advantage of these deals. At the most I will have around US$50K to US$60K. With the current economy and past financial missteps, I am lucky to have even that much.
How about some deals in that price range or lower?
No, I do not want any overseas rental property; I would appreciate some opportunities that could be a retirement home.
Take care and thank you,
James
Take it from me: No one misses those bargain properties more than I do. They're a writer's dream-come-true. Back around 2001, I found a large, two-bedroom apartment in Cuenca, Ecuador—with a view of the river—for US$25,000. I wrote about that place a number of times, and I was sorry that I couldn't mention it anymore when it finally sold. Same for the $50K beachfront houses in Ecuador from 2003 and the $60K beachfront houses in Brazil from 2009.
Unfortunately the world has moved on, and those $50K bargains are almost impossible to find in nice areas. You can find them in rural or fringe areas in Third World countries, but most expats don't seek them out because rural settings lack things like high-speed Internet and nice amenities.
For the overseas investor, there are lots of $50K opportunities in areas like agriculture investments or developer funding. Some pay handsomely, but they don't get you a retirement home.
For the best bargains, I'd suggest focusing on Cali, Colombia; Santa Cruz, Bolivia; Arequipa, Peru; Loja, Ecuador; or in the areas surrounding those cities. They're about the cheapest markets I know of nowadays.
***
Lee,
I'm going down to Equador in February with my partner and kid to look around and learn about the possibilities of living there. I'd like to rent out a two-bedroom condo in Quito for a month, and I'd also like to get a place for a month in Cuenca.
Can you recommend any sites I could go to in order to search for short term rentals for this purpose? Thank you for your good work.
Mo
First off, remember, they double the cost of your visa if you spell Ecuador with a "q".
In Quito, I don't know anyone personally who manages rentals. Most recently, I've heard of expats who've had luck with Craigslist, VRBO, and TripAdvisor. Also, you can try Casa Musa, who manages short-term rentals in Quito.
In Cuenca, I'd recommend Graciela Quinde, whom I know quite well. She has the city's largest furnished rental business (she also speaks English). Check out her site at www.RentalsCuenca.com.
Have a question? You can write to Lee here.