Your Top 3 Beachfront Buys
Whether or not you personally enjoy spending time on the sand, one thing holds true…
Beachfront is one of the most sought-after types of real estate in the world.
From an investment point of view, we can boil this down to two main reasons:
Beachfront property tends to hold its value over time. Buying at the right time in the right market, you can position yourself for significant appreciation.
Major cash flow advantage. The United Nations estimates that 50% of all international travelers head to the coast. And, we know that many of these pay top dollar to be within steps of the water…
In reality, it's not so simple. Not all markets present incredible value. Not all markets offer the opportunity to earn double-digit returns on your rental.
Fortunately, here at LIOS, we know of a dozen or so markets where you can do both.
And today, with the help of guest contributor Lee Harrison, we're going to boil it down to the top three places to shop for a beachfront bargain.
Read on for Lee's best recommendations…
Lynn Mulvihill
Editor, Overseas Property Alert
‪Getting Five Properties For The Price Of One
By Lee Harrison
I just reviewed a listing for a pleasant, two-bedroom cottage in downtown Sacramento, California. It was reasonably priced for this market at US$500,000… which at 864 square feet comes out to US$579 per square foot, or as we normally measure it internationally, US$6,200 per square meter.
As it happens, I also just completed our annual property survey, where I take a snapshot of what properties cost in various markets of interest around the world. Here's some of what I learned:
I can get a beautiful Spanish colonial home in Granada, Nicaragua, for an average of just US$704 per square meter.
A beach condo in Mazatlán, Mexico, goes for an average of US$1,793 per square meter.
A beach home in North Cyprus averages US$1,297 per square meter.
In the beautiful highland city of Arequipa, Peru, a home will cost about US$1,200 per square meter.
And a home that's near the historic center in colonial Cuenca, Ecuador, will set you back US$1,115 per square meter.
‪In fact, I can buy one property each in all five of these cities and still not be up to the cost of that little cottage in Sacramento. And that's the value of performing this annual survey for the past 10 years. We get consistent data among the markets… we uncover major market movements… and calibrate ourselves with respect to the cost of properties outside the United States.
It's a valuable exercise that I look forward to performing each year. And this year held its share of unexpected results, especially for seaside properties.
For survey purposes, all beach-oriented properties had at least an ocean view. I got a few surprises this year with beach-oriented properties… the first of which was right here in Mexico.
Here are the top three beachfront buys…
1. Mazatlán, Mexico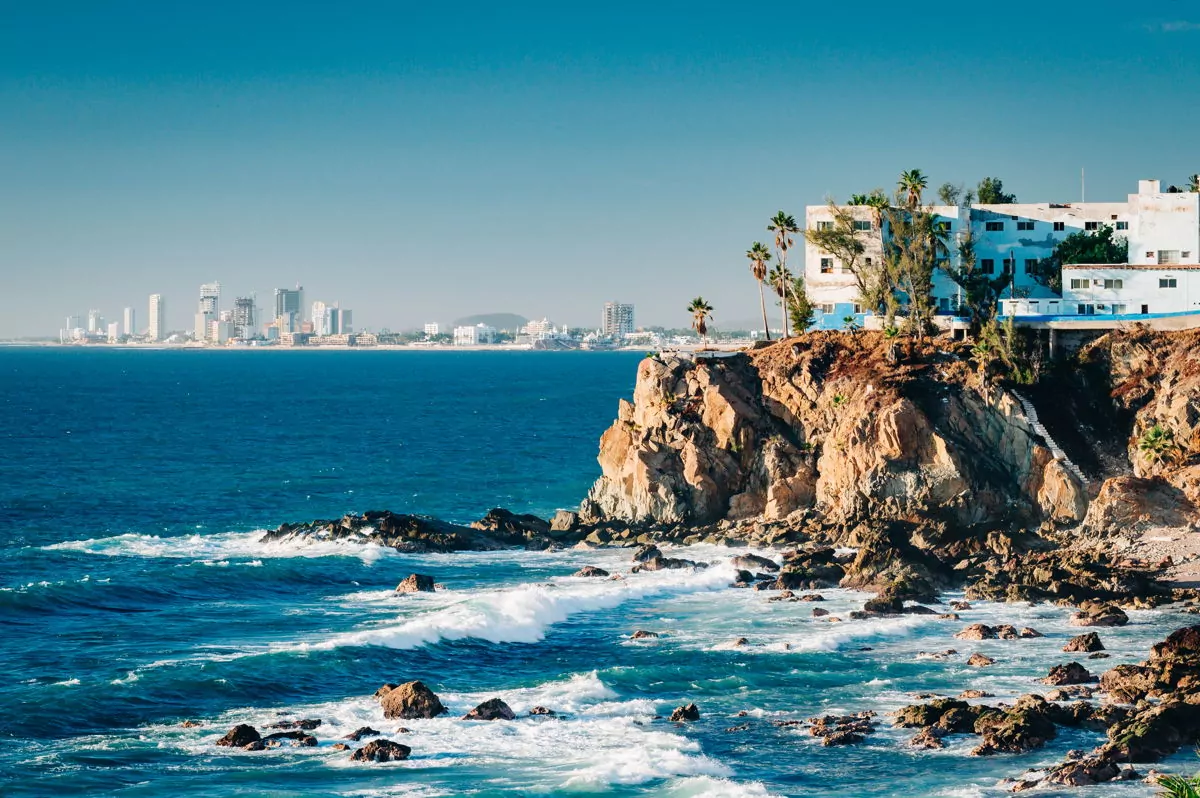 Cost per square meter: US$1,793
Price change in 2020: Steady
Property trades in: USD or MXN
When looking at Mexico, Mazatlán stood out as the least-expensive resort for beachfront property, when compared to the gold standards of Puerto Vallarta and Playa del Carmen.
Here's What The Survey Showed:
In Mazatlán, my sample included properties that were either on the sand or front line on the beachfront road, and the price came in at US$1,793 per meter.
In Puerto Vallarta, lack of inventory required that I use properties that were well back from the beach… yet they were still almost twice the price, at over US$3,400 per meter.
In Playa del Carmen, I had to use properties even farther back from the beach, yet they were more than twice Mazatlán's price at US$3,850 per meter.
Mazatlán is increasingly popular with expats, and in fact, we have eight fellow readers in town this month looking at properties. Many people come for the long, sandy beaches, lined by one of the longest boardwalks and bike lanes in the hemisphere. But surprisingly, the newly refurbished historic center is actually more popular with full-time expats than the beach properties.
‪It's easy for me to monitor the pulse of Mazatlán because I have a home here. And to be honest, at the beginning of the pandemic, I was looking forward to some bargains… confident that I could grab a distress sale on the beach.
But I was wrong. As the pandemic evolved, it actually caused a spike in sales. As of now, prices are still low by Mexican standards. But I can tell you first-hand that existing inventories are disappearing rapidly, as developers scramble to put up new projects along the water.
Here Are A Sample Of What's On The Market Today:
In the Cerritos area—known for its quiet, uncrowded beaches—there's a two-bedroom, two-bath condo for sale in an older project that's right on the sand. It's got 91 meters of living space. Amenities include a pool, hot tub, restaurant, cocktail bar, tennis court, gym, and rooftop owners club. The asking price is US$264,900.
My favorite seafront property for sale right now is in the Horizon Sky building, which sits on Mazatlán's best and longest beach. The apartment has an unobstructed ocean and boardwalk view. The unit has two bedrooms and two baths, with 152 meters of living space. The building is modern and well-maintained, and offers a nice pool and a good gym. The asking price is US$270,000, and the owner is offering incentives toward closing costs.
Mazatlán's an easy choice if you're shopping on price alone, say, for your own home on the beach or in the historic center. But if you're managing a rental, I think you could do slightly better in Puerto Vallarta, despite the higher prices. In my experience, a good property in Mazatlán could net you over 7%, while I've found similar properties in Puerto Vallarta that could net over 9%. And in Playa del Carmen, proximity to the ocean is not the only criteria for a good rental. La Quinta Avenida—the town's main shopping, restaurant, and nightlife district—is also a big draw. But simply for an inexpensive beach home in Mexico, Mazatlán takes the prize.
2. Santa Marta, Colombia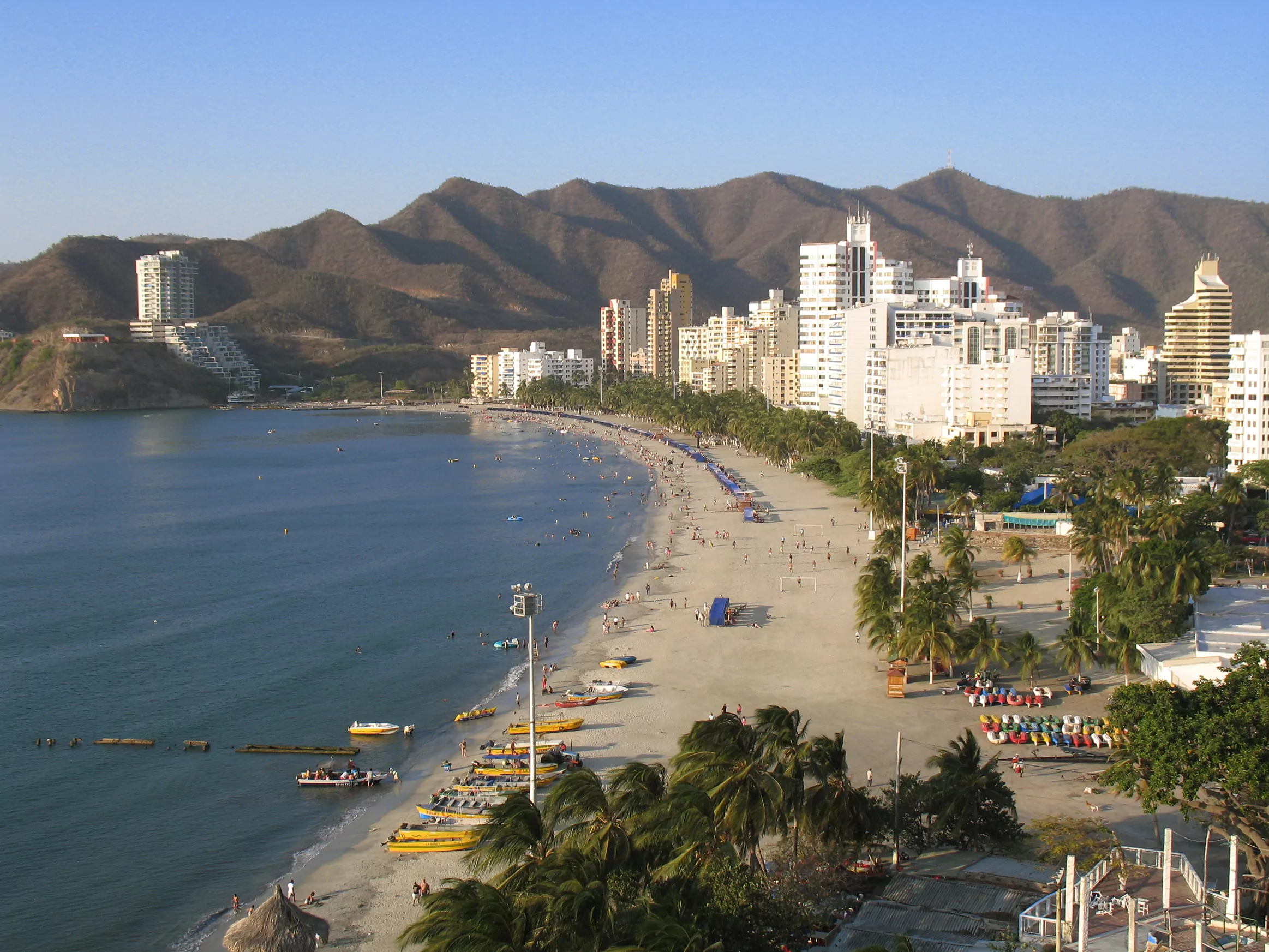 Cost per square meter: US$1,321
Price change in 2020: Increased 23%
Property trades in: COP
When I first visited Santa Marta, it was rough around the edges… and the run-down historic center was a place to be avoided. Today things are different. The downtown now has an attractive seafront park, plenty of small cafés and bars, as well as coffee shops, boutique hotels, excellent seafood restaurants, and a cruise ship port. The 256-slip marina draws boaters from around the hemisphere. And in fact, the whole metro area has benefited from a renewed interest in Santa Marta. But of the half-dozen districts in the greater Santa Marta area, I still like El Rodadero best because it's walkable, inexpensive, has the best beach, and is lots of fun. El Rodadero lies about 10 minutes south of the actual city of Santa Marta. It became the main draw in the area in the 80s, when people sought to avoid the once-seedy historic center. El Rodadero's beaches are in fact far longer, wider, and better-kept than Santa Marta's, creating a giant crescent-shaped shoreline that's several miles long. El Rodadero offers a small-town, family feel that you won't find in the city itself.
Property prices in El Rodadero increased again in 2020, this time by 23% in dollar terms. And the change was not due to a change in the currency—which only changed by 2% over the year—but rather to new buildings entering the market along with a general rise in prices.
Here's a sample of what you can find in Santa Marta today.
I found a seafront condo for sale in a fairly new building in El Rodadero, with an exit right to the beach. It's got two bedrooms (each with its own bath) and a total of three baths, with 106 meters of living space. The asking price is US$167,000 at today's exchange rates (615 million pesos).
Nearby, a sea view apartment is a bit smaller at 84 square meters (900 square feet), but it's new and modern, with broad views. With two bedrooms, three baths and a small study, the asking price is US$144,000 at today's exchange rate (530 million pesos).
In Santa Marta, you'll not only have a decent potential rental income in Colombian pesos, but I believe there's a significant upside potential from the now-depressed exchange rate. Best of all, you'll also enjoy a low cost of living and a festive, friendly atmosphere when you're in town.
3. Northern Cyprus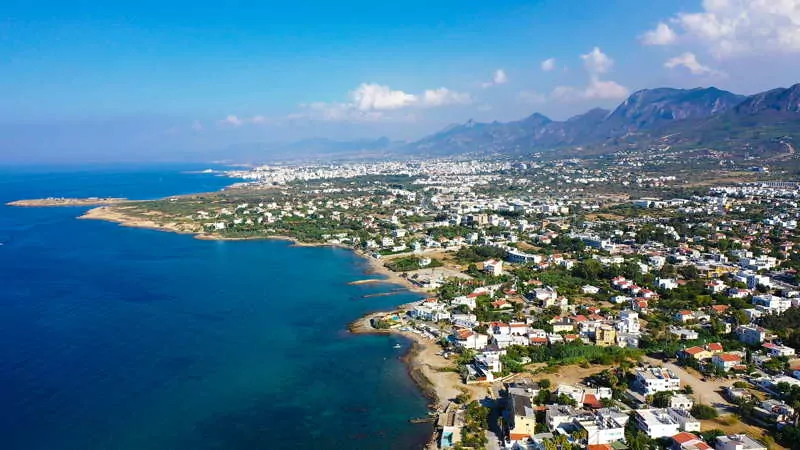 Cost per square meter: US$1,297
Price change in 2020: Increased
Property trades in: GBP
Northern Cyprus, located in the Mediterranean Sea between Europe and Turkey, is not at the top of the average North American's list. In fact, I had never even considered it until this past year. (It came to my attention because of a popular deal that Lief Simon negotiated with a local developer.) But this former British colony has a lot to offer. It's a safe, low-crime environment, with a low cost of living and inexpensive properties. The prices for ocean-view properties in this area are amazing, especially by Mediterranean standards.
The apartments here are not as tiny as in some parts of Europe. But one thing I noticed was that they're not as generous with the number of bathrooms as they are in the Americas. Two-bedroom, one-bath condos are quite common, while two-bed, two-bath units are unusual.
Another noteworthy observation is that this market is mixed, almost equally, between condos and houses, with most houses being in new developments. So if you like the area and the culture, but would prefer a house, you've got a good inventory to choose from.
The best area for buying and investing is Iskele Long Beach (pronounced ee-skeh-leh), on the eastern coast… said to be the nicest and longest stretch of beach in Northern Cyprus. The area has a brisk tourism trade, and a good tourism infrastructure, with clubs, casinos, and luxury hotels. It seems to be best known for its fine seafood restaurants, long beaches, and crystal-clear water.
Here Are A Couple Examples Of What's On The Market Today:
There's an ocean view property for sale (back from the beach) that I think is a good value. It's not the cheapest… but it's a brand-new building, and it's unlikely that anything will be built in front of it. With two bedrooms and one bath, the living space is 87 meters (936 square feet). The asking price at today's exchange rate is US$87,900 (65,900 pounds sterling).
If you're looking for something on the beach, Lief negotiated a special offer for one-bed apartments in a private beach resort, selling for US$90k. This is an amazing deal considering your easy access to the beach, entertainment, dining, and a golf club. You can get more details here.
Price Is Important… But It's Not Everything
If you're looking for a vacation home abroad, then price may well be your most important property factor. The view, the price, cost of living, amenities, and the weather may be all you need to care about.
Investors, however, will need to consider occupancies, rental demographics, liquidity, and a host of other factors—in addition to price—before making a final decision. Either way, it's reassuring to know that there's a world of beach options to pick from… for less than the price of a cottage in Sacramento.