The Latest On Furnished Rentals In Medellín
Last week, I saw a report that's important for anyone who wants to get into Medellín, Colombia's lucrative rental market… or anyone who wants to rent a furnished apartment for living in this popular expat destination.
The study analyzed the costs of 350 furnished rental units on the market in Medellín's most popular sectors. It provides a good source of unbiased data.
So, with this rental data in hand, now is a good time to look at my three favorite areas in the Medellín valley to get a picture of today's rental market.
Let's start with the most popular sector in Medellín.
El Poblado: The Beverly Hills Of Colombia
With lush, shady streets, tumbling mountain streams, and excellent residential options, it's no wonder that El Poblado is Medellín's most popular area for expats, travelers, and tourists.
El Poblado is green, forested, and uncrowded at its higher elevations, getting more "citified" as you approach the valley floor. The lower parts are walkable, with everything close at hand. El Poblado is the most expensive and exclusive area in the city and is the best place to own a rental property.
The centerpiece of El Poblado is the Zona Rosa, with its restaurants, cafés, clubs, discos, and
high-end shops. It's the safest area in Medellín and sees lots of tourism, many entrepreneurs, and a host of business travelers. And while the Zona Rosa is very popular with expats, the majority of the weekend nighttime visitors are young, well-off Colombians.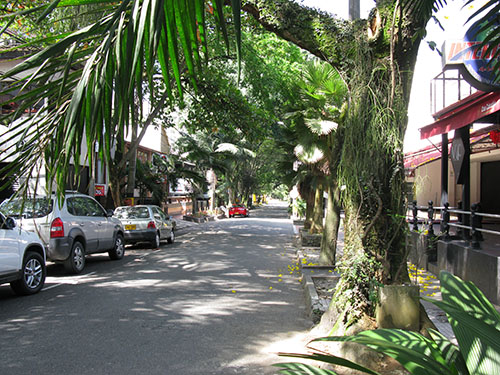 An abundance of cafés and restaurants hidden below the trees in El Poblado
Parque Lleras is a tiny, treed park at the center of Zona Rosa. It's the liveliest spot in Medellín's liveliest sector. Parque Lleras itself is located at Calle 9 and Carrera (Cra) 40. Most often, the term "Parque Lleras" refers to the whole neighborhood around the park itself, with its hundreds of cafés, bistros, restaurants, and clubs.
El Poblado is also home to the Golden Mile, known as the Milla de Oro. This area is El Poblado's financial, commercial, and business center, with giant new shopping malls, banks, office centers, and hotels, along with its own share of restaurants, cafés, and clubs. It's a prime residential area for those who don't own a car… and for those who want to rent a property.
As you can imagine, El Poblado commands the highest rental rates in the city. Here are the averages as of April 2017.
| | | | |
| --- | --- | --- | --- |
| Size | Number Surveyed | Average Daily Rate (USD) | Average Monthly Rate (USD) |
| 1 Bedroom | 132 | $76 | $1,949 |
| 2 Bedroom | 56 | $108 | $2,183 |
| 3 Bedroom | 38 | $134 | $2,953 |
Average furnished apartment rental cost in El Poblado
To give you an idea of what an apartment would cost in El Poblado, here are a couple of examples.

At just two blocks from Parque Lleras, I found a roomy, two-bedroom apartment with lots of rental potential. This modern, 128-square-meter (1,377-square-foot) unit includes parking spaces for three cars, two bathrooms, a balcony, an American-style kitchen, and loads of windows. The asking price is US$134,300 at today's exchange rate (390 million pesos).
This is a premium location, and at the average rental rate for a two-bedroom, the gross return would be 14.6% with 75% occupancy. But don't get too excited about the gross return number. If I had to guess at the HOA fees, utilities, cable and internet, property taxes, maintenance, and property management fees, you'd probably be down around 8%. The return is still pretty good, though. (I'm assuming a 75% occupancy, a number that's very conservative in a prime location… and very optimistic in an out-of-the-way location.)

There's a three-bedroom, two-and-a-half bathroom apartment for sale near the Golden Mile, with easy walking access to some of the best shopping, banking, and dining in Medellín. The unit has 89 square meters (957 square feet) of living space, with an ample balcony and amazing valley and mountain views from most rooms. The asking price is US$120,600 (350 million pesos).
El Poblado properties are generally the most expensive in Medellín, but the returns are good, and there's a continued high demand for properties in a good location.
Laureles Has Now Come Into Its Own With Expats And Travelers
The neighborhood of Laureles is one of my favorites in the city. It offers lush, tree-lined streets in a sector crisscrossed by a few shady, divided boulevards. Among its streets you'll discover a terrific selection of cafés, restaurants, services, and shops. There are also two attractive wooded parks where you can relax and watch the rest of Medellín go by.
The layout of Laureles is unusual when compared to most of Medellín… or most of Spanish America, for that matter. Instead of the normal street grid of north-south and east-west surface roads, most of Laureles' streets are laid out as two sets of concentric circles and spokes, one centered on Segundo Parque Laureles and the other on the university. To complicate your orientation further, its main thoroughfare (Avenida Nutibara) runs diagonally through Laureles.
And while much of Laureles is a little less expensive than El Poblado, it's not a downscale option; Laureles has the second-highest income level in Medellín after El Poblado.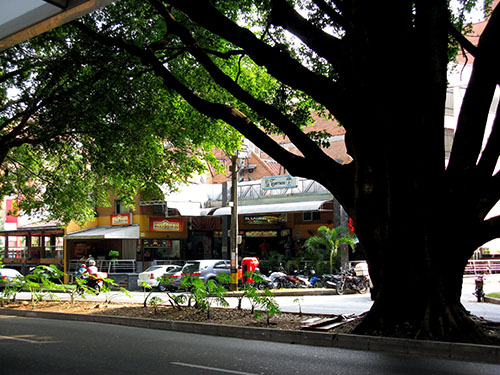 Shady Laureles is Medellín's second most-affluent sector
And I believe that for some expats, Laureles offers a few advantages over El Poblado.
It's relatively level. In El Poblado you're on a mountainside, and east-west travel will give you a good workout. In Laureles you can walk all around the zone without climbing hills.
Laureles does not have El Poblado's business environment. While El Poblado's Golden Mile is a major center for business and finance, Laureles is mostly residential, with businesses that are small-commercial. So while you'll find everything you need to live there, I think it retains a nice "neighborhood" feel.
You won't see as many tourists in Laureles. Virtually everyone who visits Medellín from around the world has El Poblado at the top of their list. If they're in town long enough, they might get over to Laureles… or maybe they won't.
Like much of El Poblado, there's no need for a car in Laureles. It's 100% walkable. In my book, Laureles is the perfect blend of shady, treed residential areas and attractive city amenities.
Here are the average furnished rental rates in Laureles:
| | | | |
| --- | --- | --- | --- |
| Size | Number Surveyed | Average Daily Rate (USD) | Average Monthly Rate (USD) |
| 1 Bedroom | 32 | $36 | $897 |
| 2 Bedroom | 7 | $50 | $1,051 |
| 3 Bedroom | 7 | $74 | $1,374 |
Average furnished apartment rental cost in Laureles
And here are a few property examples to give you an idea of what things are going for:

In a very walkable area of Laureles, I found a third-floor, duplex apartment on the market, with 111 square meters (1,194 square feet) of space arranged on two floors, including three bedrooms, two bathrooms, and a spacious kitchen with cooking island. The building is located in the shady restaurant zone of Laureles with easy walking to cafés and shopping, as well as public transportation. The asking price is US$92,000 (267 million pesos).
If this property rented for the average two-bedroom price, the gross return would be 10.3% at 75% occupancy. Property taxes and utilities would be less than those I mentioned above in the El Poblado example (which came from my own bills).

There's another nice, two-floor apartment available in Laureles, this one occupying the 8th (top) floor of the building. It features beautiful cathedral ceilings over the living area, with skylights on the upper floor. With 120 square meters (1,291 square feet) of living space, including two bedrooms and two bathrooms, the unit has amazing views of the valley and is also in a perfectly walkable neighborhood. The asking price is US$130,900 (380 million pesos).
Laureles sees less of a rental demand than El Poblado, and the returns will not likely be as high. But the quality of life is excellent, and it's an area that's rapidly increasing in popularity.
Envigado Is The Popular New Frontier In The Medellín Valley
The municipality of Envigado is adjacent to El Poblado. Many refer to it as if it were a neighborhood of Medellín, but, in fact, it's a separate municipality within the Medellín metro area.
Envigado also has a character that's quite different from neighboring El Poblado. Instead of the upscale feel of El Poblado, Envigado seems more like a comfortable, well-maintained, and older-fashioned environment. When I walk around its quiet, tree-lined streets, I find it has a distinctive "neighborly" or "community" feel.
The town is built around its attractive, well-kept, and shady town square, overlooked by the impressive Santa Gertrudis Catholic church. On a recent visit, I found a bustling and colorful Saturday market in progress in the brilliant sunshine.
Just a few blocks away, I could look in all directions and see quiet, shady streets lined with one- and two-story homes… with the occasional low-rise apartment building here and there.
So while Envigado indeed has a few neighborhoods of high rises reminiscent of El Poblado, it also offers a generous quantity of these quiet neighborhoods of single-family homes… which are difficult to find in El Poblado.
One of Envigado's most popular areas is Barrio Jardines, a newly developed restaurant enclave. (It's almost 3 miles—or 4.4km—from my place in El Poblado, but it's a pleasant walk on a Sunday, when the avenue is closed to vehicle traffic.)
The first time I saw Envigado's Barrio Jardines, I stood on the corner just a block from the main avenue and just took in the restaurants and cafés heading off in all directions in this cool, relaxing setting.
If I were buying to rent in Envigado, I'd want to be near this new-and-already-popular restaurant zone, only a block west of the main thoroughfare.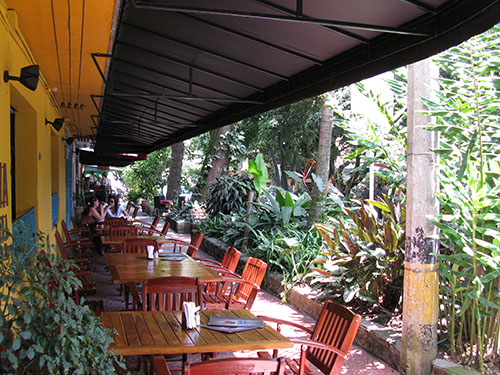 Barrio Jardines restaurants getting ready to open to the Sunday lunchtime rush
And, personally, if I were going to live here, I'd choose one of the quiet residential neighborhoods just a few blocks away.
Envigado is not undiscovered, but it has still maintained its relatively low prices. It's a good value for a pleasant, neighborly living environment with a smaller-town feel.
Envigado is relatively new as a popular expat neighborhood, but it has caught on fast. Here are the rental numbers for Envigado from the 2017 survey:
| | | | |
| --- | --- | --- | --- |
| Size | Number Surveyed | Average Daily Rate (USD) | Average Monthly Rate (USD) |
| 1 Bedroom | 4 | $41 | $1,046 |
| 2 Bedroom | 10 | $55 | $1,173 |
| 3 Bedroom | 8 | $56 | $1,260 |
And here are a couple of example properties for comparison.

In the popular Jardines neighborhood of Envigado, I found an apartment for sale in a great location, with easy access to public transportation, yet very walkable to Envigado's restaurant district. The building and its pool area are surrounded by lush tropical gardens and walkways. The 117-square-meter (1,258-square-foot) unit has three bedrooms, two bathrooms, balcony, and well-equipped kitchen finished with hardwood, marble, and ceramic. The asking price is US$96,500 (280 million pesos).
At 75% occupancy, this unit would gross around 11%.

In the heart of Envigado, close to shopping, city businesses, churches, cafés, and restaurants, a two-bedroom, two-bathroom apartment is on the market. The unit has 99 square meters (1,065 square feet) of living area, as well as a balcony and covered parking space. The building amenities include ample green space planted with tropical gardens, a gym, two swimming pools, sauna, and 24-hour security. The asking price is US$133,400 (355 million pesos).
El Poblado Is Still King
As you can see, El Poblado is still your best bet for managing a rental and reaping good returns. But Laureles and Envigado are quickly gaining in popularity and are both great places to stay—less expensively—while checking out the city.
The 2017 study of furnished rental prices was performed by Jeff Paschke, a digital nomad and colleague who lives and works in Medellín.
Lee Harrison
Editor, Overseas Property Alert
***
Letters To The Editor
I really enjoy reading the daily posts and have been to several conferences. I have a question and I hope you can help.
I am nearing time to retire. I live in a beautiful city in Florida, which I enjoy for about five months of the year… but I suffer through summers with heat and humidity.
I have looked at several cities with "eternal spring" weather, places like San Miguel de Allende, Medellín, and Cuenca, and those mountain cities were where I was most interested for retirement.
However, I have recently been diagnosed with a chronic respiratory disorder that would be exacerbated by living in high altitude. My cardiologist strongly advises against living somewhere in high altitude.
Do you have suggestions for "eternal spring" cities without excessive heat or humidity and which are also at sea level?
Thank you so much,
Van

I've faced this same question, and it's very difficult to find a suitable low-altitude place that has genuinely good, springlike weather all year. The city that came the closest was Viña del Mar, Chile, where high temperatures range from 59°F in the winter to 75°F in the summer (15°C to 24°C), thanks to the moderating effects of the Pacific.
Personally, I'd prefer weather that's a few degrees warmer, and the best answer I could come up with was to have two properties in opposite hemispheres… then you can enjoy two places, each during their absolute best season. My favorite city pair for this was Punta del Este, Uruguay, and Gijón, Spain.
And don't forget Hawaii. While hardly inexpensive, you can find average high temperatures of 79° in the winter and 83° in the summer (26°C and 28°C).
***
Lee,
I really appreciated your insights on the article comparing Puerto Vallarta and Mazatlán. We're looking for full-time retirement options in both cities, plus a few other Mexico locations such as Los Cabos.
We plan to visit Mazatlán this December to look at places. Can you please recommend a good, honest real estate agent?
And if you're around and have time to meet, I'd love to buy you a cerveza (or two).
Thanks,
Jim

Yes, to see real estate I'd recommend that you contact my friend in Mazatlán. He's a long-term expat who relocated here with his young family about eight years ago.
If you want to study up on what to expect there, you can see my previous articles on Mazatlán here. And if you're heading to PV, my Puerto Vallarta articles are here.
***
Lee,
I have been wanting to move somewhere for some time, like Mexico, Panama, or Ecuador (somewhere with no snow), but we have a major problem. I am 85 and my wife is 72. She had a stroke, is wheelchair bound, and is unable to talk. I had a stroke three years ago, which left no disabilities.
Calling 911, I was in emergency within an hour. My wife had to be rushed to emergency recently, and a 911 call also had her in emergency within an hour. These calls saved our lives. Do any other countries offer 911 services?
Sincerely,
Donald
Great question.
Yes, almost every country in the world has emergency response phone service, so unless you're moving somewhere like Madagascar, it will be available.
As in the United States, the time to get emergency care will depend on the distance to the nearest emergency facility. If you live in a place like Mazatlán, for example, we have an emergency number and a hospital just a few miles away.
Keep in mind that the number you dial is not always "911" (the codes 112 and 999 are also very common), and not everywhere has English-speaking operators. If you're not fluent with the local language, leave a prepared statement near the phone that you can read to the operator.
When you land in a new city, one of your first tasks should be to identify the emergency number and the nearest facility. Here's a list from the U.S. State Department.
Have a question? You can write to Lee here.