Discoverig Medellín's Top Neighborhoods
While enduring several complete lock-down situations here in Medellín, the real estate market struggled in 2020. As the world gradually opens again, and more tourists return to support Medellín's short-term and long-term rental market, real estate agents are getting busier and there are more properties on the market.
Here at Overseas Property Alert, we thought it would be a good time to look at our three favorite areas in the Medellín valley to get an updated picture of today's rental market, current rental rates per night and per month, and a few desirable properties that could start producing a rental profit in the coming months.
Let's start with the most popular sector in Medellín.
El Poblado: The Beverly Hills Of Colombia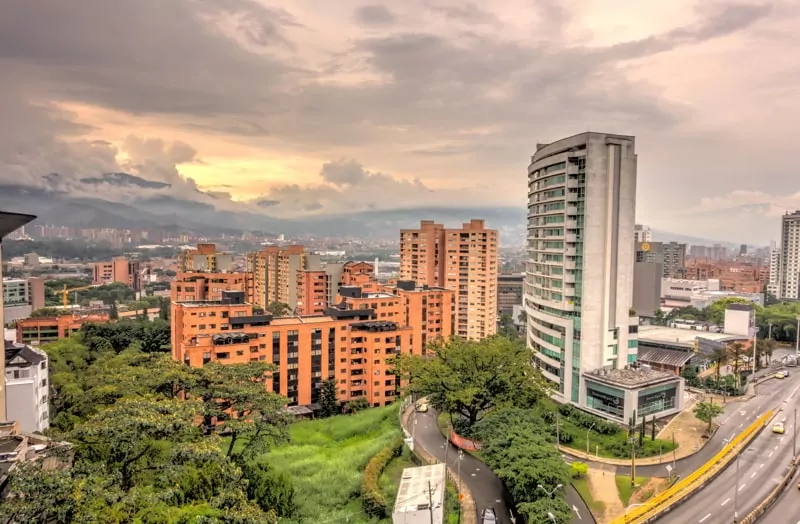 With lush, shady streets, tumbling mountain streams, and excellent residential options, it's no wonder that El Poblado is Medellín's most popular area for expats, travelers, and tourists.
El Poblado is green, forested, and uncrowded at its higher elevations, getting more "citified" as you approach the valley floor. The lower parts are walkable, with everything close at hand. El Poblado is the most cosmopolitan and exclusive area in the city, which also makes it the most expensive and the best place to own a rental property.
The centerpiece of El Poblado is the Zona Rosa, and specifically the Provenza area with its restaurants, cafés, clubs, and high-end shops. It's the safest area in Medellín and sees lots of tourism, many entrepreneurs, and a host of business travelers. And while the Zona Rosa is very popular with expats, the majority of the weekend nighttime visitors are young, well-off Colombians.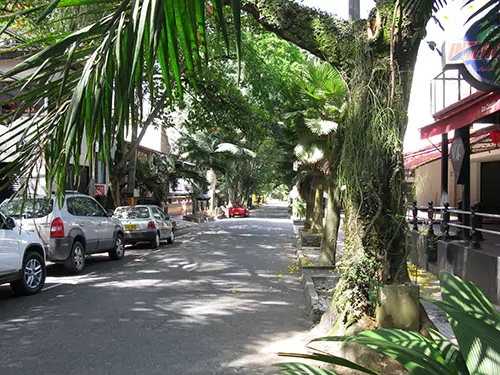 Parque Lleras is a tiny, leafy park at the center of Zona Rosa. It's the most active spot in Medellín's liveliest sector. Parque Lleras itself is located at Calle 9 and Carrera (Cra) 40. Most often, the term "Parque Lleras" refers to the neighborhood around the park itself, with its hundreds of cafés, bistros, restaurants, and clubs.
El Poblado is also home to the Golden Mile, known as the Milla de Oro. This area is El Poblado's financial, commercial, and business center, with giant modern shopping malls, banks, office centers, and new hotels, along with its own share of restaurants, cafés, and clubs. It's a prime residential area for those who don't own a car… and for those who want to rent a property.
As you can imagine, El Poblado commands the highest rental rates in the city.
Here Are The Ranges You Can Expect As Of April 2021.
| | | |
| --- | --- | --- |
| Size | Range of Daily Rates (USD) | Range of Monthly Rates (USD) |
| 1 Bedroom | $25 – $160 | $1,250 – $1,660 |
| 2 Bedroom | $80 – $500 | $1,100 – $3,880 |
| 3 Bedroom | $190 – $360* | $1,250 – $5,000 |
Range of furnished apartment rental cost in El Poblado.
(* There were only a few three-bedroom options available so this number may not be a good indicator of the market)
Laureles Has Now Come Into Its Own With Expats And Travelers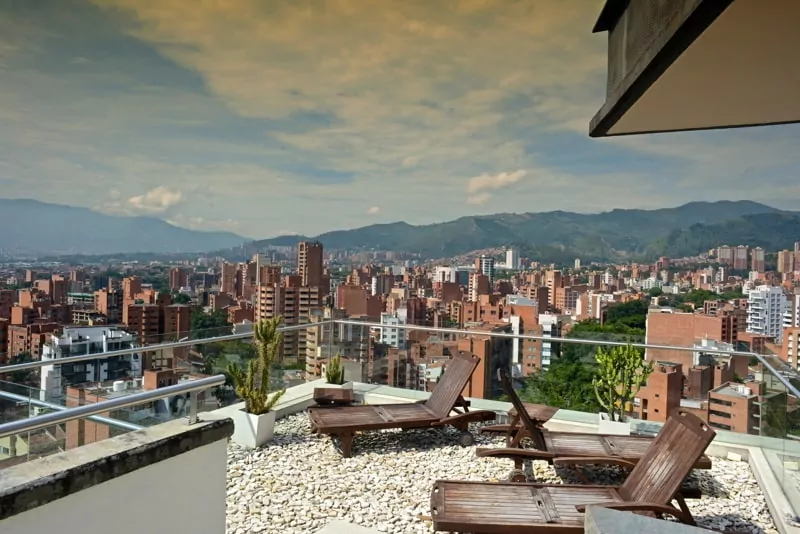 The neighborhood of Laureles is one of our favorites in the city. It offers lush, tree-lined streets in a sector crisscrossed by a few shady, divided boulevards. Among its streets you'll discover a terrific selection of cafés, restaurants, services, and shops. There are also two attractive wooded parks where you can relax and watch the rest of Medellín go by.
The layout of Laureles is unusual when compared to most of Medellín… or most of Spanish America, for that matter. Instead of the normal street grid of north-south and east-west surface roads, most of Laureles' streets are laid out as two sets of concentric circles and spokes, one centered on Segundo Parque Laureles and the other on the university. To complicate your orientation further, its main thoroughfare (Avenida Nutibara) runs diagonally through Laureles.
And while much of Laureles is a little less expensive than El Poblado, it's not a downscale option; Laureles has the second-highest income level in Medellín after El Poblado.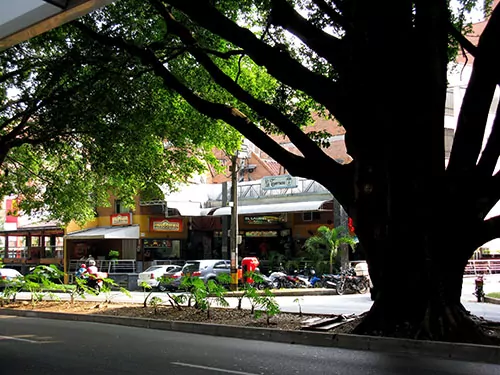 And I believe that for some expats, Laureles offers a few advantages over El Poblado.
It's relatively level. In El Poblado you're on a mountainside, and east-west travel will give you a good workout. In Laureles you can walk all around without climbing hills.
Laureles does not have El Poblado's business environment. While El Poblado's Golden Mile is a major center for business and finance, Laureles is mostly residential, with businesses that are small-commercial. So while you'll find everything you need to live there, it retains a nice "neighborhood" feel.
You won't see as many tourists in Laureles. Virtually everyone who visits Medellín from around the world has El Poblado at the top of their list. If they're in town long enough, they might get over to Laureles… or maybe they won't.
Like much of El Poblado, there's no need for a car in Laureles. It's 100% walkable. Laureles is the perfect blend of shady, treed residential areas and attractive city amenities.
Here Are The Ranges For Furnished Rental Rates In Laureles:
| | | |
| --- | --- | --- |
| Size | Range of Daily Rates (USD) | Range of Monthly Rates (USD) |
| 1 Bedroom | $15 – $65 | $386 – $970 |
| 2 Bedroom | $70 – $80 | $885 – $1,660 |
| 3 Bedroom | $60 – $170 | $750 – $2,400 |
Furnished apartment rental cost in Laureles
Laureles sees less of a rental demand than El Poblado, and the returns will not likely be as high. But the quality of life is excellent, and it's an area that's rapidly increasing in popularity.
Envigado Is The Popular New Frontier In The Medellín Valley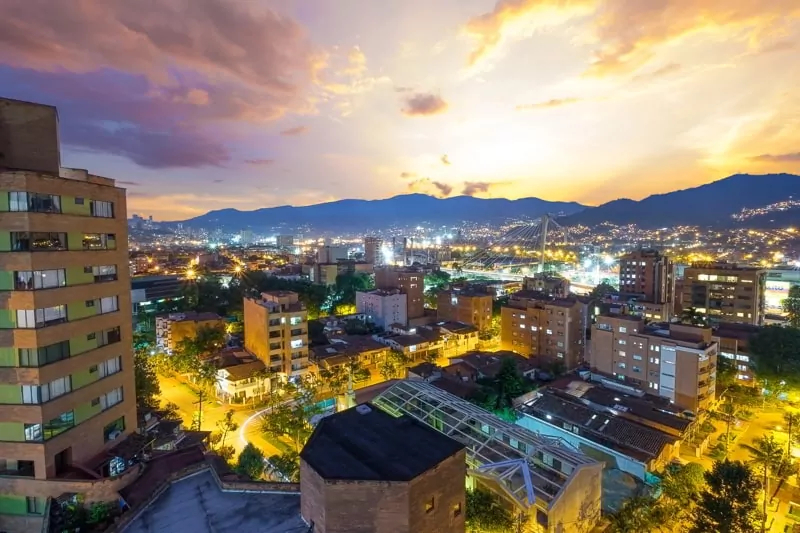 The municipality of Envigado is adjacent to El Poblado. Many refer to it as if it were a neighborhood of Medellín, but, in fact, it's a separate municipality within the Medellín metro area.
Envigado has a character that's quite different from neighboring El Poblado. Instead of the upscale feel of El Poblado, Envigado seems more like a comfortable, well-maintained, and older-fashioned environment. Its quiet, tree-lined streets, have a distinctive "neighborly" or "community" feel.
The town is built around its attractive, recently remodeled, and shady town square, anchored by the impressive Santa Gertrudis Catholic church that hosts Saturday markets at times. Nearby you'll find quiet, shady streets lined with one- and two-story homes… with the occasional low-rise apartment building here and there.
Envigado also offers a growing number of neighborhoods with high rises reminiscent of El Poblado along with a generous quantity of these quiet neighborhoods of single-family homes… which are more difficult to find in El Poblado.
One of Envigado's most popular areas is Barrio Jardines, a recently developed restaurant enclave. If you are considering buying to rent in Envigado, you should pay special attention to this already-popular restaurant zone, only a block west of the main thoroughfare.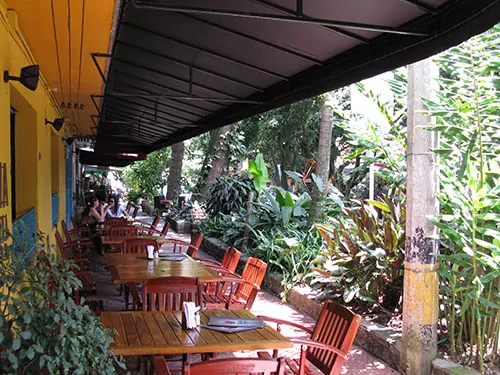 Envigado is not undiscovered, but it has still maintained its relatively low prices. It's a good value for a pleasant, neighborly living environment with a smaller-town feel. Envigado is relatively new as a popular expat neighborhood, but it has caught on fast.
Here Are The Rental Numbers For Envigado At The Start Of 2021:
| | | |
| --- | --- | --- |
| Size | Range of Daily Rates (USD) | Range of Monthly Rates (USD) |
| 1 Bedroom | $26 – $65 | $775 – $1,700 |
| 2 Bedroom | $18 – $82 | $400 – $2,200 |
| 3 Bedroom | $30 – $110 | 820 – $3,000 |
Furnished apartment rental cost in Envigado
El Poblado Is Still King
The El Poblado area is still your best bet for managing a rental property and reaping good returns. But Laureles and Envigado are quickly gaining in popularity and are both great places to stay—less expensively—while checking out the city.
The coming years should see a rebirth in rental opportunities and prices are guaranteed to go up. Now is a great time to consider buying a rental apartment in Medellín.