Northern Cyprus is touted as "the Las Vegas of the Mediterranean"…
With 20 casinos and a growing number of luxury resorts, it's understandable how it picked up this tagline.
But, in many ways, the mythical birthplace of both Aphrodite and Adonis is a world apart from Caesars Palace…
The Population Density
For starters, you have its low density—something the post-pandemic traveler is after. In terms of area, Northern Cyprus is roughly 10 times larger than Sin City… but with half the population.
Next Is The Geographic Difference
A landlocked desert state… versus a Mediterranean island with clean, blue waters and pristine beaches. As well as the chance to try their luck in the blackjack pit, the 1.2 million (and growing) visitors who vacation in Northern Cyprus every year can chill out on the sand by day… and, come evening, feast on fresh, locally-caught seabass or lobster from a waterfront terrace…
"Las Vegas is the only place I know where money really talks—it says goodbye," quipped Frank Sinatra. Which brings us to the real estate market…
The Property Market
Prices for a modest one-bed condo on Las Vegas Boulevard start from around US$300,000. Yet you can pick up a comparable property in Northern Cyprus for less than US$75,000… plus all the benefits of sea and sand… and the potential to earn an annual net yield of 10%.
I've introduced you to a couple of projects in Northern Cyprus over the past year. But, in this final issue of 2020, I wanted to bring your attention to a new opportunity in an area that's undergoing major development…
The Best Real Estate Opportunity 

In

 Northern Cyprus
In 2019, Northern Cyprus welcomed 1.2 million visitors. The government wants to increase that number to 2 million over the coming decade. And, to get there, it needs more beds to accommodate both the recreational and health tourist…
One of the biggest areas being developed right now is in Bafra—a part of the island that's renowned for its glorious sandy beaches. This is where a multi-million-dollar strip of luxury resorts and casinos is being developed along 5.6 miles of beachfront. Four 5-star hotels are already up and running. When the Bafra strip is completed, it will increase tourist capacity by as much as 50%.
Now if that doesn't sound low density enough, bear with me…
The opportunity I'm sharing with you today isn't in one of the 14 luxury resorts being built on the strip. Instead, it's adjacent to the golf course (currently under construction) that borders the west side of the strip.
This gives you the chance to get in on a private residential resort (the only private development on this stretch of beach)… with a golf course on your doorstep and access to all the entertainment of the strip just a short stroll away…
This all-inclusive development has its own private beach for owners and guests. And, on-site amenities include swimming pools and watersports, indoor heated pool, restaurant and entertainment, gym, spa, games room, sports ground, children's playground, mini golf, and more.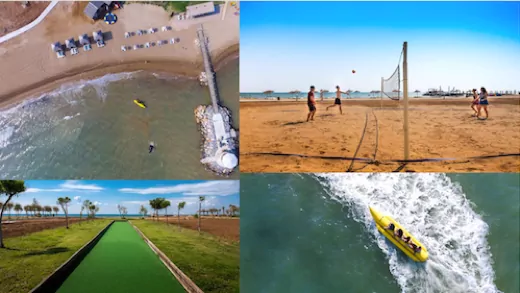 The developer is also playing its part in leaving a low carbon footprint. Once you lock up your car in underground parking, you can use the resort's complimentary bikes all through your stay. The complex will also have its own grow garden, supplying its restaurant with fresh, organic produce.
What About The Units Themselves?
A number of models are available here, but the best return comes with the one-bed units that start at US$74,995. These are just over 40 square meters in size, plus balcony. All units in the complex are built in the local Mediterranean style, with a light, bright interior. And, every apartment has an ocean view.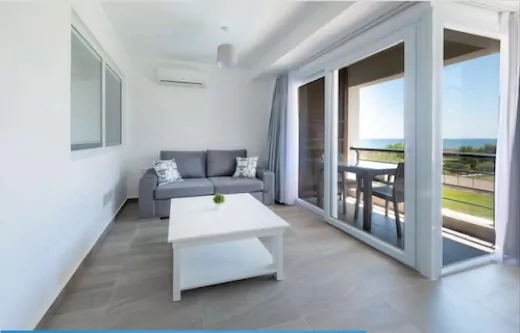 If you'd like this as a turn-key investment, full property management is available on-site. Again, for a one-bed apartment, the projected net rental yield is 10%.
The developer made 10 of these units available at this special price of US$74,995 (a saving of 35%) for LIOS readers earlier this month… and there's already been a lot of interest.
If you'd like to find out more about how to get in on the only private residential community on this emerging destination in the Mediterranean, get in touch here now.
Lynn Mulvihill
Editor, Overseas Property Alert