If you dream of owning a Caribbean home featuring a spectacular water view, near sandy beaches for strolling and lounging, with breezy trade winds to cool your afternoons, look no further than Las Terrenas in the Dominican Republic.
The Dominican Republic is an independent country that shares its western border with Haiti on the Island of Hispaniola. The community of Las Terrenas is located on the north shore of the Samaná Peninsula, which looks like a little thumb on top of the island.
In the past few decades, Las Terrenas (population 39,221) has become the vacation destination for many Europeans, especially the French. The official language of the Dominican Republic is Spanish, but while walking around the whimsical town of Las Terrenas, French is the predominant language
you'll hear.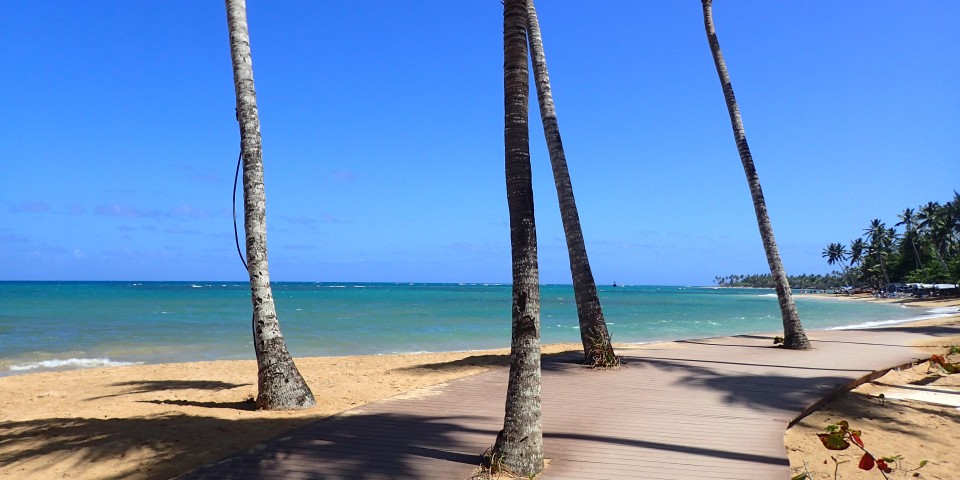 A typical day on Playa Las Ballenas
Traditionally, most North Americans head to Punta Cana or Puerto Plato for all-inclusive beach resorts, or they choose Santo Domingo for historical and cultural experiences. But if superb beach living is your goal, I agree with the Europeans—the best location in the DR is Las Terrenas. Follow the link to see my recent article about the beaches on the Samaná Peninsula.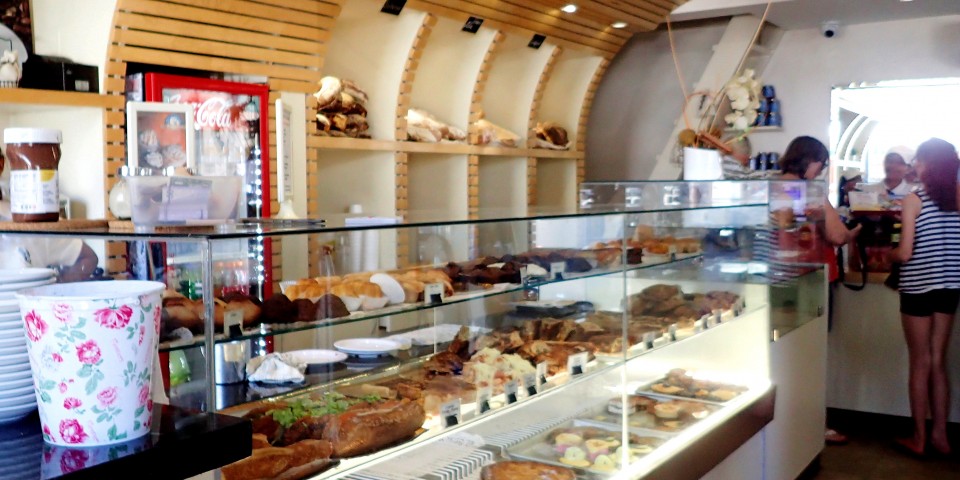 The French have contributed more than their language,
as seen inside the Boulangerie Française bakery
While I focused on Playa Bonita—because my group of friends and I rented an apartment on that beach—other notable nearby beaches include Playa Cosón and Playa Ballenas (the beach shown in the first photo above). In fact, I was so impressed with the seaside living in this eclectic location that I made arrangements to view several properties to learn more about the real estate market and emerging trends.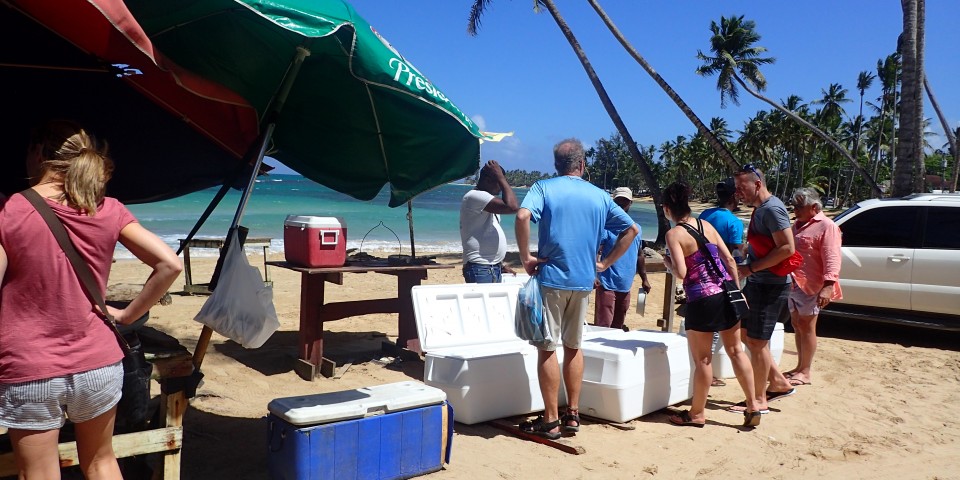 Right on the beach, the freshest fish you'll find
Properties In Las Terrenas Are Surprisingly Affordable For The Quality Of Life Here
I dealt with two real estate agencies, both offering French and English speaking agents. The first was Immomexx where I met with Tony, originally from Amsterdam, and Jeremie, a native Frenchman. The second team of agents were Robert (a British citizen) and Arnoud (also from France originally) from Home Gestion. The latter company also provides property management services should you need someone to maintain your property in your absence.
Although Las Terrenas is a small community, there are many real estate options available. Between the two agencies, I was able to view several types of properties. I viewed hillside vacant lots, beachfront apartments, a private casita, individual houses, and an apartment complex on the mountainside. All had stupendous ocean views except the casita, which was in a gated community with beach access approximately 100 yards from the home.
Most realtors show listings in both Dominican pesos and U.S. dollars.
I found vacant lots starting at US$25,000 for 1,003 square meters of land (10,796-square-feet), while individual houses were priced from US$75,000 for 80 square meters (861-square-feet) up to US$3,000,000 for a 1,000-square-meter mansion, which is an expansive 10,764 square feet of house.
Apartments ranged from US$60,000 for a 40-square-meter (430-square-foot), one-bedroom unit with kitchenette, up to US$700,000 for a 243-square-meter (2,615-square-foot) beachfront penthouse. There are many two-bedroom apartments available for less than US$200,000, however, most will not be oceanfront, although some may have an ocean view.
Here are some details about the properties I viewed in person:

Los Nomadas—This is a 200-square-meter (2,153-square-foot) private casita (thatched roof house) on 767 square meters (8,256 square feet) of land. It is a year old and features three bedrooms, three baths, and a private pool. It comes partially furnished. As a bonus, there is enough room on the property to add a small bungalow, which could be rented separately from the main house.
This home is in a gated community with HOA fees of US$128 per month. The estimated rental return on the property is 8% to 10%. List price: US$360,000 and the owners are asking for 60% down with the remaining 40% negotiable.

Colinas del Mar—This 2-year-old, four-bedroom, four-bath, two-story mountainside penthouse boasts a rooftop Jacuzzi and separate spa bath. All appliances are included. Separate air conditioning units cool only the rooms you want in this 407-square-meter (4,381-square-foot) unit. The current owner is the architect of the gated community, so you could be the first to actually live in the home. The association dues are US$400 per month, and the estimated rental return is 4% to 5%.
List price: US$415,000 with 50% down and the remaining amount paid within two years.
Playa Bonita Beach Residences—Still under construction, this 168-square-meter (1,808-square-foot) apartment is set for delivery in 2018. The four-bedroom, four-bath unit includes all appliances and air conditioning. This building will have an elevator while the other nearby buildings in the same community are walk-ups.

This apartment is directly on Playa Bonita with an unobstructed view of the most beautiful beach in the area. HOA fees will be US$420 per month and the expected rate of return is 8% to 10%. List price: US$430,000 and the development company is open to discuss financing of the purchase price.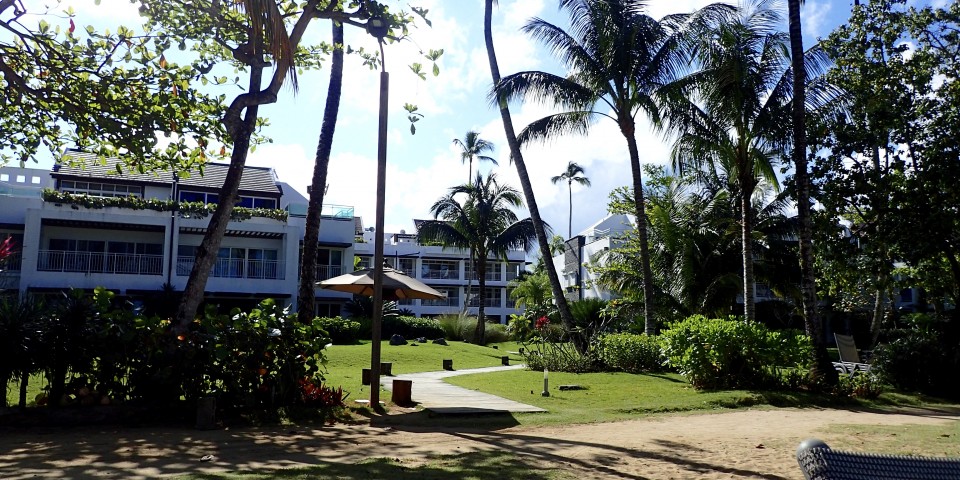 The gorgeous Playa Bonita.
The new construction is just to the right of these units
The AUM Group Is Offering Building Lots With Construction Packages
A foreign investor purchased hillside acreage with sweeping, elevated ocean views. He is currently building his own home just uphill from the five parcels of land available for sale.
There are three building plans to choose from, all complimentary to the owner's home and each other. The three floor plans include:
Three-bedroom, two-and-a-half-bath, two-level, 385-square-meter (4,144-square-foot) home with private pool and interior gardens for US$480,000.
Three-bedroom, three-bath, three-level home, with 397 square meters (4,273 square feet), which also has a private pool and gardens, is listed at US$455,000.
Three-bedroom-plus-studio, three-bath, three-level home with 471 square meters (5,070 square feet), also with private pool and gardens, for US$545,000.
To give you an idea of the lay of the land, have a look at this video I took while standing on these lots.
These prices include the lot, construction of the home, and all finishes. There are five lots available and financing is negotiable. The realtor even suggested a possible special deal for the purchaser of the first lot.
As I mentioned earlier, there are many properties on the market which cost much less than the ones I have described. Island living usually comes at a premium, but the Las Terrenas area has very competitive prices compared to other Caribbean islands.
To get to Las Terrenas, fly into the capital, Santo Domingo, and drive north for approximately 90 minutes on a smooth, modern, and scenic highway. It becomes very curvy as you get closer to the coast, so driving at night can be trickier. Beware, however, there are five tolls between the two cities and they only accept Dominican pesos. Also, the tolls are hefty. This past February, we paid the equivalent of almost US$30 each way.
If you have any interest in a relatively undiscovered yet developing Caribbean investment, you need to take a look at Las Terrenas. I suggest you go sooner rather than later.
Wendy Howarter
For Overseas Property Alert
Editor's Note: Wendy Howarter was an attorney for 23 years until she decided there must be more to life than a stressful 8 a.m. to 6 p.m. job and 10 days of vacation every year. After a lot of research and selling everything they could, Wendy and her husband Darren moved from northern Illinois to Medellín, Colombia in 2014. She has now reinvented herself as a freelance writer and photographer who loves sharing her new home with the world.
***
Letters To The Editor
Hi Lee,
I wanted to get your opinion on the Porto das Dunas pre-construction condos in Brazil. I like the Dominican Republic condos you mentioned as well, and I'm also considering one of those. I know you are recommending the Beach Lot property but I would really like to get an ROI sooner. I feel it could be several years before the beachfront lot will turn a profit.
Do you feel confident that Brazil is a good investment for a condo?
I really appreciate your input and assistance. I am ready to purchase a condo, maybe even two. I'm sure after the first one it will get much easier.
Regards,
Patty
The reason I liked the Brazilian beach lots (called Reserva da Praia) is because it's a very low price for beachfront property, and the lots are large. It's an unusual find.
But you're right… if you're looking for nearer-term income, those beach lots would not be my first pick. The two options you mention are better.
The Porto das Dunas condos are in an area that I like, just south of Fortaleza, and near Beach Park, one of the area's biggest attractions. There are a number of other resorts and residential projects in the area. I haven't been there for a while, and don't have a feel for current occupancies… but the cost, at US$79,000, is pretty good. (Remember though, these "beach condos" are not actually on the beach.)
I like the Santo Domingo (DR) project because it's at a good location that sees high demand from the business traveler (my attorney, who works nearby, confirms this). A similar project in the area (by the same developer) sold very quickly.
From my personal perspective, I like the diversification that comes with a rental property targeting business travelers.
Follow these links to contact the developer about the Porto das Dunas condos, the Reserva da Praia beachfront lots, or the Santo Domingo (Dominican Republic) condo offer.
***
Hey Lee,
I love your content. I am about to purchase land/property in Lisbon & Algarve in Portugal. I would love to see what you guys have to offer before I commit 100% to it. I will be heading over to Lisbon in a few weeks' time.
Kevin
Here are a few local contacts in Portugal. Follow the links, and the developers/agents will get right back to you. Try Algarve Palm Properties, the Algarve Real Estate Agency Vernon, or our contact in Central Lisbon, Portugal.
Have a question? You can write to Lee (or Wendy) here.