Mexico
has become a tourism powerhouse, with an impressive 9.4% jump in international visitors last year. This brings the total to over 32 million arrivals, making Mexico the ninth most-visited country in the world… and the second in North America after the Unites States.
This jump is creating opportunities for international property buyers.
The rise in Mexico's international popularity is due to the efforts of FONATUR (Fondo Nacional de Fomento al Turismo), the Mexican government's tourism investment arm. Think of it as a national fund for tourism development.
FONATUR was created in 1974 to invest in (and incentivize the development of) new infrastructure, hotels, and other tourism-related businesses in designated regions throughout country. These projects are known as Integrally Planned Resort Centers.
First, the agency identifies an intrinsically desirable area in which to create a tourism zone. Then it develops a master-planned community, which includes a residential section for permanent residents complete with schools, hospitals, and markets; a tourist area with hotels, shopping centers, and golf courses; and, in many cases, protected zones for ecological conservation where no development can take place.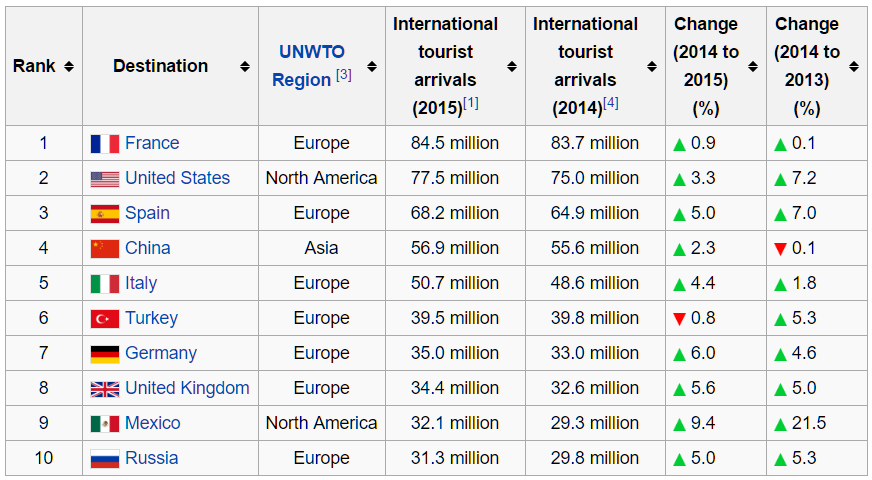 In tourism, Mexico now ranks #2 in the Americas, and ninth in the world
At the moment, FONATUR has six areas designated as Integrally Planned Resort Centers:
Cancún
Ixtapa
Los Cabos
Loreto
Nayarit
Huatulco
Of the six resort centers, Cancún and Los Cabos are the most popular tourist destinations—and clearly the furthest along with the execution of their community master-development plans.
Based on the success of Cancún and Los Cabos, the Mexican government recognized the huge potential of its other master-planned tourist communities to become top tourist destinations… particularly Huatulco.
In fact, the government and FONATUR have committed a considerable amount of resources to the development of the Huatulco area, including setting up an inter-institutional agreement in which government entities on the federal, state, and local levels are working hand in hand to stimulate tourism growth. Plus, the government has invested US$1.4 billion into infrastructure improvements.
When you consider Mexico's stellar track record of tourism building, coupled with the government and its tourism authority's commitment, then Huatulco is an area that global property investors should be paying attention to for potential short-term rental yields.
Huatulco: On The Coast, At The Foot Of The Sierra Madre Mountains
Huatulco, formerly Bahías de Huatulco, which has a population of 50,000, is situated on Mexico's Pacific coast in the state of Oaxaca—about an hour south of Mexico City by plane. This master-planned tourist community has a total area of 20,972 hectares (51,822 acres) with 90% protected for ecological conservation and the remaining 10% used for tourist and residential areas.
In comparison to tourist hotspots such as Cancún and Los Cabos, Huatulco has more of a small-town feel, which appeals to travelers seeking a more authentic experience.
The area, which sits at the foothills of the Sierra Madre Mountains, features a series of nine natural bays, small coves, and 36 white-sand beaches that span 20 miles of Mexico's primo Pacific coastline.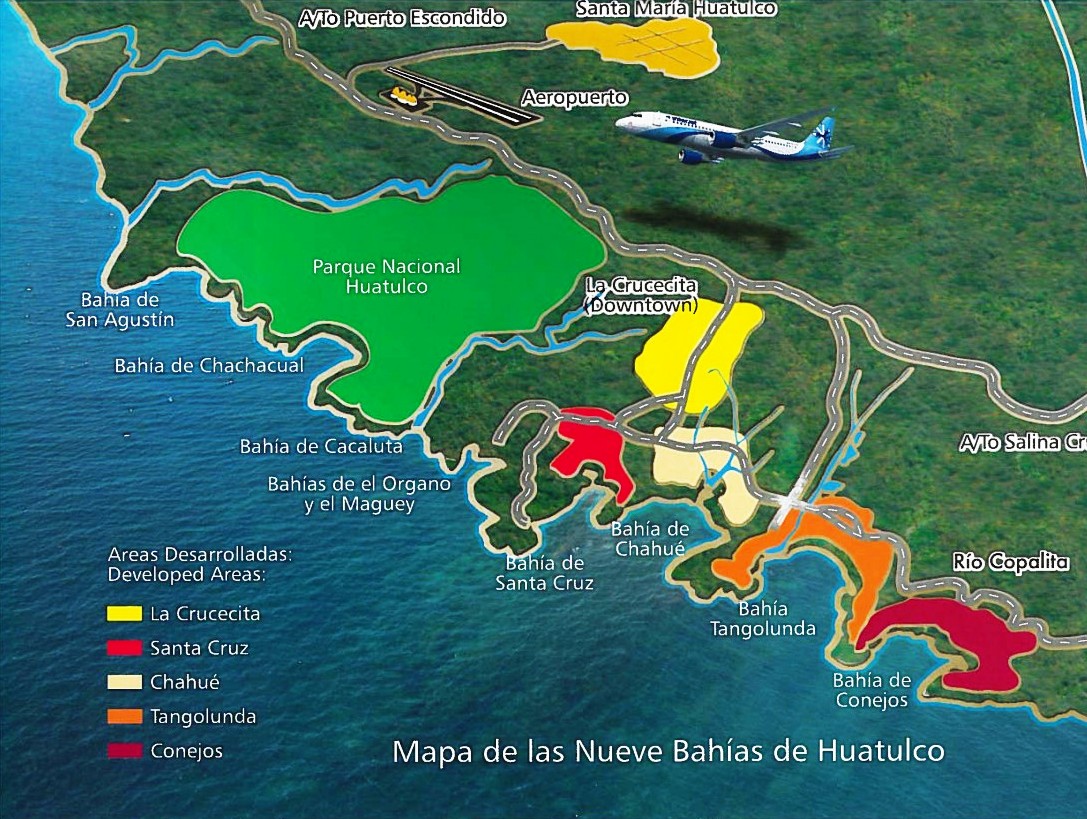 The bays and beaches of Huatulco
Huatulco is divided into four districts: Tangolunda, Santa Cruz, La Crucecita, and Chahué. Tangolunda (also known as the "hotel zone") is where you'll find most of the area's luxury resorts.
Just inland from the beach areas is La Crucecita, Huatulco's main town, where you find amenities such as grocery stores, pharmacies, and restaurants. In Santa Cruz, just south of La Crucecita, there's a large pier where cruise ships dock (between three and six cruise ships per month during the high season), plus a marina. It also features small shops, restaurants, and bars that cater to the visiting cruise ship passengers.
Chahué, which is situated between Tangolunda and Santa Cruz, is home to the most popular beaches in Huatulco. It has an 86-slip marina complete with electricity and water, along with a beach club that's open to the public.
It is important to recognize that Huatulco is an extremely eco-friendly tourist community. In fact, it was awarded the Green Globe certification as a sustainable tourist area—the first in the Americas and third worldwide to receive this recognition. All of Huatulco's energy is wind-driven—all the hotels, restaurants, and nightclubs here are run on renewable energy. On top of that, the area is served by a state-of-the-art water and sewage plant so that no waste or pollutants find their way to the ocean.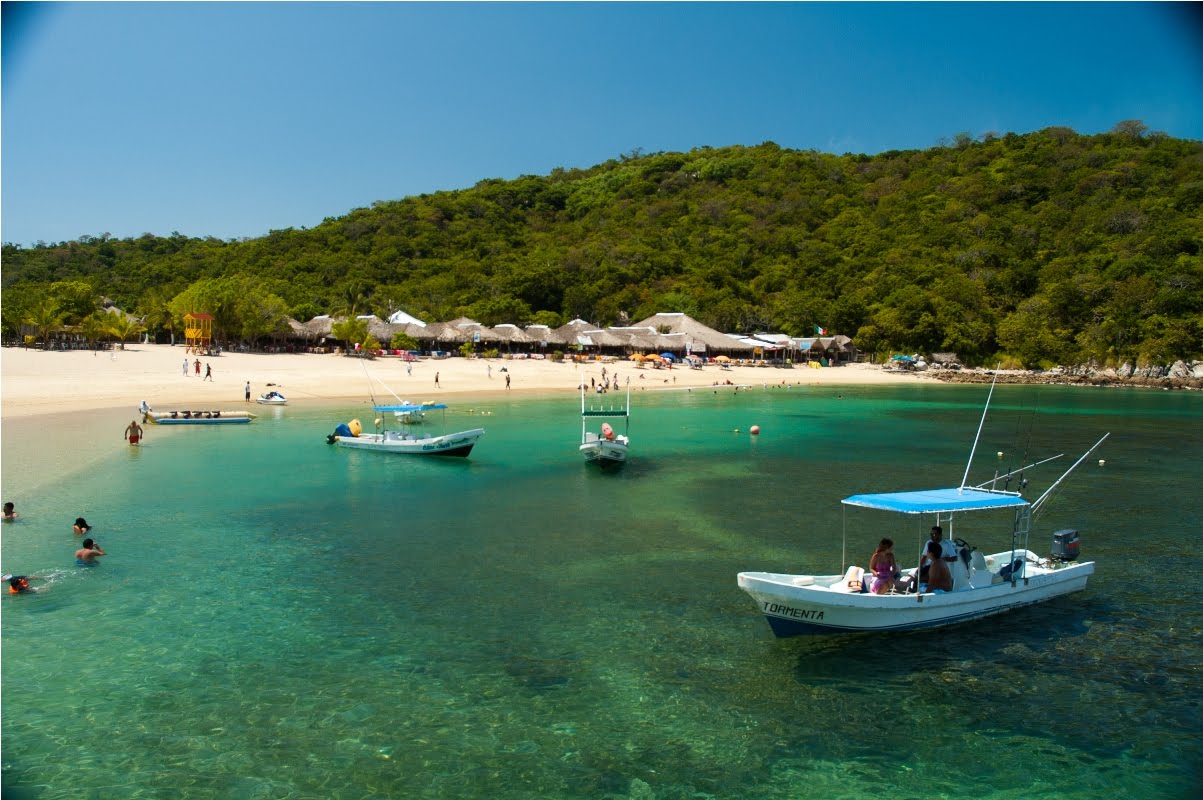 Huatulco is home to pristine coves and 36 natural beaches
Huatulco Already Enjoys Respectable Occupancy Rates
When FONATUR first started developing Huatulco in 1985, the goal was to create another tourism destination similar to that of Cancún, albeit an eco-friendlier version. However, Huatulco has yet to reach the level of success experienced in Cancún, which is one of most successful tourism development efforts the world has ever seen.
That said, according to the latest hotel occupancy statistics released through May 2016, Huatulco was able to achieve occupancy levels of almost 65% compared to 79% in Cancún. While the gap in occupancy level is significant (almost 15%), the rate in Huatulco is exceptional nonetheless.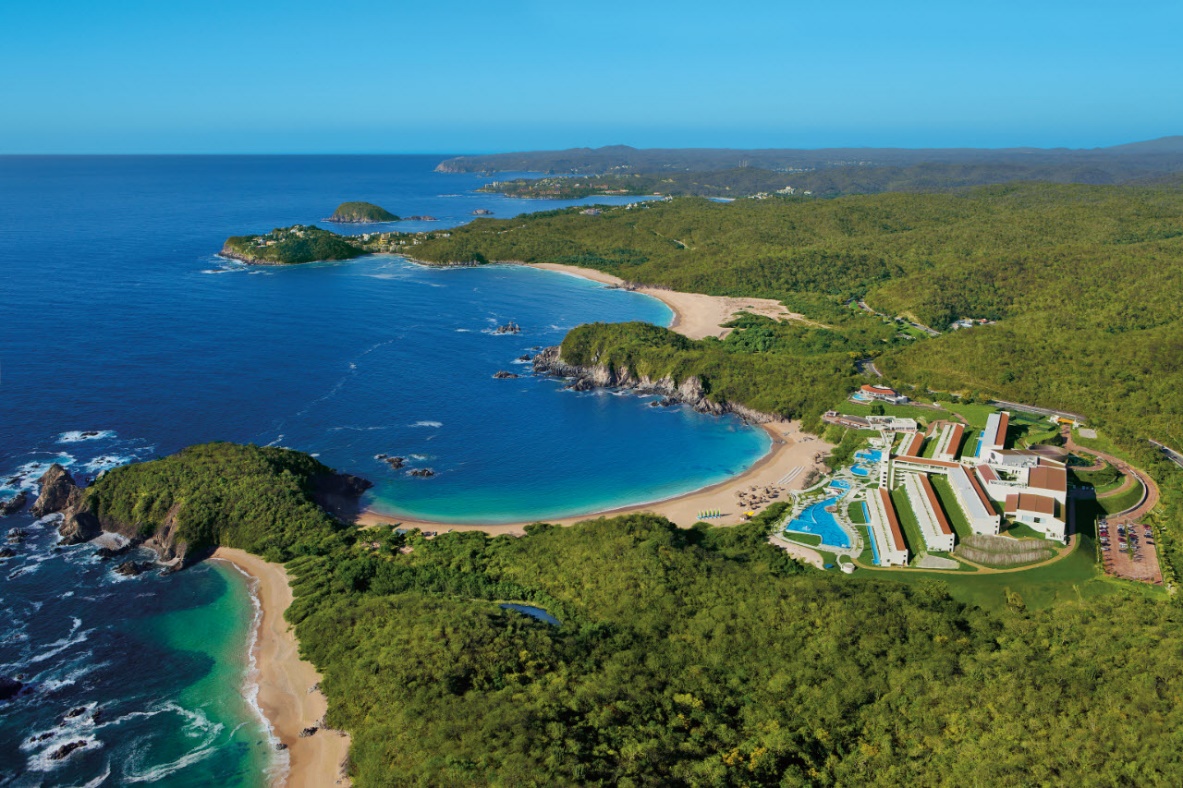 Aerial view of the Huatulco coastline
One of the main factors affecting tourism here is the lack of international visitors. Foreigners make up only 20% of all of Huatulco's tourism, while the remaining 80% is domestic. The primary reason for this is ease of access. Right now, you only have four U.S. international flights to Huatulco, which has hampered international tourist traffic.
The good news is that the Mexican government and FONATUR's track record suggest that their promotional efforts will successfully address this problem. And if they do—which I believe they will—then Mexico will have another bona fide tourist hotspot on their hands in Huatulco.
The Future For Short-Term Rentals Is Bright
As the increase in tourism takes place, the demand for short-term rental units will grow, meaning rental rates will rise as well. Plus, there's a high probability that the supply of short-term rental units will not be able to keep up with the demand. Remember, right now local residents account for 80% of the tourism, so there's a lot of room to grow as the result of FONATUR's efforts to attract international visitors. This is an excellent opportunity for investors looking for rental yields that could potentially move into the double digits over time.
Condo unit prices range from US$874 to US$3,540 per square meter. The average price per square meter is US$1,818. The price per meter will depend on the unit's size, age of the building, proximity to the beach, and level of luxury. For a super high-end, beachfront condo unit you should expect to pay US$2,800 or more per square meter, which is a good price on the world market for this type of seafront.
In Huatulco, you can expect to earn between US$55 to US$250 per day depending on the size and location of your unit (you'd be able to command a higher rental rate if your unit is near the beach, for example). You'd also be able to ask for higher rates during certain parts of the year. With the right property management team in place, you should be able to earn net rental yields of between 5% and 8%.
However, if Huatulco grows into one of Mexico's top tourist destinations, then I see you earning rental yields of up to 15%.
Over the past year, I've been working with an excellent agent on the ground in Huatulco, who is plugged in to the area's development efforts as well as its latest investment opportunities. To learn more about real estate in Huatulco, follow this link to get in touch with Sandra Cruz.
Omar Best
For Overseas Property Alert
***
Letters To The Editor
Lee,
With respect to the recent article by Patrick Little on Santa Marta, Colombia, I would like to get information and photos on the houses for sale in Santa Marta for US$100,000.00 or less.
Beach access is not necessary. I prefer the older part of the city with authentic rustico ambiance. Please advise at your earliest convenience.
Elliot
I passed this on to Patrick, and he said, "I couldn't tell which of the three sub-US$100k houses Elliot was interested in, so I've included the listings for all three below.
"Here's the house in Taganga… the one-story home in El Rodadero, and the house in the Galicia neighborhood in Santa Marta."
***
Lee,
Your newsletter deals primarily with people concerned about investments. But many of us are retirees living on fixed incomes. So my concern is how safe is it for people like us to retire to the euro zone?
As a result of the election outcome, I am seriously considering moving to Spain but don't want to if I would be risking a serious erosion of the value of my income streams (which will all be in USD) due to the decline or collapse of the U.S. dollar under Trump.
Many thanks.
Jim
Good question… and one that comes up frequently.
The dollar is very strong today, by historic standards over the past 10 years. (It's actually tacked on a respectable gain since Trump was elected.) So if you buy a home now, at today's favorable exchange rates, much of your future risk is mitigated since you've taken care of your largest expense at today's rates.
Also, as an overseas resident, you can buy local currency when the dollar is strong, to use it when it's slumping. I did this with some success in Uruguay.
But otherwise, you'll still have exchange rate exposure if you're in a non-dollar country. The only way to completely avoid this is to settle in a country that uses the U.S. dollar (like Ecuador, Panama, or El Salvador), or has a currency that's pegged to the dollar (like The Bahamas or Belize).
You'd lose the "strong-dollar advantage" that you now have in Europe and much of Latin America, but you'd have currency stability.
I should also point out that currencies are impossible to predict… all you can do is take action when conditions are right.
***
Hi Lee,
I've been reading you for years, and I really enjoy your take on properties. But there are a few things nagging at me.
Are prices really as high as the examples you give? Maybe I'm just disconnected to what properties in other countries really cost… but given the difference in the economies, many prices seem high.
Have gringos run the prices up in the markets you write about?
Bill
If Bill's been reading me for years, he probably remembers when I routinely wrote about properties under US$50,000. And the fact is, those are hard to find these days, 15 years after I started writing about them. There are a few still around, though…
Also, as the years have passed, I've changed to focus more on good value than cheap prices. Experience has taught me that readers who buy based on low price alone are less happy in the end than those who pay a bit more for a better lifestyle.
As to gringos running the prices up, that is true in some markets. Markets that are dominated by North Americans (and tourist destinations) tend to be more expensive than local markets.
For example, here in Mazatlán, you can buy a beautiful, fairly-new, large condo right on the sand for under US$300,000. That's a good value for the lifestyle, beaches, and convenience in Mazatlán.
But if you're willing to go off the beaten trail, do some work, and speak Spanish, you can still buy a Mexican beachfront home for under US$50,000. Here's an example of one on the market now (https://www.alamosrealty.com/detail.php?fatherID=40&TypeID=44&ListingID=258).
Have a question? You can write to Lee here.