Make Inflation Pay You
This is the short-term fallout of the current geo-political mess:
Fuel and energy price spikes;
Supply chain disruptions, microchip shortages, and tech stock devaluations;
Food price inflation;
Stock market volatility.
It sounds ominous, but don't worry. There is a simple way of hedging against these risks. You can make money while you're doing it, too.
I'm about to let you in on an opportunity that allows you free time for yourself while you're making all these profits.
Sounds great, right?
Before I give away the secret, let's take a deeper look at what everyone else will be dealing with over the coming months…
Fuel And Energy Price Spikes
Remember when oil prices went negative? That was less than a year ago in April 2021.
This week the price of crude oil shot past US$110 a barrel.
The price of natural gas in Europe has jumped almost threefold just in the past month alone.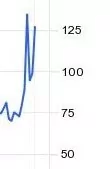 These energy price spikes are huge shocks to businesses that depend heavily on energy costs like transport, heavy industry, and industrial agriculture.
The secret is to invest in businesses that aren't dependent on the price of gasoline or electricity.
Sustainable businesses that have low-power requirements in traditionally energy-hungry industries will enjoy big competitive advantages from this crisis.
Supply Chain Disruptions, Microchip Shortages, And Tech Stock Devaluations
The rocketing prices of transport and rare metals used in digital technology will disrupt the tech sector in the short term.
Many technology powerhouses only carry a few weeks' supply of computer chips and other essential parts.
With much of the rare metals used in computers, cell phones, and other high-tech devices cut off in Russia, tech giants like Apple, Tesla, Dell, and Samsung will have to start shutting down factories in a little over a month.
This will affect profits and drive share prices down quickly.
The solution is to sell any shares you have in technology manufacturing companies and invest in assets primed to benefit from uncertain times.
Food Price Spikes
So much of the conventional industrial food complex is dependent on oil prices to power farm machinery, make fertilizers, and power factories.
The Washington Post reports that the crisis is already pushing global food prices higher.
Now that grain shipments are being disrupted, animal feeds will be in short supply, further exacerbating food price inflation pressures.
Food supply shortages will be the main global fallout from this geo-political mess.
Stock Market Volatility
These supply shocks will have a knock-on effect on stock markets. Volatility will cascade throughout them, and day traders will arbitrarily make and lose billions every day.
I have buddies who love to spend all day every day chasing the markets. They are constantly betting, hedging, winning, and losing.
It's a young person's game. I have better things to do with my time…
When markets are sane, the average trader can work a system and hope to make some profits on a consistent basis.
In times of market chaos these trading "systems" no longer work.
Some people will win, some people will lose, and no one will be sure why. It's just the nature of the game. Anyone who claims they're sure to win is lying.
The markets run on sentiment, especially in times of crisis.
Maybe the big institutional players can predict what will happen because their actions can influence the markets… but the little guys, the day traders like my old school buddies, will be gambling.
It'll be a total crapshoot. It will consume hours, days, and weeks of their time and in the end, they might as well be going to the track and betting on the ponies.
I'm going to avoid all this turmoil, risk, and months of chasing the stock market dragon with a simple maneuver…
Where To Invest In Times Of Crisis
One investment category ticks all the boxes in times of supply chain upheaval…
It's energy independent: It doesn't depend on the cost of oil for its production, and its transportation costs are far less than its competitors in the same industry.
It uses non-digital technology: This investment isn't reliant on the cost of technology, computer chips, or rare earth metals.
It's a stock market hedge: It offers a place to invest the money you'll get from liquidating technology stocks before they suffer short-term price collapses.
It's time- saving: It's an alternative to the rat race of chasing exploding and collapsing stock prices. It will save the average trader months of pointless buying and selling just to preserve their capital, all with the possibility they will make no money or even lose money.
This secret hedging investment is simple, yet so effective…
Investing In Low-Power, Sustainable Food Production
The perfect investment in times of crisis is in sustainable high-value food production that requires low energy inputs.
Unlike the stock market, there is nothing sentimental about demand for food.
Food demand is inelastic. You need it every day. You cannot choose to go without food for a few months until prices come back down like you can with a new iPhone.
Investing in high-value (non-commodity) food production is the perfect hedge against exploding food prices…
Any inflation that the food industry experiences you ride like a ship buoyed on a rising tide. Your food prices will rise in line with inflation, and you'll still get your premium profits on top.
The investment is easy and time-saving. You set it and forget it.
It will continue in the background, earning you money. You don't have to do anything. You don't even have to think about it again until your dividends come in.
Should inflation spike, the value of your food investment spikes, too.
It's as simple as that.
It saves you months of effort, the fear of missing out on signs of a stock market collapse, and the possibility you make a mistake and lose all your money.
Sustainable food production, particularly in tree crops, is especially resilient in times of energy crisis. They don't rely on energy-intensive ploughing, machinery, and processing like commodity crops.
I've been reporting on a truffle investment in Spain that is offering low-risk, environmentally sustainable returns, making it a safe medium- or long-term harbor for your money. It enjoys low power requirements, too. Go here for more information on this inflation-busting investment.
Other Low-Power, High-Tech Agriculture Investments
Greenhouses using smart technology in warm countries use 22 times less energy than similar setups in countries that require heating and artificial lighting like Holland.
Low-energy greenhouses have a huge competitive advantage in times of soaring energy costs. They only need a little power to run their water pumps, which can be supplied by solar power. Modern field crops, on the other hand, require massive amounts of energy.
While these types of agricultural investments are high-tech and use cutting-edge know-how and monitoring technologies, they don't rely on continuous investments in technology nor rare metals to operate.
This makes them immune to the price spikes that tech companies will soon be experiencing due to microchip shortages.
High-value crops grown close to their consumer markets mean few transport costs, too.
The current global situation is creating opportunities for ordinary investors to  hedge against inflation and make prime profits… especially investors who act now.
To discuss a smart investment in your own low-energy, high-return food production greenhouse outside of Europe but close to a huge market, go here.
Con Murphy
Editor, Overseas Property Alert