Own Beach Paradise For Just US$18.50 Per Day
A forgotten place of raw natural beauty is about to be rediscovered… A place with long sandy beaches and perfect Mediterranean weather. It's steeped in ancient culture and history…
Underpopulated, overeducated, and possibly the cheapest place to live in the Western world, it could cost you as little as US$18.50 per day to own a beach resort condo here.
This former British colony has low crime rates, and English is widely spoken. It seems to have figured out the formula for the perfect lifestyle, too…
People live to great ages due to the stress-free existence and healthy diets. Doctors continue to be amazed that rates of heart attacks, strokes, and diabetes fall every year.
Medical tourism is extremely popular because of its great hospitals and medical care.
Education is the second biggest industry in this forward-thinking country. It's got more students per capita than any other country and six universities that are so good that they attract thousands of foreign students.
It's known as the Miami of the Mediterranean—a title with stiff competition from many luxury locations on the Med. Yet, despite its splendor and many accolades, it's a place that even many Europeans don't know exists…
With a population of only 330,000, nestled right against the border of the EU, it is a special place in the northeast corner of the Mediterranean Sea.
It has a near perfect Mediterranean climate, with up to 340 days of sunshine every year and temperatures that rarely rise above 40°C (104°F) or fall below 15°C (59°F) with cooling breezes.
It has some of the best beaches in the world, which you can have all to yourself if you wish.
This secret spot has the best-value real estate in the Western world… but this won't last forever.
The world is taking notice of this Mediterranean jewel, with its young English-speaking population and attractive investment and business environment.
It's time for you to take a look at Northern Cyprus, because the next global land rush is going to be right here.
Northern Cyprus
Cyprus is the third largest island on the Med. It occupies the same latitude as Southern California but has better weather and far better prices.
The Republic of Cyprus, occupying the southern part of the island, gained entry to the EU in 2004, which caused a property boom in the south. Chasing that boom, I bought a golf villa in the Republic of Cyprus outside Paphos.
Northern Cyprus remains controlled by Turkey and occupies 36% of the island but has the lion's share of the 486 miles of coastline and beaches.
Two decades ago, political tension arose between the two halves of the island.
When I bought in the southern part of Cyprus 20 years ago, no one was considering buying just over the border in the north.
Today, everything has relaxed, the borders are open, and prices in the north remain up to 66% cheaper than in the Republic.
Now it's the North's time to boom.
Economy Of Northern Cyprus
Northern Cyprus has a free-market economy, with services including education, tourism, and medical care responsible for over 69% of the economy. This diversified economy shows that it's a modern place to do business.
Manufacturing contributes to 29% of the economy and agriculture is responsible for 9% of the GDP, the latter growing rapidly.
The government continues to invest in infrastructure and works hard to attract foreign direct investment with attractive tax breaks and incentives.
Investment Incentives
If you want to start a business, the government offers up to 200% tax write-offs for suitable enterprises, plus duty-free importation of equipment, stamp duty reductions on real estate purchases, and lower fees on mortgages and loans.
After all these write-offs and deductions, corporate tax rates are only 10% on the remaining chargeable income.
If you are ready to invest in a business in Northern Cyprus and capitalize on all its advantages, the Famagusta Free Zone and port are available to operate from, comprising of a 115-acre duty-free export zone.
Many designated industrial zones ready for investment exist in Northern Cyprus.
Agriculture is another booming industry in Northern Cyprus. The completion of the freshwater pipeline from Turkey has opened the floodgates of food production, making year-round growing possible and providing easy access to the enormous and hungry Turkish market.
What To Do In Northern Cyprus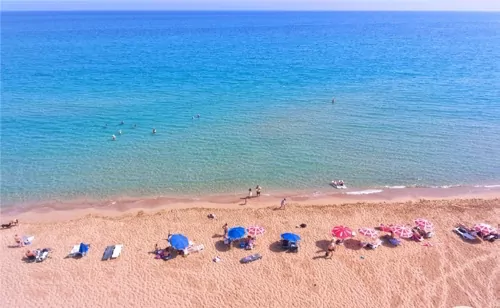 If endless Mediterranean sun, long sandy beaches, and a distinguished cuisine aren't enough, plenty of other pursuits are at hand. A few of these activities include: scuba diving and snorkeling, shopping, golfing, casinos, and nightlife.
Cost Of Living
With real estate costing as little as one third of similar property just over the border in the Republic of Cyprus, the cost of owning your own place is affordable here.
Seafood is amazingly good value, and good quality local food costs a pittance. My favorite is the delicious döner kebab from the street-side cafés, served with a salad for less than US$3.
Education and health services are competitive compared to back home.
The cost of living is low because the local currency is the Turkish lira, which has lost half its value compared to the U.S. dollar in the past year alone. Prices were cheap even before the devaluation.
Property Market
Debate about reunification of the two parts of the island fizzled out after the south became a part of the EU, and the real estate market in Northern Cyprus remained stagnant between 2008 and 2014.
Starting quietly in 2014, a property boom has been building, and it is only now gaining full momentum.
People can see that property just over the border is going for two and three times what it is achieving in the north.
Bolstered by strong government investments and a cosmetic surgery and medical research industry that pioneers innovative procedures including stem cell treatments, medical tourism is now booming in Northern Cyprus as well as beach and cultural tourism.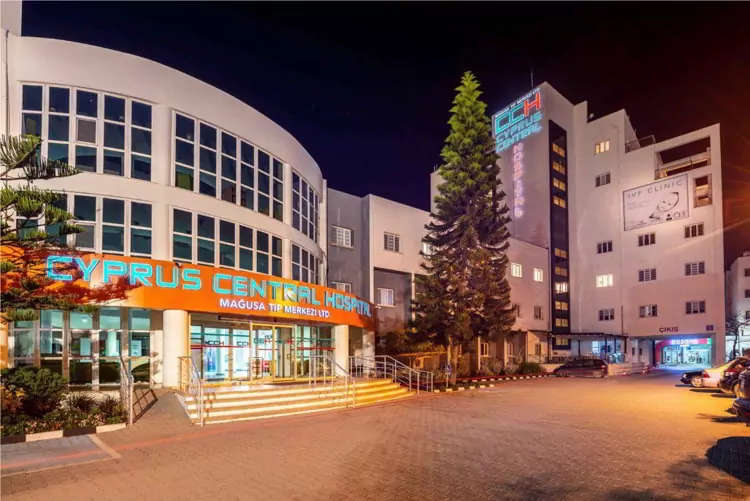 When tourists took notice of the town of Limassol in the Republic 20 years ago, the prices rocketed.
Northern Cyprus still has to get her price run.
Visa And Residency
Getting residency in Northern Cyprus is easy. Owning property makes you eligible for residency, and your family can then apply as dependents.
You can apply for other easy visas if you don't own property but can show passive income, though neither of these entitle you to work.
You'll need a work permit or to open a business to be allowed to work in Cyprus. After five years of residency, you become eligible for citizenship.
Having residency in Northern Cyprus doesn't give you much visa-free travel, so it's really only useful for living in Cyprus.
The borders between north and south are open, and you can easily day-trip to the Republic whenever you like.
Where Can You Find The Best Value In Northern Cyprus?
The best value high-end real estate in Northern Cyprus is in the Iskele beach area about 40 minutes from the international airport on the east coast of Cyprus.
A five-star resort hotel development with mind-bogglingly low prices is on offer for our readers…
Located only 15 minutes from Famagusta, the largest city in Northern Cyprus, this development boasts a stunning 1.5-mile-long beach only a two-minute walk away.
Amenities already in place and under construction in the development include restaurants, bars, a nightclub, cafés, 10 swimming pools plus an indoor water park, spa, tennis and other sports courts, and a kindergarten.
On top of that, there are kids' game rooms and playgrounds and a commercial and retail area that has a medical center, pharmacies, and a plethora of shops and boutiques.
Close to the development, there are fishing docks, picnic areas, restaurants, and bars. It's only 15 minutes from Famagusta State Hospital and the Eastern Mediterranean University.
Prices in this resort development start at US$57,000 for a studio unit, a fraction of what this would cost you in the southern part of the island. This price includes a Live And Invest Overseas exclusive discount… you will not get these prices anywhere else.
The developer is even offering short-term financing at an unheard-of rate of 0% over six years.
With inflation skyrocketing in the United States, this could knock a huge chunk off the value of your financing in real terms before you have to pay it back.
Plus, with the high-quality amenities, more than 300 days of sunshine, and proximity to the beach, this will rent easily for much of the year.
To reserve a unit, you make a US$2,000 deposit, ensuring you can make the remainder of a 30% down payment within 30 days.
The rest is financed at 0% over 72 months. This price is at such an aggressively low level because these units are being offered off-plan.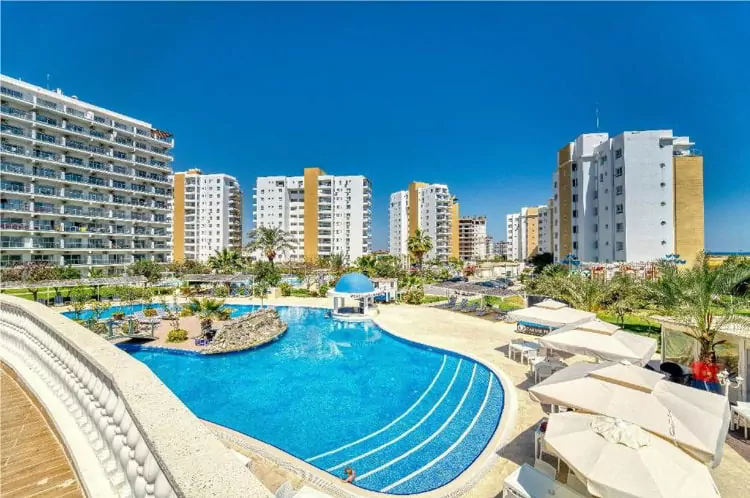 This price is at such an aggressively low level because these units are being offered off-plan.
Delivery is projected for May 2024, with a grace period of up to four months in case of delays. Phases I through IV are complete.
This developer has delivered over 3,000 units in Northern Cyprus to date and develops in six countries including Germany. These guys have a solid track record.
If you choose the most economic deal of a US$57,000 studio, you reserve the unit with US$2,000, pay US$15,100 within 30 days, and US$555 per month for six years.
In just over two years you will be able to move in permanently or rent it out.
You'll be due closing costs and stamp duty when the unit is complete and you take the keys.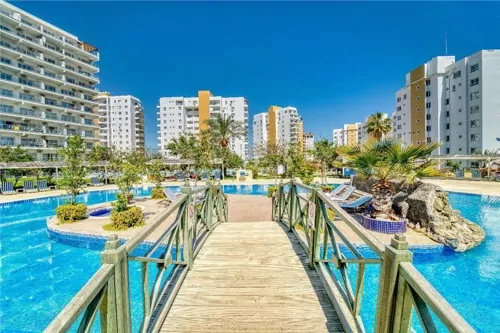 Rental yields are expected to produce an ROI of 11%-plus.
I sometimes talk about pocket money investments, but this is couch cushion money…
You could own a place in a five-star Mediterranean paradise with a 30% down payment, closing costs in two years, and a note of less than US$18.50 per day.
And after six years you own it titled, outright, forever…
The nightly rental rate for currently completed units is about US$140. Even with management fees, repairs, and a little local tax, you could live in your beach resort home most of the year and still have it pay its own mortgage, until you own it outright…
How many days a month or how many months per year will you need to rent it out at US$140 per night to cover a note of less than US$6,660 per year?
To own in a five-star resort with tons of amenities in a stunning and relaxing beach area but close to city nightlife and the action, all for less than US$20 per day… go here to get all the details.
Con Murphy
Editor, Overseas Property Alert