Plus: I Want My Money Back!
Checklist For Buying An Investment Property
Why Isn't Cuenca, Ecuador On Your List?
I've written often about "currency discounts," that is, the reduction in property prices that dollar holders have realized these past few years as a result of the strengthening dollar.
Today I'm telling you that the trend is changing for several currencies… things are shifting. Whether or not the dollar's decline is a long-term trend, I can't say. But I can tell you that many of the discounts we've been enjoying around the world are dwindling… while some bargains are holding fairlysteady.
Make no mistake, today's buying power is still great (more on this below), but it's not what it was at the start of 2016.
And Canadian buyers are not exempt… with few exceptions, your buying power is falling off as well, even though it'sincreasing against the U.S. dollar.
Let's take a look at a few currencies that are important to expats and foreign property buyers. We'll take a look at the largest drop-offs first.
Note: All charts are courtesy of Pacific Exchange Rate Service 2016© by Professor Werner Antweiler, University of British Columbia, Vancouver, BC, Canada.
Brazil: Down To A 36% Currency Discount For U.S. Dollar Holders
Those of you who bought those beachfront lots we wrote about a few months ago for US$49,000 timed the purchase just about perfectly. The exchange rate against the Brazilian real was at historic highs, doubling your buying power from just a few years ago.
Today the real is rebounding against the dollar, although your buying power is still strong. As of Aug. 22, the dollar has fallen 21.5% from its peak earlier this year… but it's still up an amazing 36.1% from 2013.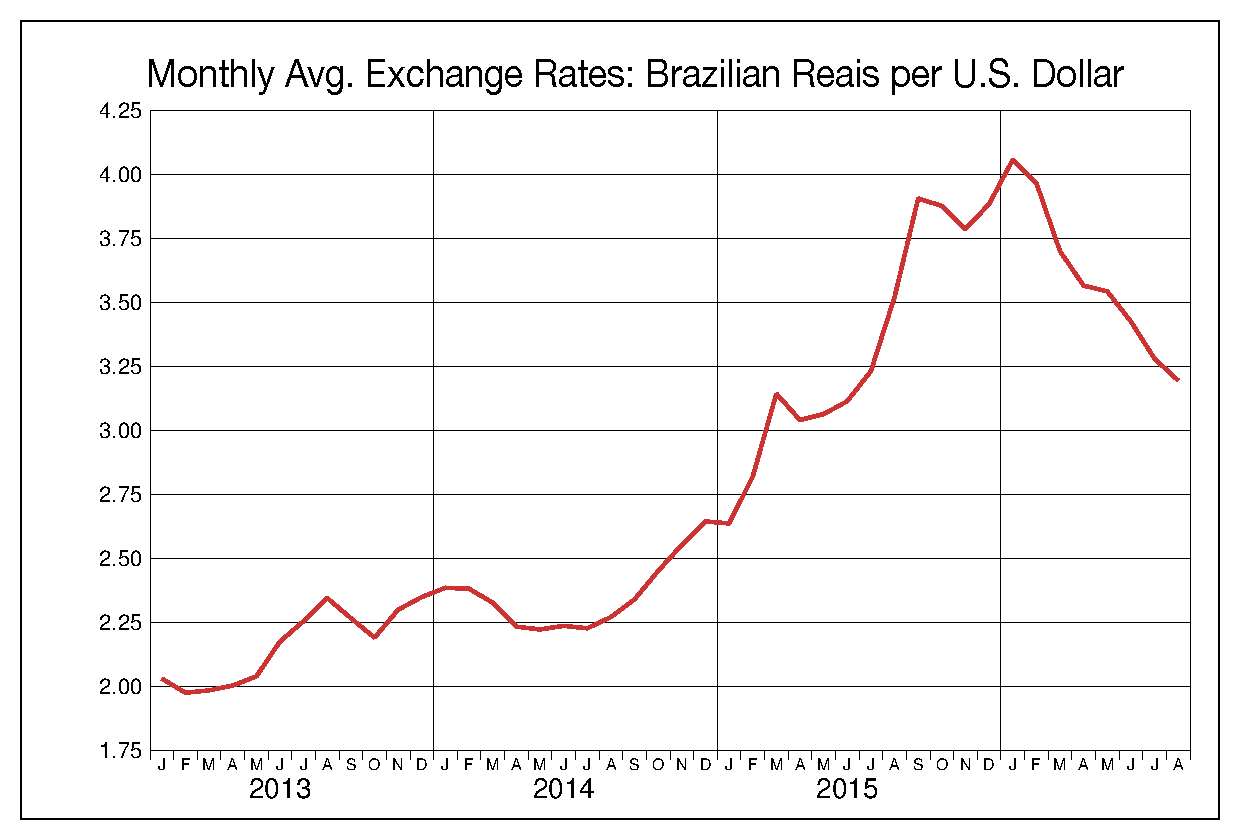 If you bought in Brazil earlier this year, your timing was impeccable… and lucky
If you'd love to own a property in Brazil, I wouldn't count on that 36% currency discount holding forever. If current trends continue, today's exchange rates will look good before too long.
Colombia: Still A Strong Case For Dollar Holders
I know that hundreds of you bought in Colombia while the dollar was near its peak. For a while, sales volume was up more than 10 times what it was just a few years ago.
Colombia is still a good bargain, even though it's dropped 14.7% from its peak in 2016. Today, your dollar still buys 38.9% more than it did in 2013.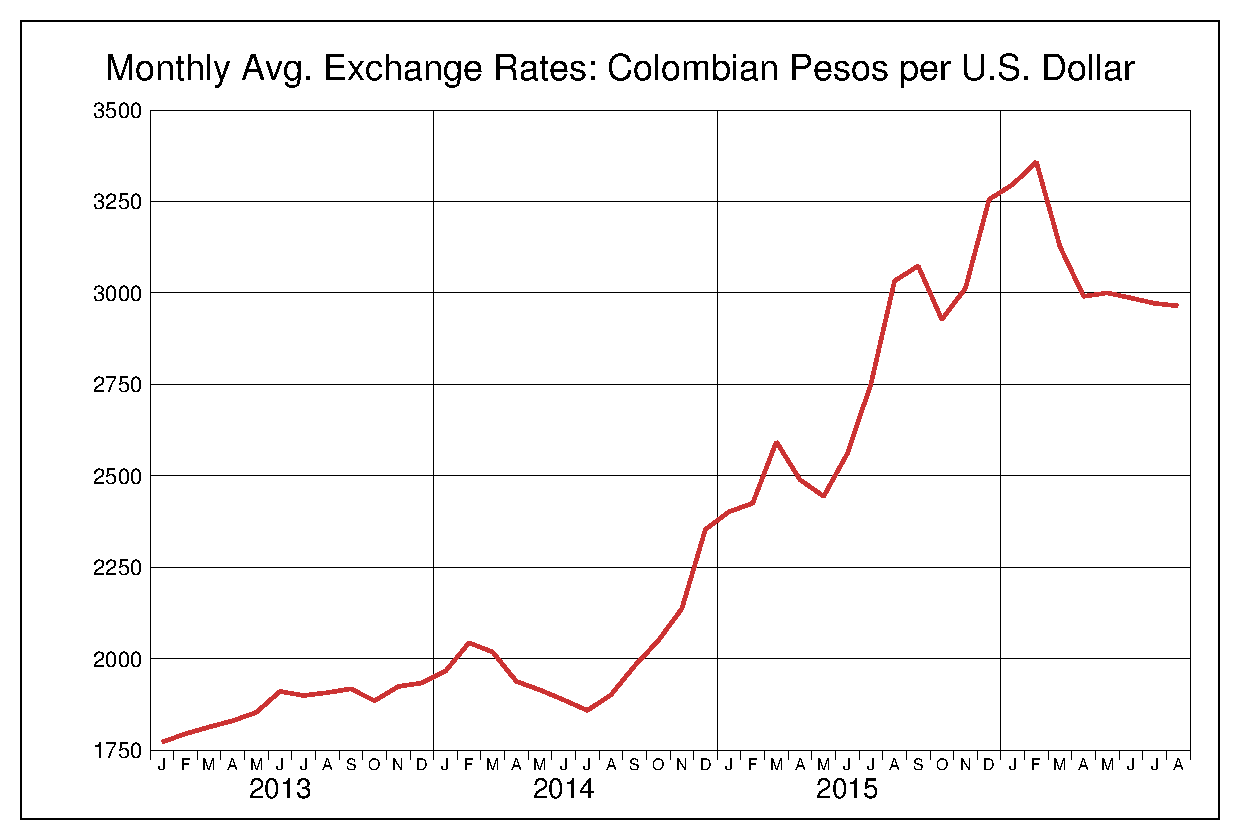 Sales have been at record levels in Colombia, but the favorable exchange has backed off
Colombia is one of the most active expat destinations that I know of, and there are still great deals to be found. But, like Brazil, I wouldn't wait forever to jump in.
Canada Is A Handsome 23% Off For U.S. Dollar Holders
Canada enjoys an amazing 93% approval rating by Americans according to a recent Gallup Poll… higher than any other country in the world. So it's no surprise that many Americans would like to own a property in Canada… especially a summertime property.
The U.S. dollar hit its peak against the Canadian dollar earlier this year. Since then it's fallen from its peak by just over 9%. But U.S. dollar holders still have a 23% advantage when compared to 2013.
The Canadian dollar is not as volatile as the Brazilian real or the Colombian peso, so I don't expect the changes to be as dramatic as with those currencies. If you've been thinking of settling in one of Canada's top retirement spots, now's a good time to act.
Chile: An Opportune Time To Stake Your Claim In A First-World Venue
The U.S. dollar has dropped almost 8% from its peak against the Chilean peso earlier this year. But dollar holders still have almost 30% more buying power in Chile than they had in 2013.
Chile offers a modern, First-World lifestyle that's without rival in Latin America. Chile has lots of coastline, along with mountains, lakes, and deserts, giving it a broad geographic diversity. Its clean, modern cities offer an excellent expat lifestyle.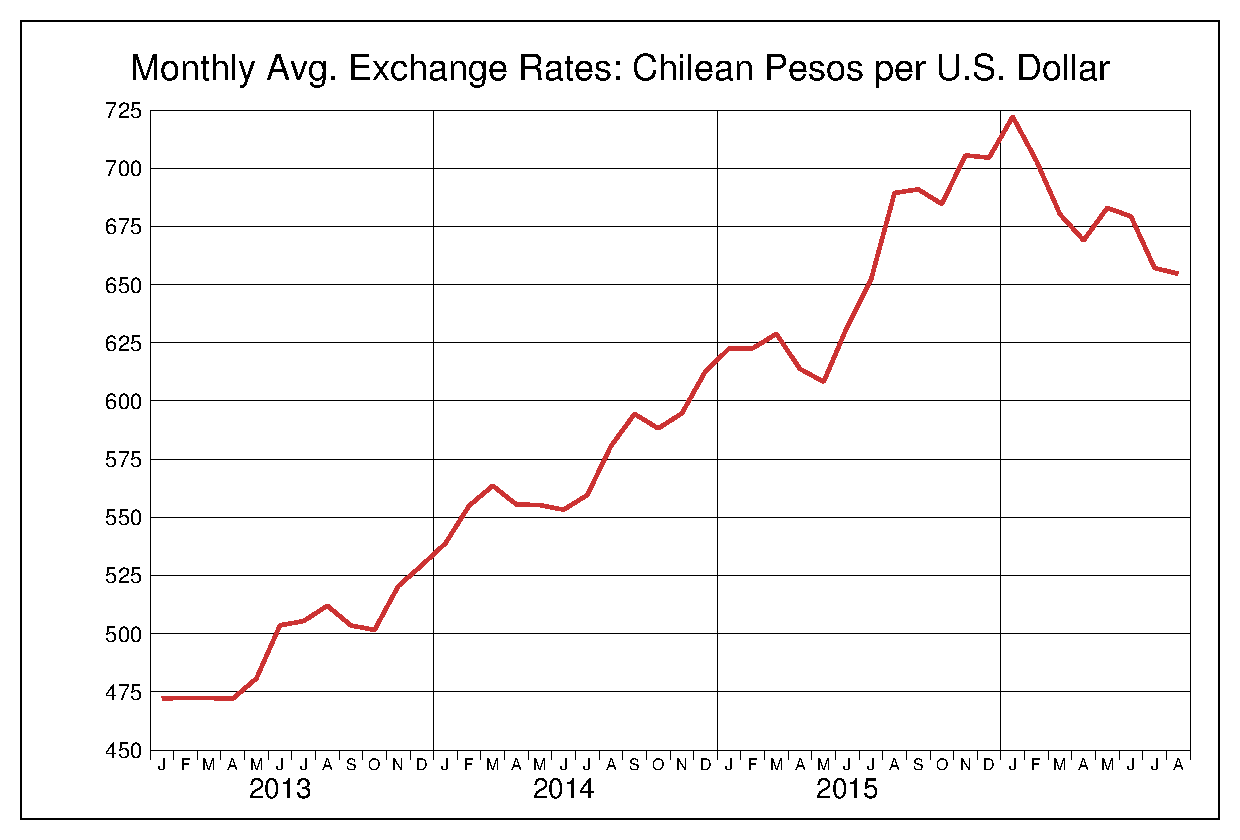 Chile still enjoys a good currency discount for U.S. dollar holders, even if it's off a bit
Over the past few years, Chile has become far more affordable. Enjoy the 30% discount while you can… the trend is now going against those who wait.
Europe Is Still Trading At A 14.5% Discount For U.S. Dollar Holders
Europe has it all for many North American expats. It offers rich cultural amenities and sites, fascinating and diverse countries, and the ancient history of our western civilization. Many Americans trace their heritage to Europe, so virtually everyone feels a special tie to at least one of its countries.
U.S. dollars have about 14.5% more buying power than they had in 2013, even though the dollar has fallen almost 6% from its peak in late 2015.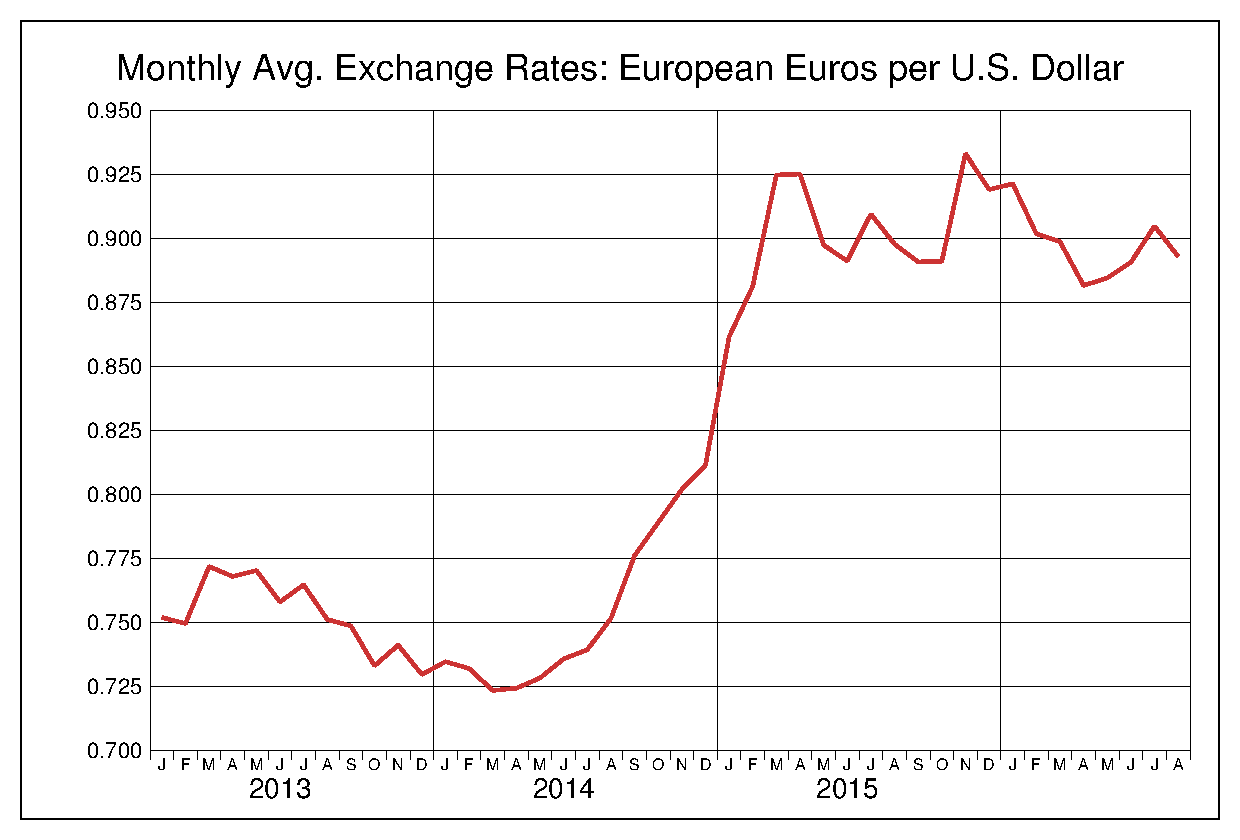 The U.S. dollar peaked against the euro in 2015 then trended slowly downward
I won't venture to guess about the long-term prospects of the euro. It may continue to gain on the dollar, or it may turn around as they print money and sink lower interest rates farther into negative territory.
But I do know that we still have strong buying power in Europe, and it hasn't lost much from the U.S. dollar's peak.
Mexico: The Historic Bargain Still Holds Strong
U.S. dollar holders still enjoy almost 31% more buying power in Mexico than they had in 2013. The best part is that while the dollar has fallen, it's only fallen 2% from its peak earlier this year.
So the bargains in Mexico are still holding, and prices on peso-priced properties are at historic lows.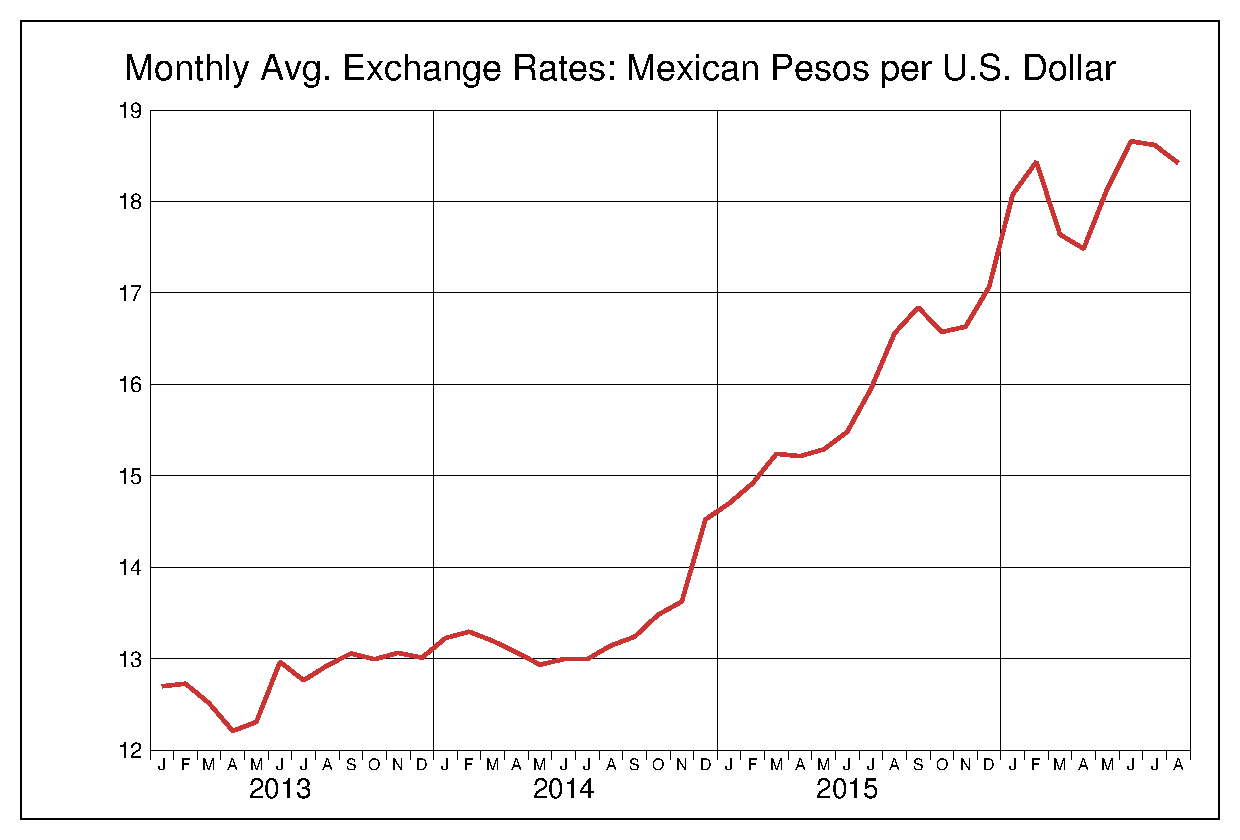 The powerful exchange rate in Mexico still holds at historic levels
I got a place in Mexico this year, not too far from the peak… and I'm still stockpiling pesos, anticipating an eventual decline in the dollar's value.
Mexico is the #1 expat destination for Americans, with over a million people in residence. Its advantages are many and convincing. If you'd like a retirement home or second home that you can travel to by car, now is the time to look seriously at Mexico while these exchange rates hold.
Canadians Are In The Same Boat As Americans
I looked at the same data for the Canadian dollar and found approximately the same results.
The Canadian dollar hit its peak earlier this year, and has since slumped against the Brazilian real, the Colombian peso, and the Mexican peso.
Of course, it has gained against the U.S. dollar.
Exchange rates for the Canadian dollar against the Chilean peso or the euro have not followed the others' behavior and don't follow the U.S. dollar trend.
Here's A Summary Of Where We Are This Week
Many of us have become a bit complacent, unwittingly thinking that the favorable exchange rates would go on forever. In fact, that never happens…
And to be sure, I'm not making a currency prediction here.
It's impossible for us to predict the dollar's behavior, which is why most analysts can only speak convincingly about what happened yesterday… never about what's going to happen tomorrow.
So I can't tell you if current trends will continue.
But I do want to call your attention to the fact that the positive trend has reversed since the start of 2016.
Here's a summary of the countries I covered above:
Summary: Exchange rates vs the U.S. dollar
Country
22-Aug-16
1-Jan-13
2016 Peak
Discount from 2013
Loss from Peak
Brazil
R$ 3.21
R$ 2.05
R$ 4.09
36.1%
21.5%
Colombia
COP 2,874
COP 1,755
COP 3,370
38.9%
14.7%
Canada
CAD 1.29
CAD 0.99
CAD 1.42
23.3%
9.2%
Chile
CLP 666
CLP 470
CLP 723
29.4%
7.9%
Europe
EUR 0.883
EUR 0.755
EUR 0.936
14.5%
5.7%
Mexico
MXN  18.29
MXN 12.70
MXN 18.70
30.6%
2.2%
The U.S. dollar is still strong but trending weaker
Lee Harrison
Editor,
Overseas Property Alert
Editor's Note: Lee has already staked his claim in Mexico, taking advantage of the strong, favorable exchange rates. If you think our nearest neighbor may be right for you, join Lee and our staff at our Live and Invest in Mexico Conferencein September to see all that this great country has to offer. Get more info here.
***
Letters To The Editor
Lee,
I love your insights. But I don't understand why Cuenca, Ecuador, was not included in your latest list of cities for "world's best value properties."
I live in Cuenca and am currently in Medellín, Colombia, buying another property. From my perspective, Cuenca certainly stacks up to Medellin as far as value is concerned.

Neil
Ecuador
I don't know the methodology for evaluating the list that Neil is referring to. It might be easier to find the formula for Coca Cola, Google's search algorithm, or the recipe for Mrs. Field's chocolate chip cookies.
But I personally believe that when it comes to properties, Cuenca and Medellín can both represent a good value.
The lifestyles are far different. Cuenca offers an Andean lifestyle in a beautiful, 16th-century colonial city, with lots of fellow expats. Medellín is an upscale, cosmopolitan city with high-end, modern construction and amenities… with relatively few expats.
I've lived in both places, and I think both are good-value property markets. To me, it's an issue of where you'd rather be.
***
I just saw that several associates of an El Chapo relative were captured in Puerto Vallarta. What kind of recommendations are you telling me and my wife about?
If this actually happened, I would like my money back. I am very disappointed… I will stay in some backwater area in the United States where I am safe.
Thanks a lot.
Fred
For anyone who doesn't know who El Chapo is, he's Joaquín Guzmán, infamous leader of the Sinaloa drug cartel. Fred is referring to a recent incident where Mr. Guzmán's son (also with the cartel) was abducted from a restaurant in Puerto Vallarta by members of the rival Jalisco Cartel. He was released a few days later.
I assume that Fred is also a member of a cartel and concerned that the Jalisco Cartel may want to strike out at him, too. (Otherwise, why would they want him?)
I've spent significate time in a country that has a huge drug business (the United States) and countries that supply that business (like Colombia and Mexico). My experience has been that if you stay away from the drug trade, you'll have no reason to know it's there.
I can't speak for other publications, but I'll happily give Fred back all the money he paid for Overseas Property Alert… or at least I would if it weren't free. (But seriously, all editorial products at Live and Invest Overseas come with a money-back guarantee.)
***
Hi Lee,
I want to know if you have a checklist to follow for evaluating a property one intends to purchase for investment purposes. Likewise, what pitfalls or warning signs that may appear.
I'll be shopping in the Dominican Republic and will tour from the capital around and up to the north coast. I have a small budget, under US$150,000.
Any advice would be greatly appreciated.
Best Regards,
Casey
As a matter of fact, I did an article on selecting a rental investment property last year. You can see it here.
Have a question? You can write to Lee here.