Plus: A Beach Property For US$75K?
If you'd like to see a quick, efficient snapshot of what's happening with Latin American property prices, then you've come to the right place.
Each year, I take a snapshot of property costs from 19 key markets around the region. I use this data as a means of comparing markets and of monitoring changes throughout the year.
All prices are expressed in our universal measure, U.S. dollars per square meter. For purposes of this article—in cases where properties are priced in the local currency—the exchange rates are those in effect on Jan. 24, 2016.
In each of the survey's cities, we check local listings for 10–12 apartments with two bedrooms and two baths and about 75–100 square meters of living space… or as close to that as the local inventory allows. The neighborhoods are those that are favored by expats and are places where I'd look for property myself.
Let's start with the biggest price drops in the region over the past year.
If You've Been Waiting For A Bargain, Check Out The Biggest Price Drops In 2015
The beach resort of Santa Marta, Colombia, wins the prize for the largest price drop in 2015. Properties in this popular seaside getaway fell from US$2,091 per square meter last year to an amazing US$1,032 at the start of 2016… a drop of more than 50%.
Santa Marta's prices in Colombian pesos actually rose, but the dollar's gain of 61% kept those prices in check in dollar terms. (See the "FX Change" column below for the dollar's 2015 rise against the local currency in non-dollar markets.)
In Santiago, Chile, properties in its best neighborhoods fell slightly this year in peso terms. And, when you combine that with a 20% strengthening of the dollar, we end up with a 24% price reduction in Santiago for 2015. This is a good time to buy into one of the best lifestyles in Latin America.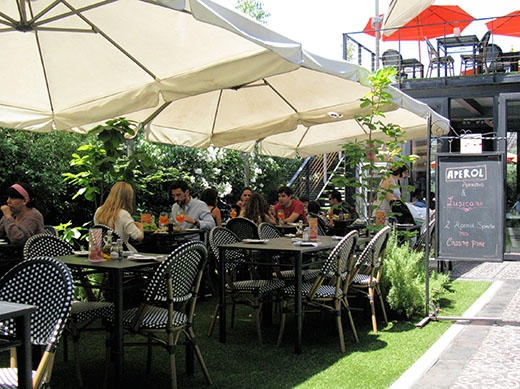 Santiago's elegant lifestyle is now within reach
Prices in Medellín, Colombia fell by 13.4%, which is a good discount for this great-weather-year-round destination. But interestingly, 13.4% is not much when you consider that the dollar gained 61.3% against the Colombian peso. This is because prices here in peso terms have gone up smartly. (The same holds true for Cartagena, Colombia.) Medellín is in demand by a broad spectrum of expat retirees, part-year residents, and investors.
When the dollar turns around on its next downward cycle, these local price increases will result in super returns for today's buyers.
Here's a list of the surveyed markets whose prices fell in 2015. Again, the "FX Change" column shows how much the U.S. dollar gained on the local currency in places where real estate trades in a local currency.
| | | | | | |
| --- | --- | --- | --- | --- | --- |
| Country | City | 2015 | 2016 | Price Change | FX Change |
| Colombia | Santa Marta | $2,091 | $1,032 | -50.6% | 61.3% |
| Chile | Santiago | $3,057 | $2,323 | -24.0% | 20.0% |
| Uruguay | Montevideo Carreteras | $2,679 | $2,210 | -17.5% | |
| Colombia | Medellín (El Poblado) | $1,330 | $1,153 | -13.4% | 61.3% |
| Peru | Arequipa | $1,136 | $1,047 | -7.9% | |
| Bolivia | Santa Cruz | $1,068 | $998 | -6.6% | |
The Strengthening U.S. Dollar Has Caused Many Of These Price Drops
As you can see, some of the price drops above were aided by a favorable swing in exchange rates for holders of U.S. dollars.
Here's how the U.S. dollar fared against the currencies in the survey:
| | | | |
| --- | --- | --- | --- |
| Country | FX 2015 | FX 2016 | FX Change |
| Colombia | COP 2,052 | COP 3,310 | 61.3% |
| Brazil | BRL 2.56 | BRL 4.09 | 59.8% |
| Mexico | MXN 13.61 | MXN 18.45 | 35.6% |
| Chile | CLP 596 | CLP 715 | 20% |
Here Are The Five Least Expensive Markets In The Latin American Survey
Santa Cruz, Bolivia, takes top honors for the least expensive market in the survey. The center of Bolivia's wealth, Santa Cruz is not the most colorful or most "Andean" city in Bolivia… but it's a sophisticated city in which I'd look for a full-time home in this country.
It's also worth noting that another Andean venue made the "least expensive" list this year, Arequipa, Peru. With 12 months of brilliant sunshine and amazing weather, this 16th century colonial city is easily my #1 retirement choice in Peru. Thanks to its altitude of 7,650 feet (2,350 meters), Arequipa enjoys days that average around 71 degrees (22˚C) all year.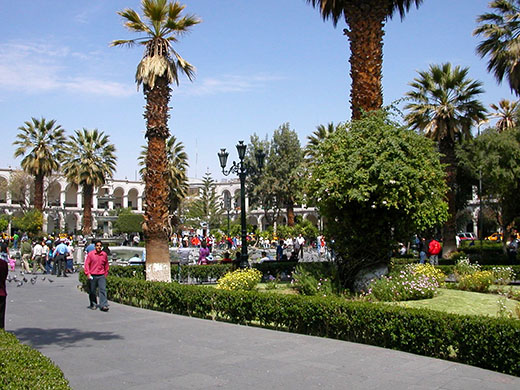 I believe colonial Arequipa is Peru's best expat destination
Cuenca, Ecuador, is still hanging in there on the inexpensive list, despite the fact that Ecuador uses the U.S. dollar and has no currency advantage. With a modest gain of less than 2%, it's still a great value for the lifestyle. It's been the top retirement choice for North Americans for almost 10 years now and is still holding its own in popularity.
Here are the five top markets in the "least expensive" category.
| | | | | | |
| --- | --- | --- | --- | --- | --- |
| Country | City | 2015 | 2016 | Price Change | FX Change |
| Bolivia | Santa Cruz | $1,068 | $998 | -6.6% | |
| Colombia | Santa Marta | $2,091 | $1,032 | -50.6% | 61.3% |
| Peru | Arequipa | $1,136 | $1,047 | -7.9% | |
| Colombia | Medellín (El Poblado) | $1,330 | $1,153 | -13.4% | 61.3% |
| Ecuador | Cuenca | $1,199 | $1,222 | 1.9% | |
These High-End Markets Will Offer Some Of The Best Lifestyles In The Region
Punta del Este, Uruguay, tops the charts in the high-end Latin American markets followed closely by nearby Buenos Aires. I lived in Punta del Este for six years and also lived in Montevideo's Punta Carretas… I believe that these prices were a very fair value for the lifestyles they offered. And the same goes for Santiago and Buenos Aires.
It's interesting to note that Panama City's premium properties grew at a healthy rate of 11.2% in 2015 when surveying the properties available on Balboa Avenue, Punta Pacifica, and Buena Vista. Panama City is one of the world's most business-friendly, tax-friendly, and convenient locations, with many years of economic health in its future thanks to the Panama Canal expansion.
These are the five most expensive cities in the survey.
| | | | | | |
| --- | --- | --- | --- | --- | --- |
| Country | City | 2015 | 2016 | Price Change | FX Change |
| Uruguay | Punta del Este | $3,350 | $3,547 | 5.9% | |
| Argentina | Buenos Aires | $2,660 | $2,758 | 3.7% | |
| Panama | Panama City | $2,300 | $2,558 | 11.2% | |
| Chile | Santiago | $3,057 | $2,323 | -24% | 20% |
| Uruguay | Montevideo Carreteras | $2,679 | $2,210 | -17.5% | |
Where To Take Action In 2016
Exchange rates are still extremely favorable in Colombia, and I still highly recommend Medellín for a part-time or full-time home overseas. Prices are appreciating nicely in local-currency terms, so when the U.S. dollar enters its next cycle, gains will be dramatic.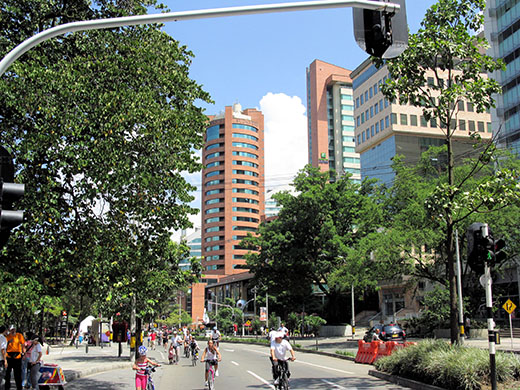 Sunday on the avenue brings everyone out in Medellín
Santiago, Chile, has long been a top choice for an elegant First-World environment. What's kept many people away has been the price. Over the past few years, however, it's become far more affordable.
If you like Santiago, I'd buy now, for two reasons. One is that the dollar may turn around at any time, causing prices to rise… and the other is that properties in Chile may start trading in dollars if dollars stay strong, as they have in the past.
Arequipa, Peru, is a good choice for those who want spring-like weather year-round, lots of sunshine, and reasonable prices in a beautiful, historic colonial city. If you're considering Peru, put this city high on your list.
Santa Marta, Colombia, is a real bargain right now. If you're interested in a Caribbean vacation getaway, now is the time to check it out.
These are exciting times in the world of international properties. Today's exchange rates are presenting us with opportunities that we may never see again… at least not for a long time.
Don't let this window pass you by.
Lee Harrison
Editor, Overseas Property Alert
***
Letters To The Editor
Lee,
My wife is from Colombia, but we live in the USA. We were thinking about purchasing a condo or an apartment in Santa Marta near the ocean. What are the chances of finding something in the range of US$50k to US$75k for a furnished unit?
We would like to live six months in Colombia and six months here, renting the unit out during our time in the States.
Thank you for your time and help.
Mike
Chances are good of finding something in this price range (see the comments on Santa Marta above). I have an acquaintance, Efrain Negrette, who has a brokerage there, and a good bit of his inventory is in that range (245 million pesos or less).
Have a look at the Santa Marta inventory here (https://www.miapartamentoensantamarta.com/). Ask your wife to write to them in Spanish if you're interested in anything.
***
Lee,
Your comments about living in a tourist or heavy expat area are right on, as to the negatives.
That is the reason we moved out of Boquete [Panama] and moved to David, into a local, Panamanian, neighborhood.
There were too many hucksters and expats with attitudes thinking we were new arrivals or tourists… it got to be overwhelming. I got tired of being asked "where are you from," which is no one's business. (I would tell them Costa Rica, which is true.)
We did not come to Panama to be 'American.'
Thanks for your timely comments.
RR
Have a question? You can write to Lee here.