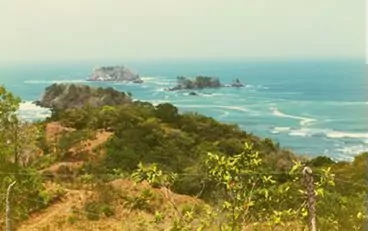 April 22, 2014
Panama City, Panama
US$1 = 1 Panamanian Balboa (fixed)
Dear Overseas Property Alert reader,
"Lot #6…it's the best one on the property."
That's what I said to myself as I watched the pile of grilled chicken breasts and spareribs disappear from the flaming barbecue grill at our hilltop lookout. As the sun made its way slowly toward the Pacific, the 17 of us juggled maps, plot plans, and price lists while enjoying a late lunch and absorbing the feel of the property and the inspiring view.
We're taking in the vista from one of the high points at Los Islotes, a master-planned community located on the westward-facing side of the Azuero Peninsula, also called the Sunset Coast, more than an hour off the Pan-American Highway at Santiago.
The ride from the highway seemed to take forever in my hurry to get to the project.
But I was missing the point. As I spoke to the Los Islotes property owners and some of the local expat residents, I realized that they didn't want to be near the Pan-American Highway, or Panama City…or any other source of noise, pollution, or traffic.
The people in this area are here for the peace and quiet. It's the relatively remote setting, the quiet beaches, and the wild, natural environment that brought them here in the first place. So the ride down from the highway only reinforces the fact that they're leaving the stress and bustle of the real world behind.
One unique feature of the Los Islotes property is the dramatic, hilly terrain leading right up to the ocean. The hills and valleys prohibit a boring, row-upon-row layout when planning the homesites and allow the houses to be tucked here and there among the hills. This means that there are scores of ocean-view properties with relatively unobstructed sea views…without having to look at the back of someone else's house. …
Surf, sunsets, and sea breezes on Panama's most beautiful stretch of Pacific coastlineRead More »