Plus: Explaining Currency Controls And Testing The Waters Before Purchasing Abroad
For many expats who are retiring or buying a second home abroad, weather is their primary criteria. And while it's true that the cost of living (and cost of properties) is also important, the weather is often the primary reason behind making a move abroad. Many second homebuyers are opting for a home in the tropics or southern hemisphere in which they can escape the North American or European winters.
The idea of living in a place where the weather is pleasant all year is appealing. Not only for the comfort factor, but also for the health benefits you realize by not having to live behind closed doors to escape sweltering or frigid weather. (Another benefit, of course, is escaping the utility costs involved when you don't need heat or air conditioning.)
I discovered early on that the world's best all-year weather is found near the equator, at about 1,500 meters altitude (around 5,000 feet).
Using this criteria, there are not really that many places in the world to consider. Here in the Americas, there are a number of good choices in the mountainous areas between Central America and Peru.
Outside the Americas, there are also a few options—in Kenya, Rwanda, Burundi, and Uganda—but they're not quite as convenient for the North American property buyer and not too high on anyone's list.
One of the biggest factors in picking the perfect weather is altitude… and it gives you a lot of flexibility when choosing where to live. A few miles can make a huge difference in climate when you're traveling in mountainous areas. Outside air temperature changes 1°F for every 275-foot change in elevation (1°C for every 150 meters), which can be accomplished in a short distance in say, the Andes.
Here are three of my favorite venues for perfect, all-year weather.
The Valley Of Longevity: Vilcabamba, Ecuador
| | |
| --- | --- |
| Average daily high: | 76° (25°C) |
| Average daily low: | 59° (15°C) |
| Seasonal variation: | ±2° (1°C) |
| Elevation (at river): | 5,000 feet (1,538 meters) |
| Real estate trades in: | U.S. dollars |
Located high in the Andes of southern Ecuador, Vilcabamba was the first place to get my personal nomination for having the world's best weather.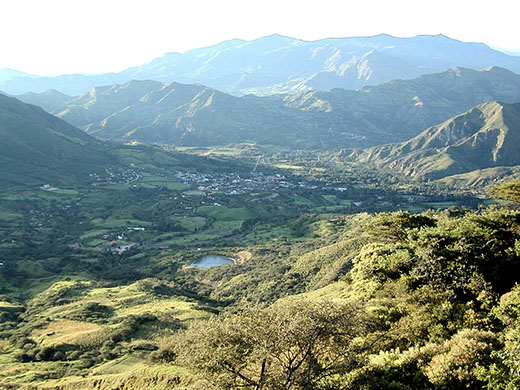 Vilcabamba village, nestled between tall Andean peaks
Vilcabamba is a small town of several hundred people surrounded by towering Andean peaks and lush valleys. The village itself is home to a few hundred people while the surrounding area is home to perhaps 5,000 or so.
Vilcabamba is best for those looking for a small town or rural lifestyle, who also appreciate the outdoors. It's also #1 with people who are seeking a self-sustaining lifestyle, given its 12-month growing season, year-round pleasant weather, and fertile soil.
The area became famous about 50 years ago for having the world's highest concentration of people over 100 years old, and Vilcabamba was subsequently studied by numerous groups to determine why. The theories vary from something special in the water… to a giant magnetic vortex… to the influence of space aliens in the area. Most of these claims are in dispute… but there really are a lot of very healthy, very old people in the area.
I personally think their remarkable longevity is due to the crystal-clear air, pure mountain water, and lots of aerobic exercise… although I believe the space-alien theory has more followers.
When I first came to Vilcabamba in 2001, it had the highest concentration of expats of anywhere in Ecuador, with about 13 households. It was (and is) a true international destination, with expats from around the world. Today, there are even more expats in Vilcabamba as it gains in popularity.
Properties here are reasonable. Remember though, that the most expensive properties will be around the world-renowned Vilcabamba. If you head to adjacent Malacatos or Quinara you'll find lower prices.

One interesting property is a charming Ecuadorian-typical adobe house, beautifully restored to western standards, with impressive 10 foot ceilings. There's a lush, easily manageable yard with fruit producing trees… including lemon, orange, papaya, banana, and maracuyá (passionfruit). The property is fully fenced making it a safe and secure area for pets.
The house includes two bedrooms, a single bathroom, laundry room, covered patio, and an additional studio/guest space with bathroom and bodega. Located just a 10-minute drive from the Vilcabamba village on a fully paved road, the asking price is US$75,000.

We also found a riverfront property located in Barrio Yamburara, just a 10-minute drive from the center of town. On the property are two houses: the first house is an old building that has been nicely remodeled with three bedrooms and two bathrooms.
The second house is newly built with a very spacious single bedroom. The home is private and has a beautiful view of the mountains and river. There is enough space to grow a garden, and the asking price is US$145,000.
Want A Cooler Climate?
Just head north in the direction of the city of Loja, which is 45 minutes away. On the way up the Pan-American Highway, you'll rise from 5,000 feet to a cool-and-refreshing 7,000 feet in altitude, which will give you a number of additional climate options. I like the town of Loja as well and find it a good place to settle.
A Piece Of Rural Spain In Central America: Santa Lucia, Honduras
| | |
| --- | --- |
| Average daily high: | 76° (24°C) |
| Average daily low: | 55° (13°C) |
| Seasonal variation: | ±4.4° (2.4°C) |
| Elevation (at lake): | 4,925 feet (1,515 meters) |
| Real estate trades in: | U.S. dollars or Honduran lempiras |
For several years, I'd convinced myself that Vilcabamba's weather was the best in the world. But then on an extended scouting trip, I discovered Santa Lucia in the mountains of central Honduras. It's a little-known valley with near-perfect weather and peaceful living with a quaint, picturesque village as its centerpiece.
Santa Lucia is situated at about 5,000 feet of altitude in the hills surrounding Tegucigalpa. The town looks almost medieval with its narrow, winding cobblestoned streets, stone walls, and old Spanish architecture.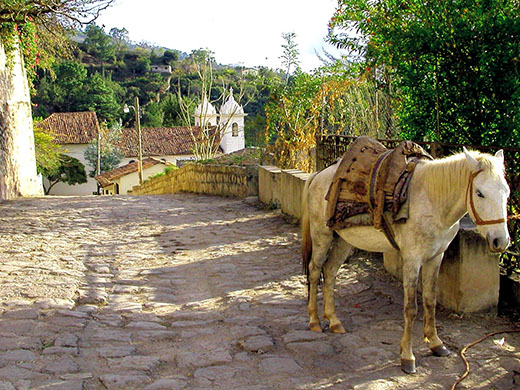 Santa Lucia not only enjoys perfect weather but will remind you of medieval Spain
While exploring the town, I was reminded of Spain's Toledo just south of Madrid. The sparkling white church lies at one end and at the other end there's a wooded town park with a small lake at its center. Tall, green mountains rise up around the town with a number of large luxury homes hidden among the trees. Surprisingly, Santa Lucia is only about 20 minutes from nation's capital, Tegucigalpa, and its international airport.
A short drive down the valley from Santa Lucia, you'll find the better-known town of Valle de Angeles. This is an artisan village—with souvenir shops, coffee houses, and a stately colonial church overlooking the town square—that's surrounded by 100-mile views of the most dramatic mountain scenery you'll find anywhere. Like much of the mountainous areas around Tegucigalpa, the tall pines and hills are reminiscent of the U.S. Rockies or the Sierra Nevada around Lake Tahoe.
The village of Valle de Angeles is much more of a tourist draw than Santa Lucia, which had more of a residential feel.

On the property market, I found a two-story chalet in Santa Lucia with a spacious 280 square meters of living space (3,012 square feet), including four bedrooms, two bathrooms, a living room with fireplace, and a carport. The asking price is US$194,000 (4.2 million lempiras).

Just outside of town a brand new, contemporary chalet is for sale with 163 square meters of living space (1,753 square feet), high-vaulted ceilings, and floor to ceiling windows overlooking the hills. With lots of glass and modern architecture this house is impressive. There are three bedrooms and three and a half baths all on a single floor. Asking price is US$260,000.
The City Of Eternal Spring: Medellín, Colombia
| | |
| --- | --- |
| Average daily high: | 82° (28°C) |
| Average daily low: | 62° (17°C) |
| Seasonal variation: | ±1.4° (0.8°C) |
| Elevation (at river): | 4,900 feet (1,500 meters) |
| Real estate trades in: | Colombian pesos |
Another great-weather destination, Medellín is my first choice for full-time, city living. The upscale neighborhood of El Poblado is walkable, safe, and attractive, with lush parks and lots of trees. The city is clean and bright and has more restaurants, cafés, and nightlife than you could experience in a lifetime. When living in Medellín, you can enjoy all of the conveniences that you have back home.
It's always springtime in Medellín's El Poblado
Of all the places I've lived in South America, Medellín holds my #1 spot for lifestyle.
But the cost of living and cost of properties are also reasonable. In fact, they're an amazing bargain when you consider the quality of life here.
Colombia has been a great place to invest and will continue to be an excellent value for the foreseeable future.

One property on offer has the best location that I've seen come on the market for a while. It's in the Catay neighborhood, which is just two minutes' walk from the sought-after Parque Lleras and one minute from an attractive street lined with outdoor cafés. It's a two-bedroom two-bath apartment with a private Jacuzzi and 125 square meters of living space (1,345 square feet). This recently remodeled unit has high ceilings and is arranged on two levels. The asking price is just US$106,250 (340 million pesos) at today's exchange rate of 3,200 Colombian pesos per 1 U.S. dollar.

Here's one for only US$67,000 at today's exchange rates. It's a one-bedroom apartment just a few minutes' walk from the Golden Mile, one of the best locations in El Poblado. It's a perfect hideaway, with lush, green views from every window.
Want A Cooler Climate?
All you have to do is go east up the mountainside without even leaving El Poblado. The El Tesoro neighborhood, for example, is 900 feet higher than the valley floor (and only 1.7 miles away), resulting in temps that are several degrees cooler. If you'd like it cooler yet, keep going up the hill to Retiro, which is 2,000 feet higher than El Poblado.
Three Unique Options For The "World's Best Weather"
I realize, of course, that the "world's best all-year weather" is different for everyone. And lest I forget, every time I declare a place to have excellent weather, I'll get a flurry of emails telling me that it's actually too cold, too hot, too rainy, etc.
But Vilcabamba, Santa Lucia, and Medellín represent three good and diverse choices for those seeking that perfect climate. Depending on the lifestyle you're after, one of them could well be perfect for you.
Lee Harrison
Editor, Overseas Property Alert
***
Letters To The Editor
Lee,
In your recent article
comparing today's four top discounted markets
, you said "Colombia has currency controls". What exactly does that mean, and what are the consequences of currency controls?
Thanks!
Louis
Currency controls (aka foreign exchange controls) are controls imposed by a government on the purchase or sale of foreign currencies by residents… or on the purchase or sale of local currency by nonresidents.
I mentioned currency controls when talking about Colombia and Brazil, which have similar rules:
You must register the funds when they enter the country, and declare their intended use.
The government requires that you exchange your funds for the local currency shortly after they come into the country.
You cannot hold U.S. dollar accounts in the country's banks, and generally, cannot spend dollars in-country.
You must declare it when the funds are converted back into dollars in order to leave the country.
Currency controls are an annoyance, but not a show-stopper. Once you learn to navigate the system it's just part of the process for transferring funds. In all cases, real estate professionals can help you with this process.
***
Hi Lee,
First, I want to thank you very much for writing and presenting many good opportunities in different markets. It stretches my imagination when looking at different opportunities to live or invest abroad.
But I would like to add one 'plug' for renting before buying overseas. Whereas we in the States can use the Internet to get maps, pictures, business listings, MLS, etc, they don't have all of these tools abroad. I think we need more 'boots on the ground' in Latin America to decide where we want to live, or even how to live (condo vs house, countryside vs city, etc.).
We may even find out after a six month trial that we really want to try something else. Buying makes you less 'mobile' so it's better, I think, to try a place out before putting down stakes.
Andre
I generally don't advocate "rent before you buy", because I've never done it myself. But Andre hit the nail on the head with respect to why it's right for some people. Renting in a place before you buy (especially if it's going to be your residence) is the best way to know that you're really getting the lifestyle and neighborhood that you'd hoped for in a new life abroad. That flexibility to change your mind may be just what you need.
Have a question? You can write to Lee here.