After 14 years of traveling and scouting properties in 17 different countries, there are not many countries left where I try to combine a real estate scouting trip with a vacation… at least not on the second or third trip.
But I just realized this morning that we've vacationed in Nicaragua four times now. Almost every time I went to Nicaragua on assignment, we've combined it with a vacation.
And it's hard to explain the attraction.
Nicaragua offers some of the world's largest lakes… a pristine Caribbean coastline… beautiful Caribbean islands… cool mountains… and hundreds of miles of sandy Pacific beaches.
But it's more than that. And it's more than the super-low cost of living, or easy residency, or any of those practical items.
Nicaragua and its people also convey a welcoming feeling—a comfortable feeling—that I don't quite find anywhere else. No matter how many times I go, I look forward to getting there… and I'm sorry to leave.
A month ago, we talked about an area that offered reasonably priced beach properties, in Nicaragua's Masachapa. This is one of my favorite beaches in Nicaragua, and the presidential beach home is located there.
But Masachapa, and its lifestyle, are not for everyone.
This is because the properties in Masachapa are in a rural, local seaside neighborhood rather than a planned community. This is great for a genuine, in-country experience… for expats who want to strike out on their own, speak the language, and be immersed in the local culture.
But it's not the easiest option out there.
This week I'm going to talk about another beachfront property… except this time it's one that comes with a full slate of community amenities. It's complete with North-American-level infrastructure, including reliable phone, electricity, water, security, and Internet service.
This Coastline Is Among The Best You'll Find Anywhere
The Pacific coast of Nicaragua is dramatic and beautiful by any standard. It runs for more than 200 miles, with white sandy beaches, beautiful black-sand beaches, dramatic cliffs, and small hidden-away coves.
A few small resort towns dot the coastline, along with scores of tiny fishing villages and a handful of high-end planned communities. Coastal Nicaragua is mostly undeveloped, so the planned communities here tend to offer more on-site conveniences than they would in a more populated area.
The weather is warm all year and the water is warm, comfortable, and swimmable all the time… and the sunsets are positively amazing.
We've just received notice that there's a beachfront condo project underway here on a dramatic 3.5 mile stretch of beach.
As part of a special promotional kickoff effort, the developer has given us a limited-inventory "leaseback" offer that comes with a guaranteed US$15,000 per-year return. And, early buyers will get a free US$9,000 furniture package.

Previously completed condos here are already being enjoyed by residents
Construction Is Underway And The First Promotional Condos Are Now Available
The condo project is comprised of 62 apartments, which are currently under construction. Available now are the one-bedroom units, which are the best income performers in this market, providing the highest return on investment.
The developer has offered these units first, frankly, because income properties like these are the most popular with our readers. It's a way to move a handful of units fast, in order to speed the remaining construction along.
The building is oceanfront, so you'll have easy access to the beach for walks, swimming, or surfing.
What's more, this condo project is located within Grand Pacifica Beach and Golf Resort, so you'll have complete access to all of Gran Pacifica's facilities, from its 27-hole golf course, to its riding stables, swimming pools, walking trails, bar, and restaurant.
Residents are already enjoying Gran Pacifica and all of its amenities
The complex is located just under an hour from the capital city of Managua—with all of its big-city services—via a newly completed highway. Another half-hour will get you to the international airport.
The Prices, Terms, Special Incentives, And Income Projections…
These condos are being launched exclusively to readers of Live and Invest Overseas, including readers of Overseas Property Alert. It's a pre-publication offer, meaning it's not yet been advertised or offered to the general public prior to coming to us last week.
The apartments in this offer are one-bedroom, 900 square-foot units, specifically designed for the beachfront rental market in this area. At this time, there are 18 units remaining in the inventory.
As a pre-launch incentive, they're offering a leaseback program with a guaranteed return of US$15,000 per year (US$1,250 per month) for the first three years, paid at the end of each year. (During the leaseback period, you may use the condo—for free—two weeks per year.) The developer has experience with rentals in the area, and knows he can fill the one-bedroom apartments sufficiently to cover the guarantee.
After three years, the condo is yours to either use or to keep in the rental pool (without the leaseback guarantee).
To qualify for leaseback, you must allow your condo into the rental pool, and of course it must be furnished.
And with respect to furniture, the developer is offering a US$9,000 furniture package to a limited number of early buyers. As I write this, there are nine packages remaining.
As the buyer, you will be responsible to pay the Homeowner Association (HOA) fees, and the utilities. HOA fees are estimated to be about US$100 per month.
Owners in this condo sub-project will enjoy full access to the greater Gran Pacifica community amenities, including the golf course, clubhouse, restaurant, swimming pool, and stables. The infrastructure within Gran Pacifica is First World, including paved streets, sidewalks, cable TV, and even fire hydrants… a unique item in Nicaragua.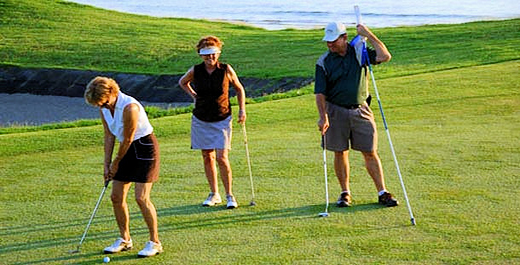 The golf course here draws almost as many as the beach
Of course the biggest amenity here is the 3.5 mile private beach.
Units are available on the third, fourth, and fifth floors of the building. Third-floor units are US$175,000… fourth-floor are US$185,000… and fifth-floor units are US$195,000.
The leaseback guarantee remains at US$15,000, regardless of which floor your unit is on… so your initial yield will be more if you buy on the third floor. But appreciation will be better on the higher floors.
Preliminary estimates on the yield work out to around 6.8% on the third floor, and 5.8% on the fifth floor.
You secure your purchase with 50% down, then pay 40% once the roof is on. The remaining 10% is due when fixtures and finishings are in and keys are handed over.
Construction has started on the building, with the first three floors of concrete and steel already erected. The scheduled completion date is March, 2017.
A fully refundable US$10,000 deposit will hold a unit for 30 days so you can make the trip down to Nicaragua to visit the property and meet the developer.
But if you are attending the Live and Invest in Nicaragua Conference (Nov. 2–4, 2015), the developer has agreed to hold your property until November 10, 2015 with that same US$10,000 deposit. This would be a good opportunity to see firsthand all that this country has to offer, including these new leaseback condo units.
Is A Beachfront Condo On This Coast Right For You?
This is a good opportunity to invest, on a beautiful section of pacific beachfront. It's in the seaside development closest to the capital and the airport, yet the prices here are below those of competitors that are hours away.
I think this project is best for those who want a second home on the ocean, but want a lock-and-leave property that will remain safe and secure while you're gone. You want to enjoy the first world amenities, the bar, and the restaurant, and are not interested in "going it alone" in a Nicaraguan town.
It's also well-suited to the income investor, who can make a guaranteed 8.4% gross income for the first three years, followed by an estimated 6.8% gross return when the leaseback period ends.
In other words, it's a well-appointed, lock-and-leave property that will earn its keep while you're away.
I believe the 18 remaining units will go fairly quickly… and the 9 remaining furniture packages(US$9,000) will of course go the first buyers.
For more details you can contact the developer here.
Lee Harrison
Editor, Overseas Property Alert
***
Letters To The Editor
Hi Lee,
First of all I have been helped a great deal by your site, and appreciate your encouragement of Americans to step out of the average and consider other world-wide options.
I am writing, however, in response to your recent piece on Rocha, Uruguay. After we decided on Uruguay for our eventual retirement, we started our search in La Paloma for all of the reasons that you elucidated in your article.
But then we learned of the plan to place a HUGE deep-water port just north of neighboring La Pedrera. This port will be one of the largest and busiest ports on the Atlantic coast.
I think you should let folks know about the port, and soon. We chose to lose our money and buy a place in Rincon del Indio (which we LOVE) rather than take the risk of having the port nearby. Please let folks know!
Thanks again for the important work you do, and for letting folks know about heavenly Uruguay!
Dianne
Many in Uruguay had high hopes for the new deep-water port in Rocha province, but the idea seems to be falling apart quickly.
First Brazil dropped out of the project, taking most of the funding with them. In an effort to resurrect the port, Uruguay went to the Chinese, who have also declined to invest.
Today, they're not even near a stage where they could call for bids. I spoke with one of Uruguay's top foreign investment advisors (who is following the project closely) and they tell me that if it ever happens, we won't see any significant movement for eight years or so.
Uncertainties aside, however, this is something that should be taken into account when buying in the area.
And Rincón del Indio (Punta del Este) is an excellent choice, by the way. I lived there for six years and still go to visit from time to time.
***
Lee,
Excellent article on Seven Tips for Tackling That Fixer-Upper Abroad.
You stated: "Verify that the house is structurally sound where it counts." That signifies a property inspection.
I've read that even though a Latin American inspector might rate the property as sound, there are no guarantees and no recourse if he is wrong.
What do you suggest?
Don
Latin America has no property inspection regime of the type you'd find in the United States, except perhaps for lender appraisals. But it's not uncommon for an architect/general contractor to perform this inspection service… or a buyer with the proper experience could do their own.
I have found the architect fees to be reasonable for this kind of inspection.
But it won't come with a guarantee, or any kind of indemnification (which is true in the States as well, where they typically say "no warranty is expressed or implied").
***
Lee,
I heard you speak in 2010 in Quito at an event of 400 people or so… and I always wanted to ask you a question.
You mentioned men who were living in or visiting Medellin… hanging out there… and I wondered if these men were successful in their quest… in general… do you think?
I have a visa to live in Colombia but I am still working in the United States
Oh, at 54 years old I'm not sure if I'm in group of men you were speaking of.
Thanks,
[Signed, but withheld by editor]
To be honest, I can't remember what I said back in 2010, but judging by the circumspect tone of the question, it must have had something to do with sex.
Prior to 2010, the majority of the expats I met hanging out in Medellín had come for the women—either for sex or to find a wife. The ages of the men at that time varied between 50 and 70, on average.
And, yes, in both cases, they were "successful in their quest."
I've looked at apartments where the North American owners had half-naked women hanging about…
But I also met plenty of long-term, happily married couples who had found a new partner and felt they'd gotten a new lease on life.
Today it's different.
True, the men-looking-for-women travelers are still coming down. But today, they're outnumbered by retirees, couples, single women, and young people with children. I also see a lot of younger entrepreneurs, and people with portable careers who just love living here.
And to be completely forthright, I see a fair number of middle-aged North American women on the arm of a Colombian man these days, too.
What's happened is that Medellín has hit the mainstream. It now holds appeal for all types of expats, and it's getting dramatically more popular as time goes by.
And the year 2015 has smashed all previous records for newcomers, with Medellín's natural appeal being supplemented by a dramatically favorable exchange rate.
Have a question? You can write to Lee here.