Plus: Where To Invest US$100k… And Prejudice Against Latinos In Ecuador
The beachfront real estate market in Mazatlán has an impressive diversity that will satisfy the taste of most anyone who is shopping for beachfront real estate.
I've been here in Mazatlán for a month now and I'm still sorting out the different lifestyle options here with an eye toward obtaining an investment property or part-time residence.
For the background on why I chose to come to Mazatlán, see my recent article on Mazatlán and its turnaround historic center. This week, we're going to focus on some of Mazatlán's incredible beach options.
The expat community is one thing I should mention before getting into the real estate. Mazatlán is home to a fair number of full-time expats from the United States and Canada, and a far larger number of part-year residents. Canadians seem to outnumber Americans in Mazatlán with most coming from western Canada. Most Americans come from the western United States.
About 65% of all real estate transactions are to Mexican buyers. Among the foreign buyers, Canadian buyers outnumber Americans by about a 60/40 ratio.
Choosing The Best Beach Lifestyle In Mazatlán
Your preferred location, here, depends on what you're looking for in a property or lifestyle, and whether you intend to rent your property out.
Mazatlán's public transit system will affect your choice of where to buy since the city has a good system of public transportation. There are buses, traditional taxis, and dune buggy-like vehicles locally called pulmonías, which can get you easily from one zone to the next. Referring to the map below, you can go from Sábalo Country to Olas Altas in about 14 minutes with light traffic.
Here's my take on Mazatlán's most popular beach areas for expat buyers. To get a feel for orientation, take a look at this map of Mazatlán's beach zones I marked up from a Google Maps image.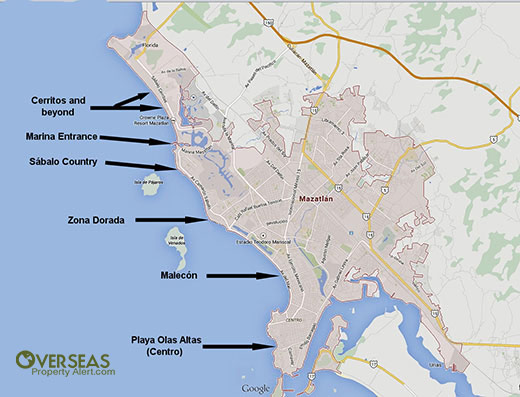 Courtesy of Google Maps
Playa Olas Altas
The beach that's adjacent to Mazatlán's historic center is Olas Altas, which means "high waves" in Spanish. The beach itself is a crescent-shaped, sandy cove about a quarter mile in length (400 meters).
The shoreline of Olas Altas is lined with cafés, restaurants, and a couple of hotels. Bright and early each morning, the tables at these seaside venues fill up with locals and expats who come down for a good cup of coffee and breakfast.
The Mazatlán boardwalk—which is over five miles long—starts here at Olas Altas, and it's the nicest section of boardwalk, with plazas, sculptures, fountains, and even an artisan market at its north end.
While fairly popular, Playa Olas Altas is not Mazatlán's best beach. What makes it so popular is that it's the historic center's beach. Olas Altas is what enables the dwellers of Mazatlán's large, well-preserved historic center to walk to the beach, making it a very unusual and sought-after living combination.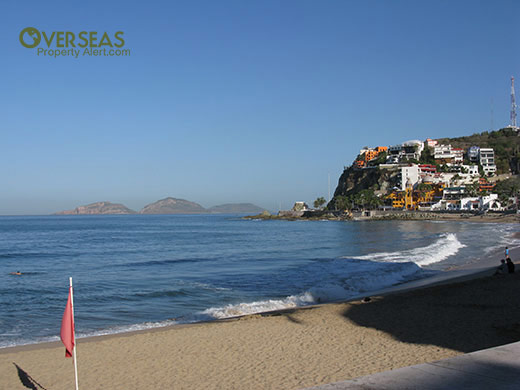 Mazatlán's smallest beach, Olas Altas has the advantage of being in the historic center
There are a number of properties in the historic center, and I mentioned a few in my previous essay on Mazatlán. But two properties stand out on the beach for modern, upscale condo living with walking access to the historic center.

Vue Centro Histórico is a modern condo building with a pool and amenities on the edge of the historic district. It's located on the waterfront road, has unobstructed views, and it's about a 10-minute walk to the historic center proper.
My favorite unit here is 602, a furnished two-bedroom, two-bath apartment with magnificent sea views from the veranda, living room, and both bedrooms. The asking price is CA$330,000, which works out to around US$232,000 at today's exchange rate. Several other units are available, both smaller and larger.

A brand new project, Olas Altas 1, offers a large living space with an ocean view and a Centro Histórico location. You'll get 2,450 square feet of living space (228M2) with three bedrooms and 3.5 baths. These start at US$299,000.

If you don't mind an older building, this condo has the same view and the same convenience. It's surrounded by cafés and restaurants, across from the Olas Altas beach. It needs modernization, but you won't beat the location. The condo has three bedrooms, two baths, and 1,750 square feet of living space (162M2). The asking price is US$169,000.
In summary: Living near Olas Altas beach gives you walkable access to the historic center… or vice versa. Since the historic center has the city's best fine dining, cafés, and architecture, Olas Altas provides walkable beach access to the city's most sought-after lifestyle area.
Malecón
This is an area that connects the Centro Histórico (and Olas Altas) to the Zona Dorada. Malecón is somewhat less developed than either of its neighboring areas.
The term malecón is a bit misleading, because in Spanish, technically, it means a seawall, pier, or breakwater. In practice, malecón is more often used in northern Latin America to mean the waterfront road or a seafront promenade. In Mazatlán it's also a sector of the city that runs along the beach between Centro and Zona Dorada.
The Malecón sector has the nicest stretch of beach in Mazatlán proper. This beach runs for almost three uninterrupted miles (4.7km), with much of it remaining relatively uncrowded and non-commercial.
The boardwalk here (as it is throughout its length) is great for jogging, walking, and biking, and is lighted and safe all night.
What's more, this beach is 100% accessible with no private property separating the beach and boardwalk from the public.
Malecón is somewhat less walkable to restaurants and stores than the Centro Histórico or Zona Dorada, but the north end of it is within walking distance of the Zona Dorada, plus a large, modern mall, supermarkets, and the area's biggest gym.

The best deal I found in this area is in a project called Horizon Sky. It's a 15th floor, three-bedroom apartment with two baths, and two garage spaces. It's tastefully decorated (in my male opinion) and fully furnished. At today's exchange rate, the asking price is only US$256,500 (MXN 4,599,000).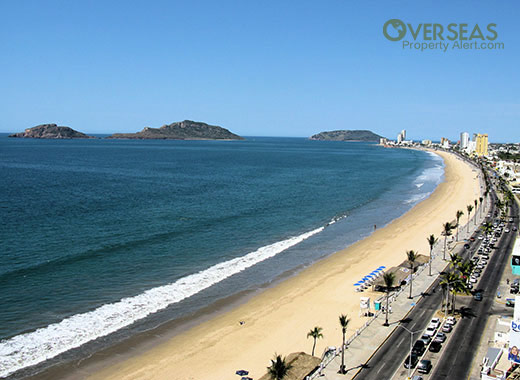 The Malecón district offers miles of walkable beaches
In summary: Malecón is the best area for the beach lover. While it's walkable to fewer restaurants and shops than Centro Histórico, it's got access to mile after mile of relatively uncrowded beach… yet it's just a few minutes taxi ride to either the Centro Histórico or the Zona Dorada.
Zona Dorada
This is the main tourist and hotel sector in Mazatlán. It's dense with shops, boutiques, cafés, beach bars and restaurants, as well as a multitude of things to do. It's the most walkable sector of the Mazatlán metro area.
Zona Dorada is fun and convenient. But it also draws the most tourists, and the annoyances that come with them… like hawkers selling their wares or tour guides chasing you for your business. These things are to be expected when you're visiting a tourist area… but they can become annoying to a resident. You'll see less of this type of thing at the north and south ends of Zona Dorada and more of it in the center.
And to complicate the picture further for the second-home buyer, this is also the zone that rents the best… better than Malecón or Centro. It rents to both international visitors and well-off Mexicans.
The best deal in the Zona Dorada is a three-bedroom, three-bath condo with 1,600 square feet of living space (149M2). It's right on the main road, in the center of the Golden Zone… probably the best rental unit I've seen. The condo has an unobstructed ocean and island view and comes completely furnished and ready to go. The asking price is only US$165,000.
In summary: Zona Dorada is where you can walk to the most beaches, restaurants, shops, and diversions in the city. And, while the tourists can bring tourist annoyances, here is where you'll find the best rental occupancies and rental returns.
My real estate contact in Mazatlán is Shaun Klynstra, an expat in Mazatlán since 2002. Shaun lives on the beach near the Centro Histórico with his young family. You can reach him here.
Continuing north from Zona Dorada, Mazatlán offers even more beach options and more good property deals. Next week, we'll take a look at three new beach sectors and I'll pass along the best of what I find there.
Lee Harrison
Editor, Overseas Property Alert
***
Letters To The Editor
Lee,
The question I have is a political one relating to how U.S. Americans are welcomed in Ecuador, especially U.S. Hispanics. I'm asking because of Ecuador's president's penchant for anti-United States rhetoric.
Although Ecuador appears inviting, I don't want to visit there only to find out what I suspected. I don't have unlimited resources to travel everywhere to see if I like it or not. I need to target my destination very carefully.
I want to know if President Correa's negative rhetoric is taken seriously by Ecuador's people in a general way.
Gracias,
Domingo
Domingo raises a couple of important issues. First of all, in my experience, Americans are welcomed in Ecuador on an equal basis. I saw no evidence of ill-will towards Americans that was based on race or ethnicity.
Secondly, you really have to go and check it out for yourself. It's mandatory in order to know if you'll like the country, and it's the only way to really gauge any perceived prejudice. As I've told many black, Jewish, gay, and lesbian readers, such advice from a straight white guy is of very limited value.
Third, Ecuadorians think for themselves, based on their own experience. I haven't heard any anti-United States statements since we tried to put military bases in his country and throw the election… But, during my experience with seven Ecuadorian presidents, Ecuadorian citizens would never form an opinion about anything based on presidential rhetoric.
***
Hi Lee,
I am a 58 year old man who lost over US$100 million dollars' worth of real estate in the 2008 meltdown… and now I have roughly US$100,000 left to invest!
Where is the best place internationally to deploy my limited funds and get a suitable return to live on? I need some good advice!

Fred
The best returns I've seen lately have been from investments in residential short-term rental projects in Colombia, and in agricultural investments… especially organic fruit products grown for export overseas.
First American Realty Medellín has offered a number of these residential projects, with returns as high as 10%. Contact Rich Holman to see what's available now and he'll send you an investor package for your review.
Have a question? You can write to Lee here.