A Tale of Two Cities, Part 1: Santos
Likely you've never heard of Santos. Almost certainly you've never heard of her sister city across the estuary, Guarujá. But every Brazilian has.
These cities lie about one hour southeast of the city of São Paulo. Each is situated on a large coastal island, and though each boasts lovely beaches, they are quite different in most other respects. For now, we'll get to know Santos.
One Of The Best Cities In Brazil—But Don't Take My Word For It
Santos is a bustling city of about 420,000. It is, in fact, generally conceded to be the busiest port in all of South America, servicing both container and cruise ships.
But Santos isn't the grimy blue-collar town you might imagine. Around 2010, with the discovery of oil and gas reserves offshore, there was a sudden inrush of white-collar jobs. Also, many of the locals are well-paid professionals who actually work in the city of São Paulo, but who make the commute daily because they prefer to live in Santos.
Santos, in fact, regularly appears on lists of the top cities in Brazil in which to live. In 2016, Santos ranked #6 among the best cities in Brazil as determined by the United Nations, considering factors such as average level of education, life expectancy, and income. Santos was rated in 2021 as the best city in all of Brazil for those 60 and over. In a country where people are given to complaining about the government and services, everyone here speaks highly and proudly of Santos, of its superior services, safety, and high quality of life.
Santos is attractive as well. Nature has blessed her. Here, as in so many cities in southeastern Brazil, morros, those tree-covered cones of granite, so quintessentially Brazilian, nestle along the coastline. Broad beaches are washed by the South Atlantic. The unbroken gardens running along the beach are considered by Guinness to be the largest in the world.
I really like the way Santos organizes its beaches—and I've seen plenty here, up and down Brazil's extensive coastline. The beaches are Brazilian, and yet organized—two words not typically used in conjunction. There are bike lanes, and the calçadão (broad beach sidewalk) for pedestrians. Permanent kiosks serve up seafood and icy-cold beers.
On the weekends, locals and daytrippers throng stalls and pushcarts, which offer everything from handicrafts to churros (wickedly delicious tubes of deep-fried pastry stuffed with chocolate or caramel cream). The beaches are broad, in many stretches a full two city blocks from the calçadão to the water's edge. You stand surrounded by clutches of beach umbrellas of every color, and the sounds of laughter, volleyball, beach soccer, and, of course, the crash of the waves. Close to the kiosks, the smell of the sea gives way to that of churrasco, Brazilian-style barbecue. Ahhhh…
Paradise? Well, if I'm picky, the sand here has clay in it. It's grayish in spots and isn't as sugary soft as over in Guarujá, which we'll visit soon enough. But there are certainly worse places to hang your hat!
If you tire of the beaches, Santos boasts an aquarium and a number of museums, including ones dedicated to coffee, the navy, fishing, soccer, and one specifically to Pelé, widely regarded as the greatest soccer player of all time, who played most of his career right here. There are botanical gardens and an orchid park housing a small zoo. You can tour the historic district (Santos dates all the way back to 1546) by streetcar. And there are good restaurants everywhere, offering seafood of course, but really almost any type of cuisine you might want.
Santos has generally fine weather, too. While there are four seasons, even in winter (June to August), daily highs often reach 70°F, and lows rarely fall below 55°F. The intermittent gusts from the south are invigorating. Summers are hot, but not oppressively so, and these days most homes have air conditioning.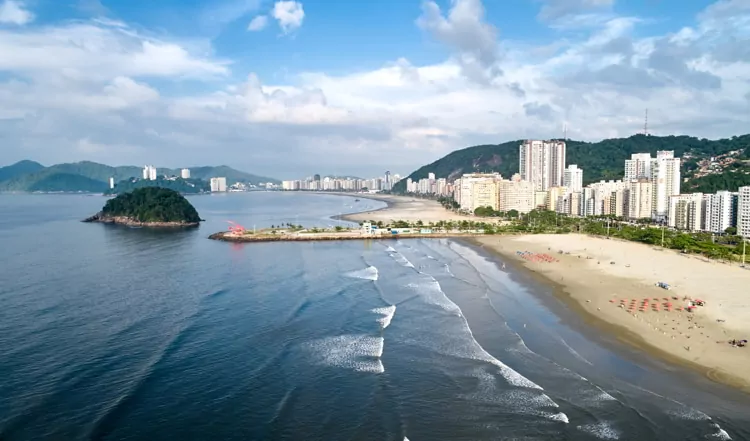 Brazil, Only Better
I find myself liking the people here as well. They take pride in their city, and despite the continuing economic crisis in Brazil, the city provides a high level of services, and it is quite evident that the city is well managed, from garbage pickups to bus service to hospitals. You have to give credit to the paulistas for this.
Brazilians universally, if sometimes begrudgingly, acknowledge São Paulo to be the most organized and industrious of all the Brazilian states, and I would have to concur. It doesn't hurt that Santos is one of the state's—indeed, the country's—wealthier cities.
While Santos forges ahead through the economic downturn, there are many apartments currently on the market. Many are second homes or investment properties, and their owners want to unload them. It's not quite the buyer's market you'll find over in Guarujá, but there are definitely deals available.
Getting The Lay Of The Land Around Santos
Santos is located on a large island which it shares with the city of São Vicente—which was the first permanent Portuguese settlement in what would become Brazil.
The most attractive areas lie on the south side of the island, where the beaches are strung along an arc facing the bay and the South Atlantic.
While there are many nice areas here in which to rent or buy, the most desirable bairros (city districts) in my view are Boqueirão, which is centrally located, and Ponta da Praia, to the east, where the estuary empties into the sea. Another bairro to consider is Gonzaga, which includes the central shopping district; it's convenient to everything, if perhaps a bit noisy. I would avoid the western end of Santos, adjacent São Vicente, as there are two favelas nearby.
Although the beach is undeniably attractive, I suggest also looking at properties one to two blocks inland, for a couple of reasons. The first is that in Santos, buses run along the beach avenue, so unless you get a unit facing away from the beach, you'll have to contend with traffic noise and also dust if you are on one of the lower floors. And marisia, the salt air, slowly corrodes appliances.
By moving just a couple of blocks away from the beach, you'll not only avoid these problems, but find cheaper rents, and also lower prices in pharmacies, markets, and restaurants. It's the same in beach communities everywhere.
It's a fairly straightforward matter to rent a furnished unit here for 90 days on what is termed a por temporada (for the season) lease. Standard long-term contracts in Brazil are for 30 months, but it is common these days to add a clause which allows the renter out after 12 months with no penalties. Traditionally, property owners have asked for a fiador, or co-signer, for long-term leases, but now most will accept a deposit held in escrow. Surprisingly, many owners actually prefer to rent to foreigners.
Santos has a lot to offer, so it's not surprising that it's a bit pricey—by Brazilian standards. But for those with dollars, pounds, or euros, Santos offers the most elusive of beasts: a truly desirable beachside location, at very reasonable prices.