Florianópolis, the capital of the southern state of Santa Catarina, is renowned throughout Brazil for its beautiful beaches. No mean feat in a country blessed with some of the world's best.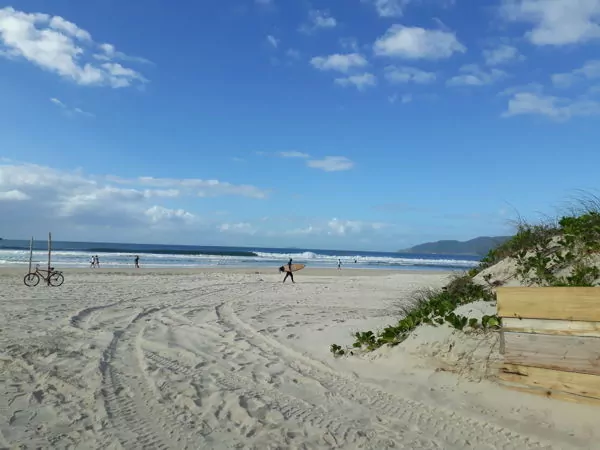 "Floripa," as the city is affectionately known, lies principally on Ilha de Santa Catarina, a wedge-shaped island lying just off the mainland. A verdant mountainous spine runs the length of the island, fringed by beach after beautiful beach. Narrow roads hug the irregular coastline or wind their way over the island's backbone, offering yet another stunning vista around every bend.
The island's beauty is matched by that of the people. Santa Catarina was settled by successive waves of Portuguese, Italians, Germans, Poles, Ukrainians, and Japanese, among others. Perhaps it's thanks to their mixed bloodlines that the people here are among the loveliest I've seen in all my travels.
The city's downtown has a European feel to it, with pedestrian walkways and a large beer garden at the public market. The city also boasts good services. A sign displayed prominently downtown proclaims that, in 2018, Floripa was rated as offering the best health care of all of Brazil's 26 state capitals. The city is clean and safe.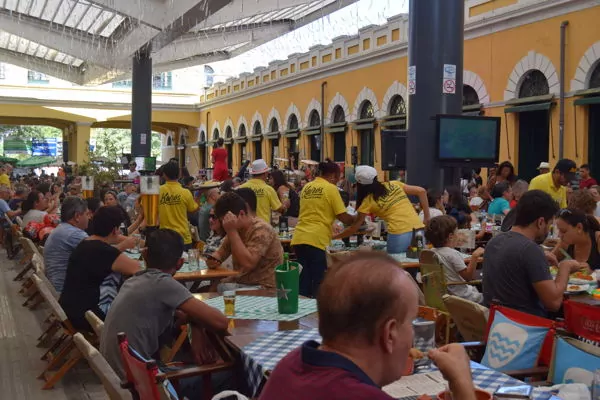 Twenty years ago, Floripa was scarcely known outside the region. Surfers were the only visitors to stop by. Then, more aggressive promotion brought tourists from neighboring states and Argentina.
Some visitors succumbed to the city's charms and bought second homes here. Others chucked their old lives and moved here to live year-round. Today, half of all Floripa's residents were born elsewhere. Many hail from foreign countries.
But Floripa offers up more than its golden sand. You can eat well for reasonable prices. I enjoyed a hearty and tasty meal of shrimp with crab sauce with all the trimmings at the beer garden for US$10. A typical lunch with rice and beans, a salad, and meat runs only US$4 or US$5. A meal for two at an upscale restaurant might set you back US$30. Loosen your belt when you arrive.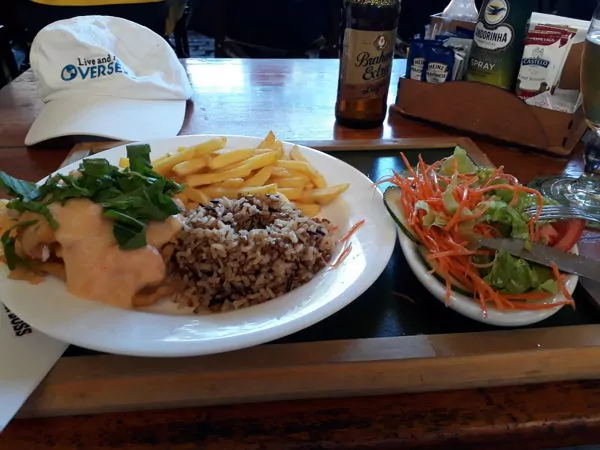 Floripa exudes healthiness. It seems that everyone practices sports here, whether it's surfing, kitesurfing, paddleball, cycling, rollerblading, jogging, or just walking on the beaches.
And permeating it all, Floripa has a truly laid-back vibe—it's relaxed and welcoming.
It does have one major drawback…
Traffic.
The number of vehicles continues to creep up, but the island's topography limits road improvements. Often, with only one route from point A to point B, an accident creates long backups. During high season (mid-December until early or mid-March), when the population of the island trebles, the situation can be horrendous.
If you plan to buy here, I'd recommend keeping within walking or biking distance of basic services. A motorcycle or scooter could help circumvent the worst jams.
Also, for your own sanity, you'd probably find yourself skipping town in the high season… giving you the opportunity to earn rental income on your property.
The Best Bairros (Neighborhoods) To Consider:
Santo Antônio de Lisboa and nearby Cacupé on the western (mainland) side
Jurerê Internacional to the north
Praia Mole (literally, "soft beach") and nearby Praia Campeche on the eastern shore
Canto da Lagoa, centrally located
Agronômica, western side adjacent downtown
Coqueiros, just across the bridge on the mainland
I personally like the areas to the west and south of Lagoa da Conceição (the large brackish lagoon in the center of the island), but would probably avoid Barra da Lagoa to the east of the lagoon, as some parts are seedy. I'd also shy away from Bairro dos Ingleses in the northeast corner of the island; while considered a chic area, it's far from downtown and the bridge… and has recently had issues with beach pollution.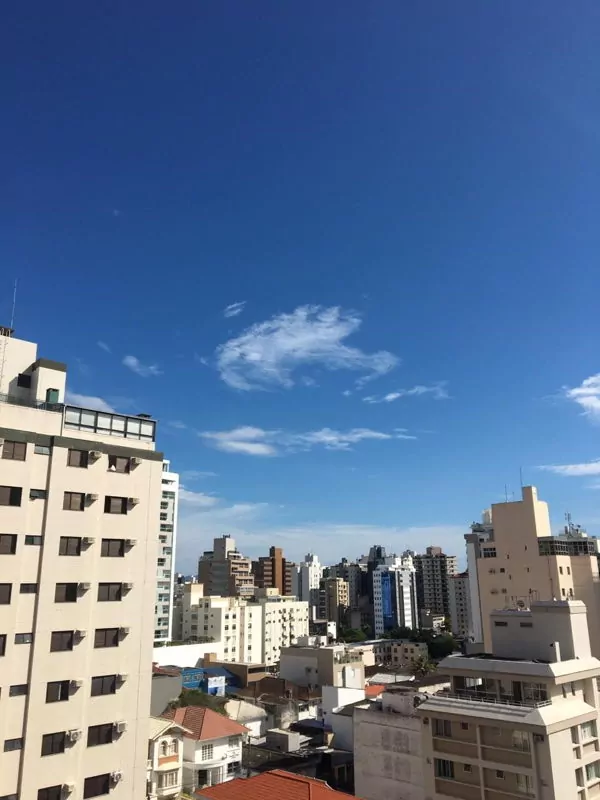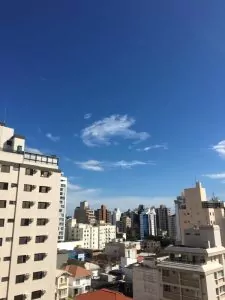 Floripa's secret is already out. Although you're unlikely to stumble across an incredible bargain here—or the opportunity for a short-term flip—thanks to the current exchange rate, your dollar goes a long way.
More homes are for sale at the north end of the island than elsewhere, which could give you some added bargaining power if you fancy this area.
Here Are Some Of My Top Property Finds:
In Agronômica, a three-bedroom apartment, 110 square meters, newly renovated. It has a large kitchen, service area, and separate maid's quarters, balcony, and reserved parking space. The building offers a gym, pool, and party room. Located in front of a grassy square with all services nearby. The unit could make a good rental investment. Price: 869,000 reais (US$218,000).
Located on the west side of desirable Lagoa, a three-bed, three-bath unit in a closed condominium community (with an electric gate) with a shared pool. The unit has air conditioning, built-in armoires, patio, service area, barbecue area, and comes furnished. On a quiet street, it's still close to everything you might need. Price: 800,000 reais (US$201,000).
Stretching just a bit more, you could have this three-suite apartment, 140 square meters, in swanky Jurerê Internacional. The unit, built to exacting standards, includes a home office and a great view, as well as the usual amenities, such as a barbecue area. It's bright, clean, and airy, with a view of preserved natural areas. The condominium offers a party room, pool, gym, cooking area, and full security. Price: 990,000 reais (US$248,750).
Near the beach, this two-bed (one suite), 84-square-meter apartment in Campeche—considered by many (me included) to be the best beach on the island. It offers an integrated living/kitchen area, service area, and balcony with a barbecue. This lovely unit comes furnished and decorated. The condominium offers 24-hour security, leisure area, adult and children's pools, two tennis courts (rare here), gym, and more. Price: 640,000 reais (US$160,800).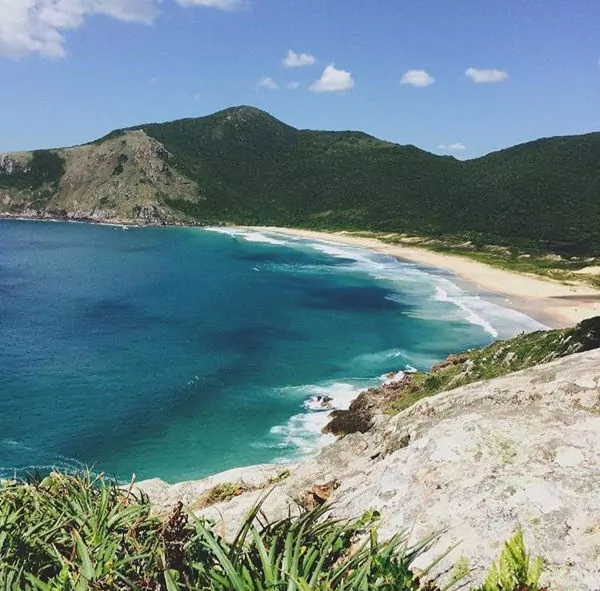 March to April (autumn) and October to November (spring) are excellent times to visit Floripa. The weather is fine and crowds are much smaller, giving you the opportunity to better explore this lovely corner of Brazil.
John Clites