Curitiba: High Culture At Low Cost
If you are planning to move when you retire, likely you'll strive to balance a high quality of life with a reasonable cost of living—which is not always an easy task. A city which offers both—though you may never have heard of it—is Curitiba, in southern Brazil. People from the south of Brazil often refer to this region as "The Other Brazil," and, indeed, the region is more developed than the rest of Brazil, excepting São Paulo state. Curitiba, the largest city in the region at about two million inhabitants, has a great deal going for it, and scores high on the United Nations' Human Development Index. The capital of the state of Paraná, Curitiba officially dates from 1693, although indigenous peoples lived in the area long before that. The name in Tupi means "pine nut land," a reference to the area's many pine trees and the food staple it yielded. Curitiba grew first on the cattle trade, then logging. Today it possesses a diverse economy based predominantly on services, and many international as well as domestic companies have facilities here.
Curitiba sits near the coast, but on a plateau 3,000 feet above sea level. While Brazilians sometimes comment on how "cold" the city is, the weather in Curitiba is generally moderate. Even in winter (June to August here), the average daily lows are still in the high 40s (F), and daily highs in the 60s.
Curitiba has a lot to offer. Topping the list would be its diverse ethnic roots, which have created a culturally rich city. Consider this partial list of municipal parks: Portugal Woods, Italian Woods, German Woods, and Japan Square. All of these ethnic groups, plus Poles and Ukrainians, contributed significantly to the makeup of Curitiba today.
Curitiba hosts an array of cultural events each year. These include FeiArte, a large arts and crafts fair which each year highlights a different country. For foodies, there's the Festival of Chicken, Polenta (cornmeal), and Wine, and also the Festival Sabor Brasil (Flavor of Brazil). The Festival of Curitiba runs the gamut, incorporating dance, theater, circus acts, and improv comedy among other forms of entertainment. And these are only a few of the city's festivals.
Curitiba also has several museums, including ones dedicated to natural history, railroads, WWII, Curitiba's Polish immigrants, archaeology, contemporary art, and Oscar Niemeyer, the architect who designed Brasília. Curitiba boasts botanical gardens housed in a beautiful arched greenhouse known as the Crystal Palace, and even an opera house. Indeed, in cultural offerings Curitiba rivals or even surpasses most European cities its size.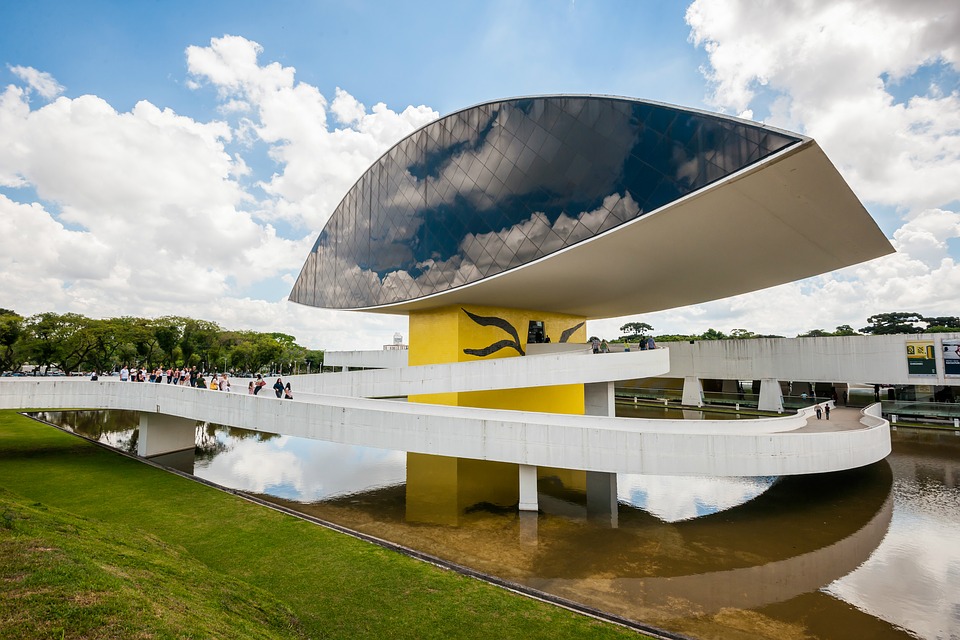 The futuristic Oscar Niemeyer Museum in Curitiba
Culture is balanced by green spaces, with a score of parks strewn across the city. Perhaps the most popular is Barigui Park. On weekends, curitibanos flock there to exercise, barbecue, and mingle.
Curitiba is clean, organized, and also quite easy to navigate, in large part thanks to its BRT bus system, which was so well planned that it has served as a model for bus systems in many other cities in Brazil and around the world.
Curitiba would, I believe, be relatively easy for your average North American to settle into. Owing in large part to the number of international companies there, you'll find many expats in Curitiba. One great way to meet both expats and locals is through the non-profit organization InterNations. There's even an online newspaper in English, Curitiba in English.
Mike Stankus of Arizona raves: "Curitiba [has] everything one could want in one city, and then some. I spent a total of six months in central Curitiba teaching English and by far my fondest memories were weekends spent lazily roaming the vast green parks scattered across the city and making friends with the locals. I would recommend this city to any foreigners looking to see a different and more modern piece of Brazil."
For all its charms, Curitiba can't claim a beach. But the coast isn't far away. A great weekend exploration is to take a scenic train through some of the remaining Atlantic forest to the town of Paranaguá on the coast. There are many superb beaches in the neighboring state of Santa Catarina. Also, should you plan to visit Curitiba, you absolutely must hop over to the western end of Paraná to visit Iguaçu Falls, which dwarf Niagara and truly rank as one of the top wonders of the natural world.
Despite all that Curitiba has going for it, the cost of living is quite reasonable. Food, rent, and quality health care are all considerably below what you'd pay in the United States.
Before you dismiss Brazil as a retirement possibility out of hand, you owe it to yourself to pay a visit to "The Other Brazil."
Living Well—For Much Less—In "The Other Brazil"
Although Curitiba has weathered the general economic downturn better than many other Brazilian cities, it has been affected, and there are many properties on the market at very attractive prices.
Here Are A Couple Of Examples Of Properties For Sale:

A two-bedroom, one-bath apartment of 48 square meters (517 square feet) comes with a reserved parking space. The apartment is in a closed condominium with 24-hour security. Common areas include a party room and barbecue area. Priced to sell at only 99,000 reais.

If you'd like something more spacious, you might like this three-bedroom, two-bath apartment of 92 square meters (990 square feet). The home is well located near banks, hospitals, restaurants, pharmacies, and markets. It also includes a maid's quarters. The building offers 24-hour security. Just listed at 290,000 reais.
You'll Find Plenty Of Options If You'd Prefer To Rent Before Buying:

You can rent a one-bedroom apartment of 55 square meters (592 square feet), completely furnished, for 1,100 reais per month including condo fees. Located near a shopping mall, pharmacies, markets, banks, restaurants, and a park. There are laundry facilities provided in the building. Includes reserved parking space in garage.

Another new, well-equipped one-bedroom flat of 57 square meters (614 square feet) is available in the downtown area. It's located on a high floor and is sunny, with a fully-equipped kitchen, air conditioning, and flat-screen TV. The building offers many amenities, including laundry facilities, heated swimming pool, game room, gym, and 24-hour security. 1,800 reais including condo fee.
***
Letters To The Editor
Your article regarding Alicante, Spain, drew my attention and interest. Excuse my ignorance but is it difficult as an American to purchase property/condo in Spain? I hope to get to Alicante soon to pay a visit and spend some time exploring.
Thank you for your article.
Regards,
Mark C.
I'm glad that you found the article interesting. Spain is definitely worth a look.
Foreigners, including Americans, can purchase property in Spain without restriction. You will need to get a financial number, which you can do simply by visiting a police station with your passport. The wait time to receive the number varies, so I'd apply upon arrival.
Note that buying property doesn't automatically confer permanent resident status, which means you could be limited to spending six months of each year in Spain. However, you could apply for a retirement visa, which permits full-time residency, by proving sufficient income to maintain yourself.
You'd be well-advised to hire an attorney to act on your behalf, as all contracts will, of course, be in Spanish, and Spain does not operate under English Common Law. Your attorney can verify, among other things, that there are no tax liens or other encumbrances, and that the seller holds clear title, in Spain termed escritura pública. If buying an apartment or house which is part of a condominium association, be sure to have your attorney check for unpaid bills or taxes, any open lawsuits, possible special assessments, and the like.
None of this is intended to deter you. This is the same sort of due diligence that title search agents do in the United States. The south of Spain is lovely, and there are plenty of good deals to be had. You just want a local agent to help guide you along.
Also note that mortgages are difficult for foreigners to obtain in Spain, so you should anticipate paying cash. It is possible, however, that some sort of seller financing for part of the purchase might be arranged, especially in the current buyer's market.
Best of luck!
***
I have been receiving your notices and e-mails for some time now. I am finally in a position to consider "semi-retirement" and doing some travelling abroad (I live in Canada). I will be reading your notices with more interest now!
My question is this – I have been in the sales, insurance, banking and mortgage field for 30+ years of my working life. I also have roots in agriculture and still own and operate a hobby farm here in Ontario, Canada.
Is there an opportunity for employment (or similar) in the offshore/overseas property field? It seems quite interesting. I am thinking of introducing prospective clients to properties, conducting tours and showing properties, as well as explaining what to watch for ( I know that there are many less than desirables operating in that field.)
Please respond,
Don R.
The short answer is: Yes, there may be opportunities. It will depend on the country you wish to operate in, and exactly what activities you wish to engage in.
Lief Simon, Editor of Offshore Living Letter, adds:
"The truth is that much of the world doesn't regulate real estate agents. In many countries you don't need a license (Nicaragua, Costa Rica, Belize, Honduras, and even the U.K.). In a few, the owner of the agency needs to be a licensed broker, but the agents/sales people don't need to have anything (Panama and Argentina would be two examples).
"Depending on how you set yourself up with an agency, you may be able to get away without having a work permit. You could set up your own company, for example, as you can work for yourself without a work permit in some countries…
"Working as a sales person for a developer is another option…
"The problem found by most people, even those with real estate experience, is that real estate doesn't work the same outside of the United States. In the United States, most people want the listing so they can be sure to get at least half the commission. In the rest of the world, listings are rarely exclusive and having a listing doesn't do you much good if you aren't generating leads and buyers yourself. Agents rarely work together.
"If you'd like to conduct tours as you mention in your inquiry, you'll want to begin by diving in and developing a solid knowledge of the local market you want to represent. Basic, sure—but a step some folks bypass."
Have a question? You can write to Lee (or John) here.